Bailieborough News. September 11th 2014. Matthew J. Cullen.
Open Forum Meeting
Bailieborough School of Music invite you to attend a very important Open Forum Meeting on Wednesday, September 17th in the Bailie Hotel at 8.30pm. This meeting will discuss current issues affecting the school and plans for the future. These issues will affect your child's music education and we are calling on all those who have an interest in the School of Music to attend. It is vitally important to have input from all parents at this meeting.
Bailieborough School of Music AGM will be held on Wednesday October 1st at 8.30pm in the Bailie Hotel.
Baptism Dates in St. Anne's
Sunday, September 21st.
A Word of Thanks from Fr. John Murphy
"To all of you for your cards, your message of thanks, of blessings for the future, to all who organised, participated, attended the Mass of Thanks and farewell, and the subsequent get together in the Community Centre, to all of you for your words of appreciation to you all, what can I say—just a most sincere 'Thank You' and to Fr. Michael Router, I offer my best wishes."
Craft Group
Bailieborough Library Craft Group coffee morning in aid of Fr. Peter McVerry Trust at the Library on this Friday September 12th from 11am-1pm. Your support would be appreciated. There will also be a display of hand knits completed by the group to be donated to the McVerry Trust. The display will run until Tuesday September 16th.  All welcome.
LETS TALK!
For parents/carers of children aged 0-3 years.
Would you like to learn how to help your child:
• become a great talker,
• become a good reader,
• be ready for school,
• behave better!!!!
If so "Let's Talk" is for you! (Practical, interactive and fun!!!)
Where: Bexcourt Centre, Bexcourt View, Bailieborough, Co. Cavan.
When: Thursday 2nd October 2014 at 10:30am-12:30pm (for 7 weeks).
Contact: Ann Hanley 042/9666068 for further details.
Enjoy delicious refreshments! Chat with other parents! Make new friends in your area! Enjoy some time out! Get a free toy each week!!
Let's talk is delivered by Chatterbox (Speech and Language Department).
School of Music
Bailieborough School of Music classes will resume on Friday 12th and Saturday 13th September in Bailieborough Community School. Contact 087-7858509 for new applications. All welcome.
Bailieborough Community Choir
Practice for the Bailieborough Community Choir is on Mondays at 8.30pm at TRINITY HALL, Trinity Church, Bailieborough Co. Cavan. New members can simply show up to practice in Trinity Hall. Choir is open to new members. If you want to have a great experience, and a great time, then this choir is for you! Choir open to new members, 16 years and older on the 1st September 2014.
Enrolment
Enrolment for Ballet, Hip Hop, Guitar, Speech & Drama in Bailieborough Arts and Cultural Centre on Monday 15th September at 4pm.
For further information or to book your class, please call Niamh Smyth on
087-998 22 22 or 042-966 66 66.
Bailieborough Red Cross
We are holding a Cardiac First Responder course on Wednesday 17th September. This Certified course is open to members of the public who wish to learn important lifesaving skills. This course will also act as a skill refresher for present CFRs whose certs require updating. For more information on fees, venue etc…,  please phone 086 2308570 or 086 6621768.Places will be limited.
AFTERSCHOOL SUPPORT BAILIEBOROUGH RESOURCE HOUSE
Anybody looking for afterschool care in Resource House please contact Ann on 042 9666068 or bailieborough@eircom.net as soon as possible.  We have limited places available but will need to know as soon as possible who needs them. If you are on a Social Welfare payment with a medical card there is Government funding available.
St. Vincent DePaul—'Come Dine with Richard Corrigan'
The Saint Vincent DePaul are delighted to announce, a gala fundraiser in aid of the St. Vincent DePaul in the 18th Century, Virginia Park Lodge. This exciting event takes place on Saturday, October 4th at 7.00pm, commencing with a drinks reception, followed by dinner. Tickets €100 each and are available by contacting 1800 677 777 or email: info.northeast@svp.ie Accommodation is available by contacting 049 8546 100. Please support your local SVP while enjoying the culinary delights of esteemed chef Richard Corrigan.
Speech and Drama Classes
Speech and Drama classes resuming in Trinity Hall on Saturday 13th September and Tunnyduff Community Hall on Saturday 20th September ; 10am-11am pre-school, 11am-noon national school, noon-1pm secondary school.
Class fees for a six week term 55 euros, 100 euros if more than one child from the same family 10 euros per session.
Royal Academy of Music Drama exams give a structure to classes, plenty of games and stories to add fun!  All welcome.
Contact Kate Kelly 0863148407 katesdean@hotmail.com
Bailieborough Poetry Festival:There is still lots of time to enter the 2014 Bailieborough Poetry Festival, entries close on September 26th. Submissions should be emailed to competition@bailieboroughpoetry.com. Please ensure that you have read the conditions of entry, particularly the submission guidelines which are available at: http://www.bailieboroughpoetry.com/2014-poetry-prize/
Pilates
Pilates have resumed in the Presbyterian Hall on Tuesday's. To suit all fitness levels. Booking essential, please call Anne 087 2601454 for further details.
Irish Wildlife Trust—Photography Competition 2014
The title of the competition is 'Cavan's Natural Heritage'. We are looking for photos that capture the intrinsic beauty of Co. Cavan—which can be anything from close-ups of insects, wide landscapes or our native wildlife. The 50 best photos will be exhibited in Bailieborough Library from the 23rd of September to October 7th, 2014 as part of the Irish Wildlife Trust's Wildwatch Week 2014. Prize and trophy for best photo. Special Children's prize—for children under 12 years. All photos must be taken in Co. Cavan. The competition is open to Adults and children. €2 per entry –no limit on entries. Minimum size of entries is 5" x 7". Entrants must mark each photo with their name, address, phone number and photo location in Co. Cavan and age if under 12 years of age. Entries should be sent to: Eilish McGowan, Lisball, Bailieborough, Co. Cavan or left in to Bailieborough Library or One Hour Photo, Cavan. The competition closes at 5.00pm on Wednesday, September 17th, 2014.
'Step into Fitness'
Classes have resumed on Wednesdays in Trinity Hall Bailieboro. Piloxing is on at 7pm – this is fusion of Pilates, boxing and dance for an all-round sleek, sexy and powerful workout. No gloves needed. €25 for 4 classes. Zumba resumes on Friday 5th September in Cormeen Sports Complex at 7pm. €25 for 4 classes. All fitness levels welcome. Please contact Marlena on 0872841850 for details or bookings.
Indoor Bowls
Indoor Bowls resume in the Community Centre, tonight, Wednesday, September 10th at 8.00pm. New members are always most welcome.
Annual Balloon Release
Annual Balloon Release in remembrance of all our loved ones who died by Suicide on Saturday next, 13th of September at 7pm sharp at Lough Sillian Lake, Shercock. Please bring your own balloon (preferably helium). Songs will be sung and a few prayers will be said for those we miss so much everyday. No collection just raising awareness and remembering those gone before us. Everyone welcome.
Baby and Toddler Group
Bailieborough Baby and Toddler Group meets at the Library, Market Square every Wednesday morning from 10.30am-12pm (except school holidays). Loads of toys for all ages. Enjoy a nice cuppa while making new friends. No charge. Ph 042 9665779 for further details.
"East Cavan Swim Club"
An open evening will be held on Wednesday 10th September, 6-8 pm at Bailieborough Swimming Pool and Leisure Centre. Come and see what we do – watch our swimmers in action, meet the coaches, and learn more about competitive and non-competitive swimming. The evening will have a multicultural theme and refreshments will be served.  For further
information, please contact Bernadette on 087-2791760, or
secretary@eastcavanswimclub.ie
Knock: St. Vincent DePaul Society Pilgrimage
The annual St. Vincent DePaul Society Pilgrimage to Knock will take place on Saturday, September 13th. There will be a bus leaving the Community Centre at 8.30am. Booking with €15 bus fare in Vincent's Shop, Anne Street.
Knockbride Fun Run
Tunnyduff N.S. Parents Association are organising a 5k fun-run as well as a 10k run on Sunday 14th September at 1.00pm. Registration takes place from 11.30am onwards at Tunnyduff Community Hall. Refreshments will be available after the run. All support will be greatly appreciated.
National Grandparents Pilgrimage
The 8th National Grandparents Pilgrimage to Knock takes place on Sunday, September 14th. Blessing of the Sick will take place at 2.30pm and Mass will be at 3.00pm—with the Chief Celebrant being Archbishop Charles Brown, Papal Nuncio. Everyone welcome. Children are invited to compose a prayer for their grandparents and send it to: C.G.A. Office, Castlebar Street, Westport, Co. Mayo. All prayers will be displayed in the Basilica and blessed during Mass.
Dundalk I.T.
Daily Bus Service from Bailieborough to Dundalk IT resuming in September.  Booking Essential. If you wish to avail of the service, contact Royal Breffni Tours 087 9667276.
Visit  www.royalbreffnitours.com/dundalk for details.
If you have any queries, feel free to contact David Russell,Royal Breffni Tours, The Crystal Maze, Kilmainhamwood, Kells, Co. Meath. Phone: 087 9667276 or info@royalbreffnitours.com or www.royalbreffnitours.com
Leisure Centre: Do you want to learn how to swim ? or can swim and want to work on your fitness and technique ? We have classes to suit all levels from complete beginner to those competing in triathlons.  Call us on 042 9666644 for dates etc… starting soon.
€30 for 30 days membership pool or gym membership still available
September membership special – join pool or gym for 12 months and get 3 months free. €299.00.
Check us out on www.bailieboroughleisurecentre.com  or find us on facebook for regular updates.
Bailieborough Arts and Cultural Centre @ the Wesleyan Chapel Presents
'NYAH CULTURE NIGHT'  with Martin Donohoe & Clan on FRIDAY 19th SEPTEMBER 2014 at 8pm. Concert of Traditional Irish Music, Story Telling and Dancing.
CULTURE NIGHT is an annual public event that celebrates culture, creativity and the arts. Martin Donohoe from Shannonside /Northern Sound Radio Presents a 'NYAH CULTURE NIGHT' of Traditional Music on Friday 19th Sept 2014 @8pm. It will showcase the talents of the young and older musicians from all over Co. Cavan and around the country as well. You are invited if you play, sing, dance or tell a story to join Martin on the night, tunes from the Kerry Polka to the Sally Gardens will all get a rattle. Entry to the event is free!!
Library
Abair Leat fun Irish conversational class at the Library every Tuesday 1pm-2pm. Fluent Irish not necessary. Refreshments will be provided. All welcome and there is no charge.
Craft Group at Library every Friday 10.30am-1pm. Sharing of skills for all lovers of things hand-made. Refreshments will be provided and there is no charge.
Mother and Toddler Group at Library every Wednesday 10.30am-12pm. A wide variety of toys for toddlers while Mums and Dads enjoy a chat. All welcome and there is no charge.
Citizens Advice at Library every Tuesday 1.30pm-2.30pm. Free advice on all entitlements.
East Cavan Gaels GAA – : Club News 8th September 2014
Development draw; Congratulations to Enda Boylan, Carrickleck, Kingscourt who was the winner of our Premium Level tickets to the All-Ireland Hurling Final. Thanks to everyone who supported local hurling and especially to those who bought and sold lines/cards.
U12/14/16; Our under 16s made a little bit of history when they played their first ever game at this level and also won in the Tri-County U16 Hurling league on Friday last in Kingscourt. In a rip roaring encounter the East Cavan men won by 2 points scoring 4-10 to Castleblayney's 6-02.
Preparations are in full swing for the Under 12 League which begins on 17th September. Full fixtures next week.
Training times and venues.
Under 12/14/16; Training for all on Wednesday at 7pm in St. Anne's Park.
Contact Kathryn for further details 087 244 1371.  
U8/10;.All our U8/10s will train in Kingscourt this Wednesday as we have an Ulster hurling coach to work with our boys.
Kingscourt Group;This week's training is on Wednesday 6-7.30.
Bailieborough/Shercock Group;
Wednesday;
This week training is in Kingscourt 6-7.30.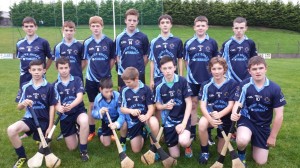 Our very first U16 squad won their first ever game v Castleblayney on Friday last.
Citizens Information Service
Co. Cavan Citizens Information Service is in the Library, Bailieborough every Tuesday from 1.30 – 2.30pm. Information on Social Welfare, Employment, Tax, Health etc… A Free and Confidential Service. Tel. 0761 07 5200.
Alcoholics Anonymous
Local meetings of Alcoholics Anonymous are held in: The Health Centre, Kells Road on Wednesdays at 8.30pm.
Bailieborough Cancer Comfort Ltd
The Bailieborough Cancer Comfort Ltd Committee is available to help cancer patients or their families. Free Taxi service available. For further information contact: Michael Cullen 087 154 2447, Edel Fox 086 1004030 or Geraldine Gormley 087 7949448.
Samaritans
Are you feeling isolated, alone, stressed out or depressed? If so, there is always help available by contacting the Samaritans at 1850 60 9090.
If any readers have items of interest to be included in the Bailieborough News, (Obituaries, News Items, Sports, etc…), please e-mail: mattie42@eircom.net or call 042 9666200.
http://bailieborough.com/wp-content/uploads/2015/09/bborocomlogo2015-300x130.png
0
0
admin
http://bailieborough.com/wp-content/uploads/2015/09/bborocomlogo2015-300x130.png
admin
2014-09-08 12:54:21
2014-09-11 09:58:33
Bailieborough News 11th September 2014.