Bailieborough News. June 19th  2014. Matthew J. Cullen.
East Cavan Gaels GAA – Club News 16th June 2014 Féile na nGael 2014; The road to Garvaghy!
The waiting is over! National Féile na nGael for hurling makes its first ever appearance on Cavan soil when East Cavan Gaels host Burren Rangers from Carlow this coming Friday 20th June in St. Anne's Park, Bailieborough GAA grounds at 3pm. A lot of work and preparation has gone into preparing for this prestigious event and the boys hope to do both the club, and the county, proud in what promises to be a significant milestone in the short history of our club. The action switches to Termonfeckin in Co. Louth on Saturday from 11am with two more games against Crotta O'Neill's from Kerry and St. Fechin's from Louth, with quarter finals set for Monaghan on Saturday afternoon and the semis and finals in Garvaghy in Tyrone on Sunday. We wish the boys and their management team, Kathryn O'Flynn, Maurice O'Shaughnessy, Sharon Daly and Brendan O'Reilly every success over the weekend.
Keep up to date with the weekend activities by following us on Twitter; @ECG_GAA or Facebook Group; East Cavan Gaels GAA.
Under 12/14/16; Well done to all our ECG boys at the first of the U11 blitzes held in Bailieborough on Wednesday evening last in bright sunshine. ECG had 2 squads with 26 players to choose from and performed very well. Thanks to visiting clubs Castlerahan, Cootehill and Annalee Gaels. Next round is this coming Wednesday in Castlerahan at 7pm.
Schools Hurling; Massive congratulations to Shercock NS on their great achievement in winning Division 2 Cumbann na mBunscoil Cavan hurling title in Breffni Park on Saturday last. A strong contingent of ECG players in the squad. The first schools title for an ECG catchment school so another piece of history for the club also. Well done to all the players and their teachers. Thanks to Cavan Hurling Development officer Eoin Morrissey and Niamh Collins for their work in developing hurling in the school in Shercock.
Under 6/8/10; Thanks to the U8 and U10 squad who travelled to Kells on Friday last for some games.
Training this Tuesday in Kingscourt 6-7.30. No U8/10 training Friday this week in Bailieborough due to Féile. More blitzes coming up.
Helmets; Our new club helmets have arrived. We hope that all our regular hurlers will have their own helmet and hurley by the end of June. If you need one contact any of your coaches.
Training times and venues; Under 12/14/16; Training this Wednesday  in St. Anne's Park, Bailieborough at 7pm. Contact Kathryn for further details 087 244 1371.  
U6/8/10; Kingscourt; Tuesday 6-7.30 for all aged up to 10 at Kingscourt Stars GAA main pitch. (5.30-7 in the centre if weather is unsuitable)
Bailieborough; Friday 6-7.30 for all U8/10s at the Community School pitch. For U8/10 contact Willie 086 164 9280.
St. Anne's National School
St. Anne's National School presents, the thrilling nationwide game show 'Who Wants to be a Thousandaire' in the Bailie Hotel on Friday night next, June 20th –in aid of the school's new all-weather pitch. For details contact: School Principal, Paul Corcoran (042 96 65242), Kevin Carolan (086 3759627), Margaret Gregory (086 0890 281), Lisa Burke (087 6594 639) or Katriona Keane (086 205 7811). Tickets are €15 each, with a book of four €50. Please support your local school.
Looking forward to seeing y'all from 26th to 29th June, 2014.
Highlights include two plays, Tractor Lawn Mower Derby, Super Showcase of local club talent, Wild, Wild West theme night and the ever popular Family Fun Day Fair. Don't forget to keep an eye on Facebook too and give us a like and share – thanks 🙂
Thursday, June 26th: The Real McCoy by Moynalty Drama GroupA fall about farce for all the family…. a combination of high drama and amazing Irish wit! A story about love, betrayal and turf.Community Centre at 8.30 pm. Admission €12.
Friday, June 27th: Car Treasure Hunt – 6pm: Can you find all the answers to the clues? Starting from The Lemon Tree pub, last car out at 7.30pm. Prizes kindly sponsored by Barrack Street Service Station"Padraig Pott's Guide to Walking" – 8.30pmA play written and performed by the hugely popular Seamus O'Rourke.Community Centre. Admission €12.
Saturday, June 28th: 10am – Walking Treasure Hunt: Entry forms available from Hall's newsagents1.30pm – 3.30pm – Teddy Bear's Picnic: Bring your favourite teddy to a magical, fun-filled party with face painting, musical games, teddy disco, teddy hospital and special mystery guest appearances! Prizes for best dressed bear and best children's costume.Taking place in the Community Centre. Children must be accompanied by an adult. Admission €3 per child which includes a picnic.
3pm – 4.30pm – Dog Show and Agility Demonstration
Hosted by Lily's Dog Rescue group and the Kingscourt Dog Club.
4pm – 6pm – Super Showcase: We have an amazing talent in the people of Bailieborough and this will be their time to shine as they put on a performance throughout the afternoon, featuring Shauna's Hip Hop, Irish Dance Bailieborough, Marlena's Zumba, Transform Fit and Rhythmic Dance Twirlers.
6pm – 7pm – Bailieborough School of Music presents Magic from the Movies: As seen in the Ramor Theatre to celebrate the 25th anniversary of the Bailieborough School of Music this year. Enjoy the music from the Bond movies, Star Wars, Pirates of the Caribbean, E.T. and many more!
7.30pm – Wild Wild West Night!: Live music on the square from the Trad Lads and The Tractor Boys bringing you all the greatest hits from the decades.
Line Dancing and the Big Ranch BBQ and giant darts. Bring out your inner cowboy and ride the rodeo bull. Dress up in your best check shirt, Stetson and denims! Carry on the party later in the Bailie Nightclub with the hugely popular Fuzzy Burgers…
Sunday, June 29th: 10am – Fishing Competition – Junior and Senior categories–Registration details to follow.10am – Festival Walk with John Ed: Enjoy the sights of Bailieborough on a midsummer morning with our very own local historian John Ed Sheanon. A guided 2 hour walk commencing from the Market Square.12noon – Midsummer Festival Annual Street Fair
Artisan food stalls
local produce and crafts
Kiddies Fun Zone
Tractor Build
Annual Tug o' War
Dunking Chair
Live local musicians
Vintage car and vehicle display, all enthusiasts welcome to show on the day.
Culminating in the event of the year!…… Tractor Lawn Mower Derby at 5.30pm on the Main Street. More details to follow…..
"Load of Ballz" fundraiser for the Red Cross (Bailieborough Branch), "Guess the amount of Balloons" fundraiser for Bailieborough Tidy towns.
Admission to the street fair €5 – children FREE
Hey Guys and Gals….. Our Midsummer Fest Bailieborough Festival is fast approaching. We are having a Street Fair on Sunday 29th June from 12pm – 6pm and are looking for Craft Stalls to take part!!! If you know of any please get in contact with us through Facebook or email bailieboroughfestival@gmail.com
Congratulations
Congratulations and well done to Bailieborough Primary School's Camogie Team on winning the County Title for the second year in a row.
Fundraisers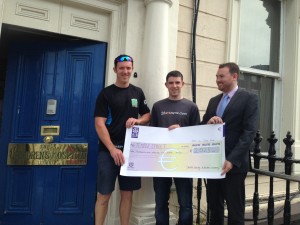 Ronan O'Grady and Daire Nulty presenting a cheque to the value of €2050 raised during their recent fundraising from the Coast2Coast adventure race on 17-18th May to the fundraising coordinator of Temple Street Children's Hospital.
Children's Hip-Hop Classes
Children's Hip Hop dance classes take place on every Wednesday night in the Bailie Hotel. Ages 3-10 :6-6.45pm and ages 10 and up :6.45-7.30. For further information, please contact:  0872128731.
All-Ireland Feilé Na nGael
The All-Ireland 'Feilé Na nGael' in Hurling and Camogie will be held next weekend, all over the Province of Ulster. Our Parish will host Burren Rangers Hurling Club from Carlow and Carnew Emmets Camogie Club from Wicklow. The opening games are at 2.00pm and 3.00pm in St. Anne's Park on Friday afternoon next. Further Camogie games will take place in St. Anne's on Saturday next at 11.00am. Come on out and show your support for these talented youngsters!!!
Senior Swim Club Sessions
Senior Swim Club sessions are recommencing every Saturday evening at Bailieborough Leisure Centre from the 21st June from 6.00-7.30pm. These sessions are coached by Janis, with a mixture of swim technique and fitness. Suitable for past swim club members and Triathlete improvers. Different lanes for different ability levels. Male or female over 15yrs of age are welcome. 10 euro per session. For further information contact Anne on 087 9674302.
St. Joseph's Young Priests Society
Pilgrimage to Knock on Saturday, June 28th. Everyone welcome to join the thousands for Mass, Confessions, etc… Pray for Vocations. Details of bus arrangements can be had from 086 3996 146.
Bailieboro Celtic A.F.C.
The Club's Annual General Meeting takes place in the Club Rooms, The Vale on Thursday 26th June at 8:30pm.
Best of luck to Callum Clarke, Seosamh Sheerin, Scott Prendergast and the rest of the NECSL Kennedy Cup Squad who play in U.L, Limerick, next week.
There are still some places available in the Bailieboro Celtic F.A.I. Summer Soccer Camp which takes place from the 14th -18th July. Contact Sec: Eric McCullagh at 086 3606694  for further details.
Nocturnal Nature on Shortest Night
Join the Irish Wildlife Trust Cavan branch along with Virginia and Maghera Tidy Town's at Virginia Rugby Club on Saturday, 21st June at 8pm for a fascinating journey to find out more about the nocturnal world of Moths and Bats.  We will be joined by Catherine Bertrand from Butterfly Conservation N. Ireland and Tina Aughney from Bat Conservation Ireland. Light refreshments available. Please wear suitable clothing and bring a torch. FREE EVENT!!!
Baby and Toddler Group
Bailieborough Baby and Toddler Group meets at the Library, Market Sq every Wednesday morning from 10.30am-12pm (except school holidays). Loads of toys for all ages. Enjoy a nice cuppa while making new friends. No charge. Ph 042 9665779 for further details.
Many Thanks
Lough an Leagh Heritage Group wish to thank all who supported their recent Table Quiz. They raised €1200.
Bailieborough Social Day Centre
The Group's Annual Holiday to Dublin will take place on July, 7th, 8th and 9th –which will include a trip to see 'Riverdance' in the Gaiety Theatre. The trip is open to non-members and for further information please contact 087 7989 037 or any committee member.
Bailieborough Walking Group
Wednesday June 18th walking in the Corraneary/Maudabawn area, commencing at Corraneary Church car park at 7.15pm. An advanced walk of approximately 2.45hours. Leaving Bailieborough Library at 6.45pm, walk commences 7.15 sharp from Corraneary Church car park (East Knockbride). Wednesday June 25 walking in Dun A Rí Kingscourt. Short and moderate walks will take place. Everyone welcome. Contact: Isobel (086 190 7130), John-Ed (042 966 5342) or Leslie (086 258 8488) for further information.
Art Workshops
'Shades of Summer' Art Workshops for children at the Library on Wednesday July 2nd and Thursday July 3rd from 11am-1pm for 7-10 year olds. Booking essential at 042 9665779. €5 per child.
Bailieborough Shamrock's launch their Zero–2000, Special Fundraising Draw.
'Luck Dip' ticket entries to the draw cost from as little as 1 cent (€0.01) all the way up to a max of €20 depending on the number you draw. Prizes include 1st €2,000, 2nd €500, 3rd €500, 4th, 5th, 6th, 7th & 8th €100 each. Watch out for the sellers and try your luck. As always, all support is greatly appreciated by members and players across all the age levels.
Knockbride N.S. Walk
Knockbride East N.S. Parents Association are holding a 5 and 10 km fun run or walk on Friday evening, 20th June starting at the school. Registration starts at 7pm, with run/walk at 7.30 – Adults €10 children €5 with family rates available. For further information, please contact:  0871324281.
Leisure Centre
Children's Swimming Lesson Assessment this week.
Lesson rebooking Saturday 14th from 9am for those in lessons or from 12 for those wishing to join lessons.
Do you want to learn how to swim ? or can swim and want to work on your fitness and technique ? We have classes to suit all levels from complete beginner to those competing in triathlons.  Call us on 042 9666644 for dates etc starting soon.
Summer Intensive lessons for children.. Mon- Fri. I hour class every day. All levels catered for. Various dates available
Check us out on www.bailieboroughleisurecentre.com  or find us on facebook for regular updates.
Local Job Opportunity
There is part-time Administrator position available in The Rectory Centre in Killinkere under the Community Employment scheme. Proposed start date is the 7th of July.
In order to qualify you must be over 25 and on jobseekers for 12 months or more. Call 0871225465 for more details.
Ecumenical Service of Remembrance
Death by suicide is a tragedy for everyone concerned. The grief and sense of loss experienced can be overwhelming. Living Links Cavan is holding an Ecumenical Service of Remembrance for family and friends bereaved by suicide on Sunday June 29, 2014, at 3.00 pm in St. Brigid's Church, Killeshandra. Everyone welcome.
Those attending are welcome to bring a photo of their deceased loved ones.
Outdoor Summer Camps
Tanagh Outdoor Summer Camps now open. Book early to avoid disappointment. Bailieborough Outdoor Adventure Camp 14th July – 18th July. Contact Tanagh for full information on 049-5552988.
Library
Abair Leat fun Irish conversational class at the Library every Tuesday 1pm-2pm. Fluent Irish not necessary. Refreshments will be provided. All welcome and there is no charge.
Craft Group at Library every Friday 10.30am-1pm. Sharing of skills for all lovers of things hand-made. Refreshments will be provided and there is no charge.
Mother and Toddler Group at Library every Wednesday 10.30am-12pm. A wide variety of toys for toddlers while Mums and Dads enjoy a chat. All welcome and there is no charge.
Citizens Advice at Library every Tuesday 1.30pm-2.30pm. Free advice on all entitlements.
Citizens Information Service
Co. Cavan Citizens Information Service is in the Library, Bailieborough every Tuesday from 1.30 – 2.30pm. Information on Social Welfare, Employment, Tax, Health etc… A Free and Confidential Service. Tel. 0761 07 5200.
Alcoholics Anonymous
Local meetings of Alcoholics Anonymous are held in: The Health Centre, Kells Road on Wednesdays at 8.30pm.
Bailieborough Cancer Comfort Ltd
The Bailieborough Cancer Comfort Ltd Committee is available to help cancer patients or their families. Free Taxi service available. For further information contact: Michael Cullen 087 154 2447, Edel Fox 086 1004030 or Geraldine Gormley 087 7949448.
Samaritans
Are you feeling isolated, alone, stressed out or depressed? If so, there is always help available by contacting the Samaritans at 1850 60 9090.
---
If any readers have items of interest to be included in the Bailieborough News, (Obituaries, News Items, Sports, etc…), please e-mail: mattie42@eircom.net or call 042 9666200.
http://bailieborough.com/wp-content/uploads/2015/09/bborocomlogo2015-300x130.png
0
0
admin
http://bailieborough.com/wp-content/uploads/2015/09/bborocomlogo2015-300x130.png
admin
2014-06-19 08:16:45
2014-06-19 08:16:45
Bailieborough News 19th June 2014