Bailieborough News. July 4st 2019. Matthew J. Cullen.
Parish Arrangements for this Summer: Fr. Martin Gilcreest C.C. will be the Administrator of the Parish until a new Parish Priest takes up residence in late August. Fr. Martin can be contacted at 087 1952 673—please note that the 087 4407 990 number will no longer be in use. We extend a very warm welcome to Fr. Joseph Bature, who has arrived to help Fr. Martin during the summer months and he will be based in the Parish Centre, Bailieborough. Fr. Joseph will say the weekday Masses in Bailieborough, officiate at Baptisms and will alternate between all the Churches in the Parish at weekends. Fr. Martin will look after any Funerals that may occur. To contact Fr. Joseph, please call 042 96 65117.
Thank You: 'Thank You' to everyone who supported the 'Ann Clerkin Memorial Walk' on Saturday, May 25th and a very special thanks to all who helped on the day. The event which was a great success raised €6,975.00 and will be divided between Bailieborough Cancer Comfort Fund, Ataxia Foundation, Ireland and Parkinsons Association of Ireland, Cavan Branch, from Peadar Clerkin and Family.
Ordination of Fr. Michael to Auxiliary Bishop of Armagh: Fr. Michael Router's Episcopal Ordination will take place on Sunday, July 21st at 3.00pm, in St. Patrick's Cathedral, Armagh and will be available to watch on https://www.churchservices.tv/armaghcathedral
Saturday, July 20th, 7.00pm: Vigil Mass will take place in St. Patrick's Cathedral, Armagh. During the Mass, the blessing of the Pontifical Insignia will take place. As we gather on the Feast of the Dedication of St. Patrick's Cathedral, Archbishop Eamon Martin will bless Bishop Michael's Pastoral Ring, Staff and Mitre. After Mass there will be Adoration of the Blessed Sacrament, concluding with Benediction at 8.30pm, during which time we will pray for Fr. Michael as he begins his new Ministry. Everyone welcome.
Sunday, July 21st, 3.00pm: Ordination Ceremony in St. Patrick's Cathedral.
Monday, July 22nd, 7.30pm: Mass of Thanksgiving in St. Malachy's Church, Armagh. Bishop Michael will celebrate his first Mass of Thanksgiving, to give thanks to God for his calling as Bishop and to pray God's blessing on his work and ministry in the years to come. After Mass, Bishop Michael will impart his blessing to all present. Everyone welcome.
Annual Parish BBQ: Bailieborough Church of Ireland Group of Parishes Annual BBQ takes place on Saturday next, 6th July, from 5pm onwards in Bailieborough Parish Church Hall.
This is always a great community event. Everyone welcome, please come along and bring your friends!
Darkness into Light, Bailieborough: Sinéad from Pieta House called down to us last week to confirm the total money raised by the 'Darkness into Light', Bailieborough event in May of this year. Thanks to all who supported in helping to raise a massive total of €30,623. Well done to the community of Bailieborough and surrounding areas. Here's looking forward to 2020.
Bailieborough School of Music:
Bailieborough Tidy Towns: Bailieborough Tidy Towns appeals to all business, property and home owners in the Town area to give their property a makeover. Washing walls, footpath's and painting would be appreciated.
Help to reduce plastic waste, buy your fruit and vegetables loose. Just a small change that that could make a big difference to our environment.
General clean up on Tuesday evenings, meet at the Library at 7pm. More help needed—its only for an hour. All welcome. Come along for an hour and help keep Bailieborough litter free.
Bailieborough MidSummer Fest: Bailieborough MidSummer Festival will be taking place from Friday the 19th of July until Sunday 21st of July.
We are delighted to announce, a collective Photography Exhibition, of local talented photographers. Official opening Thursday 18th July at 7:15pm, upstairs in Bailieborough Library, Market Square. Running through the Festival weekend, up until August 12th. Admission free and everyone welcome.
Photographs by: Oliver Gargan, Sueann Nulty, Suella Holland, Colette Gemmell, Bertha Waller, Kevin Gorman, Breen Smyth, Maria Jordan O'Reilly,
Shirley Hall, Barbara Englishby, Corey Davenport and Melanie Love.
More info coming soon….
Our Walking Treasure Hunt will take place on Saturday, July 20th from 12pm-5pm. Registration from Reception in The Bailie Hotel.
Our Car Treasure Hunt will take place on Saturday between 4pm and 7pm.
Registration from The Bailie Reception.
Entry €10 per car.
Who's up for the challenge?
This year we will be holding a Vintage Day on Sunday the 21st of July.
Cars, Bikes, Tractors and Lorries.
Please not there is a limited entry to this entry anyone interested in bring a vehicle please contact 086 775 5566.
All entries are free.
Bailieborough's Got Talent U16's: Please send your Name, Age, Talent and
Contact No, to bailieboroughmidsummerfestival@gmail.com
We are now accepting applications for stalls on Main St. on Sunday July 21st from 12-6pm. For more details, /application forms please email:
bailieboroughmidsummerfestival@gmail.com or call Caroline at 087-176-2628.
Summer Party: The Bailieborough Red Cross are hosting their annual 'Summer Party' in the Bailie Hotel on Thursday, July 4th at 6.30pm. If you have not yet got an invitation, please call Julie on 086 8968 928.
Bailieborough Walking Group: Wednesday, July 3rd July – Dun A Ri Forest, Kingscourt. (M) Walk – 1.5 hours approx or (E) 1 hour. Commencing at Cabra School entrance to Dun a Rí Forest Park, Shercock Road, Kingscourt at 7.15pm. Leaving Bailieborough Library at 6.50pm.
Wednesday, July 10th – Corraneary/Knockbride East:
(A) Walk 2 + hours. Leaving Bailieborough Library at 6.55pm. Walk commences at Corraneary Presbyterian Church car park at 7.15pm. From Canningstown driving towards Shercock turn left at crossroads, 2.7 kilometres from Canningstown. Drive a further 1 kilometre. All welcome.
Bailieborough Group of Parishes: Saturday 6th July: FOCUS Youth Group 8-10:30pm The Rectory.
Sunday 7th July: Bailieborough 10:45am – Holy Communion followed by tea and coffee.
Knockbride 12noon – Morning Prayer.
Classes at Bailieborough Business Centre: We are now taking names for the following Classes at Bailieborough Business Centre, please call 042-969-4716 to reserve your place for these free classes.
Computers for Beginners· Find your way around the · Internet, · Learn Email, Motor Tax, · Online Shopping and more.
Computers for Improvers Level 2· Advanced email· Attachments· Social Media· Revenue.
Irish Heart Foundation: Church Gate Collection will take place on Saturday and Sunday, 20th and 21st July.
Dhuish Group Water Scheme: Due to annual maintenance of our water mains in the weeks until Monday, 15th July there may be some disruption to the group water supply resulting in reduced pressure
to some of our members. We will endeavour to keep disruption
to the minimum. Please bear with us in this regard.
Library: Places are filling up fast for our Summer Programmes for kids and the good news is that they are all FREE. Pick up a leaflet at the library desk or phone 042 9665779 to book!
Martin Fullen, celebrating Bealtaine Festival. Martin will facilitate a one day still life programme on Saturday, July 6th from 10.30am-4.30pm at a cost of €35 pp. There are a few places available. Contact us on 042 9665779 if interested!
Exposition of the Blessed Sacrament: On Saturday, July 20th as Fr. Michael Router prepares for his Episcopal Ordination, the Family Matters Faith Group will have Exposition of the Blessed Sacrament in St. Anne's Church, Bailieborough after the Saturday, 7.00pm Vigil Mass concluding with prayers at 9.30pm. All are welcome.
Walk, Jog, Run or Crawl! Run, walk, crawl or jog every Monday and Wednesday evenings at the Community Centre, Chapel Road, Bailieborough at 8pm. It's free!!!! And there is no catch! All newcomers welcome. Also the Saturday morning Leisure Group Cycle is back and takes place on Saturday mornings leaving from the Community Centre, Bailieborough at 9.00AM. Please bring euros for coffee stop and all welcome.
Citizen's Information: The service takes place every Tuesday from 1.30pm to 2.30pm in the Library— providing information, advice and advocacy supports to everyone on Social welfare, employment, Pensions, Health, Tax etc. No appointment necessary.
Bailieborough 'Lend A Hand': 'Lend a Hand' is for the elderly and vulnerable in the Bailieborough area. Just give us a call if you need a job done, or even just a chat. Phone Ann on 042 9694825.
Bailieborough Business Centre:
Excel Level 4, Tuesdays 10 – 1pm.
Computers for Beginners, Level 2 Wednesdays.
Word Level 4, Thursdays 10-1pm.
Safe pass. Call 042-96 94 716/ 087– 619 0040 for further information.
Baptism Dates in St. Annes for July and August 2019: The following are the available dates for Baptisms in St. Anne's Church–July 20th, (Saturday 1.30pm), July 28th (Sunday, 12.30pm), August 10th (Saturday, 1.30pm) and August 24th (Saturday, 1.30pm).
Bailieborough Library: Craft Group takes place every Friday from 10.30am-1pm; Book Club 6pm-7pm on the last Thursday of every month; Lit Lab writers group every second Tuesday. Contact 042 9665779 for details on any of the above.
Bailieborough Cancer Comfort Ltd: The Bailieborough Cancer Comfort Ltd Committee is available to help cancer patients or their families. Free Taxi service available. For further information, contact: Edel Fox 086 1004030.
Alcoholics Anonymous: Local meetings of Alcoholics Anonymous are held in: The Health Centre, Kells Road on Wednesdays at 8.30pm.
Craft and Gift Fair: Summer craft and gift fair, Slieve Russell Hotel, Ballyconnell, Sunday 14th July, 12-5 pm, free admission. Handmade crafts, craft supplies and quality giftware. See downlandcrafts.ie for more information or ring 049 436 4877.
East Cavan Gaels GAA Club – Hurling News 1st July 2019
Senior;
East Cavan Gaels 2-08 Mullahoran 1-15. A very enjoyable championship encounter in Mullahoran on Sunday morning. Our third encounter with the champions this year and on each occasion we get closer and closer. Once again a very good first half display backed up in the third quarter but in the end the cuteness that Mullahoran have at this level helped them pull clear at the end. We keep building and get on with the final round v Pearse Og in a couple of weeks.
Under 17; We have entered into the new Monaghan Under 17 league.
Under 15; A very good performance but one which wasn't enough on the night v a good Castleblayney side in the Tain Og U15 semi-final on Monday last. We are as good as our Monaghan counterparts at this level which bodes well for the future.
A weeks break for all our U13/15/17s and we get back together next week.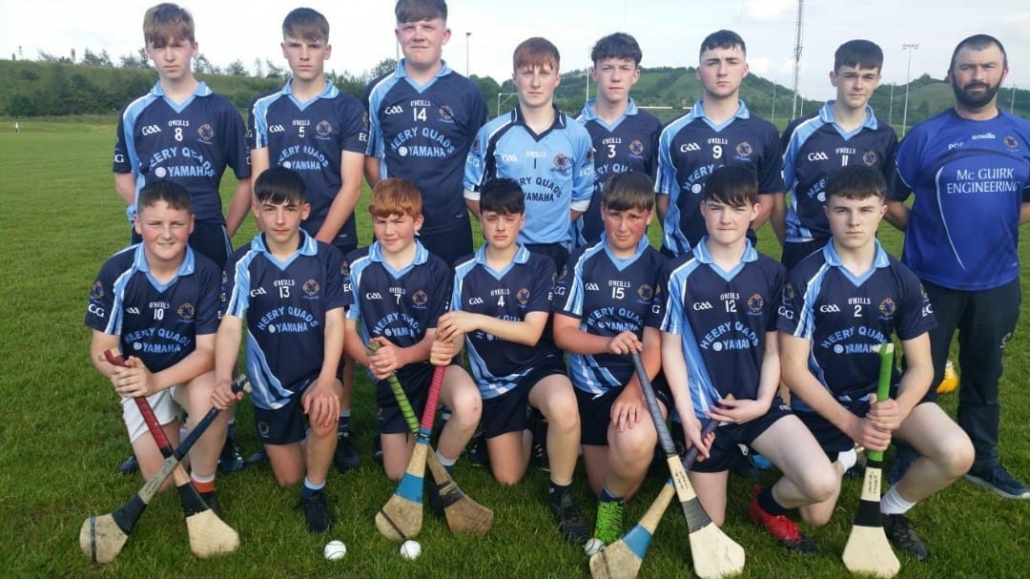 Mondays U15 squad.
Under 13; These lads are now back in training preparing for the Cavan championship. No training this week.
Under 11; Two big blitzes ahead. Derrynoose hopefully for the U10s on Sunday next and Breffni 3G for all U11s on Monday.
Under 7/9; Under 7/9 blitz Monday 8th on Breffni 3G. U9 training Friday 6-7 on the astro at the Vale.
Congrats; Huge congratulations to James Tully and Hugh Smith who won football Feile with their club Laragh Utd at the weekend. James has the unique achievement of winning Feile in both football and hurling in successive years. Well done lads.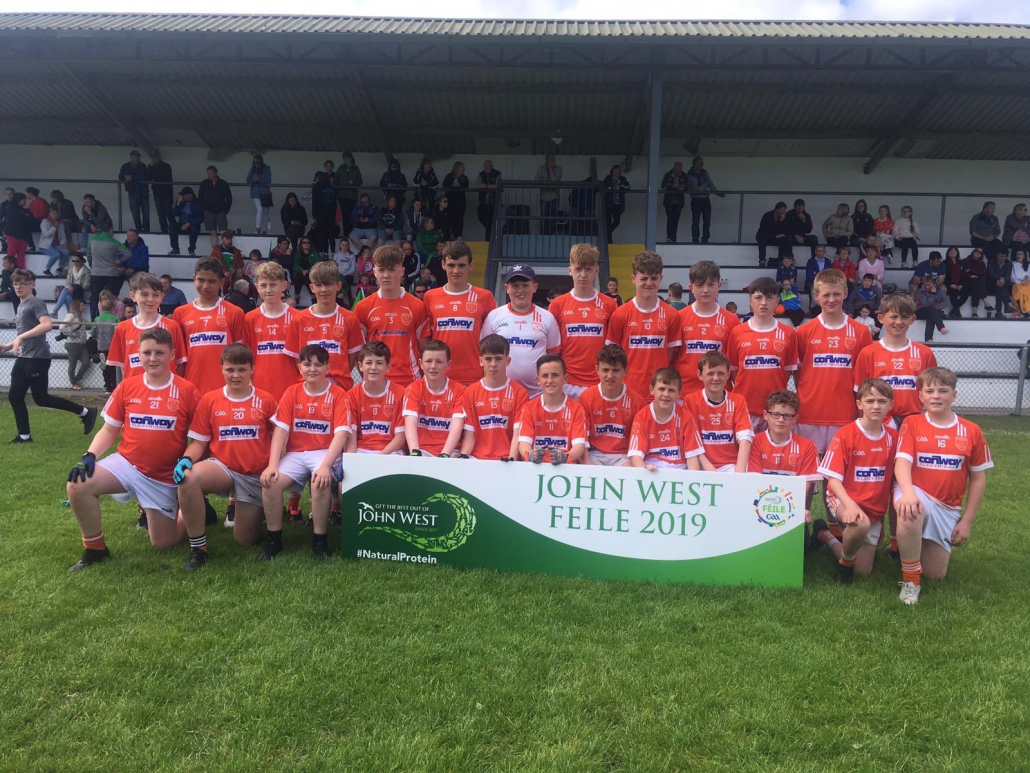 Laragh squad with James No.9 and Hugh No. 21. Well done lads!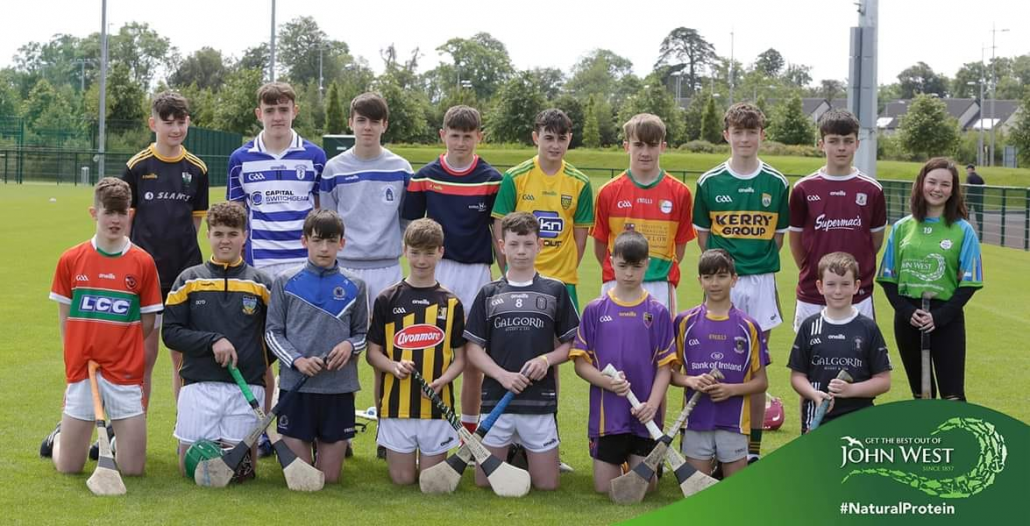 Above; Daire Leddy, front row third from left in ECG top, representing ECG and Cavan at National Feile skills competition in Abbotstown in Dublin last week. In good company but not out of place. Well done Daire!
The week ahead; No U13/15/17 training this week.
Monday; U11 training 6.30-7.30 in Killann.
Thursday; Senior training tbc.
Friday; U9 training on the astro at the Vale 6-7pm. €3 each and water bottle please.
Club contacts;
U7/9/11; Willie Gaughan 086 164 9280.
U13/15/17/Senior; Kathryn O' Flynn 087 244 1371.
http://bailieborough.com/wp-content/uploads/2015/09/bborocomlogo2015-300x130.png
0
0
Liz Fleming
http://bailieborough.com/wp-content/uploads/2015/09/bborocomlogo2015-300x130.png
Liz Fleming
2019-07-05 14:57:16
2019-07-05 14:57:20
Bailieborough News Thursday July 4th