Bailieborough News. July 11th 2019. Matthew J. Cullen.
Parish Arrangements for this Summer: Fr. Martin Gilcreest C.C. will be the Administrator of the Parish until a new Parish Priest takes up residence in late August. Fr. Martin can be contacted at 087 1952 673—please note that the 087 4407 990 number will no longer be in use. We extend a very warm welcome to Fr. Joseph Bature, who has arrived to help Fr. Martin during the summer months and he will be based in the Parish Centre, Bailieborough. Fr. Joseph will say the weekday Masses in Bailieborough, officiate at Baptisms and will alternate between all the Churches in the Parish at weekends. Fr. Martin will look after any Funerals that may occur. To contact Fr. Joseph, please call 042 96 65117.
Ordination of Fr. Michael to Auxiliary Bishop of Armagh: Fr. Michael Router's Episcopal Ordination will take place on Sunday, July 21st at 3.00pm, in St. Patrick's Cathedral, Armagh and will be available to watch on https://www.churchservices.tv/armaghcathedral
Saturday, July 20th, 7.00pm: Vigil Mass will take place in St. Patrick's Cathedral, Armagh. During the Mass, the blessing of the Pontifical Insignia will take place. As we gather on the Feast of the Dedication of St. Patrick's Cathedral, Archbishop Eamon Martin will bless Bishop Michael's Pastoral Ring, Staff and Mitre. After Mass there will be Adoration of the Blessed Sacrament, concluding with Benediction at 8.30pm, during which time we will pray for Fr. Michael as he begins his new Ministry. Everyone welcome.
Sunday, July 21st, 3.00pm: Ordination Ceremony in St. Patrick's Cathedral.
Monday, July 22nd, 7.30pm: Mass of Thanksgiving in St. Malachy's Church, Armagh. Bishop Michael will celebrate his first Mass of Thanksgiving, to give thanks to God for his calling as Bishop and to pray God's blessing on his work and ministry in the years to come. After Mass, Bishop Michael will impart his blessing to all present. Everyone welcome.
Congratulations and Well Done: Congratulations and Well Done to the Bailieborough Shamrocks Senior Ladies side who defeated Lavey by 3—14 to 1—7 in the Division 3 League Final, played in Munterconnaught on last Monday evening, July 1st. Well done to the players, managers and mentors on this terrific result and for their hard work and dedication throughout the year.
Bailieborough Tidy Towns: Bailieborough Tidy Towns appeals to all business, property and home owners in the Town area to give their property a makeover. Washing walls, footpath's and painting would be appreciated.
Help to reduce plastic waste, buy your fruit and vegetables loose. Just a small change that that could make a big difference to our environment.
General clean up on Tuesday evenings, meet at the Library at 7pm. More help needed—its only for an hour. All welcome. Come along for an hour and help keep Bailieborough litter free.
Bailieborough MidSummer Fest: Bailieborough MidSummer Festival will be taking place from Friday the 19th of July until Sunday 21st of July.
'The Man Who Wanted To Fly'!! Screening in the newly renovated Court House at the bottom of Main St. This is the irresistible story of 80-something bachelor farmer Bobby Coote who never lost sight of a lifelong dream to fly. Capturing the wonder of one man's dream, this film is a unique journey into a disappearing Irish border hinterland.
With massive demand we are delighted to announce we are showing a second screening of 'The Man Who Wanted To Fly'. With kind thanks to loosehorse productions we can announce we have a matinee show on Saturday 20th at 4.30pm, tickets on sale in the Bailie Hotel.
Vintage, classic and sports vehicle run. Saturday July 20th. Featuring cars, bikes and tractors from many an era. In aid of Bailieborough and Killan Cancer funds. Registration from 4:30 in Market Square. Run starts at 5.00pm.
We are delighted to announce, a collective Photography Exhibition, of local talented photographers. Official opening Thursday 18th July at 7:15pm, upstairs in Bailieborough Library, Market Square. Running through the Festival weekend, up until August 12th. Admission free and everyone welcome.
Photographs by: Oliver Gargan, Sueann Nulty, Suella Holland, Colette Gemmell, Bertha Waller, Kevin Gorman, Breen Smyth, Maria Jordan O'Reilly,
Shirley Hall, Barbara Englishby, Corey Davenport and Melanie Love.
Our Walking Treasure Hunt will take place on Saturday, July 20th from 12pm-5pm. Registration from Reception in The Bailie Hotel.
Our Car Treasure Hunt will take place on Saturday between 4pm and 7pm.
Registration from The Bailie Reception.
Entry €10 per car.
Who's up for the challenge?
This year we will be holding a Vintage Day on Sunday the 21st of July.
Cars, Bikes, Tractors and Lorries.
Please not there is a limited entry to this entry anyone interested in bring a vehicle please contact 086 775 5566.
All entries are free.
Bailieborough's Got Talent U16's: Please send your Name, Age, Talent and
Contact No, to bailieboroughmidsummerfestival@gmail.com
We are now accepting applications for stalls on Main St. on Sunday July 21st from 12-6pm. For more details, /application forms please email:
bailieboroughmidsummerfestival@gmail.com or call Caroline at 087-176-2628.
Bailieborough School of Music: Lotto results for 29-06-2019. Numbers Drawn; 04, 14, 16, 22. No Jackpot Winner, Lucky Dip (€25) Winners; Teresa Cooney; C O'Reilly; Pearse Og Smith; Gavin Galligan.
Lotto results for 06-07-2019. Numbers Drawn; 06, 16, 22, 23. No Jackpot Winner, Lucky Dip (€25) Winners; Nathan Gaskin; Ultan Murphy; Jim Tierney; Micheal Clarke. Next week's Jackpot €5,000.
Bailieborough Walking Group:
Wednesday, July 10th – Corraneary/Knockbride East:
Walk 2 + hours. Leaving Bailieborough Library at 6.55pm. Walk commences at Corraneary Presbyterian Church car park at 7.15pm. From Canningstown driving towards Shercock turn left at crossroads, 2.7 kilometres from Canningstown. Drive a further 1 kilometre.
Wednesday, July 17th-– Lough Curragh Lake:
(M) Walk 1.5 Hours. Leaving Bailieborough Library at 6.50 pm. Walk commences at 7.15pm at Lough Curragh Lake. 12km from Bailieborough on Cavan Road. Car park on left just past the lake. All welcome.
Well Done: Well done to local man, Robert Cullen (Seefin), who completed the Ironman, Ireland event held in Youghal, Cork on Sunday, June 23rd. Robert's time of 10 hours, 45 minutes placed him 265th overall in the event which had attracted an entry of over 2,500 from over 60 countries and which was held in terrible conditions, with rain falling from early morning. Robert was joined in the event by his 'Mac's Misfits' teammates, Kevin McElhinney, 12h 20m, (Virginia), Trevor McWeeney, 12h 34m (Virginia) and Sandra McQuade, 13h 01m, (Killinkere). A brilliant result for all, considering that the course consisted of a 180km cycle followed by a full 26.2mile marathon—the swim part of the event was cancelled due to the rough conditions in the sea. Also well done to all the other athletes from the county who took part in the event, the training now starts for next year's event!!
Bailieborough Group of Parishes: Sunday 14th July:
Bailieborough 10:45am – Morning Prayer followed by tea and coffee.
Knockbride 12noon – Holy Communion.
Sunday 21st July:
Bailieborough 10:45am – Morning Prayer followed by tea and coffee.
Knockbride 12noon – Morning Prayer.
Classes at Bailieborough Business Centre: We are now taking names for the following Classes at Bailieborough Business Centre, please call 042-969-4716 to reserve your place for these free classes.
Computers for Beginners· Find your way around the · Internet, · Learn Email, Motor Tax, · Online Shopping and more.
Computers for Improvers Level 2· Advanced email· Attachments· Social Media· Revenue.
'Hardtimes Chorus': 'Hardtimes Chorus' are holding an 'Open Choir Evening' to welcome new members on Thursday, July 18th at 8.00pm, in St. Annes Church, Bailieborough. The Choir has a number of concerts planned for this autumn and would be delighted if you would like to join them. If you can sing or even play an instrument, please come along and to hear a sample of our music. Light refreshments will be served on the night.
Irish Heart Foundation: Church Gate Collection will take place on Saturday and Sunday, 20th and 21st July.
Dhuish Group Water Scheme: Due to annual maintenance of our water mains in the week until Monday, 15th July there may be some disruption to the group water supply resulting in reduced pressure
to some of our members. We will endeavour to keep disruption
to the minimum. Please bear with us in this regard.
Library: Places are filling up fast for our Summer Programmes for kids and the good news is that they are all FREE. Pick up a leaflet at the library desk or phone 042 9665779 to book!
Exposition of the Blessed Sacrament: On Saturday, July 20th as Fr. Michael Router prepares for his Episcopal Ordination, the Family Matters Faith Group will have Exposition of the Blessed Sacrament in St. Anne's Church, Bailieborough after the Saturday, 7.00pm Vigil Mass concluding with prayers at 9.30pm. All are welcome.
Walk, Jog, Run or Crawl! Run, walk, crawl or jog every Monday and Wednesday evenings at the Community Centre, Chapel Road, Bailieborough at 8pm. It's free!!!! And there is no catch! All newcomers welcome. Also the Saturday morning Leisure Group Cycle is back and takes place on Saturday mornings leaving from the Community Centre, Bailieborough at 9.00AM. Please bring euros for coffee stop and all welcome.
Citizen's Information: The service takes place every Tuesday from 1.30pm to 2.30pm in the Library— providing information, advice and advocacy supports to everyone on Social welfare, employment, Pensions, Health, Tax etc. No appointment necessary.
Bailieborough 'Lend A Hand': 'Lend a Hand' is for the elderly and vulnerable in the Bailieborough area. Just give us a call if you need a job done, or even just a chat. Phone Ann on 042 9694825.
Bailieborough Business Centre:
Excel Level 4, Tuesdays 10 – 1pm.
Computers for Beginners, Level 2 Wednesdays.
Word Level 4, Thursdays 10-1pm.
Safe pass. Call 042-96 94 716/ 087– 619 0040 for further information.
Baptism Dates in St. Annes for July and August 2019: The following are the available dates for Baptisms in St. Anne's Church–July 20th, (Saturday 1.30pm), July 28th (Sunday, 12.30pm), August 10th (Saturday, 1.30pm) and August 24th (Saturday, 1.30pm).
Bailieborough Library: Craft Group takes place every Friday from 10.30am-1pm; Book Club 6pm-7pm on the last Thursday of every month; Lit Lab writers group every second Tuesday. Contact 042 9665779 for details on any of the above.
Bailieborough Cancer Comfort Ltd: The Bailieborough Cancer Comfort Ltd Committee is available to help cancer patients or their families. Free Taxi service available. For further information, contact: Edel Fox 086 1004030.
Alcoholics Anonymous: Local meetings of Alcoholics Anonymous are held in: The Health Centre, Kells Road on Wednesdays at 8.30pm.
Craft and Gift Fair: Summer craft and gift fair, Slieve Russell Hotel, Ballyconnell, Sunday 14th July, 12-5 pm, free admission. Handmade crafts, craft supplies and quality giftware. See downlandcrafts.ie for more information or ring 049 436 4877.
East Cavan Gaels GAA Club – Hurling News 8th July 2019
Senior; Lads awaiting the final regular round of the Championship.
Under 13/15/17; Holiday season in full swing. We will train when all available. Players will get text.
Under 11; A great days hurling in Derrynoose, Co. Armagh on Sunday as the Under 10s got 5 very good games in bright sunshine. Next up is a trip to Breffni 3G on Monday.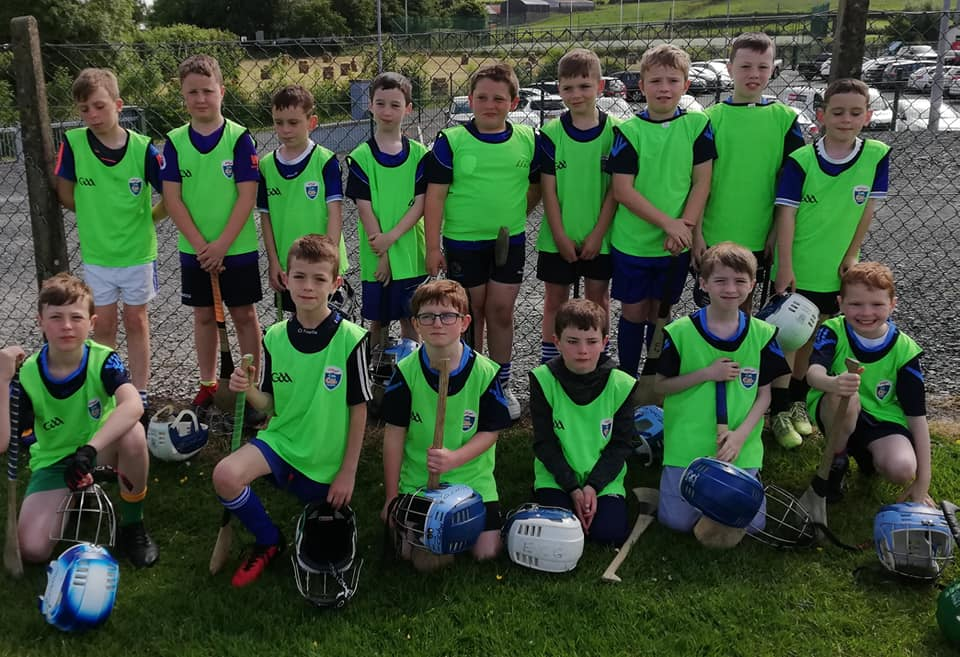 Sundays squad in Derrynoose.
Under 7/9; Under 7/9 blitz Monday 8th on Breffni 3G.
The week ahead;
Wednesday; Possible U13/15/17 training tbc.
Thursday; Senior training tbc.
Club contacts;
U7/9/11; Willie Gaughan 086 164 9280.
U13/15/17/Senior; Kathryn O' Flynn 087 244 1371.
http://bailieborough.com/wp-content/uploads/2015/09/bborocomlogo2015-300x130.png
0
0
Liz Fleming
http://bailieborough.com/wp-content/uploads/2015/09/bborocomlogo2015-300x130.png
Liz Fleming
2019-07-22 11:18:00
2019-07-22 11:18:03
Bailieborough News Thursday 11th July 2019