Bailieborough News. November 14th 2019. Matthew J. Cullen.
Bailieborough Cancer Comfort Ltd: Bailieborough Cancer Comfort Ltd's Annual Variety Concert will be held on this Friday, 15th and Saturday, 16th November in the Community Centre, commencing at 8.30pm, each night. Come along for a fun filled night of Music, Dance, Drama and Comedy!! Admission is €10 and this promises to be 'A night not to be missed'!! All welcome.
Mass of Consolation: A Mass of Consolation will be celebrated in St. Annes Church on Saturday, November 23rd at 7.00pm, to remember parishioners who died and were buried in the Parish Cemetery since the 1st of November 2018. All are welcome to attend.
Christmas Fairs: Bailieborough Creative Hub are organising Christmas Fairs for the next 5 weeks from Sunday next, November 17th : in Bailieborough Courthouse.
Sunday, 17th November – 12pm to 5pm.
Sunday, 24th November – 12pm to 5pm.
Saturday, 30th November – 2pm to 8pm (Santa arriving in town and Christmas Lights switch on).
Sunday, 7th December – 12pm to 5pm.
Sunday, 14th December – 12pm to 5pm.
Contemporary and handcrafted gifts, arts, crafts, cards, artisan bakes and more. To book a table or for enquires, please email us at bailieboroughcreativehub@gmail.com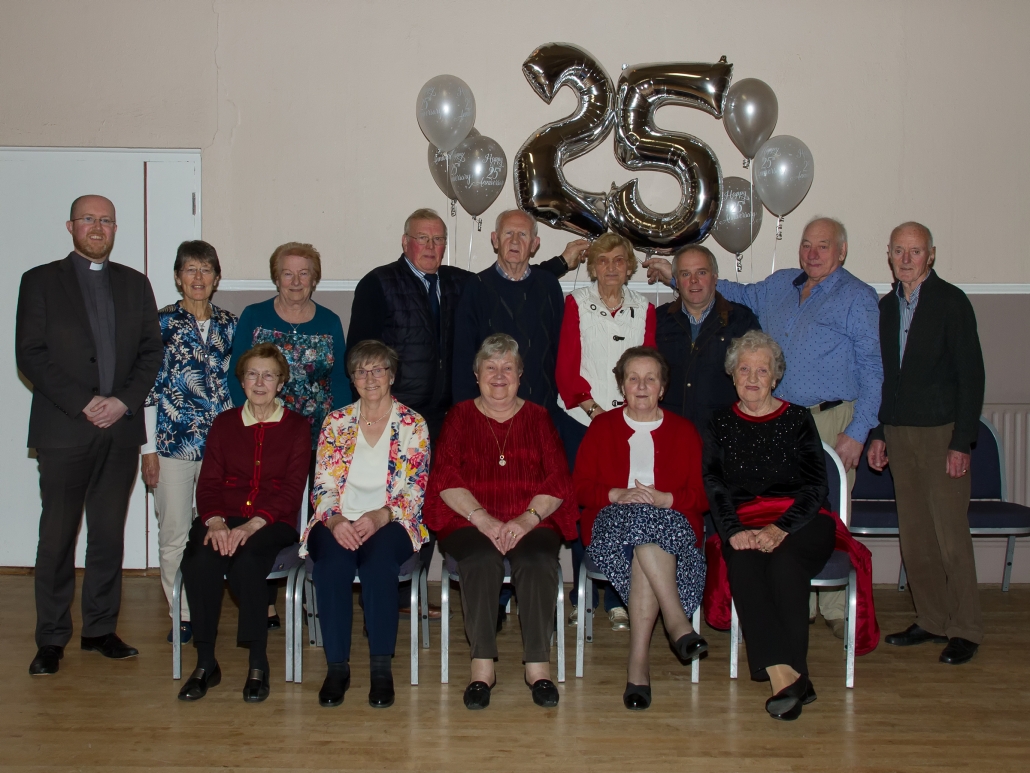 Fr. Ultan McGoohan PP joins members of the  Social Dancing group as they celebrate 25 years of Social Dancing in Bailieborough  Community Centre on Saturday evening  last  9/11/19.B
Bailieborough Mental Health Association: We would like to say a big 'Thank You' to everyone that came to the Annual General Meeting on Thursday night. We would like to wish our outgoing Chairperson, Colm Colgan every success in the future and to thank him for his hard work over the last year, and also would like to thank Audrey Rogers for her many years of Service to the Association as Secretary. The following people have been elected to the following positions: Chairperson – Seán McKiernan, Deputy Chairperson – Johnny Kerins ,Treasurer – Ann Hanley and Secretary – Fiona Gilmer. Keep a look out on the Association's Social Media pages, for what we get up to over the coming year!! Exciting things ahead !!

Bridge: Bridge takes place in the Hotel Bailie on every Tuesday evening and new members are always most welcome.
Bailieborough Community Alert: -A well attended meeting of Bailieborough  Community Alert took place in the nearly refurbished Courthouse on Monday week last. Superintendent Gordan Englishby was in attendance and particated in all aspects of the meeting.An array of local issues were raised, which the Superintendent answered openly with as much detail as possible.The attendance by members, especially new ones was appreciated and welcomed . Our next meeting is planned for January 2020, when all members will be notified with time and date. If you would like to get involved , please contact P..R.O. Kevin Carolan at 0863759627. The Community Alert is alive and well with 320 members in Bailieboro…we're aiming to have the biggest alert team in the country..
Bailieborough School of Music: Lotto results for 09-11-2019. Numbers Drawn; 8, 14, 19, 25. No Jackpot Winner, Lucky Dip (€25) Winners; Leona McDonnell; Margo Gormley; Wincey Soden; Peter McGuire. Next week's Jackpot €6,800.
Bailieborough Mens/ Hen's Shed: The Hen's Shed currently meets each Wednesday evening in the Bexcourt Centre from 7:15 till 9pm, and each Thursday morning in the Library from 10 till 12 noon. The group is open to women over the age of 18 living in or around Bailieborough. Contact: Maria at: bailieboroughhensshed@gmail.com or find us on Facebook for further information.
The Men's Shed currently meets every Tuesday morning form 10am till 12 noon in the Bexcourt Centre. The group is open to men over the age of 18 living in or around Bailieborough, contact Matthew at bailieboroughmensshed@gmail.com or find us on Facebook for further information.
Regretted Death: All in the Community were very deeply saddened to learn of the death of Tom MacIntyre, Lurganboy, Virginia, and formerly of Bailieborough, Co. Cavan, Poet, Playwright and Man of Letters, who passed away peacefully at home, in the loving care of his adored wife and soulmate Céline (née McAdam) on Wednesday, October 30th. Tom was the dearly loved father of Deirdre, Darragh, Donal, Desmond, Tadhg and their mother Peggy. Tom was predeceased by his brothers Fr. Noel, Ciarán, Raymond and his sister Céline. He will be sadly missed by his family, daughters-in-law, son-in-law, grandchildren, relatives and a large circle of friends. Tom's Funeral Mass took place on Saturday 2nd November in St. Anne's Church, Bailieborough, followed by cremation in Lakeland Crematorium, Cavan.
Bowls: Bailieborough Community Bowls continue in the Community Centre on Wednesday evenings at 8.00pm. New members—both male and female are most welcome.
Bailieborough Social Day Centre: The next get-together of the Bailieborough Social Day Centre will take place on Wednesday, November 13th in the Community Centre from 2.30pm to 4.30pm, for more music, chat, etc… New members are always most welcome.
Vincent's Shop, Bailieborough: We are urgently seeking donations of Gents and Ladies clothing, especially Winter Coats, also paper and plastic bags that we can use in Vincent's Shop. Thank You for all your kind donations of clothes, toys, bric-a-brac and for generously buying from the shop. All money raised is used for local deserving causes.
Ladies Awards Night: The Bailieborough Shamrocks Senior Ladies 'Awards Night' will take place in Nixy's, The Square Bar on Saturday evening next, , November 16th, commencing at 7.30pm. Raffle on the night, with music by 'Luna'. All welcome.
Safe Pass: Safe Pass in Bailieborough Business Centre on Saturday, 23rd November.
Call, 042- 96 94 716 for bookings.
Free C.P.R. 'Hands for Life' Course: A free 'Hands for Life' C.P.R. Course is available to all in the Hotel Bailie Ballroom on Saturday next, November 16th. Bailieborough Shamrocks G.F.C. Are running this course in conjunction with the Irish Heart Foundation, for the benefit of the whole community. Fully trained personnel and completion certs will be provided by the Irish Heart Foundation on the day. You DO NOT have to be a member of the Shamrocks GAA to avail of this training. Please contact Club Secretary, Mark Gilsenan on 087 415 8919 for more details and to book your place. Please note, that this course is open to over 18's only.
Irish Dancing Classes: Irish Dancing Classes take place every Thursday evening from 6.00 to 8.00pm, in the Community Centre, Chapel Road. For further details, please contact: Tracy at 085 771 2282.
Bailieborough Shamrocks G.F.C.: Bailieborough Shamrocks Annual General Meeting takes place on Friday, 22nd November 2019 at 8.30pm in the Clubrooms at St. Anne's Park. Please make every effort to attend as this is the most important meeting of the year for the club.
Please return nominations forms to the Club Secretary by email to secretary.bailieborough.cavan@gaa.ie by next Friday, 15th November please.
There is also a Mass for Deceased Members of our GAA Club on Saturday the 16th November at 7pm in St. Anne's Chapel.
Shoebox Appeal for the Homeless: Just a few ideas for the Shoe Box appeal for the Homeless, which when completed, you can drop off in Tesco, Bailieborough.
MEN and WOMEN :PLEASE SPECIFY MALE /FEMALE:
Hats,scarves,gloves,
Shampoo,shower gel,wipes, face cloth, roll on deodorant.
Toothpaste ,toothbrush.
Puzzle book /magazines.
Sweets and treats.
CHILDRENS ..PLEASE SPECIFY BOY / GIRL and AGE:
Hats ,scarves,gloves,pjs
Colouring books, pencils and markers ,puzzle books.
Toiletries..shower gel ,shampoo, wipes, tooth brushes/toothpaste.
Sweets and maybe a small toy.
All will be distributed to Homeless Shelters where the need is greatest.
Tesco, Bailieborough will be a drop off point until the 30th of November.
Thank you in advance.
Citizen's Information: The service takes place every Tuesday from 1.30pm to 2.30pm in the Library— providing information, advice and advocacy supports to everyone on Social welfare, employment, Pensions, Health, Tax etc… No appointment necessary.
Deepest Sympathy: Deepest Sympathy is extended to sister Mary, brother-in-law Michael, nieces, nephews and extended family, neighbours and friends on the death of John Blake, Maio, Moynalty, Co. Meath,/ Tierworker, Cavan who passed away peacefully, at Our Lady's Hospital, Navan on Friday, November 8th. John's Funeral Mass took place in The Church of the Assumption, Moynalty, on Sunday, November 10th , with burial afterwards in Moynalty Cemetery.
Bailieborough 'Lend A Hand': 'Lend a Hand' is for the elderly and vulnerable in the Bailieborough area. Just give us a call if you need a job done, or even just a chat. Phone Ann on 042 9694825.
Baptism Dates in St. Annes for November, December and January : The following are the available dates for Baptisms in St. Anne's Church– November 16th (Saturday, 1.30pm), December 1st (Sunday, 12.30pm), December 14th (Saturday, 1.30pm), December 15th (Sunday, 12.30pm) and Sunday, December 29th (Sunday, 12.30pm), January 11th (Saturday, 1.30pm), January 12th (Sunday, 12.30pm) and January 26th (Sunday, 12.30pm).
Bailieborough Library: The Craft Group are still going strong with many great memories and hopefully more to come! Not just a craft group, but a place to come, have a cuppa, learn new talents, make new friends and feel very welcome. Everyone is welcome every Friday morning drop in from 10am to 1pm!
Book Club 6pm-7pm on the last Thursday of every month; Lit Lab writers group every second Tuesday. Contact 042 9665779 for details on any of the above.
Bailieborough Cancer Comfort Ltd: The Bailieborough Cancer Comfort Ltd Committee is available to help cancer patients or their families. Free Taxi service available. For further information, contact: Edel Fox 086 1004030.
Alcoholics Anonymous: Local meetings of Alcoholics Anonymous are held in: The Health Centre, Kells Road on Wednesdays at 8.30pm.
Care Champion's: Are you affected by the cut backs in Home Help services?
Are you affected by cutbacks in the community?
We are uniting to give a voice to those who are most affected by these harsh decisions, and would love to hear from you.
The HSE embargo is having a detrimental effect on people in the community. We believe it is gone to far. We, as people in need of support and those who provide care for them, feel we need to stand united and give a voice to those who are suffering and in need of basic support.
We are a newly formed advocacy group and wish to hear from you so that together we can advocate for the needs of all who need care in the community.
Contact; Majella, 0894477018 or Mairead, 0872250101 for further information.
Walking Football Programme: Cavan Sports Partnership, as part of their active adult(50+) programme, have organised a Walking Football programme in Shercock, starting on this Thursday, 14th November from 8pm-9pm in Shercock Hall.The programmes will run for 5 weeks and is being delivered in conjunction with the FAI. Walking football is a slower version of football, that is fun, social and with plenty of exercise in an inclusive environment. Refreshments will be provided after each weeks session.
Limited places available and pre-registration essential. Cost is €10 per person for 5 weeks. To book your place please contact Dean McElroy, Cavan Sports Partnership on 086-7878060 or email: dmcelroy@cavancoco.ie
http://bailieborough.com/wp-content/uploads/2015/09/bborocomlogo2015-300x130.png
0
0
Liz Fleming
http://bailieborough.com/wp-content/uploads/2015/09/bborocomlogo2015-300x130.png
Liz Fleming
2019-11-14 15:50:09
2019-11-14 15:50:15
Bailieborough News Thursday 14th November