Bailieborough News. October 7th 2019. Matthew J. Cullen.
Hardtimes Chorus Choir and The Omagh Peace Choir: As part of the Building Positive Relations initiative sponsored by PEACE IV and SEUPB, 'Hard Times Chorus' and The Omagh Peace Choir are presenting a choral collaboration on Saturday next October 12th  at 4.00pm in St Annes Church and Sunday, October 13th  in Omagh Library. This free event is open to all to attend and is being facilitated by none other than Daryl Simpson of the Celtic Tenors. We look forward to seeing you all on the day for an enjoyable afternoon of song and celebration. If you have any enquiries, please do not hesitate to contact us on 042-969-4716.
Bailieborough Poetry Festival 2019: The 7th Bailieborough Poetry Festival took place last weekend. Great readings from featured poets, Moya Cannon, Kate Ennals and Pat Deeley, workshops by Moya and Pat, the launch of the LitLab anthology—entitled 'Where You may Find Yourself'– and their collaboration with artist Jim McPartlin. It was busy!! The results of the Bailieborough Poetry Festival Competition 2019. The judge was Cavan Writer-in-Residence, Anthony J Quinn.
Winner: Christopher M James – 'Janus'.
Runners Up: Giles Newington – 'Dynamic Me'.
John D Kelly – 'The Missing Piece'.
Congratulations to the winner and runners up and to the following who made the shortlist:
Orla Fay – 'The Member of the Wedding.
Ruth Quinlan – 'Eczema Herpeticum in The Limerick Regional'.
Eugene Platt – 'Thank You Note to my New Wife's Late Husband'.
Anne Tannam – 'I'll admit to'.
Kate Ennals – 'Drafting a Poem in my Mother's Old Diary'.
The announcement and presentation in Bailieborough Library on Saturday was a most enjoyable event. Thanks to those shortlisted poets who attended and read. Thanks also to the winner Christopher James who, though in Thailand, was able to read his poem for us through the wonders of modern technology.

Lit lab writers' extend thanks to all who helped make Bailieborough Poetry Festival a great success again this year.
We are most grateful to Peter Murtagh who generously provided a wonderful venue for our poetry readings. Special thanks to Cavan Arts for their provision of funding, to Fiona, Marlene, Mary and Anne for facilitating our events in Bailieborough library also to Lee, Bailieborough Development Association for accommodating our workshop.
Thank you, Jim Mc Partlin, Anthony J. Quinn, Moya Cannon, Pat Deeley, Kate Ennals and Danny Forde for being our featured guests this year.
Finally, to all who came to enjoy a unique selection of art, poetry, prose and music, thank you, without your support the festival would not be possible.
October—Month of The Rosary: The Rosary will be said at the Grotto on the Virginia Road for the month of October at 7.30pm, every evening except Saturdays. All are very welcome to come along and pray for their many intentions.
Bailieborough Hen's Shed: Bailieborough Hen's Shed—weekely get-together in Bailieborough Library every Thursday morning during October, from 10.00am to 12 noon, commencing on this Thursday morning, October 10th and thereafter on Thursday, 17th, 24th and 31st. Ladies living in and around Bailieborough are invited to join us for a social morning. Come along and enjoy the company and the chat. Tea/Coffee provided.
St. Anne's National School 'Fun Run': St. Anne's N.S. are organising a 'Fun Run' on Sunday, October 20th starting at St. Anne's National School. Registration will take place from 11.00am on the day. Entry fee is €5 or a donation to take part. Individuals and families are invited to walk or run the 1K, 3K, 5K or 10K routes. Prizes and refreshments also on the day. This event promises to be a colourful occasion, to which the whole school is looking forward to. We would love you to join us for this fun event.
Bailieborough Heritage Society: Thank You: We had a fantastic turnout last Friday night for the launch of 'Industrious Bailieborough'. We had wonderful music supplied by harpist Mary Argue and beautiful food from Foxes. Thank you Padraic McIntyre for launching the book. The Courthouse is a fantastic venue, Bailieborough Development Association have to be commended on the fine restoration under the helm of Lee McDonnell, a truly wonder person. Thank-you to all who came and photographers Suella Holland and Kevin Gorman who took photos. We also wish to thank the Special EU Programmes Body Peace IV Project for their financial support, Jane Crudden, Peace Programme Manager, Siobhan and Dennis and the Community and Enterprise team, for their guidance and management, not forgetting our own team. Anyone wishing to obtain a copy of the book, please contact any of the Hertitage Society members.
'Colourful Cavan and Beyond,' by Artist Jim McParlin. An Art exhibition comprising of paintings depicting scenes from around the county and locations further afield. The exhibition will be on view in the Library until Friday, October 18th. All are welcome during Library opening hours.
Presentation: On Tuesday evening last, October 1st, The Bailieborough Mid-Summer Festival committee presented cheques to the value of €500 to members of the Bailieborough Cancer Fund and The Killann Cancer Fund in the B.D.A. Centre, Shercock Rd. The money was the proceeds of the Mid-Summer Festival's 'Honda 50 and Vintage Tractor/Car Run'. Also on the night, the Mid-Summer Festival Committee received a cheque for €437.50 from Tesco, Bailieborough as part of Tesco's 'Blue Tokens' promotion.
C.P.R. 'Hands for Life Course' : How would you like to complete a CPR Hands for Life Course in late November?
Well now is your chance to get this potentially lifesaving training FREE. Yes you read that correct FREE!!
Bailieborough Shamrocks GAA in conjunction with Irish Heart Foundation are offering this CPR Training to the whole community.
The course takes just one hour – 60 minutes to learn to save a life!
The instructor will provide all the material and will run 3 CPR courses with 30 people per course..
If we have enough interest then this course will go ahead in late November with the date and venue to be confirmed.
If you are interested then please contact the event organiser and our club Secretary Mark Gilsenan on secretary.bailieborough.cavan@gaa.ie or text him on 087 4158919 with your name and number of seats required on the course. Please note–The course is open to over 18 years old ONLY!
Trad Musicians Wanted: Calling all amateur traditional musicians. Bailieborough Development Association would like to encourage amateur musicians to come together to share their musical skills and have the craic. This is a social programme, designed to get people out of isolation and to socialise and share skills. Call 042-969-4716 for further information.
Craft Fair: A 'Craft Fair' will take place at the Bailie Hotel on Sunday 20th October from 12-5pm. (All tables fully booked). Lots of different Craft Stalls, from Cupcakes to Jewellery and from Candles to Toys! Come and join us here at the Bailie Hotel, you never know what you may see! All welcome.
Bailieborough School of Music: Lotto results for 05-10-2019. Numbers Drawn; 16, 17, 26, 29. No Jackpot Winner, Lucky Dip (€25) Winners; Lindsey Gaynor, Colin Smyth; Liam Clarke; Colin Smyth. Next week's Jackpot €6,300.
Bowls: Bailieborough Community Bowls continue in the Community Centre on Wednesday evenings at 8.00pm. New members—both male and female are most welcome.
Bailieborough Mental Health Association: On Tuesday evening next, the 15th of October 2019, we will be holding our book launch of the local school children's essay competition, which we held for them. The launch will be in Bailieborough Courthouse at 7:45 pm. We are privileged to have Minister for Mental Health ,Jim Daly in attendance on the night. All welcome to come along to support the local children on a great accomplishment.
Bailieborough Cancer Comfort Ltd: Bailieborough Cancer Comfort Ltd's Annual Variety Concert will be held on Friday, 15th and Saturday, 16th November. We are looking for local talent to take part…..if interested, please contact Edel on 086 1004030.
Computers for Farmers: Help is at hand for farmers, who need training in Basic Computers, On-line Herd Registration Form Filling, Internet and email, Farm Record Keeping, Health and Safety etc. Classes are free and are commencing on Monday evenings in Bailieborough Business Centre at 7pm. To book a place contact Noelette Dolan on 087 9293531 or Elizabeth on 087 6190040.
Walk, Jog, Run or Crawl! Run, walk, crawl or jog every Monday and Wednesday evenings at the Community Centre, Chapel Road, Bailieborough at 8pm. It's free!!!! And there is no catch! All newcomers welcome. Also the Saturday morning Leisure Group Cycle is back and takes place on Saturday mornings leaving from the Community Centre, Bailieborough at 9.00AM. Please bring euros for coffee stop and all welcome.
Vincent's Shop: It is getting to that time of the year again, the dreaded 'C' word and we would like to ask if any of our regular or new donators can search through their attics, garages, etc… and donate any unwanted Halloween outfits, decorations, bric-a-brac, etc… and also Christmas jumpers, outfits, decorations, boxed toys (preferably new), along with Christmas Bric-a-Brac, so that we can recycle them this year for Christmas instead of them finding a home in landfill!! We also accept all forms of clothing but are especially looking for men and youth clothing from 16 to 24 years of age. Thank you for your continued support of our shop.
Irish Dancing Classes: Irish Dancing Classes take place every Thursday evening from 6.00 to 8.00pm, in the Community Centre, Chapel Road. For further details, please contact: Tracy at 085 771 2282.
Halloween 'Fright Night' is back!!: Bailieborough Mid-Summer Festival and Town Events are happy to announce that, the 'Halloween Fright Night' is back on this year. Following the terrific success of last year's event, this year's one takes place on Friday, October 25th at the Chapel Carpark, at the Town Lake. Registration is from 6.00pm and the night promises to be one filled with Scary Walks, Music, Tea, Coffee and Treats. For more information, please contact Tony at 086 3993 430.
Citizen's Information: The service takes place every Tuesday from 1.30pm to 2.30pm in the Library— providing information, advice and advocacy supports to everyone on Social welfare, employment, Pensions, Health, Tax etc… No appointment necessary.
Bailieborough 'Lend A Hand': 'Lend a Hand' is for the elderly and vulnerable in the Bailieborough area. Just give us a call if you need a job done, or even just a chat. Phone Ann on 042 9694825.
Baptism Dates in St. Annes for October and November 2019: The following are the available dates for Baptisms in St. Anne's Church– October 19th (Saturday, 1.30pm), November 3rd (Sunday, 12.30pm) and November 16th (Saturday, 1.30pm).
Bailieborough Library: The Craft Group are still going strong with many great memories and hopefully more to come! Not just a craft group, but a place to come, have a cuppa, learn new talents, make new friends and feel very welcome. Everyone is welcome every Friday morning drop in from 10am to 1pm!
Book Club 6pm-7pm on the last Thursday of every month; Lit Lab writers group every second Tuesday. Contact 042 9665779 for details on any of the above.
Bailieborough Cancer Comfort Ltd: The Bailieborough Cancer Comfort Ltd Committee is available to help cancer patients or their families. Free Taxi service available. For further information, contact: Edel Fox 086 1004030.
Alcoholics Anonymous: Local meetings of Alcoholics Anonymous are held in: The Health Centre, Kells Road on Wednesdays at 8.30pm.
East Cavan Gaels GAA Club – Hurling News 7th October 2019
Senior; First outdoor session on Sunday last in Killann. We might move to astro in the weeks ahead as pitches begin to get heavy.
Under 15/17; Under 15s almost done while U17s will play in Shane Mulholland U18 tournament in Breffni Park next weekend.
New Jerseys;
Mondays Under 11 squad will don brand new and rather cool ECG U11 jerseys. This is with thanks to all in the local community who supported both our draws for All Ireland final tickets.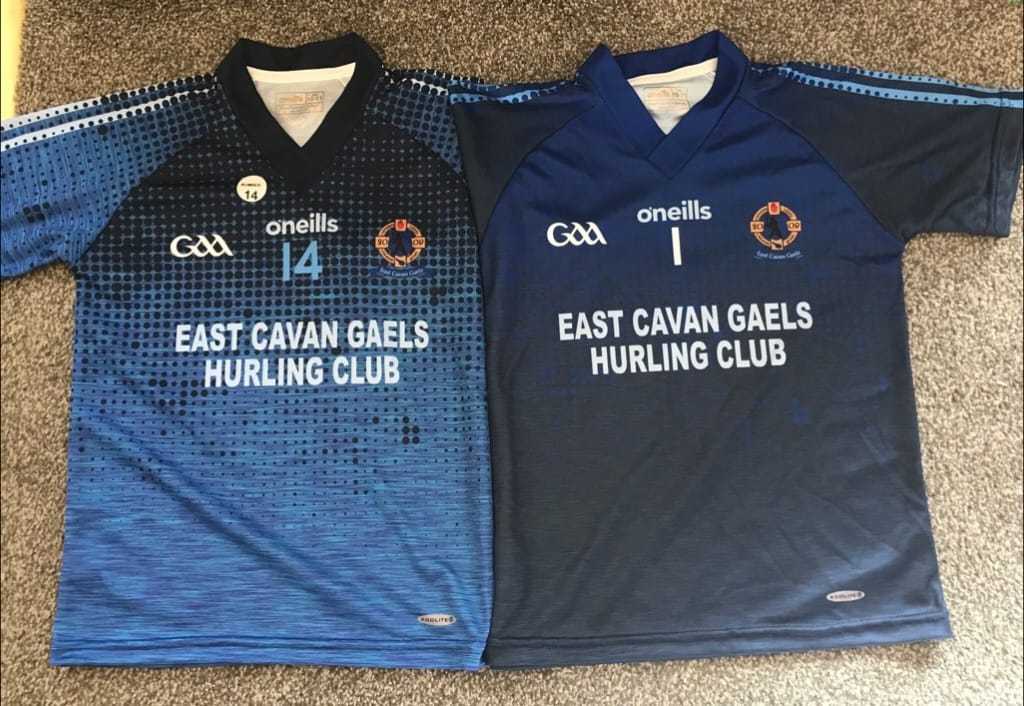 Under 7/9;
We had to delay the start of the U7/9 indoor due to maintenance of the hall. We will start on Friday, October 18th instead.
The week ahead;
Wednesday; U17 training tbc
Friday; Senior training 8pm tbc
Club contacts;
U7/9/11; Willie Gaughan 086 164 9280.
U13/15/17/Senior; Kathryn O' Flynn 087 244 1371.
Tullyvin Musical Society: Tickets are now on sale for Tullyvin Musical Society's upcoming show 'All Shook Up' which runs fromWednesday16th -Saturday19th October in Tullyvin Community Centre at 8pm nightly. Tickets €18 can be purchased on Eventbrite.ie or from any cast member. Thank you in advance for your ongoing support.
http://bailieborough.com/wp-content/uploads/2015/09/bborocomlogo2015-300x130.png
0
0
Liz Fleming
http://bailieborough.com/wp-content/uploads/2015/09/bborocomlogo2015-300x130.png
Liz Fleming
2019-10-10 12:08:44
2019-10-10 12:08:47
Bailieborough News Thursday 10th October 2019