Pedestrian Crossing at Model National School:
Works on the new Pedestrian Crossing at the Model School are continuing and will be ongoing for the next week or so.
These works will also see the footpath on the opposite site of Church Street – adjacent to Church of Ireland – widened. Motorists and pedestrians are advised to approach the area with caution.
St. Vincent DePaul, Annual Pilgrimage to Knock Shrine: takes place on Saturday next, September 10th . A coach will be leaving from the Community Centre, Chapel Road. There are a few seats available and they can be booked by contacting Noel at 087 265 4787.
Best Wishes: Best wishes are extended to Bailieborough Shamrocks stalwarts, Michael Clinch and Shane Dillon and the Cavan Gaelic Masters team, who play in the Gaelic Masters Plate Final against Mayo on Saturday next, 10th September in Ballinagh. Throw-in is at 1.30pm and good luck to the team.
Bailieborough Bridge Club: Would you like an affordable and enjoyable night out? Our Bridge Club meets every Tuesday night and offers an opportunity to forget the dark dreary days of winter, in the company of fellow card players. We have prizes every week and competitions provide an opportunity to have your name engraved on one of our perpetual trophies. Play resumes on October 4th and new members are always welcome. For more information email: bridgeclubbailieborough@gmail.com or telephone 042-9667944.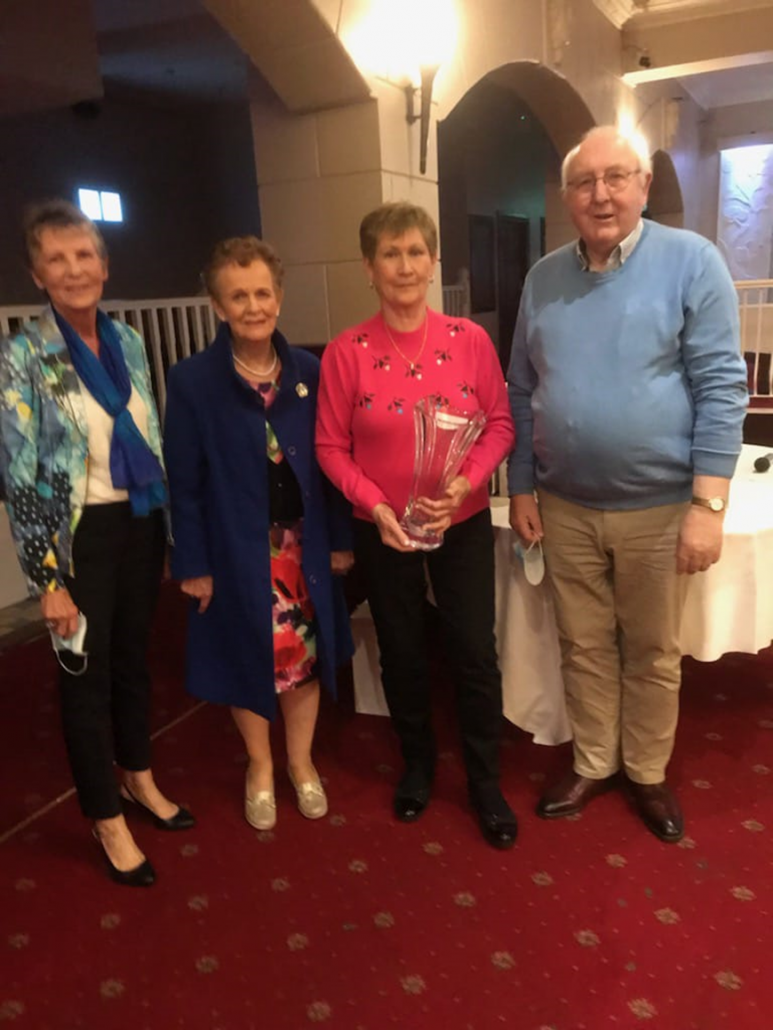 Bailieborough Heritage Society: Bailieborough Library are delighted to host a photographic exhibition entitled, 'Portraits of Bailieborough Town' collated by the Bailieborough Heritage Society, depicting many images of days gone by in the town of Bailieborough. Celebrating Heritage Week, the exhibition is on display in the Library until September 20th 2022 during Library opening hours and is free to view to all the public!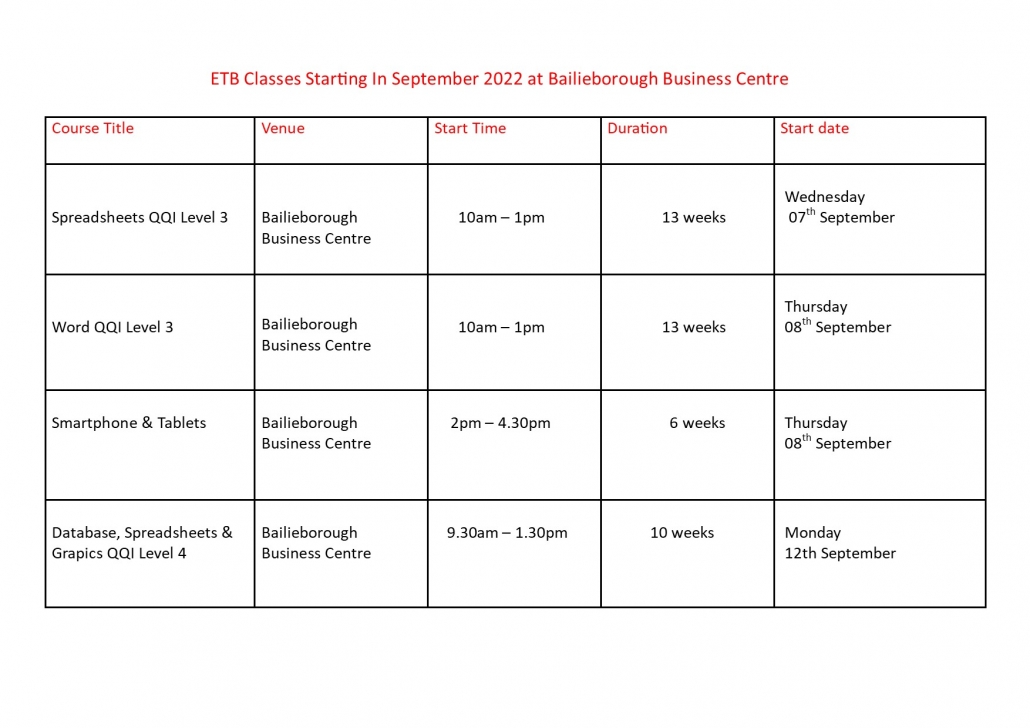 East Knockbride N.S.: The Parents Association of East Knockbride National School are holding their annual 5k/10k Fun-Run in memory of their former Chairman and past pupil, the late Séamus Lynch on Sunday next, 11th September. Registration is from 11.15am, Walk/Run at 12noon.
Adults €10, U18's €5 and family rates available. Refreshments in school afterwards. Raffle on the day. All proceeds in aid of: East Knockbride N.S., Bailieborough Cancer Comfort Ltd and Cootehill Cancer Care. Your support would be greatly
appreciated.
Mainly Music, a fun, interactive music group for preschoolers and their caregivers will take place on Friday mornings (starting from the 9th September) from 10am -12noon in the Knockbride Church of Ireland Hall (A82 E377). For parents, grandparents and minders with children and babies under 4. Donation €4. Contact Jenny Horner on 086 342 0299 for more info.
Deepest Sympathy: Deepest Sympathy is extended to brother T.J. (Angie), sisters Maura (Aidan) and Delores, mother-in-law Alice Clarke and the extended Clarke family, sisters-in-law, brothers-in-law, nephews, nieces and extended family and friends on the death of Paula Clarke (nee O'Brien), Drumanespic and late of Main Street, Bailieborough, Co Cavan, who passed away peacefully at Cavan General Hospital on Monday, August 29th, 2022. Paula was predeceased by her husband Philip and her parents Margaret and Tommy.
Paula's Funeral Mass took place in St. Anne's Church on Wednesday, August 31st and afterwards, her remains were laid to rest in St. Annes Cemetery.
Bailieborough Cancer Comfort Ltd: The Bailieborough Cancer Comfort Ltd Committee is available to help cancer patients or their families. Free Taxi service available. For further information, contact: Edel Fox 086 1004030.
Bailieborough Tidy Towns: Bailieborough Tidy Towns have replaced the recently vandalised seat on Chapel Rd. , thanks to the generous sponsorship of Paddy Mortimer of Mortimer Shop fitting. This seat is for anyone to who wants to relax and take a breather. Please mind our new seat and report any suspicious activity in the vicinity.
And also on the same theme, Vandals don't win.!!
The Entrance signs on the roads leading into the town, have been cleaned thanks to some Tidy Town elbow grease. They are all looking good again.
Regretted Death: Deepest Sympathy is extended to sons William and Johnny, daughter Bernadette, grandchildren, great-grandchildren, brother Jackie, sisters Josephine, Nuala and Gloria, daughter-in-law, brother-in-law, sisters-in-law, nieces, nephews, extended family, relatives, neighbours and friends on the death of Pauline Foley (née Cassidy), Central Avenue,Lisduggan, Waterford and formerly of Bailieborough, Co.Cavan who passed away peacefully on Friday 19th August 2022. Pauline was predeceased by her loving husband Mick, son Michael (Spikey) and her grandchild Callum.
Pauline's Funeral Mass took place on Sunday, August 21st in St. Paul's Church, Lisduggan and afterwards, Pauline's remains were laid to rest in Kilbarry Cemetery.
Bailieboro Celtic A.F.C.: Girls wanted to join our new Under 14 team (born 2009/2010). Pre-season training takes place on Monday evenings from 6.15pm to 7.15pm at the Vale Grounds.
Indoor Bowling: Indoor Bowling resumes in the Community Centre, Bailieborough, this evening and every Wednesday evening for the Winter months at 8.00pm. New members welcome.
Historical Talk: Virginia and District Historical Society are hosting a talk on "Ballykinlar Internment Camp" by our Parish Priest, Fr. Ultan McGoohan at 8.30pm on Friday, 16th September 2022 at The People's Hall, Church of Ireland grounds, Virginia, Co. Cavan. All welcome.
Sillan Vintage Club would like to thank everyone who attended, sponsored and helped out at their Field Day on Sunday week last in Killann. It was a great day and was enjoyed by all.
Lakelands Taekwondo Training:
Adults Training: Returns on Friday, September 9th frrom 8.00pm to 9.00pm in the Community Centre, Chapel Road. For further information on all these sessions, please contact 085 127 1979.
Annual Balloon Release to remember our loved ones who died by Suicide will take place at Lough Sillan Lake, Shercock on Friday evening next, September 9th at 7.30pm. We will remember all our friends and family, gone too soon, with some prayers and songs. Please bring your own helium balloon. No admission charge. Everyone welcome. Any queries, please contact Karen on 087 224 6983.
East Cavan Gaels GAA Club –Club contacts; U7/9/11; Willie Gaughan 086 164 9280.U13/15/17/Senior; Kathryn O' Flynn 087 244 1371.
http://bailieborough.com/wp-content/uploads/2015/09/bborocomlogo2015-300x130.png
0
0
Petra
http://bailieborough.com/wp-content/uploads/2015/09/bborocomlogo2015-300x130.png
Petra
2022-09-08 10:38:19
2022-09-12 11:16:56
Bailieborough News. September 5th 2022 . Matthew J. Cullen.