Bailieborough News. March 23rd  2017 Matthew J. Cullen.
Bailieborough St. Patrick's Day Parade
On Friday afternoon last, the 16th Annual St. Patrick's Day Parade took place in the town. On a cold, wet and breezy afternoon, the crowds thronged Main Street to watch the Parade.  Although the Parade was smaller than other years, it proved to be an enjoyable event for young and old.  Mr. Phillip Fyfe—MC for the event—kept the attendance amused and informed about the various participants in the Parade. Two marching bands took part in the parade—the Corduff Pipe Band (who are celebrating their Centenary this year) and St. Mary's Brass and Reed Band, Kingscourt. Local sporting clubs, organisations and charities were well represented with some organisations making a very welcome return to the parade. The R.T.E. cameras were present with a small segment of the Parade being shown on the six o'clock evening news.
The Prizewinners on the day (which were independently judged) were, Best Commercial Float, Blackwell Construction, Best Comedy Award went to 'Knockbride Variety Show', The Special Achievement Award went to Bailieborough Shamrocks G.F.C. and the Best Dressed Shop Window went to Black's Butchers, Main Street.
A big THANK YOU to all the fantastic creative volunteers, entrepreneurs, voluntary and community groups, local businesses and famous faces who hit our streets to entertain and celebrate our National Patron Saint Patrick. A special word of thanks to RTE News and Sinead Hussey for covering the Bailieborough parade. A fusion of colour, razzmatazz and spectacular entertainment to all who gazed despite the weather. Here's looking forward to next year's Parade!
Damage to Car in St. Anne's Church Carpark
Serious damage was done to a car in St. Anne's Church Carpark on Sunday morning, March 12th –before or during the 10.00am Mass. The car in question was sideswiped by another car (probably red in colour) whose owner did not stop to report it. If the driver of the car wishes to accept responsibility or if there were any witnesses to the incident, they are asked to contact Fr. Michael Router at 087 4407990. Witness details will be kept confidential—if they so wish.
Parking at St. Annes: The above incident highlights the need for careful parking and driving around the Church. There is only space for four cars near the front doors of the Church and these are for people with disabled permits only. No other cars should be parked outside of the bays in the main carpark and certainly not in the avenues blocking entrances and exits. As an example of such thoughtlessness—a car was recently seen driving over the grass in order to park in the avenue, destroying a St. Vincent DePaul donation box in the process.

Deepest Sympathy
Deepest Sympathy is extended to wife, Joanne and son Thomas on the death of Patsy Cooney (Old Station Yard, Kirby Thore, Penrith, Cumbria U.K and formerly of Crocknahattina, Bailieborough, Co. Cavan on Friday, March 3rd, 2017, peacefully at home. Sympathy is also extended to Patsy's sisters, Angela, Rose, Agnes, Rita, Carmel and Theresa, his mother-in-law, sisters-in-law, brothers-in-law, nieces, nephews, cousins and many friends. Patsy's Funeral and interment service took place at St. Margaret and St. James' Church, Long Marton on Monday, March 13th, 2017. A Memorial Mass for Patsy will take place in St. Anne's Church, Bailieborough at a later date.
Deepest Sympathy is extended to sisters Sue and Rita brothers Brendan, Tom and Vincent, sisters-in-law, brothers-in-law, nieces, nephews and friends on the death of Phil Reilly, Glanadara, Tierworker, Bailieborough, who passed away peacefully at Cavan General Hospital on Wednesday, March 8th. Phil's Funeral Mass took place on Friday, March 10th in St. Patrick's Church, Tierworker with burial afterwards in St. Anne's Cemetery, Bailieborough.
Deepest Sympathy is extended to wife Violet, son Stuart, daughter Sandra, son in law Ronnie, grandchildren Ross and Ryan, sisters Ann and Edith, brother-in-law Gaunie, sister-in-law Florrie, nieces, nephews and extended family and friends on the death of William (Willie) Cox, Urcher, Bailieborough, who passed away peacefully at Cavan General Hospital on Wednesday, 8th March 2017. Willie's Funeral Service took place in Trinity Presbyterian Church, Bailieborough on Friday, March 10th with burial afterwards in Urcher Graveyard.
Ballinamoney Parents Association: Ballinamoney Parents Association are holding a Table Quiz in The Royal Breffni, Tierworker, on Friday 24th March, kicking off at 9pm sharp. €40 per table of 4. All welcome. Guaranteed to be a great night.
Bailieborough Model School: The Model School, Bailieborough is now open for enrolment for Junior Infants starting in September 2017. For an information pack and enrolment form, pleasecontact: themodelbailieborough@gmail.com or phone the office on 042-9665689.
'Emer's Evening': (All proceeds go to St. Felim's N.S. Playground)
Padraic and Lisa McIntyre held a fundraiser for Temple Street Children's Hospital after their daughter Emer was born. It was called 'Emer's Evening for Temple Street'. To mark the fifth anniversary of this occasion, they are hosting it again. This time they have kindly offered that all proceeds will go to St. Felim's N.S. Playground.
Emer's Evening will take place in the Bailie Hotel, on Sunday, April 9th. Doors will open at 7.30pm with the show starting at 8.00pm, sharp. Tickets are €25 and are on sale from The Bailie Hotel and SuperValu.
The line –up for this event is one of the best ever assembled in the town: House Band—Kudos, MC'S on the night—Neal and Fergal Tully (The Goggle Box Twins), The Strypes, Charlie McGettigan (Eurovision Winner), Kevin McGahern (The Republic of Telly), Elenor Shanley (Singer), Michael Harding (Writer), Seamus O'Rourke (Writer and Actor), Saramai Leech (Singer/Songwriter), Geoff Minogue and Mike Sheehan (Fair City), Jane McGrath and Pa Ryan (Red Rock), Aoibhinn McGinity and Ian Lloyd Anderson (Love/ Hate), Manus Halligan (Actor), Peter Daly (Actor), Janet Moran (Actress), Aaron Monaghan (Actor), Clare Monnelly (Actress) and Jayne Origan and friends (Musical Theatre).
As the event will probably sell-out very quickly, patrons are advised to secure them as quickly as possible for what will be one of the events of the year!!
Bailieborough Social Day Group: The Bailieborough Social Day Group wish to sincerely thank Brendan O'Reilly and the Swim Club who organised the Christmas Day Swim and Annual Christmas Draw and all who supported them in raising the necessary funds for the Social Day Group. The total proceeds raised amounted to €1,844 which will go towards lots of activities for the Senior citizens in the area.
Bailieborough Mental Health Association: Bailieborough Mental Health Association would like to thank most sincerely all the people who supported their recent Round Table quiz. Over €1000 was raised on the night and this will be put to good use in the community.
East Cavan Swim Club: Well done to the 56 swimmers who have competed in the South West Minor League this year, with a series of meets with swim clubs from Omagh, Enniskillen, Sligo and Ballyshannon. This is a development league which gives swimmers their first experiences of competing and is very important to the club. A number of our swimmers will progress to the finals of the league which will take place in May in Omagh.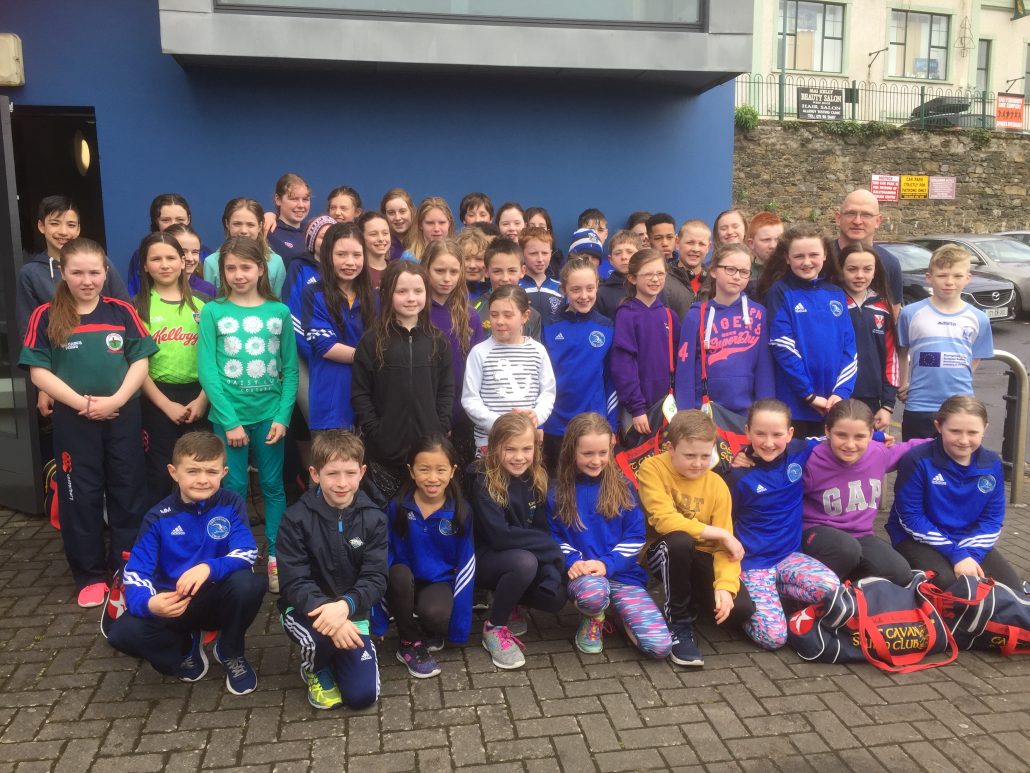 East Cavan Swim Club swimmers at Ballyshannon Leisure Centre, Co. Donegal.
LEND A HAND: 'Lend a Hand' is for the elderly and vulnerable in the Bailieborough area. Just give us a call if you need a job done, or even just a chat. Phone Ann on 042 9694825.
RUN/WALK/JOG/CRAWL: Join us on Mondays and Wednesdays to run, walk, jog or crawl at Bailieborough Community Centre at 8pm.  Enjoy tea, biscuits and fruit afterwards.  All welcome.
Bridge Results: Tuesday, March 8th: First: Elizabeth Murphy and Rosaleen Mackey, Second: Helen Clarke and Kathleen McArdle. Best Gross: Pauline McEvoy and Rosaleen Keegan. Third: Malcolm Cross and Gemma McCabe.
Bridge takes place every Tuesday evening in the Hotel Bailie at 8.00pm. New members are always most welcome.
Bailieborough School of Music: Bailieborough School of Music AGM will be held in Bailie Hotel on Wednesday next, March 29th at 8pm, everyone welcome.
Lotto results for 18/03/17.  Numbers Drawn; 5, 13, 22, 23.  No Jackpot Winner. Luck Dip (€25) Winners, Mary McDonald, Lear; Janet Bolger; Linda Gargan, Barrack St, Maggie Owens, c/o Giles Bar. Jackpot next week, €2,200.
Knockbride Variety Show: Knockbride Variety Show are hosting their 9th Annual Variety Show on Thursday 30th, Friday 31st of March and Saturday 1st of April. Doors open each night at 8pm and the show will commence at 8.30pm. An extravaganza of Comedy, Song, Music and Dance.
BAILIEBOROUGH TIDY TOWNS – ADOPT A ROAD/STREET/ESTATE SCHEME: If you would like to help out and keep your road, estate or street litter free, please contact Bernie 086 1608842, Seamus 086 2836157 or Kevin in Bailie Stores. All those who are already picking up litter on their road, please contact us as well. Thanking you for help in keeping Bailieborough tidy.
Baptism Dates in St. Annes for April, May and June 2017: The following are the available dates for Baptisms in St. Anne's Church–March 26th (Sunday, 12.30pm), April 8th (Saturday, 1.30pm), Saturday, April 15th (Easter Vigil, 9.00pm), April 30th (Sunday, 12.30pm), May 6th (Saturday, 1.30pm), May 21st (Sunday, 12.30pm), June 10th (Saturday, 1.30pm) and June 25th (Sunday, 1.00pm).
Bailieborough Library
Everyday Irish – Tuesday evenings 3pm to 5pm
Beginner Conversational Irish Class for Adults who would like to learn the basics.
Ipads with Social Media for Beginners –   Wednesday afternoons 2.15pm-4pm. This course will help those wanting to get to grips with Social Media using IPADs.  (IPADS are provided). Contact:042 9665779 or
email: fburke@cavancoco.ie
Bailieborough Library Parent, Baby and Toddler Group has proven to be a vital life line for all stay-at-home parents who may be new to the area and wish to get out of the house and make new friends. There is a huge range of toys for children to play with, while parents can enjoy a cup of tea and chat.
The group meets at the Library Arts space every Wednesday at 10.30am-12pm. Why not join their Facebook Group and keep up to date with news and events.
Citizens Information every Tuesday 1.30pm-2.30pm on a first come first served basis;
Craft Group every Friday 10.30am-1pm;
Book Club 6pm-7pm last Thursday of every month;
Lit Lab writers group every second Tuesday. Contact 042 9665779 for details on any of the above.
Tanagh Outdoor Education and Training Centre will be running a Kayak Skills Camp on the 10th-12th April from 10am-2pm daily for 9-16 year olds and a Forest School Camp Craft on the 19th-21st April from 10am-2pm daily for 6-12 year olds. Camps are run by highly qualified and experienced instructors. Contact Philomena on 049 5552988 to book your place.
'Patrick's Quest for Mayor':  Presents Rambling House in Gallonray House in Gallonray House on Saturday 25th of March starting at 8.30pm, sharp. Free Admission. Refreshments and raffle on the night. The best of music, stories and dance. A night not to be missed. Come for the craic.
Fíor Ceili: Fíor Céili practice takes place in the Killinkere GAA Centre every Wednesday at 8.30pm. All welcome.
Gerard Kiernan Tea Dance: In Aid of Kilnaleck Comhaltas on Tuesday night 28th March ,2017 in the Realtog Centre Kilnaleck at 8 30 pm.
Fabulous Entertainment and Local Artists, Raffle on the night, Light Refreshments served, Voluntary Donation and Everybody welcome, for a great night of crack and fun.
Bailieborough Cancer Comfort Ltd: The Bailieborough Cancer Comfort Ltd Committee is available to help cancer patients or their families. Free Taxi service available. For further information contact: Michael Cullen 087 154 2447 or Edel Fox 086 1004030.
CITIZENS INFORMATION: Co. Cavan Citizens Information Outreach Service in Bailieboro (The Library) on Tuesdays, from 1.30pm – 2.30pm. This is a weekly service.  Any enquiries 076 1075200.
Alcoholics Anonymous: Local meetings of Alcoholics Anonymous are held in: The Health Centre, Kells Road on Wednesdays at 8.30pm.
If any readers have items of interest to be included in the Bailieborough News, (Obituaries, News Items, Sports, etc…), please e-mail: mattie42@eircom.net or call 042 9666200.
http://bailieborough.com/wp-content/uploads/2015/09/bborocomlogo2015-300x130.png
0
0
Colette
http://bailieborough.com/wp-content/uploads/2015/09/bborocomlogo2015-300x130.png
Colette
2017-03-22 17:24:29
2017-03-22 17:24:29
Bailieborough News. March 23rd 2017