Mr. James (Jim) Gorman.: There was a sense on utter disbelief and sadness amongst the entire community, with the announcement on Friday morning, January 13th 2023, that Jim Gorman, 35 Woodview, Bailieborough had passed away at his residence, following a short illness. Aged just 68years, Jim– or the 'Gonk' as he was affectionately known to all—was born in Lakeview, Bailieborough, the fifth child of the nine children of the late, Johnny and Maureen Gorman. In his early days, Jim attended St. Annes National School and when his school days were over, Jim started his working life in Tom Carroll's fruit factory on the Institute Road. He then worked in Tommy Martins Hardware on Main St. and after that, he commenced work in Flair International where he worked for over 40 years, until the businness ceased production in 2012.
Jim met his future wife, Christine in 1976 and they got married in 1979. Together they had three children, Mary, Brian and Linda and their's was a happy home in Woodview, full of joy and laughter. Jim had a huge love for all of his family and he absolutely adored his six grandchildren, Rachel, Aoife, Lorcan, Sophie, Emily and Annie.
In his spare time, Jim was a noted musician. He was an excellent guitarist and he taught many people to play the guitar. In his younger days, Jim used to play in a local band, 'Jean and the Lakelanders' and they played in local halls and pubs. One of Jim's biggest passions, was playing in the Bailieborough Folk Choir. For nearly 40 years, Jim was a member of the group and he took great pride n their performances. Jim was also a valued member of the 'Hardtimes Chorus Choir' and in their time, they raised up on €70,000 for charity.
Jim was also a terrific sporting enthusiast. In his younger years, Jim won a 9 a-side Hurling medal in 1984. He was a lifelong supporter of Liverpool F.C. and whenever they were playing he would be glued to the T.V. He also enjoyed pool and darts and he played in many competitions in the local pubs. Jim also enjoyed being a spectator in the early years when his family played camogie, football and soccer. Jim also had a great interest in the Shamrock's G.A.A. Club and he was very proud watching his daughters play for the Shamrocks Ladies team. In latter years, Jim proved himself to be a fairly handy golfer and he played with the 'Failte' Golf Society.
Jim was one of nature's true gentlemen, always friendly, chatty and with a ready smile on his face. He enjoyed nothing more that having the 'craic' with young and old and with his impish sense of divilment, he endeared himself to all, who had the good fortune to know him or to be in his company. Jim's presence within the local community will be very deeply missed by everybody who had the great pleasure of knowing him.
Predeceased by his parents, Johnny and Maureen and by his brothers, Patsy, Brendan and J.J., Jim is survived by his loving wife, Christine, children, Mary, Brian and Linda, daughter-in-law Serena, son-in-law Shane, grandchildren Rachel, Aoife, Lorcan, Sophie, Emily and Annie, sisters Jean, Chrissie and Sheila, brothers Andy and Kevin, brothers-in-law, sisters-in-law, nieces, nephews, relatives, neighbours and many,many friends.
Jim's Funeral Mass took place in St. Anne's Church on Sunday, January 15th 2023 which was celebrated by Fr. Ultan McGoohan P.P., assisted by the Bailieborough Folk Choir. A guard of honor, was provided by Bailieborough Shamrocks G.F.C., Bailieboro Celtic A.F.C and members of the Bailieborough Shamrocks Golfing Society. The huge attendences present at Jim's wake and Funeral were one of the largest in recent times and reflected the esteem and respect that Jim and his family are held in, in the community. Following Jim's Funeral Mass, his remains were laid to rest in St. Anne's Cemetery.
Book Launch: On Friday last, local woman, Gloria McBreen launched her debut novel, 'Secrets of the Babby House' to a packed audience at Bailieborough Courthouse. Kate Ennals, — Poet and Short Story Writer, Curator of AT The Edge, Cavan, Workshop Facilitator and Mentor– got the launch off to a wonderful start, by giving a great explanation of the motivation of the author and a general description of what the story was about. Some of the audience got into the spirit of things, by dressing up in fancy frocks and hairstyles thus creating the 50's and 60's vibe in the era of the book setting. Gloria then explained the motivation behind the book and in particular, the front cover of it. She then commenced the signing of the copies of the novel and it wasn't long until all of them had sold out!
Copies of the novel should be available in Halls Newsagents, Main St. And Bailie Stores, Main St., within the next two weeks. You can also get the book online at Amazon and Kindle and also at buythebook.ie
Regretted Death: Deepest Sympathy is extended to Tracey, children Linda (Ciaran), Chloe (Paul), Megan (Dean), Aaron, Tanya and Duane, mother Violet, sisters Dorothy, Pamela (David), Gwen (Andrew), much loved grandchildren Devon and Layna, aunts, uncles, extended family and friends on the death of Frederick (Freddie) Wilson, Lisgar, Bailieborough, Co Cavan, who passed away peacefully at Cavan General Hospital following a long illness on Wednesday, January 11th 2023. Freddie was pre deceased by his father William and infant son Deron.
Freddie's Funeral Service took place in Corglass Presbyterian Church on Friday, January 13th 2023 and afterwards, his remains were laid to rest in the adjoining graveyard.
Bridge Club: The Bailieborough Bridge Club have relocated to the Courthouse, Lr. Main St. The club meets every Tuesday at 7.30 p.m. New members are always welcome. Contact:bridgeclub bailieborough@gmail.com or telephone 042-9667944.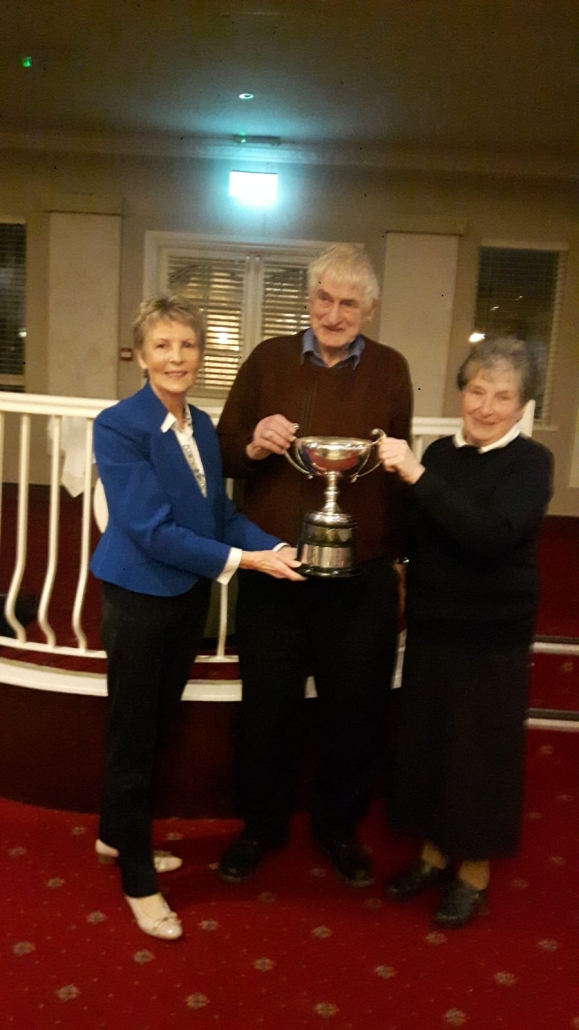 The Bailieborough Cancer Comfort Ltd : Committee is available to help cancer patients or their families. Free Taxi service available. For further information, contact: Edel Fox 086 1004030.
Deepest Sympathy: Deepest Sympathy is extended to family, dear friends and neighbours, on the death of Joseph (Joe) Cahill, Leitrim, Bailieborough, Co Cavan and formerly of Glenosheen, Co. Limerick, who passed away peacefully, at his residence on Tuesday, 17th January 2023. Joe was predeceased by his wife Bridie.
Joe's Funeral Mass took place in St. Anne's Church, Bailieborough on Thursday, January 19th and afterwards Joe's remains were laid to rest in St. Anne's Cemetery.
Bailieborough Craft Group: Our Craft Group is back every Friday morning after the Christmas break! Looking forward to seeing all the ladies! New members are very welcome – we would love to see you!
Drop in anytime between 10.30am and 12.30pm in the Library.
Bailieborough Creative Hub:
Congratulations to the members of the Bailieborough Creative Hub, who have been shortlisted for the Creative Lives Awards 2022. The group now need the public to vote for them. Voting is open until Friday, January 27th 2023. The group are in the 'People's Choice Award' and voting can be done by logging on to : www.creative-lives.org/2022shortlist
Bailieborough Library: Is your child interested in writing, does your child have a vivid imagination just waiting to go down in words? FREE 3 week Creative Writing series of workshops for children aged 10-12 years, starting Saturday, February 25th to Saturday March 11th from 2.30pm-3.30pm. The workshops will be conducted in a fun, creative way with local poet Mairead Donnellan. Poet Laureate for Bailieborough, Mairéad is a published prize winning poet who has experience facilitating children's workshops.
Places are strictly limited. Please ring Library at 042 9665779 to book a place!
Cavan /Monaghan Education and Training Board: Adult Guidance and Information, drop-in centre will take place at Bailieborough Library on Thursday, January 26th, 2023 from 10.00am to 1.00pm. Free and confidential guidance from a Professional Guidance Councillor. FREE advice on return to education and careers! All welcome.
Bailieborough Celtic A.F.C: Bailieboro Celtic A.F.C.are seeking expressions of interest from player's, for it's senior men's section for the upcoming season starting in March. Please contact any committee member.
Training for the Under 9's has resumed at the Vale Grounds on Tuesday evenings from 6 to 7 pm. With a large turnout each week, the Club would really encourage and appreciate parents getting involved.
Bailieborough Community School: Congratulations to Amber Dunne, Leaving Cert Applied Class of 2022 who received the 'Fergal Quinn Award' for her perfect 100% attainment over her 2 years of LCA. It is a fantastic achievement and places Amber among the best results in Ireland. She was presented with her award last week at a special ceremony in Athlone by Eamon Quinn, the son of the late Fergal Quinn. Some of Amber's family were in attendance for the ceremony as well as the LCA Co-Ordinator, Mr. Carragher who presented a Certificate of her Award for the school. We are all so proud of you Amber!
Confirmation: Confirmation will be held in St. Anne's Church, Bailieborough on Saturday, March 4th, 2023. St. Felim's N.S. and St. Patrick's N.S., Shercock will take place at 11.00am, while St. Anne's N.S., will take place at 3.00pm.
Indoor Bowls: Indoor Bowls take place in the Community Centre, Chapel Road every Wednesday evening at 8.00pm. New members most welcome.
St. Felim's. N.S., (The Vale) is currently inviting applications for admission to Junior Infants for 2023/2024. A copy of the school's Admission Policy, Annual Admission Notice, including details on how to make an application, are available at : http://www.thevalens.com/index.php/admissions The school will cease accepting applications on Friday, February 3rd 2023.
Knockbride Variety Show
If you would like to advertise your business on our projector across the 3 nights of our show taking place on March 30th , 31st and April 1st, 2023, please get in touch with Geraldine on 0861785131. This year's show is in aid of SOSAD Cavan and The Kevin Bell Repatriation Trust. Your support is greatly appreciated.
Bailieborough Shamrocks are starting Bingo in the Club House at St. Anne's Park and also online on Tuesday, February 14th and every Tuesday at 8.00pm.
Chair Exercises: Chair exercises with Patricia Crimin at the Library, starting Thursday, January 26th for 4 weeks from 11am-12.30pm including a cup of tea and a chat. Gentle stretches, breathing, joint care, relaxation. Places limited booking at 042 9665779. €15 per week with family discounts available.
St. Annes National School Enrolment: Parents seeking to enrol their child or children in St. Anne's N.S. For the 2023/2024 School Year are requested to return a completed Enrolment Application form before Saturday, February 4th 2023. Enrolment application forms are available from the school office, by telephoning 042 9665242, by emailing : office@stannesns.ie or on the school website: http://stannesns.ie/blog Closing date for receipt of Enrolment forms is Saturday, February, 4th , 2023.
Operation Keep Well: Bailieborough: Run, walk or jog in St Anne's GAA Park, on Mondays and Wednesdays for the next 3 weeks. Fun, fitness and social gathering. All welcome.
Taekwondo and Self Defence Classes: Adults and over 16's Classes take place every Friday evening from 8.00pm in St. Anne's Community Centre, Chapel Rd., Bailieborough. For further information, please contact 085 127 1979.
http://bailieborough.com/wp-content/uploads/2015/09/bborocomlogo2015-300x130.png
0
0
Petra
http://bailieborough.com/wp-content/uploads/2015/09/bborocomlogo2015-300x130.png
Petra
2023-01-26 09:45:18
2023-02-01 09:43:17
Bailieborough News. January 23rd 2023 . Matthew J. Cullen.