Mr. James (Jimmy) Gilsenan.
All within the local community and much further afield were very deeply saddened to learn of the death of Mr. James (Jimmy) Gilsenan, 30 Woodview, Bailieborough. Jimmy—as everyone knew him by—passed away peacefully at Cavan General Hospital on Saturday, April 7th, following a short illness.
Aged 79, Jimmy was born in Annaclue, Bailieborough and was the second son of the late Tom and Maggie Gilsenan. In his younger years, Jimmy attended Ballinamoney N.S. and when he had finished National School, he became an apprentice mechanic with Gibson's Garage, Adelaide Road. During his teens, Jimmy also drove a lorry for Bailieborough Creamery, drawing milk to the Creamery. In 1960, Jimmy and his future wife Betty, moved to England and he worked as a maintenance man on the London Transport Railway Line. He also drove coaches for the Green Line Coach Company and later on Jimmy was a maintenance fitter for the Corcoran and Conners Company in London. Jimmy and his family returned to Bailieborough in 1979 and in 1980, he commenced work as a fitter in Wellman International Ltd., Mullagh, where he worked until he retired in 1993.
Jimmy had met his wife Betty, when he was drawing milk to the Creamery and they got married in 1962. They lived in Essex and had five children together. Jimmy and Betty lived for their family and they were happiest when their children and grandchildren, came a visiting.
In his spare time, Jimmy had many interests, he was a member of the local Fianna Fail Cumann for over 25 years, he could turn his hands to anything and many were the times when he would help out his many friends and neighbours in their hour of need, he loved doing crosswords and puzzles and he also took great pride in the husbandry of his pool of outdoor goldfish.
In the late 1990's a group of local people used to go down to the then St. Felim's Nursing Home in Cavan Town and put on a show every St. Stephen's Day for the residents there. To raise funds for this and other local charities the group used to put on a show in the Community Centre in Bailieborough around Christmas. The centrepiece of these shows were the comedy acts and Jimmy was one of the stars of these shows, bringing the house down with his hilarious and usually unscripted (or script ignored) antics and "mouthfulls".
A friendly, kind, family orientated and helpful man, Jimmy will be sadly missed, not only by his family but also by the whole local community and all who had the great pleasure of knowing him.
Jimmy is survived by his wife, Betty, sons: Tommy (Maple Court) and Martin (Woodview), his daughters: Kathleen (Drumkeery), Annie (Dundragon) and Maggie (Woodview), son's in-law, Kieran and Brendan, daughter's in-law, Mary and Yvonne, grandchildren and great-grandchildren, to whom deepest sympathy is extended.
Jimmy is also survived by his brothers: John (Tierworker), Oliver (England), Raymond (Bailieborough), Alfie (Kingscourt), Dessie (Mayo) Tony (Australia) and sister Kathleen (England), sister's in-law, brother in-law, nieces, nephews and extended family members.
There was a huge attendance at Clarke's Funeral Home on Monday evening, April 9th and afterwards, Jimmy's remains were removed to St. Anne's Chapel, where the local Fianna Fail Cumann provided a Guard of Honour. Jimmy's Funeral Mass took place in St. Anne's on Tuesday morning, April 10th –at which Fr. Michael Router P.P. and Fr. John Cooney officiated—and following which, Jimmy's remains were laid to rest in Moybologue New Cemetery.
Bailieborough Tidy Towns:
Reduce waste and keep Cavan tidy by investing in a reusable blue coffee cup with Cavan logo. Ideal for coffee lovers and Cavan fans. This cup is for sale in Daybreak on Barrack Street and is also available in Bailie Stores. All proceeds go towards the local Tidy Towns.
Photographic Exhibition:
'An Essence of Presence' a photographic exhibition by Suella Holland, depicting Forsaken Ireland, now open at the Library until the end of May. All welcome.
May is Mary's Month:
The Rosary will be recited at the Grotto on the Virginia Road every evening during the month of May at 7.30pm. No Rosary on Saturdays. Everyone welcome to offer prayer for the sick of our Parish as well as any private intention.
Fundraiser:
Fundraiser night of music and craic to raise funds for Bailieborough Powerlifter, Gar Walsh, who is attempting to compete in two European and two World Championships in 2018. Competitions are in England, Dublin, Scotland and Malta. He is currently National Champion in all three events and World deadlift champion in his category. He is also a musician and is releasing a single for this event. The event is taking place in the Hide-Out, The Vale on Saturday, May 19th at 9.00pm. Raffle on the night. All welcome.
Bailieborough Heritage Society:
New members always welcome to the Heritage Society, please contact 0872244159 for further information.
Open Garden Day and Duck Race -Looking for a novel way to spend an afternoon?
You are invited to an Open Garden Day, Car Boot Sale and Duck Race hosted by the McKenna Family, Muff, Kingscourt from 2pm-6pm on Bank Holiday Monday, 7th May 2018.   Stroll around the cottage garden full of colour and new life, guaranteed to lift the spirits!
Relax in Bella's Kitchen to enjoy delicious homemade teas and pastries or rummage through our cosy car boot sale for a fabulous bargain.
Then cheer on the hundreds of ducks as they jostle down the river to the winning post…you just might win a prize!
Admission by donation. Kids go free! All proceeds go to The Family Addiction Support Network.
Bailieborough 'Lend A Hand':
'Lend a Hand' is for the elderly and vulnerable in the Bailieborough area. Just give us a call if you need a job done, or even just a chat. Phone Ann on 042 9694825.
Bailieborough School of Music: Lotto Results for April 28th:
No Jackpot Winner, Lucky Dip (€25) Winners; Gerry and Lisa Clarke, Brian Keegan, Kathleen Gormley and Paddy Matthews. Jackpot next week €2, 700.
Deepest Sympathy:
Deepest Sympathy is extended to brothers: Tom, Paddy, Joe, Richard and Seamus, sisters Sheila, Chrissie and Margaret, sisters-in-law, brothers-in-law, nieces, nephews, extended family, staff and friends in Drumcar on the death of Martin Delaney, St. John of Gods, Drumcar, Dunleer, Co. Louth and formerly of Carnalynch, Bailieborough, Co. Cavan, who passed away peacefully in Drumcar on Friday, April 20th. Martin's Funeral Mass took place on Monday, April 23rd in St Mary's, Drumcar with burial afterwards in St Ultan's Cemetery, Killinkere.
Lough Derg 'One Day Retreat':
A Lough Derg 'One Day Retreat' will take place on Sunday next, May 6th –organised by the St. Vincent DePaul Society. A bus will be leaving the Community Centre at 7.30am. There are still a few seats available, please contact John at 086 055 4578 or Pat at 086 063 5856 for further information.
Oil Painting Classes:
Oil Painting Classes with Martin Fullen will take place at Bailieborough Library on Wednesday, May 16th, May 23rd and May 30th at 2.30pm. Classes are free—but must be booked in advance as places are limited, at 042 9665279.
Church of Ireland Services for May:
Sunday 6th May: Bailieborough 10:45am – Morning Prayer and Sunday Club, followed by tea and coffee.
Knockbride 12noon – Morning Prayer.
Friday 11 May: FOCUS Youth Group 8:30-10pm – The Rectory, Bailieborough.
Sunday 13 May: Bailieborough 10:45am – Holy Communion and Sunday Club, followed by tea and coffee.
Knockbride 12noon – Holy Communion.
Sunday 20 May: Bailieborough 10:45am – Morning Prayer and Sunday Club, followed by tea and coffee.
Knockbride 12noon – All-Age Service.
Sunday 27 May: Bailieborough 10:45am – All-Age Service, followed by tea and coffee.
Knockbride 12noon – Morning Prayer.
Mondays (during term time): Badminton, Bailieborough Hall; 7-8pm for primary students, 8-9pm for secondary students.
Bailieborough Business Centre:
Spanish Classes at Bailieborough Business Centre Tuesdays 7-9 Beginners and Improvers, Tutor is a native Spanish Speaker. Call 042-969-4716 for more details.
Computers for Beginners – Places available for Thursday evening 7-9pm, register your interest or book your place. Classes are Free to all 042-9694716.
Bailieborough Mid-Summer Festival:
Bailieborough Mid-Summer Festival will be taking place from Friday, 20th of July until Sunday, 22nd of July. If anyone has any ideas for this year's Festival, you can email us at
bailieboroughmidsummerfestival@gmail.com
A new addition to this year's Festival is the staging of 'Bailieborough's Got Talent'! Competition auditions will be held on Saturday morning, July 21st at 10am—venue will be announced at a later stage and will be dependent on numbers registering for the auditions. The Final will be held on Sunday afternoon, July 22nd during Family Day on Main Street—time to be announced later. Prizes will be presented after the final on July 22nd. For more information, please e-mail bailieboroughmidsummerfestival@gmail.com or look at the Festival committee's Facebook page.
Bailieborough Historical Society:
The Bailieborough Historical Society is planning an exhibition of artefacts manufactured in and related to Bailieborough's industrial past. This will take place during Heritage Week in August. If you have anything that you would like to exhibit, please contact either, Pat Fitzpatrick at 086 0635 856 or Leslie McKeague at 086 2588 488.
Cavan Walking Festival:
As part of the Cavan Walking Festival, the Bailieborough Walking group will be hosting three walks. The first of these will take place on Saturday next, May 5th around Bailieborough Forest. Distance covered will be 5k and participants are asked to meet at the Bailieborough Business Centre, Shercock Road at 11.00am.
The second Walk will be at Dun A Ri, Forest Park, Kingscourt on Tuesday, May 8th at 7.00pm. Please meet at Cabra Central School at 6.45pm and the distance of the Walk is also 5k.
The final walk will take place on Thursday, May 10th at Lough An Leagh.  Please meet at the Picnic Area at 6.45 pm. The Walk distance will be 10k and all are most welcome to attend.
Table Quiz:
East Cavan Gaels Hurling Club are holding a 'Table Quiz' in Nixy's, The Square Bar on Friday evening, May 25th, commencing at 9.00pm.
Table of four, €40. All welcome.
Baptism Dates in St. Annes for May, June, July and August 2018:
The following are the available dates for Baptisms in St. Anne's Church–May 5th (Saturday 1.30pm), May 20th (Sunday, 12.30pm), June 10th (Sunday, 12.30pm), June 23rd (Saturday 1.30pm), July 7th (Saturday, 1.30pm), July 15th (Sunday, 12.30pm), August 11th (Saturday, 1.30pm) and August 19th (Sunday 12.30pm).
Bailieborough Library:
Everyday Irish – Tuesday evenings 3pm to 5pm
Beginner Conversational Irish Class for Adults who would like to learn the basics.
Bailieborough Library Parent, Baby and Toddler Group has proven to be a vital life line for all stay-at-home parents who may be new to the area and wish to get out of the house and make new friends. There is a huge range of toys for children to play with, while parents can enjoy a cup of tea and chat.
The group meets at the Library Arts space every Wednesday at 10.30am-12pm. Why not join their Facebook Group and keep up to date with news and events.
Citizens Information every Tuesday 1.30pm-2.30pm on a first come first served basis; Craft Group every Friday 10.30am-1pm; Book Club 6pm-7pm last Thursday of every month; Lit Lab writers group every second Tuesday. Contact 042 9665779 for details on any of the above.
East Cavan Gaels GAA Club – Hurling News 30th April 2018
New dawn, new central facility; Killann the new Home of Hurling for East Cavan Gaels!!
After last week's older lads, it is now time for all our younger age groups to take to the field in Killann. Monday 6.45-8pm for all U7/9/11. New players are especially welcome.
Under 7/9/11;
First training in Killan Monday 6.45-8pm.
Under 13;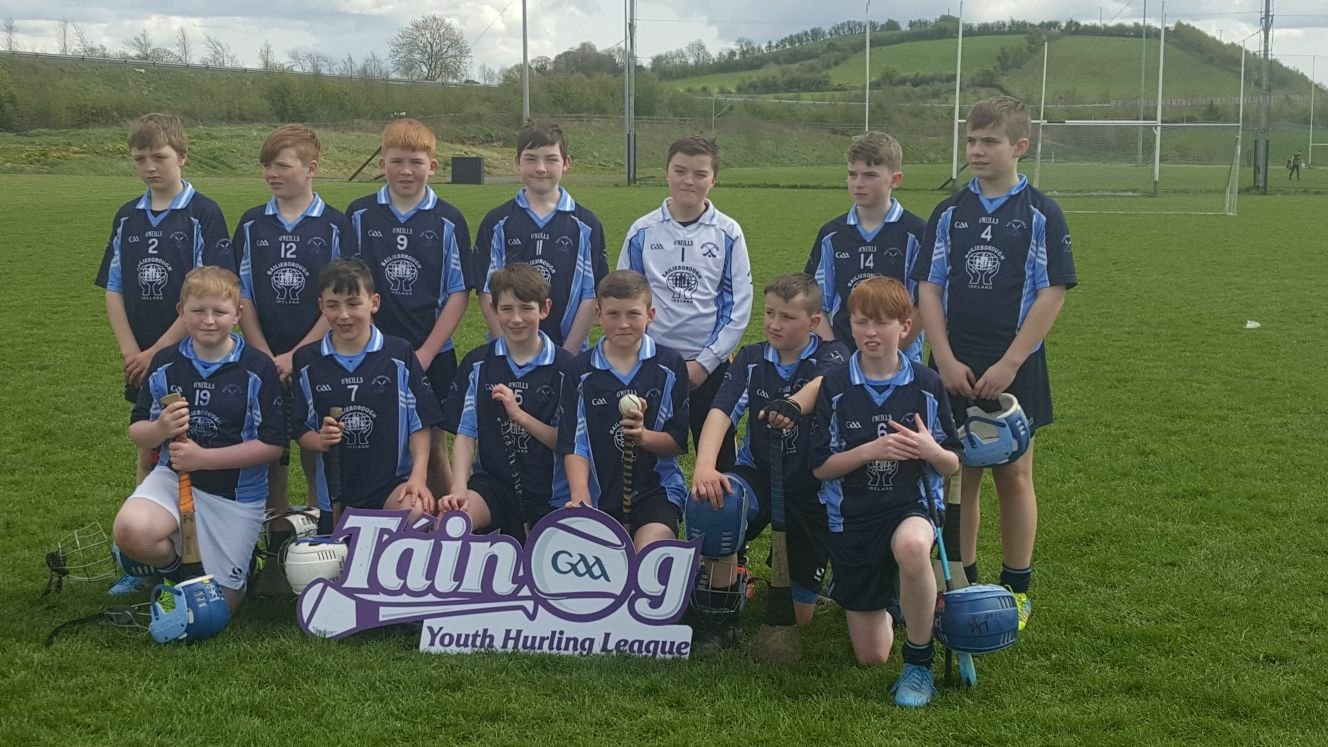 Great work by our 13s as they won their 3 games v Warrenpoint, Clontibret and Woodford Gaels in the grading blitz in Cloghan on Saturday last. We now await the fixtures for the league proper.
Under 15; Next round of U15 league is V Lisbellaw on Monday at 7.15. Venue tbc.
Under 17; Cavan Celtic begins next week for lads on county squad. New Monaghan league for U17 begins next Monday with a game away to Carrickmacross.
Fundraising table quiz;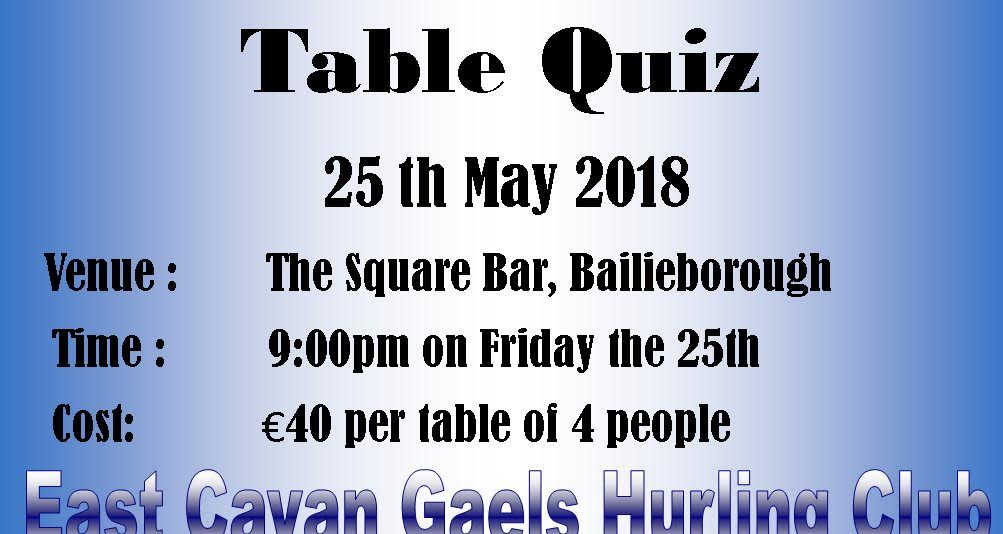 Table Quiz in the Square Bar, Bailieborough, on Friday 25th May. Last year's quiz was a great success and a great social event for parents before we venture to Sligo for Feile in early June. All are welcome.
Club contacts;
U7/9/11; Willie Gaughan 086 164 9280.
U13; Colin Higgins 087 276 9086.
U14/15; Pat O'Flaherty 087 450 1524.
U14/15/17; Kathryn O' Flynn 087 244 1371.
Bailieborough Cancer Comfort Ltd:
The Bailieborough Cancer Comfort Ltd Committee is available to help cancer patients or their families. Free Taxi service available. For further information, contact: Michael Cullen 087 154 2447 or Edel Fox 086 1004030.
CITIZENS INFORMATION:
Co. Cavan Citizens Information Outreach Service in Bailieboro (The Library) on Tuesdays, from 1.30pm – 2.30pm. This is a weekly service.  Any enquiries 076 1075200.
Alcoholics Anonymous:
Local meetings of Alcoholics Anonymous are held in: The Health Centre, Kells Road on Wednesdays at 8.30pm.
http://bailieborough.com/wp-content/uploads/2015/09/bborocomlogo2015-300x130.png
0
0
Lee McDonnell
http://bailieborough.com/wp-content/uploads/2015/09/bborocomlogo2015-300x130.png
Lee McDonnell
2018-05-01 14:55:29
2018-05-01 14:55:29
Bailieborough News. April 30th 2018. Matthew J. Cullen.