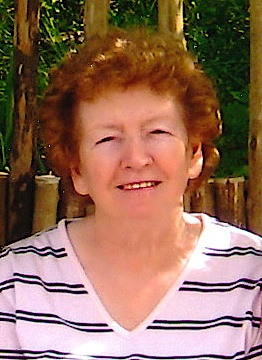 Mrs Mai Sheridan (nee Flanagan)
All in the community and much further afield were very deeply saddened to learn of the recent death of Mrs Mai Sheridan (nee Flanagan), Curkish, Bailieborough at Cavan General Hospital.
Born in 1933 in Rakeevan, Bailieborough, Mai was the daughter of the late Sarah and Patrick Flanagan. Their first born child, Mai was to become the eldest of a family of thirteen children. Her father Patrick was a baker in the town whilst her mother Sarah worked hard in the family home, rearing their ever increasing family.
Mai had very happy memories of her early childhood. She often recalled the fun she and her brothers and sisters had as children, playing in the fields and climbing the landmark tree outside their Rakeevan home.
Some of Mai's happiest memories were of the times that she spent in her father's Bakery—which was situated in Anne Street, Bailieborough. She used to talk about the thriving atmosphere on the streets amongst the local Traders and how, for her and her brother Patsy, it was like a wonderland of new experiences, sights and sounds. She used to recall the many happy and adventurous trips that she made with her father to Oldcastle, where her Granny lived.
In her early years, Mai attended St. Anne's National School and became a lover of learning, particularly in English, showing a great aptitude for reading and writing and she also loved History. She left primary school in 1945 and entered the Technical College where she and her best friend Angela Carroll shared their love of education.
When she was 18 years of age, Mai left Ireland and travelled to London–as so many people of that generation did. Her brother Patsy lived there and she shared accommodation with another Bailieborough native, Rose McGuirk. Mai trained in Silver Service and got a job in the prestigious White Hall Court Hotel. Mai loved her new life and enjoyed the new experiences that London had to offer. However her time away was to be short lived and in 1953, Mai returned to Bailieborough on receiving the news that her mother was unwell.
Thankfully her mother recovered and shortly after her return to Bailieborough, Mai met and fell in love with Kevin Sheridan—the youngest son of the local Blacksmith. They married in St. Anne's Church, Bailieborough in 1957. The couple moved to Curkish where they had their first son, Martin. They moved back to Bailieborough town where Barbara, Peter, Elizabeth and Stephen were born and later on, the family moved back to Curkish, where Ciara and Niamh made Mai's family complete.
Mai had never lost her creative side and she was a natural born storyteller. She weaved a magic world for her children centred around the local Lough an Leagh mountain. Her stories included many characters such as Percy Pig, Peter Rabbit and the now infamous Three Bear's House. Later on Mai took a position as a child minder for a local school teacher and it became clear that she was gifted at teaching children. The Gavin family became a big part of Mai's life and she looked upon Collette Gavin as another daughter. For Collette's children, Mai became a grandparent and an important part of their lives.
Tragedy was to befall the Sheridan family in 1988 when Mai's husband, Kevin was diagnosed with pancreatic cancer. He fought a long, hard battle with it but succumbed to it in 1990 at just 58 years of age. Mai mourned the loss of her husband and continued to raise her family. Two of her children were in College and the youngest two were in secondary school. Mai did everything she could to ensure her children grew up well and was in particular a great advocate of education.
In 1994, Mai's daughter Ciara travelled to San Diego, California to take up a position in a Montessori School. This was to be the beginning of a new period in Mai's life. She made several trips to San Diego and from there travelled to San Francisco, Monterey, New Mexico and Hawaii. This travel gave Mai a new lease of life and broadened her already creative mind. In between these trips, Mai continued to develop her love of English and History. She donated historical items to the local museum in Ballyjamesduff and gave numerous talks in the Wesleyan Arts and Cultural Centre in Bailieborough. These talks were recorded and in them, Mai has contributed to the piecing together of the local history of Bailieborough and the surrounding areas.
Mai also continued to develop her love of English Literature and was an avid reader all throughout her life. In particular, she loved the poetry of Yeats and she made many trips to Sligo to explore 'Yeat's Country'. In between her many trips to California, Mai also travelled to Europe with holidays to France and Rome.
Mai was known around Bailieborough for her zest for life. She was a keen walker, a daily Mass goer and a volunteer in Fairlawns Nursing Home. She knew everyone and everyone knew and loved her. She appreciated Nature and could often be found at the Castle Lake where she fed what were lovingly referred to as 'her swans!!' Mai was a talented gardener and was a founding member and Secretary for many years of the Bailieborough Gardening Club. Her house was a haven, known by all who visited it for its beautiful flowers, shrubs and trees, comfy interior and peaceful atmosphere. Mai loved birds and had a birdhouse in her garden which attracted many different species. It was just another element of her kind personality as she fed the birds all year round with nuts bought in the local Hardware shop.
In August 2009, Mai suffered two strokes. She endured much suffering and hardship as a result, yet everyone who encountered her was touched by her resilience, her spirit and her indomitable enthusiasm for life. Mai lived the last five years in Castlemanor Nursing Home where she spent a lot of time with her family and friends as well as participating in the many activities on offer, including quizzes, crafts and yoga. The care she experienced in Castlemanor could not have been any better and Mai looked upon the Carers and Nurses there as her friends due to their endless care, kindness and empathy.
Although Mai had suffered damage to her brain, her enduring intelligence had allowed her to retain her memory and quick wit. Everyone who went to visit her came away feeling a little better for it. Mai will live on in the memories of those who held her dear and they are many in number. Her children along with their spouses, will never forget the woman who always put them first and instilled into them such strong family values. She was adored by her grandchildren and great grandchildren and they will continue to tell the stories and carry on the traditions given to them by their Nana Mai. She loved her brothers and sisters and they too will never forget the woman who they counted on as their second mother. Her many friends will remember her for her kindness and compassion, love of life, quick wit and her unique sense of fun.
In Mai's passing Bailieborough has lost one of its most unique and enduring characters who will never be replaced.
Pre-deceased by her husband Kevin, Mai is survived by her sons, Martin (Bailieborough), Stephen (Dublin) and Peter (Bailieborough), her daughters: Mrs Barbara Fitzsimons (Bailieborough), Mrs Elizabeth Englishby (Louth Village), Mrs Ciara Concepcion (California) and Niamh Sheridan (Tyrrellspass, Co. Westmeath),  sons in-law, daughters in-law, 17 grandchildren and 13 great grandchildren, to whom deepest sympathy is extended.
Mai was also pre-deceased by her brothers, Patsy and Raymond and her sisters, Betty and Patricia. She is survived by her brothers: Tony (London), Damien (Bailieborough), Peadar (London), Brian (Bailieborough) and Ciaran (Dundalk), her sisters: Eileen (Navan), Joan (London), and Brenda (Bailieborough), brothers in-law, sisters in-law, nieces, nephews, relatives and a very wide circle of friends.
A very large and representative attendance was present at the removal of Mai's remains from her daughter Barbara's residence to St. Anne's Church, where her Funeral Mass took place conducted by Canon John Murphy P.P. and following which Mai's remains were laid to rest in St. Anne's Cemetery, Bailieborough.
http://bailieborough.com/wp-content/uploads/2015/09/bborocomlogo2015-300x130.png
0
0
admin
http://bailieborough.com/wp-content/uploads/2015/09/bborocomlogo2015-300x130.png
admin
2014-05-15 10:46:21
2014-06-30 15:50:21
Mai SHERIDAN (née Flanagan) Curkish, Bailieborough. 8th May 2014