Bailieborough News. April 23rd  2015. Matthew J. Cullen.
Bailieborough Fianna Fáil Cumann hosts 'Cumann na Mban' History Lecture:
On 2nd April 1914, over 100 women gathered in Dublin to discuss the role of women in the lead-up to revolution. They became Cumann na mBan – an organisation whose role in achieving Irish independence is almost forgotten. The meeting, at Wynn's Hotel, was presided over by Agnes O' Farrelly.
They adopted a constitution which stated their aims were:
– To Advance the cause of Irish liberty
– To organise Irish women in the furtherance of that objective
– To assist in arming and equipping a body of Irish men for the defence of Ireland
-To form a fund for these purposes to be called the 'Defence of Ireland Fund'.  
Bailieborough Fianna Fáil Cumann in preparation for the 1916 Celebrations are delighted to announce we are hosting an historical lecture on 'Cumann na mBan'.  Our guest speaker for this event is Dr Mary Aluiffe, Cumann na mBan resource officer and executive member of the Women's History Association of Ireland, UCD.  This event will be held in the Wesleyan Chapel Arts and Cultural Centre, Bailieborough on Thursday the 30th April at 8pm.
This event is open to everyone and your attendance would be much appreciated to this historical event.
First Communion:
The children from St. Anne's and the Model Schools will make their First Communion on Saturday, May 16th and the children from St. Felim's on Saturday, May 23rd. Both Masses will be at 11.30am.
BAILIEBORO TECHNICAL SCHOOL (TECH) 50th ANNIVERSARY REUNION:
The 50th anniversary of the opening of the New Technical School is planned to go ahead on Saturday, May 2nd, 2015 at 7pm in the Bailie Hotel.
Pre/Post 1965 students and family members of deceased students are most welcome to attend.10 euros will be collected at the door to cover the cost of Buffet. Please contact any of the undermentioned of your intention to attend by Thursday, 23rd April in order to establish numbers for Hotel. See you all there. For further information, please contact any of the following: Sean Ledwith 086 3082391, Frank Donnelly 087 2210252, Sean Callaghan 087 9290915, Patricia Gilsenan 086 3033610, Jim Liggan 087 9714300 or Deirdre Connolly 086 3867399.
Annual Show Dance:
Bailieborough Agricultural Show will host their annual Show Dance in The Hideout, Bailieborough on Friday next, 24th April, 2015. Music on the night by Johnny Mullins— beginning at 10pm and running until 12:30am. Supper served and a raffle will be held on the night, along with spot prizes galore! Please contact any committee member for tickets or 086-3991222/ bailieboroshow@gmail.com
St. Vincent DePaul—Annual One Day Pilgrimage To Lough Derg:
The Annual St. Vincent DePaul One Day Pilgrimage to Lough Derg will take place on Sunday, May 10th. Please book before Friday, May 1st with Society Members—John 086 055 4578 or Pat 086 063 5856.
Free Study Space:
Students may avail of a free study space at the Library, Market Square during Library opening hours except 10am to
1.15pm Wednesday and Friday. Late opening Tuesday and Thursday until 8.30pm. Spacious and warm with free WIFI. Phone 042 9665779 for further details.
Citizens Information every Tuesday from 1.30pm-2.30pm.
'Abair Leat' Irish Conversational Group, Tuesdays from 1pm-2pm. Learning Irish for fun. Tea and coffee served. All welcome, free admission.
Parent, baby and toddler group every Wednesday from 11am-12.30pm. Lots of suitable toys, refreshments, all welcome, free admission.
Craft Group every Friday 10.30am-12.30pm. Sharing of crafts and ideas. Tea and coffee, all welcome.  Free admission.
 month from 4pm-5pm.
Adult Book Club
last Thursday of every month from 6pm-7pm. All new members welcome. Tea and coffee served. Free admission. Phone Library at 042 9665779 for details on all of the above.
May is Mary's Month:
The Rosary will be recited at the Grotto on the Virginia Road every evening during the month of May beginning on Friday, May 1st at 8.00pm. No Rosary on Saturdays. Everyone welcome to offer prayer for the sick of our Parish as well as any private intention.
ALZHEIMERS TEA MORNING:
The annual Alzheimer's Tea Morning will take place on Friday 1st May in the Bailie Hotel from 10.30 am till 12 noon.
Your support would be very much appreciated.
Classes:
Classes at Bailieborough Business Centre:
QQI Level 4 Information and Technology, taking applications for new class,
QQI Level 4 Computer Applications,
QQI Level 4 Health and Safety in the Workplace,
Skills for Work, Computers for Beginners.
Photography Classes beginners and intermediate
Call for more details 042-969-4716, or call in to the Bailieborough Business Centre, Shercock Road, Bailieborough. Beside the playground.
Lego Workshop:
Six week Lego workshop starting at the Library on Thursday, April 30th from 3.30pm-4.30pm for all children from 4 years up. €30 per child for 6 week course or just drop in on the day. Phone 042 9665779 for further details.
Congratulations:
Congratulations and well done to Jade Williams who is a member of Shercock Athletic Club and who attends Bailieborough Community school and who competed in the U18 girls hammer event on Saturday 18th April at the Leevale sports day.
Jade had a best throw of 51.34m which is a New Ulster youth (U18) record. The old record was 51.18m set back in 2010.
This is particularly impressive as Jade is only an U15 this year so still has until August 2017 in this age group!!
Bailieborough Walking Group: 2015 Walking Season:
Bailieborough Walking Group commence their 2015 walking season on Saturday, May 2nd. This walk will be a community walk and it will be part of the Cavan Walking Festival in association with Cavan Sports Partnership. It will commence at 11am at the Bailieborough Business Centre, Shercock Road and proceed to the forest and Castle Lake. There will be three separate walks. A short walk for parents and children, a moderate walk of about 5 – 6km and a long walk of about 10km. Refreshments in the Business Centre on completion.
Bridge Results:
Tuesday, April 14th: First: Olive McCabe and Bernard Liddy. Second: Patsy Corcoran and Tony Carolan. Best Gross: Sean Kelleher and Jimmy Stafford. Third: Teresa O'Reilly and Elizabeth Murphy.
Relaghbeg Fundraising Committee:
This year our chosen Charity is Enable Ireland—Children's Services and in a change from previous years, our major Fundraising drive has been changed to the May Bank Holiday Sunday—instead of the June one.
Titled 'Walk and Rock', the proceedings will commence with a sponsored Walk on Sunday, May 3rd leaving from Bailieborough and Mullagh at 1.00pm and finishing at Relaghbeg. Later on that evening, 'Say La V' will provide the Rock music when they take to the stage at 9.30pm. Admission is €10 and all are most welcome to attend.
Dhuish Group Water Scheme:
There may be disruption to the water supply up to April 30th due to maintenance of the water mains. We apologise for the inconvenience this may cause.
Social Day Centre:
The Bailieborough Social Day Centre's next get-together is on Wednesday, April 22nd from 2.30pm to 4.30pm, in the Community Centre, Chapel Road. All members are asked to attend for the usual activities and new members are very welcome.
Photography Classes:
Photography classes with Bob Lynch at Bailieborough Business Centre. Beginners and Intermediate. 29th April for 8 weeks, cost €95. Call 042-969-4716 or 086-728-3888 to book your place.
'Bealtaine' at the Library:
Bailieborough Library celebrating Bealtaine 'The Art of Sewing, Knitting and Fabric Manipulation'—a workshop by Karen McArdle, textile designer and member of Design and Crafts Council of Ireland on Thursday, May 14th from 11am-1pm. Free workshop and places strictly limited. Ring 042 9665779 for further details.
Bailieborough Celtic A.F.C:
 Bailieboro Celtic AFC are delighted to be hosting an FAI Summer Soccer Schools Camp again this year from July 13th to July 17th at the Vale Grounds. Log on to www.summersoccerschools.ie  or call 1890 653 653 to book early. Discounts apply for family bookings.
Also, congratulations to our Under 15 team and Coaches on securing the NECSL Premier League for the 2014/2015 Season. Well done all.
Computers for beginners:
Classes at Bailieborough Business Centre. Do you want to learn the basics of using a computer? These classes will help you with the basics of starting to use a computer, from turning it on, typing a letter, using the internet and more. All you ever wanted to know, but were afraid to ask. Call 0429694716 for more details.
Bailieborough Gardening Group: 'Trip to Powerscourt':
Join the Bailieborough Gardening Group on a trip to beautiful Powerscourt Gardens on Sunday next, April 26th. See thousands of tulips in bloom in the gardens and there will be time for shopping in the Garden Pavilion. Tea/coffee and scones on arrival included in cost. The bus will leave Bailieborough at 8.30am from Tesco and return at approx. 6pm. The cost of the trip is €25 for garden group members and €30 for non-members. Contact Eilish at 086 8273470for further information.
Cavan Birdwatch:
Cavan Birdwatch are having an outing to Dowra, West Cavan on Sunday next, 26th April:  Meet at 10.30 am in Dowra village, at the courthouse (Blacklion side of bridge). Bring binoculars if you have a pair, a packed lunch and sturdy footwear. Also, why not invite a friend along!
Further information on www.cavanbranch.blogspot.ie/  or on Facebook (Cavan Birdwatching).
Irish Cancer Society:
Volunteer drivers needed to drive local cancer patients to and from their treatments in Cavan General. The Irish Cancer Society's 'Care to Drive Service' is currently seeking volunteer drivers to drive local patients to and from their chemotherapy treatments. We are looking for volunteers to pick patients up at their homes, drive them to the door of the hospital, pick them up when they are finished their treatment and bring them home again. Volunteer expenses are paid. For more information or an application form please call Rebecca at 01, 2316 642 or email: transport@irishcancer.ie
Leisure Centre:
New Studio Classes, check out our facebook page for details of different classes.
Monday:  BLT 10.00-10.45am and Ladies Fitness 8.30pm.
Tuesday:  Mugendo Kickboxing 6.30-8.30.
Wednesday:  Pilates 10-11am, BLT at 6.30, Step Aerobics from 7.30 to 8.30.
Thursday: Yoga at 10 and Turbo training at 7pm.
Friday:  Men's Fitness at 8.45.
Studio and Treatment rooms available to rent, Call 042 9666644. Suitable for many uses.
€30 for 30 days membership pool or gym membership still available.
Check us out on www.bailieboroughleisurecentre.com  or find us on facebook for regular updates.
Baptism Dates in St. Annes for April and May 2015:
The following are the dates for Baptisms in Saint Anne's Church: Saturday, April 25th (Deacon Damien) and Sunday April 26th at 12.30pm (Fr. Michael), Sunday, May 3rd at 12.30pm (Fr. Michael), Saturday, May 9th at 4.30pm (Deacon Damien), Sunday, May 17th at 12.30pm (Fr. Michael), and Saturday, May 23rd at 4.30pm (Deacon Damien).
Walk, Jog Or Run….
Exercising Is FUN! Every Monday and Wednesday evenings at 8pm join us at Bailieborough Community Centre! All welcome—no matter what your fitness levels are!. Ok folks Spring is here, no more weather excuses, join us to run, jog or walk and most importantly tea, biscuits, fruit and chat afterwards.
East Cavan Gaels GAA Hurling – Club News 20th April 2015:
U6/8/10; A great evenings hurling was had by all on Wednesday last in Kingscourt Stars GAA grounds as we entertained Carrick in an Under 8/10 blitz. Our under 6s also got some game time and played very well. Thanks to all our parents and coaches and mentors for a great evening. Great numbers returning to Bailieborough U8/10 training on Friday also.
U12; Another impressive performance and result against Woodford Gaels in Bailieborough on Wednesday last. They have a bye this week and one more regular round v Annalee Gaels next week before the finals in a few weeks.
U14/16/18; Our U16s went down to a very impressive Lisbellaw in the first round of the league on Monday last. The next round is scheduled for Monday 27th away to Cootehill.
NFL Division 2 prediction competition; Congratulations to Francis Daly, Bailieborough and Regina Daly, Kildare who shared the €200 in prizes.
We thank all of those who purchased entries to help drive local hurling development.
South Ulster Hurling Squad; East Cavan Gaels will be well represented on both the U14 and U16 squads this year which brings together the cream of hurling talent from Cavan, Monaghan and Fermanagh. The next training session is on Sunday next.
Training times and venues; Under 8/10; next blitz is scheduled for Wednesday 29th. Time and venue tbc.
Kingscourt group; Wednesdays 6-7.30 at Kingscourt Stars GAA grounds.
Bailieborough group; Friday 6-7.30 at the Community School pitch.
For all U8/10 information contact Willie Gaughan 087 164 9280.
Under 12/14/16/18; All training is collective in Bailieborough and subject to change. This week, Wednesday outdoors at St. Anne's Park 7pm. Players will receive a text.
For all U12-U18 information contact Kathryn O'Flynn 
Citizens Information Service:
Co. Cavan Citizens Information Service is in the Library, Bailieborough every Tuesday from 1.30 – 2.30pm. Information on Social Welfare, Employment, Tax, Health etc… A Free and Confidential Service. Tel. 0761 07 5200.
Alcoholics Anonymous:
Local meetings of Alcoholics Anonymous are held in: The Health Centre, Kells Road on Wednesdays at 8.30pm.
Bailieborough Cancer Comfort Ltd:
The Bailieborough Cancer Comfort Ltd Committee is available to help cancer patients or their families. Free Taxi service available. For further information contact: Michael Cullen 087 154 2447, Edel Fox 086 1004030 or Geraldine Gormley 087 7949448.
The Samaritans:
The Samaritans have a new Freephone number: 116 123 for people who are struggling to cope. The line is open and free 24 hours a day, 365 days of the year.
Bailieborough School of Music student Caoimhe Lynch, pictured here with her teacher Mr David McGauran, was recently presented with a High Achiever Medal from the Royal Irish Academy of Music. Caoimhe was nominated for the award based on her performance in her Clarinet Grade 3 Examination.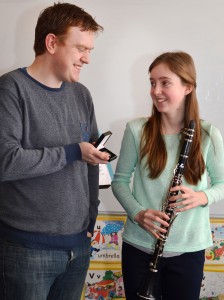 If any readers have items of interest to be included in the Bailieborough News, (Obituaries, News Items, Sports, etc…), please e-mail: mattie42@eircom.net or call 042 9666200.
http://bailieborough.com/wp-content/uploads/2015/09/bborocomlogo2015-300x130.png
0
0
Liz Fleming
http://bailieborough.com/wp-content/uploads/2015/09/bborocomlogo2015-300x130.png
Liz Fleming
2015-04-27 11:52:50
2015-04-27 11:52:50
Bailieborough News Thursday 23rd April 2015