Bailieborough News. November 19th 2015. Matthew J. Cullen.
Cancer Fundraising Night:
 All roads leads to The Bailie Hotel, Bailieborough on Saturday, 21st November for the launch of Olivia Clarke cd "Listen to me". Olivia—originally from Killann—lost her mother to cancer.  Olivia made this cd to help raise funds for Local Cancer Societies who contribute to families living with cancer. The 'Texas Wild Cats' will play on the night and the doors will open at 10.30pm. All proceeds on the night will go to Local Cancer Societies. All support will be greatly appreciated.
Bailieborough Red Cross 'Quiz Night':
Bailieborough Red Cross are hosting a Quiz Night in the Bailie Hotel at 9pm on Friday evening next, November 20th–1st prize €100; entry €40 per table of 4.  All welcome for a great night's entertainment.
Tickets for the Annual Senior's Christmas Party to take place on Wednesday, December 2nd are being distributed by our Red Cross volunteers in the lead up to the party.  Please phone 087 2346526 for more information.
Social Day Centre:
The next Get-Together of the Bailieborough Social Day Centre takes place on Wednesday, November 18th from 2.30 pm to 4.30pm in the Community Centre, Chapel Road. There will be a demonstration on making Christmas Decorations for all members and new members are always welcome.
Illustrated Tour of Bailieborough:
An Illustrated Tour of Bailieborough through Old Picture Postcards at the Library on Tuesday, November 24th at 7.30pm. Take a tour of old Bailieborough with Michael Swords and P.J. Dunne using old images, including Coleman's Postcard collection. Admission is free and all are welcome!
McKiernan welcomes historic visit of ETB to Bailieborough
As Deputy Chairman of Cavan and Monaghan ETB, as a Board Member of
Bailieborough Community School, and as a proud Bailieborough man, I am
delighted that ETB Chair Cllr. Kathy Bennett and ETB CEO Martin
O'Brien agreed to my request to hold a historic first meeting of the
ETB in Bailieborough on Wednesday 11th November 2015.
This meeting marked the fact that the ETB is a co-patron along with
Bishop Leo O'Reilly, of Bailieborough Community School, which is
currently undergoing some €4 million of investment, partly due to the
work of the ETB.  The school has a new roof, and a new car park, and
work will soon begin on a Special Needs Unit at the school.
The meeting was held in the Bailieborough Development Association
Business Centre, which hosts top quality office space for new
businesses as well as meeting spaces and a modern suite of PCs for
training purposes.  I hope that by holding the meeting in the BDA
Business Centre it will encourage future co-operation and local
training opportunities for Bailieborough and its hinterland.
Cavankayakrun
winter cycling training taking place every Sunday morning from the Market Square, Bailieborough at 9am. This training will continue during the winter, weather permitting for all interested. All levels welcome.
Work on Church Car Park:
Preparatory work on the Church car park and avenues (drainage, lighting, etc…) at St. Annes will commence this week and will continue for approximately the next three weeks—with the resurfacing due to begin on Monday, November 30th. Please be patient as access to parts of the car park and avenues will be limited at times.
Annual Show Dance:
Bailieborough Agricultural Show annual 'Show Dance' will take place on Friday 27th November in the Hideout, The Vale, Bailieborough. Music by Johnny Mullins from 10pm until late, tickets only €10 and refreshments served! All welcome.
'Seasons of Love':
The members of 'Hardtimes Chorus' have been rehearsing over the past few months for their new production, entitled, 'Seasons of Love'. The show will take place in St. Annes Church, Bailieborough on Friday, December 4th at 8.30pm, sharp.  This year the group will be supporting, the work of Cavan Palliative Care and Bailieborough Community School Music Facilities. Tickets are currently on sale for 12 Euro each in Super Valu, Bailie Stores, Sandi Modes and the Bailie Hotel for what should be one of the most entertaining highlights of the year.
Perpetual Trophy Poetry Competition:
Bailieborough Community Choir are holding a competition for 6th class students. Children are asked to write a poem in Irish or English simply called 'Christmas is…' We hope the winner of the Competition will perform their poem at an event the Choir are hosting in December 2015. Please put your name, address and school on entry. Closing date is Saturday, November 21st.
Bridge News and Results:
Results: October 20th: 1st: Bernard Liddy and John McGahan, 2nd: Patty Clarke and Rose Brennan, Best Gross: Gemma McCabe and Olive Kellett, 3rd: Ita Clarke and Philomena Finnegan.
HALLOWEEN PRIZES RESULTS:  October 27th: 1st: Maresa Liggan and Marie McNicholas, 2nd: Kathy O'Sullivan and Vera Kelly, Best Gross: Patsy Corcoran and Sean Kelleher, 3rd: Rosaleen Mackey and Elizabeth Murphy, 4th: Betty Olwell and Noreen Maguire, 5th: Ita Clarke and Philomena Finnegan.
PLAYER of the MONTH for OCTOBER:  Rose Brennan.
Tuesday November 3rd:  1st: Vera Kelly and Kathy O'Sullivan; 2nd: Teresa O'Reilly and Joy Jameson; Best Gross: Ita Clarke and Una Mansell; 3rd: Maresa Liggan and Vera Bell. Congratulations to all prize winners.
Attendance at our weekly competitions is excellent; we urge members to arrive early if we are to continue commencing at 7.30 pm sharp.  New members are always welcome.  Contact no: 086 6039586.
Information Meeting:
An 'Information Meeting' for all parents of servers, choir leaders, sacristans, volunteers, employees in the Parish (Bailieborough, Killann and Shercock) and all interested persons will take place in St. Anne's Church on Monday, November 23rd at 7.30pm.
Launch of New Booklet:
A Booklet entitled 'Lough-an-Leagh and Muff, Songs and Poems, Heritage and Folklore'—compiled by local man, Sean Galligan from Lisnalee—will be launched in Muff Primary School on Saturday, 28th of November at 8.15pm.
This area is the subject of many poems and songs, by different artists. Some were by a local man, Johnnie Lynch (Trussie). Many of his songs were lost but some were located again. These and many poems by other artists are included in the booklet. Heritage and Folklore that applies to the area are also included.
The launch will be by Shane Connaughton. Shane is well known for his films, Run of the Country and The Playboys. He is a regular visitor to this area. All welcome.
Leisure Centre News: November Membership Special:
Senior 1 year Pool or Gym. Buy one get one Free.  2 people for €279. (Over 65's).
Swimming Lessons Rebooking takes place on Saturday, November 28th from 9am for those already in lessons and from 12 o' clock for all others. All levels catered for, no waiting lists.
Christmas intensive Swimming Lessons—now booking.  After School week Dec 7th – 11th. All levels catered for. One hour, 5 days, €65.00.
Prize Draw.  Win 1 year membership (value €499), plus other prizes. Tickets €10.00 available at Leisure Centre and from Board Members.  All funds support the Development Fund of the Leisure Centre.
€30 for 30 days membership-pool or gym membership still available.
Check us out on www.bailieboroughleisurecentre.com  or find us on facebook for regular updates.
Attention Business People:
Are you a small business owner? Do you work from home? Come and talk to BDA about our Hot Desk facilities for your business needs. We can provide email on Bailieborough.com, a Business Address, access to High Speed Broadband, Delivery Address, at packages tailored to suit your needs.
For more details call : 042-969-4716.
Computers for Beginners at Bailieborough Business Centre:
Come and learn new or brush up on your computer skills: All levels of ability catered for: email, Facebook, web browsing, Skype. €10 for 4 x 2 hour classes with Carmel Shekleton, call: 042-969-4716, for further information.
Enrollment Evening:
East Knockbride N.S. Enrolment / Open evening will take place on Wednesday, 18th November from 7 – 8pm in the school. Parents and children welcome on the night.
Senior's Alert Scheme:
Seniors' Alert Scheme providing panic buttons for eligible older people living in our community is co-ordinated by our local Vincent DePaul. If you know anyone who may be eligible and in need of a panic button please call 087-6847434.
Church Gate Collection:
CAPS (Cavan Autism Parents Support) will be having a church gate collection on the 28th and 29th November. All support greatly appreciated.
Library:
Library Parent and Toddler Group every Wednesday 10.30am-12pm; Citizens Information every Tuesday 1.30pm-2.30pm on a first come first served basis; Craft Group every Friday 10.30am-1pm; Book Club 6pm-7pm last Thursday of every month; Lit Lab writers group every second Tuesday. Contact 042 9665779 for details on any of the above.
Beckscourt Mother and Toddler Group:
The Group meets on every Wednesday morning, from 10.00am to 12 noon at the Beckscourt Centre.  Call Drena 042 969 4825 for further information.
Baptism Dates in St. Annes for November and December 2015:
The following are the dates for Baptisms in Saint Anne's Church: Sunday, November 22nd (Fr. Michael), Saturday, November 28th (Deacon Damien), Sunday, November 29th (Fr. Michael), Sunday, December 6th, (Fr. Michael), Saturday, December 12th (Deacon Damien), Sunday, December 13th (Fr. Michael), Saturday, December 19th (Deacon Damien) and Sunday, December 20th (Fr. Michael).  Please note that Baptisms take place on Saturdays at 4.30pm and Sundays at 12.30pm.
East Cavan Gaels GAA Club – Hurling News 16th November 2015
Under 6/8/10; Indoors up and running now in both venues, Kingscourt on Thursdays and Bailieborough on Fridays. New players always welcome. Equipment supplied while learning the game with us. New helmets, for those who ordered, will be at this week's training. Registration for 2016 will be in the next few weeks, more info at training. Next round of blitzes coming soon.
Under 13; Our two squads continued with the league on the 3G on Wednesday last. Two more rounds to go.
Under 16/18; The next round of the U16 Championship is scheduled for  Monday when we play Woodford Gaels most likely on the 3G.
The first round of the Minor Championship is due to be played soon also v Woodford. Fixture TBC next week.
Hurling training times and venues; Under 6/8/10; Kingscourt group;
Thursdays at Kingscourt Community Centre. Under 6/8 from 6.45-7.45 and Under 10 from 6.45-8.15. €3 each please.
Bailieborough group; Fridays – Under 6/8 from 6-7pm. Under 10 from 7-8pm in Bailieboro Community School Sports Hall. €3 each please.
Both sessions are open to anyone from the region to attend.
For all U8/10 information contact Willie Gaughan 086 164 9280.
Under 12/14/16/18; All training is collective in Bailieborough and subject to change. Training will now move to weekends for the couple of squads left playing. Players will receive a text.
For all U12-U18 information contact Kathryn O'Flynn 087 244 1371.
SOSAD TO BENEFIT FROM CAVAN CRYSTAL FAIR
Keep free Sunday next, 22nd November for a Psychic Health and Craft Fair in The Cavan Crystal Hotel from 12-6pm. Admission is free, donations and raffle in aid of SOSAD. There will be something for everyone…therapies, readers, crafts and retail stands, making it a great family day out. Please support this worthy cause.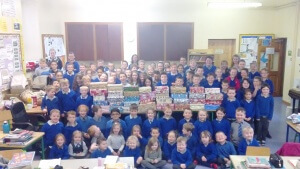 The Model School Shoebox Appeal
Picture of the children in The Model School who kindly made up Christmas Shoeboxes last week to send out to children in Africa in time for Christmas.
Bailieborough Cancer Comfort Ltd:
The Bailieborough Cancer Comfort Ltd Committee is available to help cancer patients or their families. Free Taxi service available. For further information contact: Michael Cullen 087 154 2447, Edel Fox 086 1004030 or Geraldine Gormley 087 7949448.
CITIZENS INFORMATION:
Co. Cavan Citizens Information Outreach Service in Bailieboro (The Library) on Tuesdays, from 1.30pm – 2.30pm. This is a weekly service.  Any enquiries 076 1075200.
Alcoholics Anonymous:
Local meetings of Alcoholics Anonymous are held in: The Health Centre, Kells Road on Wednesdays at 8.30pm.
The Samaritans
 The Samaritans have a new Freephone number: 116 123 for people who are struggling to cope. The line is open and free 24 hours a day, 365 days of the year.
If any readers have items of interest to be included in the Bailieborough News, (Obituaries, News Items, Sports, etc…), please e-mail: mattie42@eircom.net or call 042 9666200.
http://bailieborough.com/wp-content/uploads/2015/09/bborocomlogo2015-300x130.png
0
0
Liz Fleming
http://bailieborough.com/wp-content/uploads/2015/09/bborocomlogo2015-300x130.png
Liz Fleming
2015-11-19 10:37:35
2015-11-19 10:37:35
Bailieborough News Thursday 19th November 2015