Bailieborough News. June 18th  2015. Matthew J. Cullen.
Safe Pass:
1 Day Training
Bailieborough Business Centre
Friday 26th June 2015 Cost €100 including Lunch
Delivered by Cathal Bannon
Call 042 9694716 or email bda@bailieborough.com
Midsummer Fest:
Sorry Folks, but due to a variety of reasons, including logistics and the increasing cost of running the event -the Bailieborough Midsummer Festival will not go ahead this year.
A new committee will be formed in November with the challenge of bringing the Festival back in a new format for 2016. In the meantime, thank you to all our past committees, volunteers, sponsors and friends for helping out over the years.
Bailieborough Mental Health Association:
Bailieborough Mental Health Association are holding a 'Summer Solstice Walk' on Sunday afternoon next, June 21st, commencing from the Bailieborough Business Centre, Shercock Road at 4.00pm. Returning afterwards to the Centre for refreshments. Also as part of Mental Health, Ireland 'Solstice Wellbeing Day' all are invited to join in and reflect on your life and make a wellbeing intention for the coming year at 5.38pm—the moment of the Summer Solstice in Ireland. Your support would be greatly appreciated.
Feilé na nGael:
East Cavan Gaels will again be hosting this prestigious national competition for U14 boys hurling this coming weekend. We extend an invitation to all to attend what promises to be a great weekend of hurling. We particularly wish to invite children and teachers from our local catchment schools to attend. Hurling has continued to grow over these past years locally, ably assisted by the support of our local schools and this event will showcase the fruits of all strands working together to get this far, Hurling Club, Schools and GAA Clubs. Our squad for Féile has players who are or have recently played hurling with our schools and we would hope to see as may supporters as possible at this event and hope that you could highlight their achievement in participating in same. Throw in on Friday in St. Anne's Park, Bailieborough is at 4pm and Saturday at 11am, everyone is very welcome.
'Bailieborough Agricultural Show 2015 to be held on July 4th 2015':
Come along in 70's dress to be claimed best dressed man/woman on the day to celebrate the theme of 'Then and Now'. Other attractions on the day include the Macra na Feirme national farm skills challenge semi-finals, vintage displays, trade stands and lots more! Bring your pony along for the new
handy pony class which involves doing everyday tasks while on horseback, class begins at 10am and runs for the whole day! For more info email bailieboroshow@gmail.com'All welcome.
Bailieborough Celtic A.G.M:
The Annual General Meeting of Bailieboro Celtic Soccer Club will take place in the club's Clubrooms on Thursday, 25th June 2015 at 8.30pm.
Bailieboro Celtic AFC are delighted to be hosting an FAI Summer Soccer Schools Camp again this year from July 13th to July 17th at the Vale Grounds. Log on to www.summersoccerschools.ie  or call 1890 653 653 to book early. Discounts apply for family bookings.
The 20k Drop:
Bailieborough Shamrocks GAA present 'The 20k Drop' in the Bailie Hotel on Friday 26th June at 8.30pm. Ticket are priced at €15 and are available from any committee member or they can be purchased at the door. On the night 8 participants are selected from the audience. Each receives €2,500 in cash and simply place your cash on the correct answer to win. This is sure to be a good night's entertainment. All welcome.
Bailieborough Walking Group:
Wednesday, June 17th, Canningstown, Cootehill. Advanced Walk: 2+ Hours. Departing from Bailieborough Library at 6.55pm. Walk commences at Canningstown Football Pitch at 7.15pm.
Wednesday, June 24th: Dun A Ri, Kingscourt. Easy walk—1 hour. Moderate walk—1 hour 30 mins. Depart from Bailieborough Library at 6.45pm. Walks commence at Shercock Road entrance to Dun A Ri at 7.15pm. All welcome.
Legion of Mary:The local 'Legion of Mary' meets each Monday night at 8.00pm in the Community Centre. New members are always welcome and encouraged to attend.
'Revolted' performed by Donal and Katie O Kelly at Bailieborough Library on Wednesday, 17 June at 7.30pm
REVOLTED is a pair of solo plays for Bloomsday 2015, recalling the connection between Joyce and County Cavan – Bailieboro-born Frank Sheehy Skeffington.
REVOLTED comprises Donal O'Kelly's JOYCED! about James Joyce performed by Katie O'Kelly, and HAIRY JAYSUS about Joyce's best friend Frank Sheehy-Skeffington, the forgotten executed man of Easter 1916, written and performed by Donal O'Kelly.
Sheehy-Skeffington was a pacifist and campaigner for votes for women. He was jailed in June 1915, exactly a century ago, for making speeches against recruitment to the British Army.
Donal O'Kelly and Katie O'Kelly, both writers and actors, are coming together to create this father-daughter double bill of plays. Revolted will be presented in Bailieboro Library at 7.30pm on 17th June, the day after Katie performs Joyced! in the National Library of Ireland for Bloomsday. Admission €5.
Phone 042 9665779 for further enquiries.
Library:
Citizens Information every Tuesday from 1.30pm-2.30pm.
'Abair Leat' Irish Conversational Group, Tuesdays from 1pm-2pm. Learning Irish for fun. Tea and coffee served. All welcome, free admission.
Parent, baby and toddler group every Wednesday from 11am-12.30pm. Lots of suitable toys, refreshments, all welcome, free admission.
Craft Group every Friday 10.30am-12.30pm. Sharing of crafts and ideas. Tea and coffee, all welcome.  Free admission.
Adult Book Club last Thursday of every month from 6pm-7pm. All new members welcome. Tea and coffee served. Free admission. Phone Library at 042 9665779 for details on all of the above.
Bailieborough 'Lend A Hand'—Terrific Summer Offer!!:
Garda vetted volunteers with identification are ready to assist and help the elderly in our community. If you have gardening jobs, hedge and grass cutting, tidying up or ant type of small repairs to get done then 'Lend A Hand', is at your doorstep. No job is too small for our volunteers and to avail of this service just call Ann at 042 9694825 from 9.00am to 2.00pm, Monday to Friday. Brighten up your summer and make that call now!!
School of Music: Enrolment Day:
Bailieborough School of Music Enrolment Day will take place in St Anne's National School on Saturday next, 20th June from 10.00am – 1.00pm. Enrolment of new students and an opportunity to try out the various woodwind and brass instruments.
Bailieborough Community Resource House:
Summer camp for children aged 8-11 in Resource House from July 6th – July 10th. Price €30 for the week. For further details please contact 042 9666068.
5K/10K FUN-RUN/WALK:
East Knockbride N.S. Parents Association are holding their annual 5k and 10k Fun-Run/Walk on Friday evening next, 19th June 2015.  Registration from 7pm in school, Walk/Run commencing at 7.30pm.  Adults €10, Children €5, family rates available.  Refreshments in school afterwards.  Your support would be greatly appreciated.
Training at Bailieborough Business Centre:
Computers and the Internet for Beginners €10 for 4 Classes.
Skills for Farmers, Skills for Work. Call 042-969-4716 / 086-794-9739 for further details.
Killann Pilgrimage to Croagh Patrick:
The Killann Pilgrimage to Croagh Patrick will take place on Sunday, July 12th. A bus will be leaving from Bailieborough at 8.00am (please note change of time). If interested please contact Caroline (086 3817 857) or Mella (086 379 0602) for further details.
Birdwatch Ireland:
Birdwatch Ireland are looking for records of breeding Curlew this summer. Farmers with breeding Curlew on their lands may be eligible for GLAS. If you think you know of a nesting pair—not a flock—please contact Sean Kelly on 085 1132 780 or email curlew@birdwatchireland.ie and we will contact you. Closing date is July 1st 2015.
Baptism Dates in St. Annes for June, July and August 2015:
The following are the dates for Baptisms in Saint Anne's Church: Saturday, June 20th at 4.30pm (Deacon Damien) and Sunday, June 21st at 12.30 (Fr. Michael), Saturday, June 27th (Deacon Damien), Saturday, July 11th (Deacon Damien), Sunday, July 12th (Fr. Michael), Saturday, July 25th (Deacon Damien), Sunday, July 26th (Fr. Michael), Saturday, August 8th (Deacon Damien), Sunday, August 9th (Fr. Michael), Saturday, August 23rd (Deacon Damien) and Sunday, August 24th (Fr. Michael).
1916 – 2016 Ireland Centenary Programme:
The Bailieborough Sheehy Skeffington Centenary Committee is planning a series of events in 2016.
Francis Skeffington was born in 1878 in Bailieborough.
If you are interested in the history of Francis and his wife Hanna and the role played by them in the 1916 era, you might like to join our committee.. Contact Patrick McCabe at Phone No. 042 9694706, mobile 086 8490642 or email pgjmccabe@eircom.net
Leisure Centre:
New Studio Classes, check out our facebook page for details of different classes.
Monday:  BLT 10.00-10.45am and Ladies Fitness 8.30pm.
Tuesday:  Mugendo Kickboxing 6.30-8.30.
Wednesday:  Pilates 10-11am, BLT at 6.30, Step Aerobics from 7.30 to 8.30.
Thursday: Yoga at 10 and Turbo training at 7pm.
Friday:  Men's Fitness at 8.45.
Studio and Treatment rooms available to rent, Call 042 9666644. Suitable for many uses.
€30 for 30 days membership pool or gym membership still available.
Check us out on www.bailieboroughleisurecentre.com  or find us on facebook for regular updates.
Walk, Jog Or Run….
Exercising Is FUN! Every Monday and Wednesday evenings at 8pm join us at Bailieborough Community Centre! All welcome—no matter what your fitness levels are!. Ok folks, join us to run, jog or walk and most importantly tea, biscuits, fruit and chat afterwards.
East Cavan Gaels: U6/8/10;
The next big Monster blitz is this coming Wednesday 17th June in Cloghan at 7.
U14/16; Féile this week so training for U14/16 only on Wednesday in Bailieborough.
Féile na nGael 2015;
All roads lead to St. Anne's Park, Bailieborough GAA for what promises to be another fantastic weekend of hurling as ECG participate in National Féile for only the second time. Division 5 has 16 teams with Cup and Shield competitions. ECG will host a minimum of 12 games in both Bailieborough and Kingscourt over Friday and Saturday. Our guests for the weekend are Caiseal Gaels from Mayo with other visiting teams from Monaghan and Sligo with even more coming from further afield on Saturday for Quarter finals of Cup and Shield. This is a remarkable undertaking for such a small club but with the help of our committee, our players, their families and our partner GAA clubs and the wider East Cavan community this promises to be a hurling weekend to remember. There will be a BBQ, long Puc competition at 6, raffle and some special guests and presentations at 7 on Friday in St. Anne's Park, Bailieborough Shamrocks GAA grounds. Throw in for the first games on Friday is at 4pm, everyone from the community is especially welcome and fixtures are as follows;
Friday: 4pm East Cavan Gaels v Drumcliffe Rosses Point (Sligo), St. Anne's Park, Bailieborough Shamrocks GAA.
4pm Castleblayney (Monaghan) v Caiseal Gaels (Mayo), O'Raghallaigh Park, Kingscourt Stars GAA.
5pm East Cavan Gaels v Castleblayney. St. Anne's Park.
5pm Caiseal Gaels v Drumcliffe Rosses Point. Kingscourt.
Saturday; 11am East Cavan Gaels v Caiseal Gaels, St. Anne's Park.
11am Castleblayney v Drumcliffe Rosses Point, Castleblayney.
2.30 and 3.30: Cup and Shield Quarter finals in both Bailieborough and Kingscourt.
Sunday; 11am Cup and Shield semi-finals, Cloghan, Monaghan GAA Centre of Excellence.
3pm Cup and Shield Finals, Cloghan.
Training times and venues; If blitz on then no training.
Under 6/8/10; Blitz Wednesday in Cloghan for all
Kingscourt group; 
Wednesdays 6-7.30 at Kingscourt Stars GAA grounds.
Bailieborough group; no training, everyone to Féile!!
Friday  6-7.30 at the Community School pitch.
Both sessions are open to anyone from the region to attend.
For all U8/10 information contact Willie Gaughan 087 164 9280
Under 14/16; No U12 training this week- all to Féile Friday.
All training is collective in Bailieborough and subject to change.
Wednesday in St. Anne's Park 7pm. Players will receive a text.
For all U12-U18 information contact Kathryn O'Flynn 087 244 1371.
Bailieborough Cancer Comfort Ltd:
The Bailieborough Cancer Comfort Ltd Committee is available to help cancer patients or their families. Free Taxi service available. For further information contact: Michael Cullen 087 154 2447, Edel Fox 086 1004030 or Geraldine Gormley 087 7949448.
Citizens Information Service:
Co. Cavan Citizens Information Service is in the Library, Bailieborough every Tuesday from 1.30 – 2.30pm. Information on Social Welfare, Employment, Tax, Health etc… A Free and Confidential Service. Tel. 0761 07 5200.
Alcoholics Anonymous:
Local meetings of Alcoholics Anonymous are held in: The Health Centre, Kells Road on Wednesdays at 8.30pm.
Model School:
5th and 6th class students from Model School in Bailieborough were delighted to receive their Junior Entrepreneur Programme (JEP) Flag this week after completing the programme recently. The J.E.P. is kindly sponsored by ATA Group in Cavan. In picture is Joanne Gannon from ATA Group, 5th/6th class students from The Model School along with the class teacher Mr. Niall McHugo.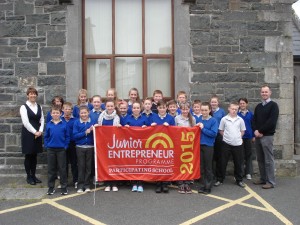 We also had a visit from a bee keeper teaching all the students from 3rd to 6th class all about Bio-Diversity/Bees/Pollen.
The Samaritans:
The Samaritans have a new Freephone number: 116 123 for people who are struggling to cope. The line is open and free 24 hours a day, 365 days of the year.
If any readers have items of interest to be included in the Bailieborough News, (Obituaries, News Items, Sports, etc…), please e-mail: mattie42@eircom.net or call 042 9666200.
http://bailieborough.com/wp-content/uploads/2015/09/bborocomlogo2015-300x130.png
0
0
Liz Fleming
http://bailieborough.com/wp-content/uploads/2015/09/bborocomlogo2015-300x130.png
Liz Fleming
2015-06-18 12:38:29
2015-06-18 12:38:29
Bailieborough News Thursday 18th June 2015