Bailieborough Poetry Festival 2018: Bailieborough Poetry Competition:
The Festival will take place from 4th to 7th October 2018. The Bailieborough Poetry Prize 2018 is now open for entries. The Poetry Prize 2018 will be an open competition with a first prize of €300 for the winning poet. The judge this year is Noel Monahan and the closing date for the submission of entries is Monday next, September 10th, 2018. Full competition rules are available on the Bailieborough Poetry website.
The Bailieborough Poetry Festival officially opens on Thursday 4th of October in Bailieborough Library at 7pm. This will include the official opening of the Art Exhibition by Ruth McDonnell in the Library Arts space which runs in conjunction with the Festival. Members of LitLab writing group have been collaborating with the artist and will read some poems inspired by her artworks.
Poets definitely taking part are Annemarie Ní Churreáin, Enda Wyley and Brendan McCann.
Enda Wyley will be reading and facilitating a workshop at Bailieborough Poetry Festival 2018.Watch out for full programme soon.
'Hardtimes Chorus':
'Hardtimes Chorus' are delighted to announce of their upcoming concert, 'A Million Dreams' in aid of the Down Syndrome Centre North East. It will be held in St Annes Church on Friday evening, 28th September 2018 at 8.30pm. The Down Syndrome Centre North East has been set up by a group of parents to provide essential services, information and support to people with Down Syndrome and their families living in the North East. The centre is due to open its doors in October 2018 in Carrickmacross, Co Monaghan. Please Come Along and support.
Bailieborough Mental Health Association:
Bailieborough Mental Health Association will be holding its Annual General Meeting on this Thursday evening, September 6th at 8.30 pm, in the Bailie Hotel. New members welcome.
'Race for Grace':
Come join us in a 5km or 10km Run, Walk or Crawl for 'Feileacain' and 'A Little Lifetime Foundation'—both charities support anyone who has lost a baby in pregnancy or after— in memory of Orla Dean's grand- daughter Grace, who gained her wings far too soon, on Saturday, September 22nd. They are both amazing charities and every cent raised will go towards supporting families affected by the death of a baby during or after pregnancy. Registration for the event will open at 11am at Bailieborough Community Centre and the event will start at 12pm.
Registration prices are; €5—5km, €10—10km and €15 for Families.
Everyone who registers will be entered into a raffle on the day.
Tea and Sandwiches will be served back at the Community Centre after the event.
Really hope to see you there! All support is greatly appreciated.
Deepest Sympathy:
Deepest Sympathy is extended to Peter Crosby and family, Curkish on the recent death of Peter's brother, Gerard (Carrickmacross). Gerard's Funeral took place in St. Joseph's Church, Carrickmacross on Monday last, August 27th.
Bailieborough Walking Group:
Wednesday, September 5th –  Castle Lake                                                                                               (M) Walk 1.5 hours (E) Walk 1 hour. Walk commences at 7.15pm at Bailieborough Business Centre, Shercock Road, Bailieborough.  This is the final walk of the season. All welcome.
Bailieborough School of Music:
 Lotto results for 01-09-2018.  Numbers Drawn; 3, 13, 16, 22   No Jackpot Winner, Lucky Dip (€25) Winners; Gerard and Geraldine Larkin; James Gerard Kellett; Terry Smith; Declan McGuirk. Jackpot next week, €4,500.
Bailieborough Tidy Towns:
NO POSTERS, please on the Tesco fence or anywhere around the town or on all approach roads from the 50k limit in.
Thanks to all who have already complied with our request.
Children's Irish Dance Classes;
Irish dance classes with World Champions Aishling and Emma Fox will resume on Wednesday, 5th September at 6pm in Tierworker Hall. For more information, please contact Aishling or Emma on (087) 9699235, (087) 2059128. All newcomers welcome.
Pilates:
Pilates resuming in Bailieboro Trinity Hall on Tuesday September 11th, classes at 6.15pm and 7.30pm. Suitable for all levels of fitness, booking essential. Please call Anne 087 2601454.
Adult Irish Dance and Ceilí Classes:
Adult Irish dance classes will take place in Tierworker Hall at 8:30pm every Wednesday. For more information, please contact Aishling Fox on (087) 9699235.
Citizen's Information:
The service continues on every Tuesday, at 1.30pm in the Library.
Bailieborough 'Lend A Hand':
'Lend a Hand' is for the elderly and vulnerable in the Bailieborough area. Just give us a call if you need a job done, or even just a chat. Phone Ann on 042 9694825.
Book Reading:
Bailieborough native, Norma MacMaster (née Jameson), will read from her book 'Silence Under a Stone' at the Library, on this Thursday September 6th at 7.30pm. All members of the community are invited to this FREE event!
Balloon Release:
The Annual Balloon Release in Memory of our loved ones who died by Suicide, will be held at Lough Sillan Lake, Shercock on Friday 7th of September at 7.30pm, sharp. Please bring your own helium balloons. Songs will be sung and a few words said, to remember all our family and friends gone too soon, but never forgotten. All welcome.
Walk, Jog, Run or Crawl!
Run, walk, crawl or jog every Monday and Wednesday evenings at the Community Centre, Chapel Road, Bailieborough at 8pm.  It's free!!!! And there is no catch! All newcomers welcome.  Anyone want to try kayaking? If you do, be at the Town Lake at 7.00pm. Tea, coffee, fruit and biscuits afterwards. All newcomers welcome.
St. Anne's Folk Choir:
Practice for the Folk Choir take place every Tuesday evening at 8.15pm, in St. Anne's Church. The future of the Choir depends greatly on the involvement of the parishioners in our Church, so new members would be very much appreciated and welcomed.
'Vincent's Shop':
'Vincent's Shop' on Main St., are urgently seeking Gents Clothing and any paper or plastic bags, that they can use in the shop. Thank you for all the kind donations of clothes, toys and bric-a-brac and for generously buying from the shop. All money raised is used for local deserving causes.
Well Done Leanne:
Well done again to Leanne Kiernan who scored twice for the Republic of Ireland Senior Ladies side in their 4-0 win over Northern Ireland on Friday evening last in Tallaght Stadium, in their FIFA 2019 World Cup qualifier.  Leanne also got the 'Three' Player of the Match award for her outstanding performance.
The 'Open Door Sessions':
Featuring special guests Michael Gallen, Gerry Hodgers, Ollie Gargan, The Giant Wolf Theatre Company and Leona Daly.
The Open Door Sessions, Bailieborough's free monthly arts and music night is hosting a special gathering of talented musicians and artists from 8.30pm to celebrate Culture Night on Friday 21st September, in Nixy's Bar, The Square, Bailieborough.
Well into its second year, The Open Door Sessions continues to host new, original music and arts on a monthly basis. Culture Night is an expansion of the Sessions regular programme of talented, established and up-and-coming musicians and artists.
If you haven't attended before this is a great opportunity to try it out.
Admission to The Open Door Sessions is free and you are welcome to come along to support and enjoy some of the extraordinary talents that exist within our country.
St. Vincent DePaul: Annual Pilgrimage to Knock:
The annual St. Vincent DePaul Pilgrimage to Knock will take place on Saturday next, September 8th. A bus will be leaving the Community Centre at 8.30am.
First Communion: Parents Meetings:
St. Felim's, National School, The Vale, –Monday next, September 10th at 8.00pm and St. Anne's, National School, Tuesday next, September 11th at 8.00pm.
Church of Ireland Services for September:
Saturday 8th September: Knockbride 2pm – 'Through the Roof Harvest'(Harvest service for adults and children with learning difficulties and their carers).
Sunday 9 September: Bailieborough 10:45am – Morning Prayer and Sunday Club, followed by tea and coffee.
Knockbride 12noon – Holy Communion and Sunday Club.
Sunday 16 September: Bailieborough 10:45am – Morning Prayer and Sunday Club, followed by tea and coffee.
Knockbride 12noon – All-Age Service.
Saturday 22nd September: Bailieborough Hall 2-4pm – 'Messy Church Harvest'.
Sunday 23 September: Bailieborough 10:45am – All-Age Service, followed by tea and coffee.
Knockbride 12noon – Morning Prayer.
Sunday 30 September: United Service in Mullagh 10:30am – All-Age Service followed by tea and coffee.
Sunday 30 September: Harvest Service, Knockbride Church 7:30pm.
Mondays (during term time): Badminton, Bailieborough Hall; 7-8pm for primary students, 8-9pm for secondary students.
Bailieborough Business Centre:
Classes for the Autumn Schedule at Bailieborough Business Centre. Call to let us know what you are interested in doing and we will register your interest with the ETB. Please call 042-969-4716 for further information.
Hard Luck: Hard Luck but very well done to the Bailieborough Shamrock's Senior Ladies Football Team and Management in their loss in the Intermediate Championship final on Saturday last. Great experience gained which should help out immensely next year.
Baptism Dates in St. Annes for September, October, November and December 2018:
The following are the available dates for Baptisms in St. Anne's Church–September 15th (Saturday, 1.30pm), September 23rd (Sunday, 12.30pm) October 6th (Saturday, 1.30pm), October 28th (Sunday, 12.30pm), November 10th (Saturday, 1.30pm), November 25th (Sunday, 12.30pm), December 15th (Saturday 1.30pm) and December 23rd (Sunday. 12.30pm).
Pilates:
Pilates resumes in Bailieborough Leisure Centre the first week in September for 4 weeks, Wednesday mornings at 10am and Friday mornings at 6:30am.
Also, morning and evening classes available at Cross, Mullagh.
To book, contact Julie 086 3283943, julie@cavanphysicaltherapy.com or FB /JulieCarolanCavanPhysicalTherapy
Annual Pony Drivers and Friends, Memorial Drive 2018:
Preparations are well underway for this year's Memorial/Charity Drive. The Drive will be taking place in Bailieborough at The Hideout on Sunday, the 23rd September, starting at 2pm. This year we are raising money for Cavan/Monaghan Palliative Care. On the day there will be refreshments, raffle, auction and music. The Noel McDermott Perpetual Plaque and The Sean McQuillan Memorial Cup will be presented on the day to 'the best turned out' Ponies. We look forward to seeing everyone there to support a very worthy cause.
Bailieborough Library:
Everyday Irish – Tuesday evenings 3pm to 5pm
Beginner Conversational Irish Class for Adults who would like to learn the basics.
Bailieborough Library Parent, Baby and Toddler Group has proven to be a vital life line for all stay-at-home parents who may be new to the area and wish to get out of the house and make new friends. There is a huge range of toys for children to play with, while parents can enjoy a cup of tea and chat.
The group meets at the Library Arts space every Wednesday at 10.30am-12pm. Why not join their Facebook Group and keep up to date with news and events.
Craft Group every Friday 10.30am-1pm; Book Club 6pm-7pm last Thursday of every month; Lit Lab writers group every second Tuesday. Contact 042 9665779 for details on any of the above.
'Strides for Life':
Strides for Life, a 16-week walking programme for people recovering from cancer treatment will begin in Cavan in September. Organised by the Cuan cancer social and support centre, the course is free and is suitable for all levels of ability. Strides for Life is recommended by the Irish Cancer Society and is designed to improve the level of fitness and quality of life of those recovering from cancer treatment. A friend or family member is also welcome to take part. Pre-registration is required. Phone 0868672568 or 0876486076. Email derbhlaotoole@gmail.com
East Cavan Gaels GAA Club – Hurling News 3rd September 2018
Under 7/9/11;
No training this week, all back to school! Last outdoor hurling next week. U7/9 match in Carrick Sunday morning at 10am tbc and U11 blitz on 3G Breffni Park Monday 10th at 7pm. We then prepare to move indoors.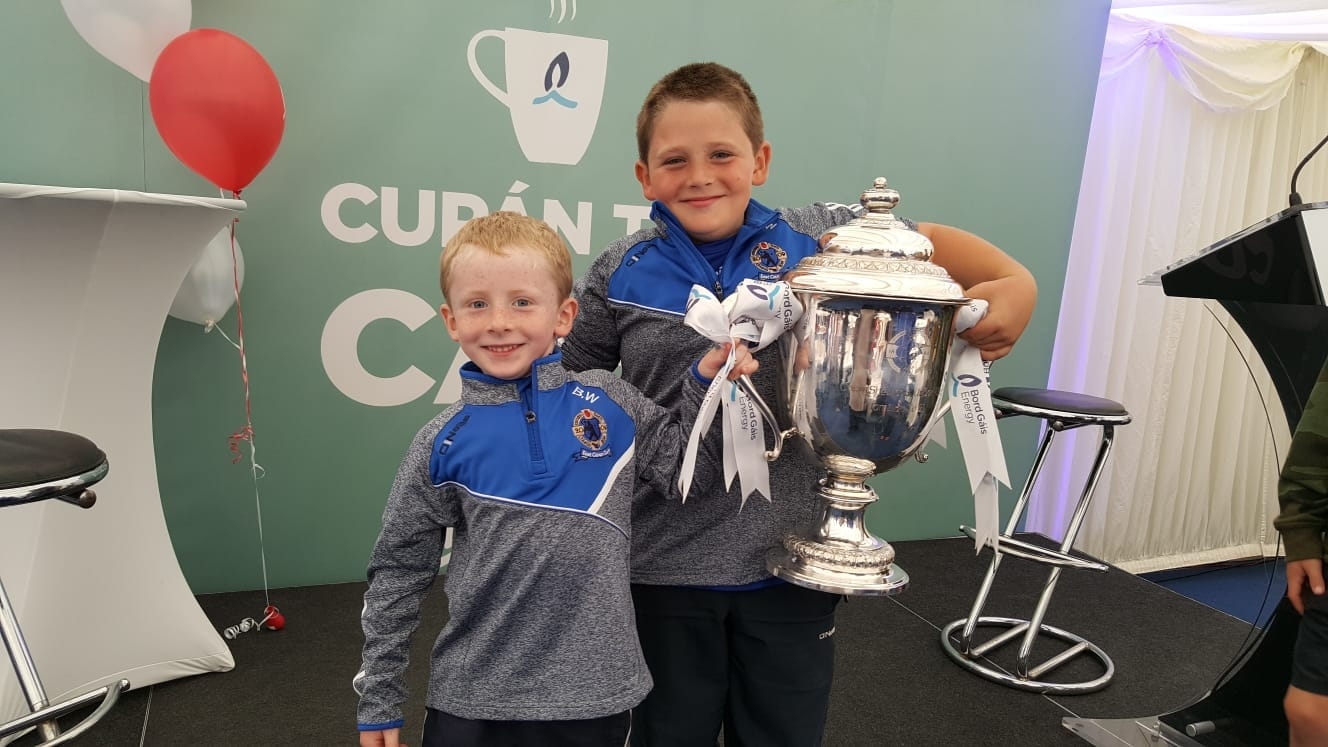 Above; ECGs Brién and Tómas Williams hold the All Ireland Hurling U21 trophy in the Gaelic grounds in Limerick last Sunday. Tómas had the honour of being a flag bearer as the teams entered the pitch. ECG zippy tops show well also. Well done lads!
Under 15; The lads had a great win v Carrick in the Monaghan league last week.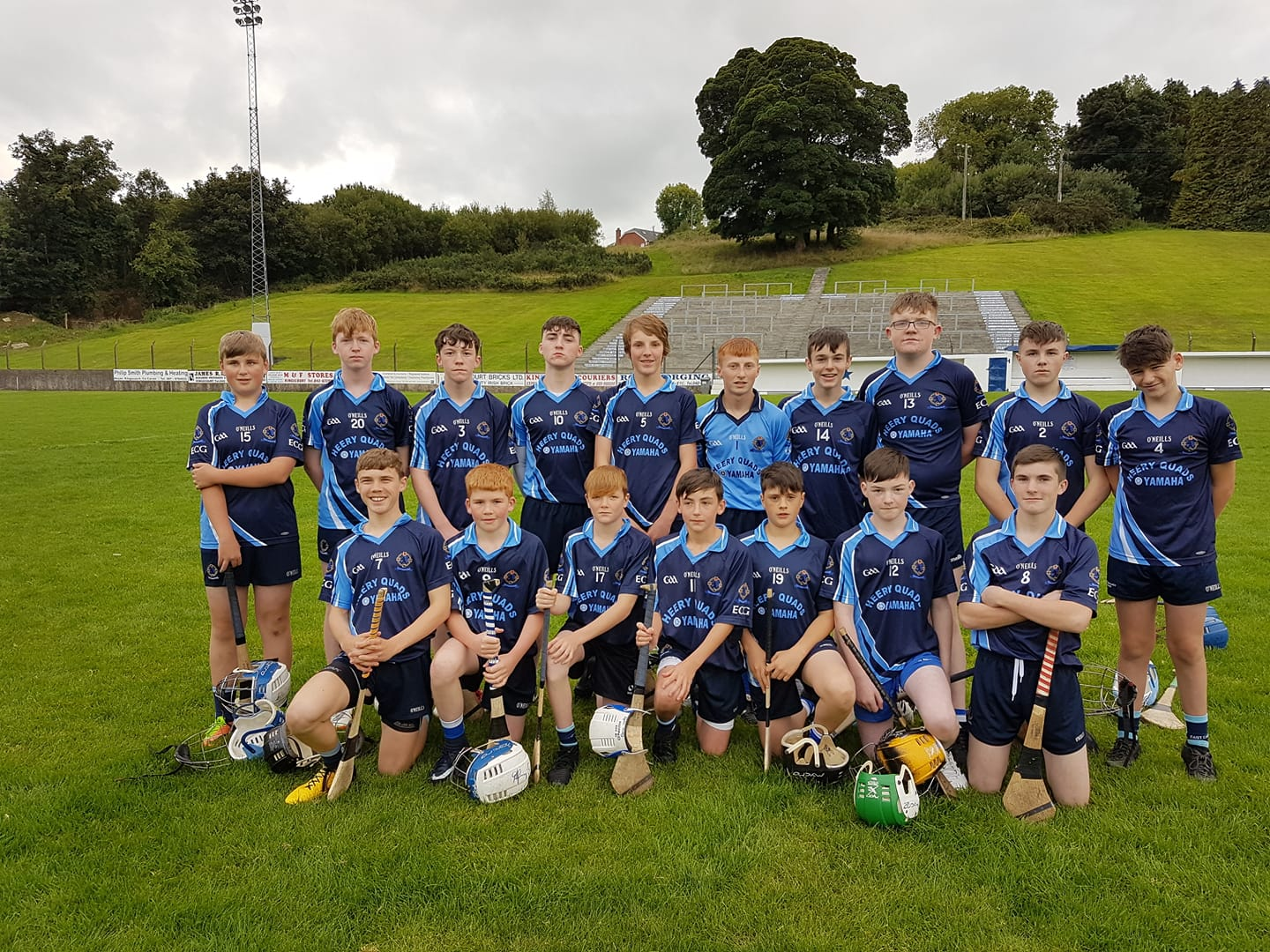 Above; Mondays U15 squad.
Adult; History makers!
Senior hurling is now up and running. We had our very first match on Thursday last in Inniskeen, putting in a solid performance for a new side. We hope to have another challenge game this coming week as we prepare to enter the Cavan Senior Hurling Championship for the first time. New players especially welcome.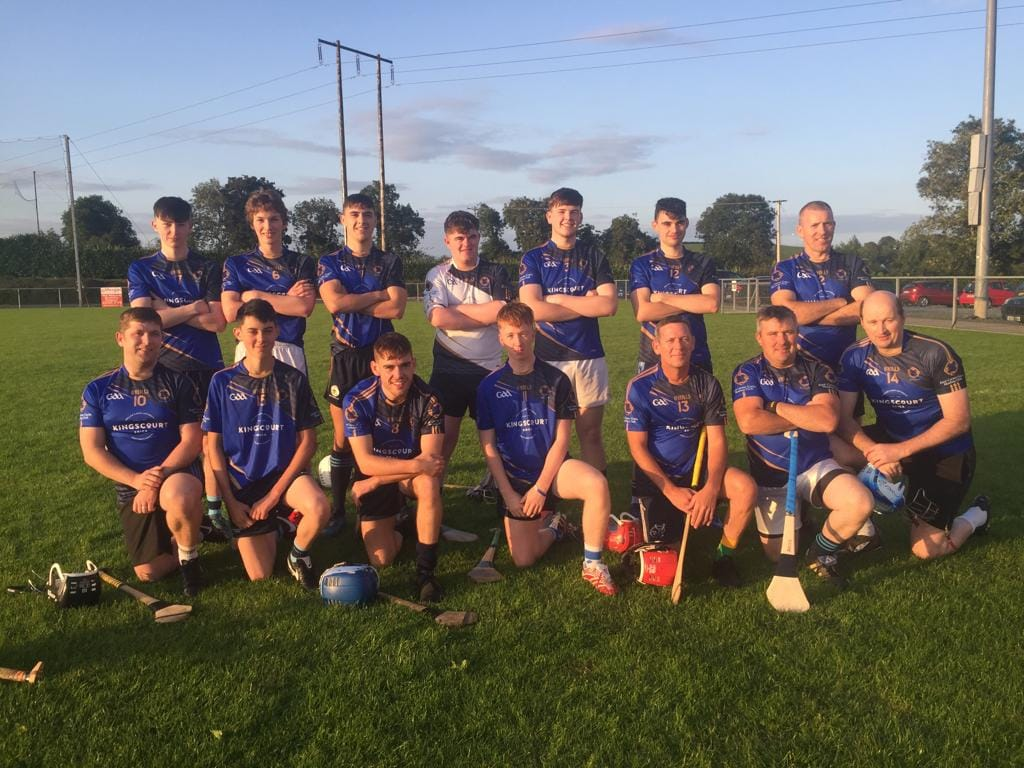 Above; Thursdays historic first ever ECG senior side.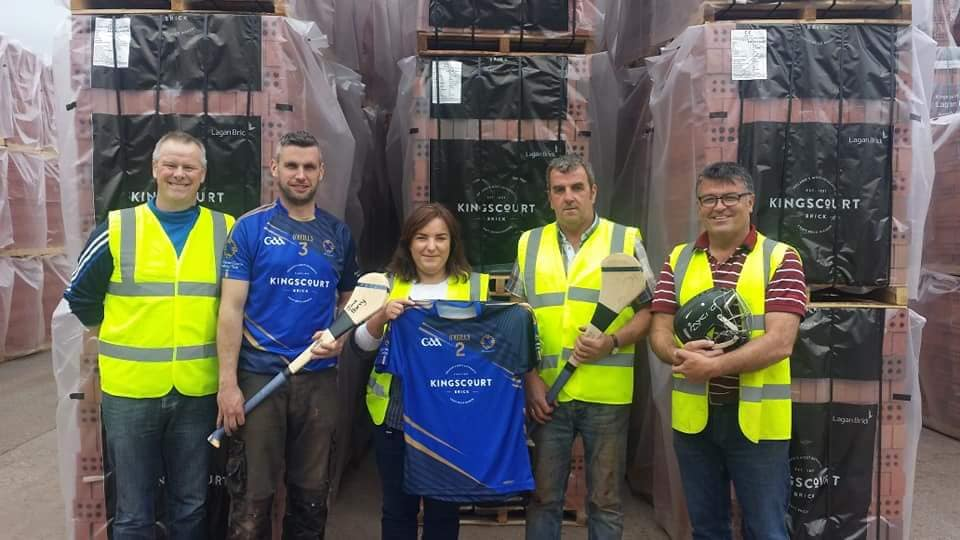 Above; Special thanks to Lagan Brick for their kind sponsorship of senior jerseys for our new side.
L-r; Willie Gaughan ECG, Barry Reilly Lagan Brick, Kathryn O'Flynn Secretary ECG, Gerry White Lagan Brick, Tony McCaffrey Lagan Brick.
The week ahead;
Monday; U13/15 training in Killann at 7pm.
Thursday; Adult training in Killann or match in Kingscourt 7pm tbc.
Sunday; U7/9 away to Carrick 10am tbc.
Club contacts;
U7/9/11; Willie Gaughan 086 164 9280.
U13; Colin Higgins 087 276 9086.
U15; Pat O'Flaherty 087 450 1524.
U15/17; Kathryn O' Flynn 087 244 1371.
Adult; Willie/Kathryn above.
Bailieborough Cancer Comfort Ltd:
The Bailieborough Cancer Comfort Ltd Committee is available to help cancer patients or their families. Free Taxi service available. For further information, contact: Michael Cullen 087 154 2447 or Edel Fox 086 1004030.
Alcoholics Anonymous:
Local meetings of Alcoholics Anonymous are held in: The Health Centre, Kells Road on Wednesdays at 8.30pm.
http://bailieborough.com/wp-content/uploads/2015/09/bborocomlogo2015-300x130.png
0
0
Lee McDonnell
http://bailieborough.com/wp-content/uploads/2015/09/bborocomlogo2015-300x130.png
Lee McDonnell
2018-09-05 15:12:25
2018-09-05 15:12:25
Bailieborough News. September 3rd 2018. Matthew J. Cullen.