Congratulations: Congratulations and Well Done to Bailieborough Shamrocks stalwarts, Michael Clinch and Shane Dillon and the Cavan Gaelic Masters team, who played in the Gaelic Masters Plate Final against Mayo on Saturday last. The Cavan lads emerged victorious by a single point. Well done to you all on a marvellous achievement.
Bailieborough Bridge Club: Would you like an affordable and enjoyable night out? Our Bridge Club meets every Tuesday night and offers an opportunity to forget the dark dreary days of winter, in the company of fellow card players. We have prizes every week and competitions provide an opportunity to have your name engraved on one of our perpetual trophies. Play resumes on October 4th and new members are always welcome. For more information email: bridgeclubbailieborough@gmail.com or telephone 042-9667944.
Bailieborough Heritage Society: Bailieborough Library are delighted to host a photographic exhibition entitled, 'Portraits of Bailieborough Town' collated by the Bailieborough Heritage Society, depicting many images of days gone by in the town of Bailieborough. Celebrating Heritage Week, the exhibition is on display in the Library until September 20th 2022 during Library opening hours and is free to view to all the public!
Mainly Music, a fun, interactive music group for preschoolers and their caregivers will take place on Friday mornings from 10am -12noon in the Knockbride Church of Ireland Hall (A82 E377). For parents, grandparents and minders with children and babies under 4. Donation €4. Contact Jenny Horner on 086 342 0299 for more info.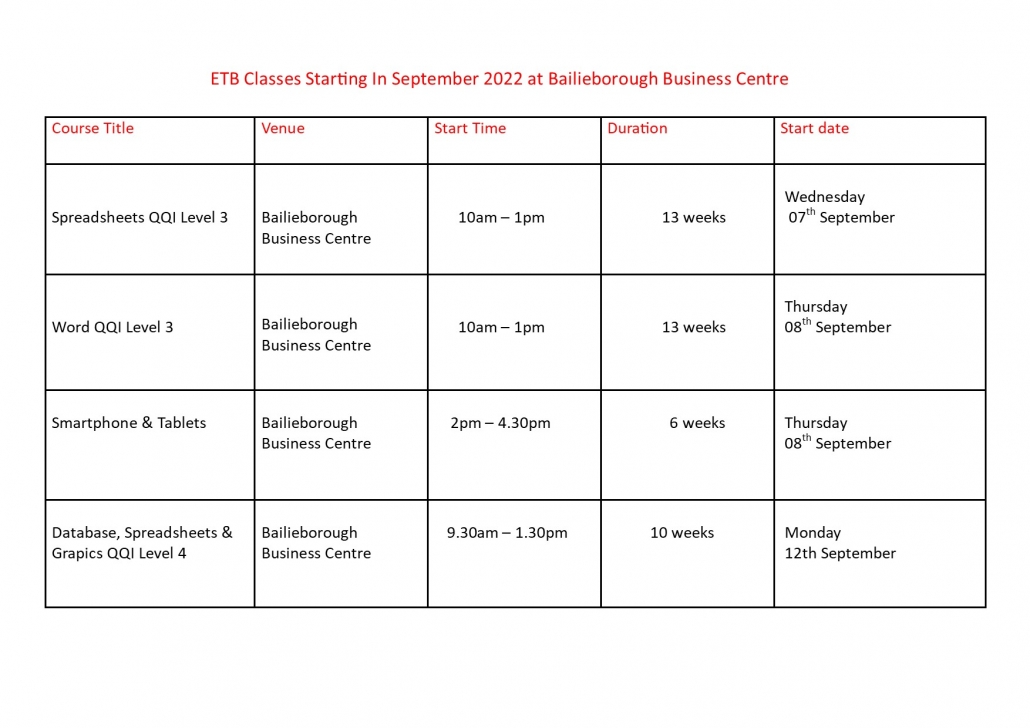 Deepest Sympathy: Deepest Sympathy is extended to wife Frances, daughters Susan, Alice, Rita and Veronica, sons Thomas and Stephen, sisters Maura and Kathleen, brothers Phelim and Noel, sons in law Kevin, Charlie, Graham and Gareth, daughters in law Claire and Annmarie, grandchildren, nephews, nieces and extended family and friends on the death of Vincent O'Reilly Drumooclin, Bailieborough, Co. Cavan, who passed away peacefully, surrounded by his family at Cavan General Hospital on Friday, September 9th 2022.
Vincent's Funeral Mass took place in St. Anne's Chapel on Monday, September 12th and afterwards, his remains were laid to rest in St. Anne's Cemetery.
Bailieborough Cancer Comfort Ltd: Bailieborough Shamrocks presented a cheque to the Bailieborough Cancer Comfort committee which came from the Kickathon Fundraiser held during Covid. The grand total raised was €23,000. Many thanks must go to the Fundraising Commitee for coming up with the idea and running an excellent event during a very tough time. The Club were delighted to be able to give such a fantastic sum of money to an extremely worthwhile cause, one that hits close to nearly every home at some stage in their lives.
The Bailieborough Cancer Comfort Ltd: Committee is available to help cancer patients or their families. Free Taxi service available. For further information, contact: Edel Fox 086 1004030.
Bailieboro Celtic A.F.C.: Girls wanted to join our new Under 14 team (born 2009/2010). Pre-season training takes place on Monday evenings from 6.15pm to 7.15pm at the Vale Grounds.
Bailieborough Creative Hub: Bailieborough Creative Hub presents their annual exhibition in Bailieborough Library, 'Page 10…Line 5…'
Launching at 7pm on Culture Night, Friday September 23rd 2022 and everyone is welcome.
The inspiration for this year's exhibition has been drawn from books and more specifically page 10, line 5 from the artists selected book.
The artwork may reflect the theme of the book or just one word from the line, which has then been interpreted in the artist's own creative and unique style.
The final result is a diverse exhibition.
Words offer an interesting starting point to create a piece of art so find page 10, line 5 in your favourite book and maybe you will be inspired to create your own piece of art.
Indoor Bowling: Indoor Bowling takes place in the Community Centre, Bailieborough, every Wednesday evening for the Winter months at 8.00pm. New members welcome.
Historical Talk: Virginia and District Historical Society are hosting a talk on "Ballykinlar Internment Camp" by our Parish Priest, Fr. Ultan McGoohan at 8.30pm on Friday evening, 16th September 2022 at The People's Hall, Church of Ireland grounds, Virginia, Co. Cavan. All welcome.
Bailieborough Youth Cafe: Meetings of the Bailieborough Youth Cafe take place at the Beckscourt Centre every Tuesday evening. Junior (10 to 13 year olds) from 5.00pm to 6.00pm and Senior (13+ year olds) from 6.00pm to 7.00pm. For further information, please contact 087 768 4757 or 087 383 0752.
East Cavan Gaels GAA Club –Club contacts; U7/9/11; Willie Gaughan 086 164 9280.U13/15/17/Senior; Kathryn O' Flynn 087 244 1371.
http://bailieborough.com/wp-content/uploads/2015/09/bborocomlogo2015-300x130.png
0
0
Colette
http://bailieborough.com/wp-content/uploads/2015/09/bborocomlogo2015-300x130.png
Colette
2022-09-15 09:45:38
2022-09-15 09:39:34
Bailieborough News. September 12th 2022 . Matthew J. Cullen.