Christmas Lights Committee: Santa is coming to Town!: Santa will be coming to town on Saturday next, December 3rd from 2.00pm to 6.00pm, at the Community Centre, Chapel Road. €5 per child and each child gets a gift. All proceeds go to the Bailieborough Christmas Lights Committee.
The Bailieborough Christmas Lights Committee have set up a 'Go Fund Me' page to help ensure that the town will have Christmas lights, this year. Just log onto 'Bailieborough Christmas Lights Go Fund Me' page and donate whatever sum you wish, to help with the Christmas Lights.
Society of Saint Vincent DePaul: Annual Christmas Appeal: This appeal takes place on Saturday, 10th and Sunday 11th December 2022. The St. Anne's Conference offers support and friendship, on a confidential basis, to those in Bailieborough, Knockbride, Shercock and Tierworker who request help and who are in need. Assistance is given towards the cost of food, heating, education and household related expenses. The Conference can be contacted via 'Feeephone 1800 677 777. Christmas time puts particular pressure on Conference finances and hence our Special Appeal at this time. Thank you for your support and generosity and good wishes for Christmas and the year ahead.
Bridge Club: The Bridge club meets every Tuesday at 7.30 p.m. in the Bailie Hotel.
New members welcome. Contact: bridgeclubbailieborough@gmail.com or telephone 042-9667944.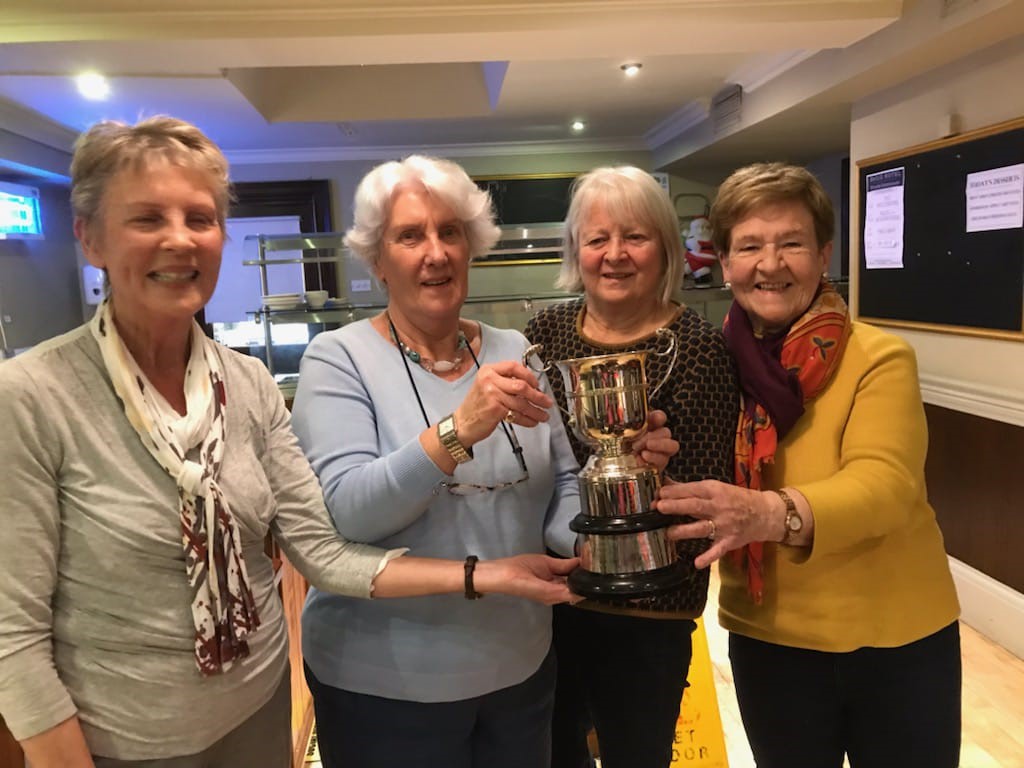 Vera Bell and Brid Murray receiving the BOR Charity Cup from last year's winners Kathleen McArdle and Rosaleen Keegan.
Christmas Cake Sale: There will be a Christmas Cake Sale and Coffee Morning in Bailieborough Church of Ireland Parish Hall on Saturday morning next, 3rd December from 11am onward. All welcome, we would love to see you there.
Table Quiz; East Cavan Gaels, Hurling Club's ever popular 'Table Quiz' returns on this Friday 2nd December in The Square Bar, Bailieborough. The quiz, along with its accompanying raffle, forms the majority of the Club's fundraising activity for the year and your continued support is most appreciated. It should be an even better night as a large amount of our Seniors will be there to celebrate, again, their league success!
Free 'Drop-In' Service : The Bailieborough Development Association would like to offer a 'Free Drop-In Service of Assistance', regarding online services and filling out of forms, between 2pm and 4pm on Friday afternoons. This service will be offered at the Bailieborough Business Centre. All welcome.
Bailieborough Cancer Comfort Ltd presents 'A Christmas Reflection': Prayers and Candle Lighting Ceremony. Led by the Very Rev. Ultan McGoohan, Rev. Canon Ian Horner and Rev. John O'Donnell on Thursday, December 8th at 8.30pm at the old Post Office on Main St, Bailieborough. Everyone welcome.
Water Mains Flushing: The Dhuish Group Water Scheme are flushing the lines over a two week period, starting from Monday next, December 5th. Any queries, please contact 087 6293035.
Christmas Craft Fair: A Christmas Craft Fair will take place on Sunday next, December 4th in the Community Centre, Chapel Road, Bailieborough. Over 40 crafters, face painting, and all can meet 'Princess Belle'. Free admission and the event runs from 11am to 6.pm. All welcome.
Christmas Day Swim: The 29th Annual Bailieborough Christmas Day Swim is back this year! The swim commences at 12.30pm, sharp on Christmas Day at the Town Lake. All funds raised are in aid of MS Cavan. If you would like to take part in the swim or want to fill out a sponsorship card, please contact Mary on 0860688714 or Brendan on 0872758890.
Bailieborough Garden Club 'Christmas Night': The Bailieborough Gardening Club, 'Christmas Night' takes place in Fox's Bar, Main Street, on Thursday evening, December 15th at 8.00pm. There will be a demonstration by Florist, Sadie Gilmore and a Fun Quiz. Tea, coffee, sandwiches, mince pies and lots of spot prizes! €10 subscription. All welcome. If interested, please text Eilish on 086 8273 470.
Deepest Sympathy: Deepest Sympathy is extended to children, David, Jean and Muriel on the death of their mother, Olive Wray, (née Ross), Knocknarea Villas, Sligo and formerly of Bailieborough, Co. Cavan, who passed away peacefully on Sunday, November 20th 2022 at Sligo University Hospital. Olive was recently predeceased by her beloved husband William (Wilfred). Olive was also predeceased by her brothers, Harry and Eric. Olive will be sadly missed and remembered with love by her son, daughters, son-in-law Brian Allen, daughter-in-law Elizabeth, grandchildren Jennifer, Vicki, Gráinne, Ross, Samuel and Imogen, great-grandchildren Cian, Tom and Addy, niece Rosemary (Australia), relatives, neighbours and many friends.
Olive's Funeral Service took place in Saint John's Cathedral, John Street, Sligo on Wednesday, November 23rd and afterwards, Olive's remains were laid to rest in Saint Anne's Churchyard, Strandhill, Co. Sligo.
Mainly Music, a fun, interactive music group for preschoolers and their caregivers will take place on Friday mornings from 10am -12noon in the Knockbride Church of Ireland Hall (A82 E377). For parents, grandparents and minders with children and babies under 4. Donation €4. Contact Jenny Horner on 086 342 0299 for more info.
Sillan Vintage Club: Christmas Tractor Run: The Sillan Vintage Club's, 'Christmas Tractor Run' will take place on Saturday, December 10th from The 'Drop Inn', Killann. Registration will take place from 3.00pm, refreshments served at 4.00pm and the run will commence at 4.45pm. Light up your vehicle and travel through the local towns! The route will be: Killanns to Shercock, to Kingscourt, to Bailieborough and back to The Drop Inn. €20 entry fee and there will be prizes for the First, second and third, best lit up vehicles.
Bailieborough Cancer Comfort Ltd: The Bailieborough Cancer Comfort Ltd Committee is available to help cancer patients or their families. Free Taxi service available. For further information, contact: Edel Fox 086 1004030.
Virginia Show Centre Annual Christmas Fair on Saturday next, 3rd December from 12 to 5pm. Over 50 stalls, all indoor, with a visit from Mrs. Claus and children's entertainment. Mini tractor or any mode of transport run in aid of the local 'Jumping Jelly Beans club' at 2 o'clock approx. Free Christmas floral demonstrations, throughout the day. So come along and get your unique Christmas gifts and entry is free! Special Children attend the 'Jumping Jelly Beans Club' in Virginia . They depend on fundraising and that is why the Mini Tractor run funds, are going towards it.
Bailieborough Celtic A.F.C. : Calling all mini Messi's and wannabe Haaland's
Soccer training for 8 and 9 year olds takes place on Tuesday evenings from 6 to 7pm, at The Vale soccer grounds. €2 per session. All children welcome.
Any enquiries, just message the Club's Facebook page.
Bailieboro Celtic Girls U12 (born 2011/2012) and U14 (born 2009/2010) teams are looking for new girls to join us for the current season.
Have fun, make new friends and become part of a great team sport.
Training every Monday evening 6.15pm at the Vale Soccer grounds.
Bailieborough Youth Cafe: Meetings of the Bailieborough Youth Cafe take place at the Beckscourt Centre every Tuesday evening. Junior (10 to 13 year olds) from 5.00pm to 6.00pm and Senior (13+ year olds) from 6.00pm to 7.00pm. For further information, please contact 087 768 4757 or 087 383 0752.
East Cavan Gaels GAA Club -East Cavan Gaels GAA Club – Hurling News 28th November 2022:Seniors;League Champions 2022. Huge congratulations to our Seniors who put in a tremendous performance to secure the title for the very first time and our very first piece of Senior silverware as a club. This in addition to the Spring League victory makes for a significant breakthrough season for the Club. Well done to all and to manager Adam Baldwin for all the hard work which finally got its reward. Onwards and upwards for this group. Under 13/15/17; Great to see some of our lads hurling with the county at U13/15/17. They will be ready for intercounty competition in the Spring. Under 11;The work is almost done for the year. Some lads moving up are in Breffni with the county squad Under 7/9; Our last session will be this Saturday in Killinkere at 12 and 1pm. respectively. Table Quiz; Our ever popular table quiz returns on Friday 2nd December in The Square Bar, Bailieborough. The quiz, along with its accompanying raffle, forms the majority of our fundraising activity for the year and your continued support is most appreciated. It should be an even better night as a large amount of our Seniors will be there to celebrate, again, their league success! Saturday; U7 12pm, U9 1pm, all in Killinkere Hall. Club contacts;U7/9/11; Willie Gaughan 086 164 9280.U13/15/17/Senior; Kathryn O' Flynn 087 244 1371.
http://bailieborough.com/wp-content/uploads/2015/09/bborocomlogo2015-300x130.png
0
0
Petra
http://bailieborough.com/wp-content/uploads/2015/09/bborocomlogo2015-300x130.png
Petra
2022-12-01 09:43:39
2022-12-01 09:29:10
Bailieborough News. November 28th 2022 . Matthew J. Cullen.