Drama Group qualifies for All-Ireland Finals:
Bailieborough Drama Group have now qualified for the All-Ireland One Act Drama festival having won 2nd place in Monorhamilton on Sunday, November 18th with their play 'Smile Handsome' by Liz O'Hanlon. Liz also won Best Actress on the night.
The All-Ireland's take place on December 7th/8th and 9th in Kilmuckridge, Co. Wexford.
As a warm-up to participating in the Finals, the play will be performed in the Bailie Hotel on Sunday next, December 2nd, at 8pm and will they will be joined by Millrace Drama Group, Mullagh with 'None the Wiser' directed by Irene Yore. Tickets for the event are priced at €10 and are available from the Bailie Hotel or pay at the door on the night.
The group will then go to Shercock on Thursday, December 6th and perform with Sillan Players with their performance of 'The Long Wet Grass' which has also qualified for the finals. We wish both groups every success in the final.
Lakeland's Arch Club:
Lakelands Arch Club is a social outlet for children/adults with special needs and their family and friends. You can play, sing, dance or simply have a chat with others. If you wish to join as a member/volunteer call/text 086-2543336 for more information. We are holding our Christmas Party on Wednesday, 28th November from 7-9 in the BDA Centre, Shercock Rd, Bailieborough. Its promised to be an evening of fun, games, music and dancing, maybe even a special guest!
Confirmation Mass:
All the Confirmation Candidates from St. Annes and St. Felim's National Schools will be participating in the Vigil Mass next Saturday evening at 7.00pm, in St. Annes Church. At this Mass the first candle on the Advent Wreath will be lit.
Safe Pass:
Safe pass Saturday 1st December 2018 from 8am -4pm, lunch included €100. Bailieborough Business Centre 042-96 94 716.
Deepest Sympathy:
Deepest Sympathy is extended to Aiden King and family, The Vale on the recent death of his mother Rose King, Poles, Cavan whose Funeral took place in Laragh on Friday last.
Bailieborough Parish Church:
Bailieborough Parish Church Annual Sale of Work takes place in the Church Hall on Saturday, 8th December from 2pm.
All the usual stalls and bargains – please come along and bring your friends.  Everyone very welcome.
Mondays (during term time): Badminton, Bailieborough Church of Ireland Hall; 7-8pm for primary students, 8-9pm for secondary students.
Charity Sale in aid of St. Vincent DePaul:
A Charity Sale in aid of the St. Vincent DePaul will be held in the Community Centre on Sunday next, December 2nd from 10.00am to 4.00pm. There will be lots of Christmas Gifts available, children's books, toys and many other items. Admission is free and everyone is most welcome. If anyone would like to volunteer to help out for a few hours, please contact 087 4407 990.
Bailieborough Leisure Centre:
 Board of Management Annual General Meeting: The Bailieborough Leisure Centre's Board of Management's Annual General Meeting will take place on Thursday December 6th at 8.00pm in the Bailie Hotel.
Nominations of persons wishing to seek election to the Board should reach Board Chairman, Paul Mc Fadden, by Friday, November 30th.  Nominations should be left at reception for the attention of Paul Mc Fadden.
St. Vincent DePaul 'Fashion Show':
The Bailieborough branch of the St Vincent's de Paul are hosting a 'Fashion Show' on Thursday next, 29th of November at 7.30pm in the Hotel Bailie. Doors will open at 7.15pm and we will be modelling a vast array of the clothes, that are for sale in the shop on Main St.  Tickets for the event are priced at €10 for a fantastic, fun filled evening ending with a disco after the Fashion Show until 12.30am. There will be an opportunity to buy after the show, so you can have a special Christmas outfit at a very reasonable price!  We look forward to seeing you there and your support would be greatly appreciated.
Tickets are available from the Hotel reception or the Bailieborough St. Vincent de Paul on Main St.
Bridge:
Bridge lessons for beginners will take place in Hotel Bailie, Bailieborough, at 7.30pm, each Monday night. Everybody welcome.
Santa is coming to town!!:
Santa will be back in Bailieborough on the 1st of December at 5pm, via the Christmas Parade of Lights Tractor Run. Due to the great turn out last year, Santa will be bringing more elves and helpers and promises you won't be waiting as long in the cold. There will be the turning-on of the town's Christmas Lights, Christmas Carolling and lots of other festive fun! For more information or if you would like to volunteer, please visit on Facebook—'Bailieborough mid-Summer Festival and Town Events' or e-mail: bailieboroughmidsummerfestival@gmail.com
Christmas Shoe-Box Appeal:
Inner-City Helping Homeless are appealing to people to make a small difference for someone who is down on their luck at the moment, remember charity begins at home! Last year the support we received from the public was unbelievable as we received over 20,000 shoeboxes over the Christmas period. These shoeboxes were checked and distributed to homeless adults and children right across the country and brought a smile to so many faces over Christmas.
The idea is simple. Wrap a shoebox and mark it Male or Female. In the shoebox you can put the likes of: Hats, Scarves, Gloves, Underwear, Socks Toiletries: *No aerosols, perfumes, aftershaves, mouthwash or hand sanitizers—Christmas Card or Chocolate.
If you would like to donate a shoebox to a homeless child, please specify the child's age and whether they are male or female.
TESCO, Bailieborough are a drop off point for the Shoe Box Appeal for the homeless. PLEASE NOTE:  The final date for the Shoebox Appeal, is Friday the 7th of December.
Bailieborough School of Music: Lotto results for 24-11-2018.
Numbers Drawn; 4, 10, 28, 30.  No Jackpot Winner, Lucky Dip (€25) Winners; Walter Bourgoin; Geraldine Cosgrove; Damien Stafford; Liz Sheanon. Jackpot next week, €1,900.
Bailieborough Social Day Group:
 The next get-together of the Bailieborough Social Day Group will take place on Wednesday, November 28th from 2.30pm to 4.30pm, in the Community Centre. Tickets for the Christmas Party will be available on the day. New members are always most welcome.
Citizen's Information:
The service continues on every Tuesday, at 1.30pm in the Library— providing information, advice and advocacy supports to everyone on Social welfare, employment, Pensions, Health, Tax etc.  No appointment necessary.
Storytime and Christmas Crafting:
As part of the Christmas Lights switch-on, taking place on Saturday, December 1st, Bailieborough Library are having a Story Time and Crafts day. Christmas Storytime for children aged between 4 and 8 from 2.30pm to 3.1pm and Christmas Crafting (Booking Essential) from 3.30pm to 4.30pm. Please come along and support.
Bailieborough Community Alert:
Bailieborough Community Alert are hosting a 'Property Marking Event' from Thursday, November 29th to Tuesday, December 4th. The machine will visit different townlands and areas and booking is essential as there is limited availability. Call Alison on 089 439 5654 to book a slot, when the machine is in your area. You must submit your Eircode. For further details, please contact Kevin Carolan, Pine Grove or Seamus Sheridan, Kells Road.
Irish Red Cross:
Bailieborough Branch: The Christmas Community Dinner Party will take place in the Hotel Bailie on Wednesday, December 5th at 6.30pm. Anyone interested in attending, is asked to contact Julie at 086 8968 928 or Helen at 087 7531 658. Admission is €10 per person.
Bailieborough 'Lend A Hand':
'Lend a Hand' is for the elderly and vulnerable in the Bailieborough area. Just give us a call if you need a job done, or even just a chat. Phone Ann on 042 9694825.
Bailieborough Business Centre:
 Classes: Beginners Computer,
Improvers Computers, Mondays 7pm to 10pm.
Spreadsheets, Tuesdays, 10am to 1pm.
Word, Thursdays, 10am to 1pm.
Social Dancing:
Ballroom Dancing will take place in the Community Centre on Saturday, December 8th. Music will be provided by Glenn Flynn Band. Christmas Spot Prizes on the night, supper will be served and all are most welcome to attend.
Christmas Day Swim:
On Christmas Day, the 25th Christmas Day Swim will take place in Bailieborough Town Lake. All proceeds will go to the Senior Citizens' Day Group. Tickets will be on sale this Friday in Super Valu, Bailieborough. Any inquiries  to Brendan 0872758890.
Beginners Yoga in Bailieborough Leisure Centre: Every Saturday from 9.30am to 10.30am. Bring a Yoga mat and an open mind. Wear comfortable clothing. The proceeds from next Saturday morning's class will be in aid of 'Aware'—the suicide charity. Contact Darren Clarke 086 846 9581 or darrenclarke@campue.ie for further information.
Bailieborough Group of Parishes: Services:
Sunday 2nd December:
Bailieborough 10:30am – Confirmation Service.
Friday, 7th December: FOCUS Youth Group in Trinity Hall from 8:30-10pm.
Sunday 9th December: Bailieborough 10:45am – Holy Communion and Sunday Club followed by tea and coffee.
Knockbride 12noon – Holy Communion and Sunday Club.
Sunday 16th December: Knockbride 10:30am – Carols for All.
Bailieborough 7pm – Traditional Carol Service.
Sunday 23rd December: Bailieborough 10:45am – All-Age Service followed by tea and coffee.
Knockbride 12noon – Morning Prayer and Sunday Club.
Tuesday 25th December – Christmas Day:
Bailieborough 10am – Christmas Communion.
Knockbride 10:30am – Christmas Communion.
Bailieborough Indoor Bowls:
Indoor Bowls continues on Wednesdays, at 8.00pm, in the Community Centre. New members are always most welcome.
Baptism Dates in St. Annes for December 2018 and January 2019:
The following are the available dates for Baptisms in St. Anne's Church–November 25th (Sunday, 12.30pm), December 15th (Saturday 1.30pm), December 23rd (Sunday. 12.30pm), January 13th (Sunday, 12.30pm) and January 26th (Saturday, 1.30pm).
Annual Christmas Parade of Lights Tractor Run and Family Fun Day
hosted by Active Agri Association.
All Vehicles must be—roadworthy and fully insured— welcome.
(Lorries, Tractors, Vans, Cars and Bikes).
Saturday 1st December 2018.
Proceeds for the Children's Ward in Cavan General Hospital.
Starting from Killinkere Leisure Centre at 4pm Sharp.
Registration €20 from 12 noon on the day.
Kids Peddle Tractor Parade at 2pm /Raffle on the day.
Live music by 'Mad 4 Trad' following the Run.
For more details contact one of the following numbers:
Floyd McNeill (086) 8739323, Gerard McCann (087) 2268659 or Peter O'Reilly (087)2734338.
Bailieborough Library:
 Craft Group every Friday 10.30am-1pm; Book Club 6pm-7pm last Thursday of every month; Lit Lab writers group every second Tuesday. Contact 042 9665779 for details on any of the above.
East Cavan Gaels GAA Club – Hurling News 26th November 2018
Under 7/9/11; All back in full swing indoors now. Thursday in Kingscourt and Friday two groups in Bailieborough. Great numbers heading toward December!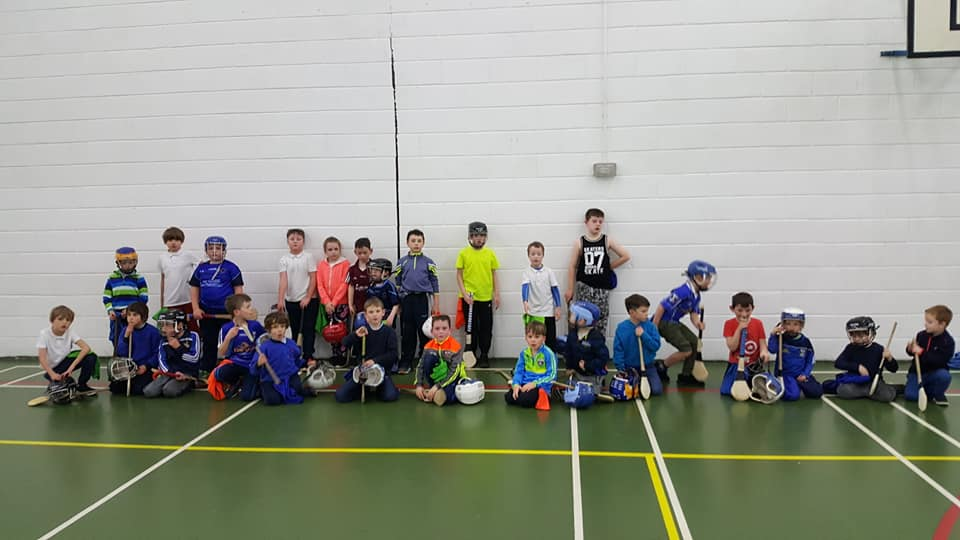 Above; Fridays U7/9 group in Bailieborough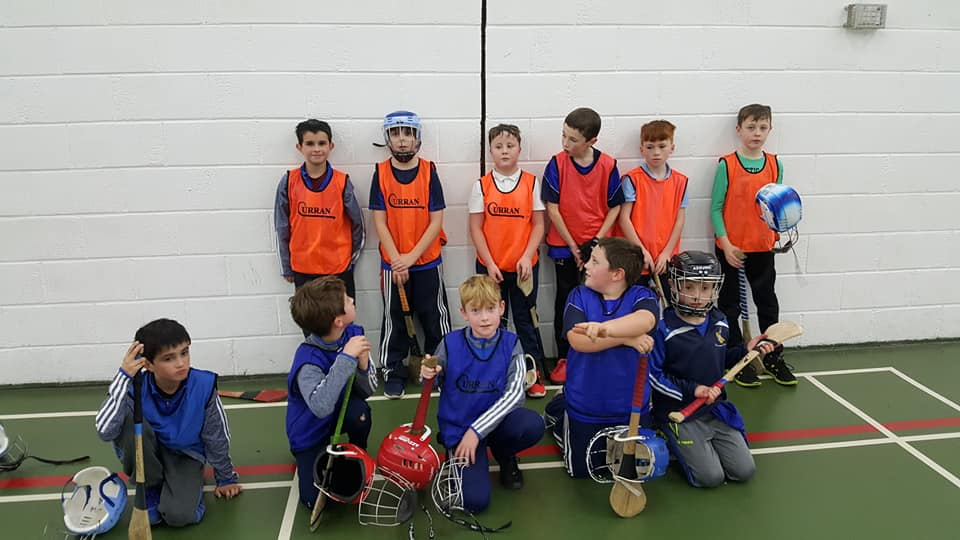 Above; Fridays U11 group in Bailieborough.
Under 13;
These lads are now finished for the year. We would like to thank them for their commitment this year and congratulate those who won both Feile and U15 league this year. Lots of promise in this squad which we hope will continue into 2019. Thanks to our coaches Colin, Ben and Willie for all their work all year.
Under 15;
These lads are now also finished for the year. We thank them for their continuing commitment and recognise their success in both Feile and in the Monaghan league and were only a puck of the ball away from the Cavan Championship. We look forward to 2019 with these lads. Well done.
Senior;
Again these lads are now finished for the year. Planning for 2019 is well under way.
The week ahead;
Thursday; Indoor hurling in Kingscourt Community centre U7/9/11 7-8pm.
Friday; Indoor hurling in Bailieborough Community School Sports Hall. U7/9 from 6-7 and U11 from 7-8. €3 each and water bottle also.
Club contacts;
U7/9/11; Willie Gaughan 086 164 9280.
U13/15/17/Senior; Kathryn O' Flynn 087 244 1371.
Knockbride bowls club recently held a successful pairs tournament with over 80 pairs taking part. Pictured above are the winners Colin Dunwoody and Steven Clarke of Armagh bowls club being presented with the cup by Rachael McCabe from McCabe feeds who sponsored the tournament.
Christmas Craft Fair: Christmas Craft and Gift Fair, Sunday 9th December, Slieve Russell Hotel, 12-5pm, free admission.
Bailieborough Cancer Comfort Ltd: The Bailieborough Cancer Comfort Ltd Committee is available to help cancer patients or their families. Free Taxi service available. For further information, contact: Michael Cullen 087 154 2447 or Edel Fox 086 1004030.
Alcoholics Anonymous: Local meetings of Alcoholics Anonymous are held in: The Health Centre, Kells Road on Wednesdays at 8.30pm.
http://bailieborough.com/wp-content/uploads/2015/09/bborocomlogo2015-300x130.png
0
0
Lee McDonnell
http://bailieborough.com/wp-content/uploads/2015/09/bborocomlogo2015-300x130.png
Lee McDonnell
2018-11-28 13:18:03
2018-11-28 13:18:03
Bailieborough News. November 26th 2018. Matthew J. Cullen.