CHARITY WALK / RUN:
In memory of Ann Clerkin, Curkish, will take place in Bailieborough on this Saturday 26th May, commencing at 11.00 am from BDA offices, Shercock Road, Bailieborough. Funds raised will be donated to Bailieborough Cancer Comfort Fund, Drumlin House Cootehill and MS Ireland (The Multiple Sclerosis Society of Ireland) Cavan Branch. Donations voluntary on the day and all are most welcome.
First Communion:
Congratulations to the 30 children in St. Felim's National School, The Vale, who received their First Holy Communion on Saturday last, in St. Anne's Church, Bailieborough. Thank you to their teacher, Ms. Sharkey, the Pastoral Assistant, Ms. Connelly, their parents and guardians and to the principal and staff of the school for all their co-operation and assistance.
The Children in 2nd Class in St. Anne's National School and some students from the Model National School, Bailieborough, will receive their First Holy Communion on Saturday next, May 26th in St. Anne's Church at 11.00am.
Bailieborough Tidy Towns:
Help to reduce waste by putting a 'No Junk Mail 'sign on your door. The clean-up around the town continues, every Tuesday evening at 7 pm, meet around Main Street each week.
Reduce waste and keep Cavan tidy by investing in a reusable blue coffee cup with Cavan logo. Ideal for coffee lovers and Cavan fans. This cup is for sale in Daybreak on Barrack Street and is also available in Bailie Stores. All proceeds go towards the local Tidy Towns.
May is Mary's Month:
The Rosary will be recited at the Grotto on the Virginia Road every evening during the month of May at 7.30pm. No Rosary on Saturdays. Everyone welcome to offer prayer for the sick of our Parish as well as any private intention.
Table Quiz:
East Cavan Gaels Hurling Club is holding a 'Table Quiz' in Nixy's, The Square Bar on this Friday evening, May 25th, commencing at 9.00pm. Table of four, €40. All welcome.
Well Done:
Congratulations and well done to all the local groups and individuals who received awards in the Cathaoirleach's Awards Scheme 2018. It is terrific to see local volunteers being honoured for the selfless work that they do in our local community. The Awards ceremony took place on Friday evening, last in the Hotel Kilmore in Cavan.
Bailieborough School of Music:
Lotto results for 19-05-2018.  Numbers Drawn; 02, 11, 21, 23.  No Jackpot Winner, Lucky Dip (€25) Winners; Seamus and Cara Clarke; Betty McKeon; Avril Grills; Hannah McCabe. Jackpot next week, €3,000.
Bailieborough Heritage Society:
New members always welcome to the Heritage Society, please contact 0872244159 for further information.
Bailieborough Red Cross:
Well-done to the four members from the Ballroom of Romance Social Dancing Group who recently completed a PHECC CPR/AED Community Course, Anna O Reilly, Ollie O Brien, Martina McPhillips and Sean Fitzsimons.
The certificates were presented last Saturday week by Red Cross member Julie O Brien at the Social Dance in the Community Centre. The instructors for the course were Helen Eagleton and Liam Maguire.
St. Felim's N.S., The Vale:
The Board of Management and the Parents Association are holding a 'Sponsor A Tree' Fundraiser for a new play surface. The cost is 50. Full details can be found on www.thevalens.com or by contacting, the School Office at 042 9665605, Catherine Cahill at 086 608 2663 or Helen Sheridan at 089 424 0969. We are reaching out to all parents, past pupils, businesses and community members to help us.
Bailieborough 'Lend A Hand':
'Lend a Hand' is for the elderly and vulnerable in the Bailieborough area. Just give us a call if you need a job done, or even just a chat. Phone Ann on 042 9694825.
Deepest Sympathy:
Deepest Sympathy is extended to wife Kathleen, sons Sean and Martin, daughter Breda, daughters-in-law Mary and Orla, son-in-law Willie, grandchildren, great-grandchildren, sister-in-law, nephews and extended family, neighbours and friends on the death of John Fox, Greaghettiagh, Tunnyduff, Bailieborough, who passed away on Thursday, May 17th peacefully, at his residence. John's Funeral Mass took place in St Brigid's Church, Knockbride West, on Saturday morning, May 19th with burial afterwards in the adjoining cemetery.
Bailieborough Social Day Group:
The next meeting of the Bailieborough Social Day Group will take place today, Wednesday, May 23rd from 2.30pm to 4.30pm., in the Community Centre. New members are always most welcome.
Bailieborough Community School Class of 1988 Reunion
After 30 LONG YEARS it's finally happening. We are going to attempt to reunite. Anyone from the Class of '88 who went to Bailieborough Community School anytime between 1983-1988 are welcome. We are aiming to have the reunion in October somewhere in Bailieborough. Please contact the 'BCS Class of 88 Facebook page' for further information.
Bailieborough Craft Group:
A tour has been arranged to Wicklow town on Thursday, 14th June.  Open to non-members.  If interested and for further details, please contact Mary at 087-9750561 or any club member.
'Job Club':
Monaghan Integrated Development CLG in conjunction with DEASP are running a Job Club for unemployed people in the Bailieborough area, commencing Tuesday 5th June 2018 in the Beckscourt Centre, Beckscourt View, Bailieborough, Co. Cavan.  The Job Club runs for 3 weeks from 10am-1pm Mondays to Thursdays and includes Job Searching, C.V. preparation, Cover Letter Writing, Interview Techniques and Mock Interview. Anyone interested in taking part can contact Linda on 042-9748090/086-8105058 or email to lbolger@midl.ie
Church of Ireland Services for May:
Sunday 27 May: Bailieborough 10:45am – All-Age Service, followed by tea and coffee.
Knockbride 12noon – Morning Prayer.
Mondays (during term time): Badminton, Bailieborough Hall; 7-8pm for primary students, 8-9pm for secondary students.
Bailieborough Business Centre:
Spanish Classes at Bailieborough Business Centre Tuesdays 7-9 Beginners and Improvers, Tutor is a native Spanish Speaker. Call 042-969-4716 for more details.
Computers for Beginners – Places available for Thursday evening 7-9pm, register your interest or book your place. Classes are Free to all 042-9694716.
Bailieborough Mid-Summer Festival:
Bailieborough Mid-Summer Festival will be taking place from Friday, 20th of July until Sunday, 22nd of July. If anyone has any ideas for this year's Festival, you can email us at
bailieboroughmidsummerfestival@gmail.com
Only 9 more weeks till the Festival. And the Teddy's Bear Picnic will be back this year on the Saturday. Looking for face painters and volunteers to help out.
Well Done:
Well done to the Bailieborough Shamrocks Under 15 Boys Division 5 team who won their League Final on Sunday evening in Laragh against Drumloman Gaels. Final Score was Bailieborough Shamrocks 3-18 Drumloman Gaels 2-07. Great to see another Cup coming back to the town. Huge congratulations to all the players, parents and their mentors on this great achievement.
Baptism Dates in St. Annes for June, July and August 2018:
The following are the available dates for Baptisms in St. Anne's Church–June 10th (Sunday, 12.30pm), June 23rd (Saturday 1.30pm), July 7th (Saturday, 1.30pm), July 15th (Sunday, 12.30pm), August 11th (Saturday, 1.30pm) and August 19th (Sunday 12.30pm).
Bailieborough Library:
Everyday Irish – Tuesday evenings 3pm to 5pm
Beginner Conversational Irish Class for Adults who would like to learn the basics.
Bailieborough Library Parent, Baby and Toddler Group has proven to be a vital life line for all stay-at-home parents who may be new to the area and wish to get out of the house and make new friends. There is a huge range of toys for children to play with, while parents can enjoy a cup of tea and chat.
The group meets at the Library Arts space every Wednesday at 10.30am-12pm. Why not join their Facebook Group and keep up to date with news and events.
Citizens Information every Tuesday 1.30pm-2.30pm on a first come first served basis; Craft Group every Friday 10.30am-1pm; Book Club 6pm-7pm last Thursday of every month; Lit Lab writers group every second Tuesday. Contact 042 9665779 for details on any of the above.
Tanagh Outdoor Education and Training Centre are now taking bookings for their Outdoor Adventure Summer Camps, Summer Forest Schools and Adults Learn to Kayak sessions. Contact Philomena on 049 5552988 or email info@tanaghoutdooreducation.com for more details on dates & cost. Book early to avoid disappointment.
East Cavan Gaels GAA Club – Hurling News 21st May 2018
Under 7/9/11; Training Mondays in Killann 6.45-8pm. A couple of blitzes in the pipeline coming up soon.
Under 13; The first round of the new Tain U13 league gets under way this Monday 21st when we play Wolfe Tones from Longford. This new 8 county competition promises to be very competitive with new teams we have not faced before. Throw in in Ballymachugh is at 7.30.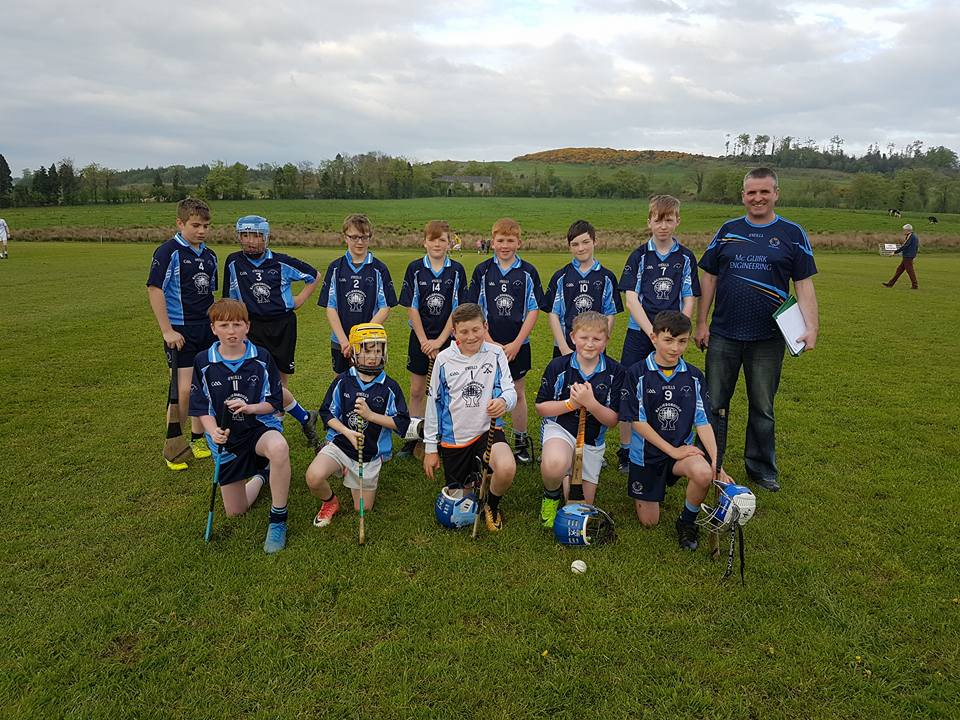 Above: U 13 squad.
Under 15:
The lads went down to a narrow enough defeat v Castleblayney on Monday last in what was a good enough performance against a good Monaghan outfit. This competition now takes a break till after the exams.
Under 17; Monaghan fixtures will have to be refixed due to the imminent Leaving Cert.
Fundraising table quiz: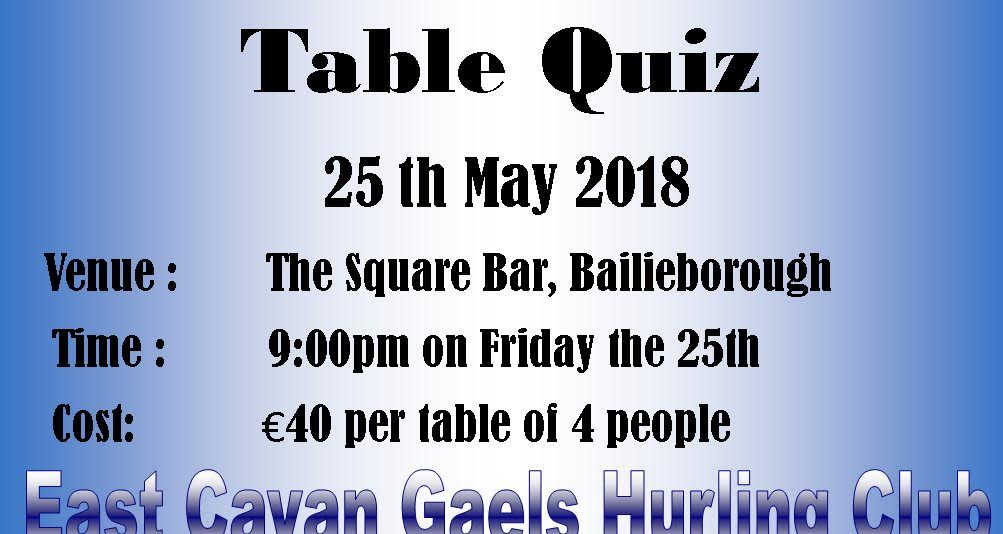 Table quiz in the Square Bar Bailieborough this coming Friday 25th May. Last year's quiz was a great success and a great social event for parents before we venture to Sligo for Feile in early June. All are welcome.
Tesco Community fund: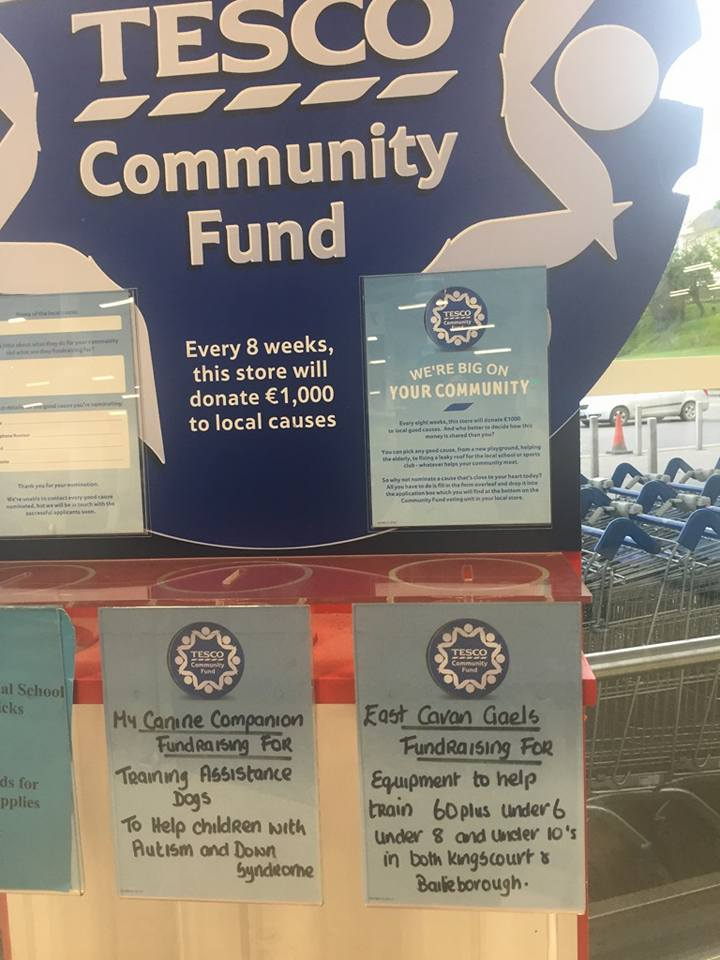 Once again our friends at Tesco Ireland Bailieborough have allowed East Cavan Gaels to be one of their Community Fund beneficiaries for 2018. Use your blue token when you shop to help with local hurling development.
Monday; Under 7/9/11/ training will be in Killann pitch 6.30-7.45. U15/17 from 7.30-8.30.
U13s in Ballymachugh to play Wolfe Tones.
Club contacts;
U7/9/11; Willie Gaughan 086 164 9280.
U13; Colin Higgins 087 276 9086.
U14/15; Pat O'Flaherty 087 450 1524.
U14/15/17; Kathryn O' Flynn 087 244 1371.
Bailieborough Cancer Comfort Ltd:
The Bailieborough Cancer Comfort Ltd Committee is available to help cancer patients or their families. Free Taxi service available. For further information, contact: Michael Cullen 087 154 2447 or Edel Fox 086 1004030.
CITIZENS INFORMATION:
Co. Cavan Citizens Information Outreach Service in Bailieboro (The Library) on Tuesdays, from 1.30pm – 2.30pm. This is a weekly service.  Any enquiries 076 1075200.
Alcoholics Anonymous:
Local meetings of Alcoholics Anonymous are held in: The Health Centre, Kells Road on Wednesdays at 8.30pm.
http://bailieborough.com/wp-content/uploads/2015/09/bborocomlogo2015-300x130.png
0
0
Lee McDonnell
http://bailieborough.com/wp-content/uploads/2015/09/bborocomlogo2015-300x130.png
Lee McDonnell
2018-05-23 09:51:11
2018-05-23 09:51:11
Bailieborough News. May 21st 2018. Matthew J. Cullen.