Storm Emma and 'The Beast from the East':
During the past week, both of the aforementioned events had an effect on the people living in the town and surrounding areas. From Tuesday of last week, biting cold temperatures were the norm and local shops and supermarkets were quickly sold out of basic foodstuffs. Snow fell on Tuesday night and continued to fall over the next few days with varying degrees of intensity. The local County Council crews were out gritting and salting the main roads around the town which helped traffic to keep moving. The worst of the snow fell on Thursday and Friday and most people heeded the warnings to stay indoors and avoid unnecessary travel. Some shops were open for a few hours on Friday afternoon but most stayed closed along with all the local schools. By Saturday morning, Main St. was passable, mainly due to the hard work of the council crews, shop owners and employees and the help of the local farming community and machinery operators who used their machinery to clear the main roads around the town. Most businesses were open for trade and by late Saturday evening, most people were able to replenish their larders with stocks of fresh food. On Sunday, a slight thaw set in but some religious services were cancelled or postponed due to the weather—most notably the Confirmation of local schoolchildren due to be held in St. Annes and which is rescheduled for Sunday next. Most other social events were either cancelled or deferred to a later date along with most sporting activities. At the time of writing (Monday morning), all the main roads are clear into the town and the thaw has well and truly set in, but there still remains a lot of snow on outlying roads and lanes which will take some time to remove.
So, hopefully, the worst storm over the past few years has now gone and life will be able to get back to normal for all the people of Bailieborough and its hinterland.
Confirmation:
Unfortunately, due to health and safety concerns Confirmation was postponed in Bailieborough on Sunday last. Because of the ongoing adverse weather conditions, the poor and impassable state of roads in many parts of the parish and the icy conditions around the church carpark/avenues Fr. Router had no option but to make this decision.
Confirmation is rescheduled for next weekend on Sunday, March 11th, at 3pm. Bishop Leo will not be able to attend as he has a full schedule of confirmations in other parishes until the end of May. Monsignor Liam Kelly, Vicar General of Kilmore Diocese, has agreed to administer confirmation.
The Model N.S.:
The Model School, Bailieborough is now open for enrolment for Junior Infants starting September 2018. For an information pack and enrolment form, please contact: themodelbailieborough@gmail.com or phone the office on 042-9665689.
Knockbride Bazaar:
Following the cancellation on Friday last, March 2nd, Knockbride Bazaar will now take place in Tunnyduff hall on Friday, 9th March at 9 p.m. Great selection of prizes and everyone welcome.
Women's World Day of Prayer:
The annual Women's World Day of Prayer Service will this year be held in Trinity Church, Virginia Road on Friday, March 9th at 8.00pm (re-arranged due to the bad weather last Friday). The Special Speaker will be Barbara Geddes from Killinkere. Please make a special effort to attend and share in worship with all the Churches in the area. Please also remember men are very welcome!!
FREE Paediatric First Aid Classes: 
Taking place in Bailieborough Library on Thursday, March 8th from 10am-1pm.
All parents and babies are invited to drop in for free demos and advice. Ring 042 9665779 for more information!
Social Dancing:
Social Dancing in the Community Centre this month is on Saturday next, 10th of March. Music is by the popular Dermot Mc Connell and son. The usual refreshments will be served. Dancing starts at 10.00 and ends at 12.30 in the Community Centre. All welcome.
Bailieborough Tidy Towns:
Reduce waste and keep Cavan tidy by investing in a reusable blue coffee cup with Cavan logo. Ideal for coffee lovers and Cavan fans. This cup is for sale in Daybreak on Barrack Street. All proceeds go towards the local Tidy Towns.
Deepest Sympathy:
Deepest Sympathy is extended to the nephews, nieces, sisters-in-law, relatives and friends of Tommie Carolan, Corravilla and late Tunnyduff, Bailieborough, Co. Cavan, who passed away on Thursday, February 22nd, in his 99th year, peacefully at the Sacred Heart Nursing Home, Clones. Tommie's Funeral Mass took place in St. Bridgid's Church, Knockbride West on Saturday, February 24th with burial afterwards in the adjoining cemetery.
The Open Door Sessions:
This month's 'Open Door Sessions' will take place on Friday, March 16th, Downstairs at Nixy's, The Square Bar, commencing at 9.00pm. This month's arts and music gathering features comedian/poet Dave Hynes, Dublin indie-folk band Pine the Pilcrow and traditional musician Sharon Argue. We're sure to be in for a great night's entertainment. All welcome.
Free Computer Classes:
Great interest in this course so dates have been decided – there will be 5 sessions beginning on Thursday March, 8th, 15th, 22nd, 29th April 5th from 2pm-4pm here in the library. There are a few places left – a wonderful opportunity for all those who wished they had the confidence to use the Internet. Phone 0429665779 to secure a place! Remember classes are FREE and for ABSOLUTE BEGINNERS!! Participants will need a laptop!
'Honda Run':
A motorcycle run will take place on Sunday, March 18th in aid of raising funds for 'The Family Comfort Room' in St. James's Hospital, Dublin. This run is in memory of the late, Niamh Crosby, Curkish, Bailieborough. Registration will take place from 10.00am to 12 noon, with a 12.15pm start at Enagh House (located approx. 2kms from Virginia on the Virginia—Bailieborough Road). The run distance is 55miles and the entry fee is €20. All bikes are welcome and light refreshments will be served before and after. For further information, please contact: Peter at 087 0910 345 or Brendan, 087 225 8944. Supported by Kangleys 32 County Honda Challenge Club.
Aontas Adult Learners Week:
FREE classes in Bailieborough Library:  FREE introduction to social media class here on Wednesday March 8th at 10am-11pm. Everyone welcome to drop in!. Social Media for beginners; Thursday, March 8th 10am-1pm Paediatric Massage. Contact 042 9665779 for further details!
Bailieborough Historical Society:
The Bailieborough Historical Society is planning an exhibition of artefacts manufactured in and related to Bailieborough's industrial past. This will take place during Heritage Week in August. If you have anything that you would like to exhibit, please contact either, Pat Fitzpatrick at 086 0635 856 or Leslie McKeague at 086 2588 488.
St. Patrick's Day Parade:
The Annual St. Patrick's Day Parade in the town will take place on Saturday, 17th March. The Parade will commence at 2.00pm. This year there will be €1,500 in prizes, prizes for best club, comedy, business, and window display. In an effort to invigorate the parade in our town, we are looking for more help and ideas from you all, we are proposing a special category for clubs in the area with a prize of €500 for best club float or pageant. We'd really appreciate all businesses big or small to put in a float (all entered free). Any ideas please get in touch with any committee member. Also we will need stewards to help on the day for a few hours. Please contact 0868222155 or 0862836157 or any committee member for more information. Floats will have free entry. All help and ideas welcome.
Stations of the Cross:
The Stations of the Cross will take place during Lent immediately after the 7.00pm Mass on Friday, 9th March, 16th March and 23rd March.
Safe Pass:
Safe Pass on Friday 9th March (€100 lunch included), in Bailieborough Business Centre, Shercock Road. Also Beginners Computer Classes taking place at moment. Call 042-969-4716 or 086-794-9739 to reserve your place.
Bridge:
Bridge takes place every Tuesday evening in the Hotel Bailie at 8.00pm. New members are always most welcome.
Ballinamoney Parents Association:
Ballinamoney Parents Association are holding a 'Table Quiz' in the Royal Breffni, Tierworker on Friday, March 9th commencing at 9.00pm. 40 per table of four. All welcome.
Baptism Dates in St. Annes for March, April and May 2018:
The following are the available dates for Baptisms in St. Anne's Church–March 10th (Saturday, 1.30pm), March 18th, (Sunday, 12.30pm), April 7th (Saturday, 1.30pm), April 22nd (Sunday, 1.00pm), May 5th (Saturday 1.30pm) and May 20th (Sunday, 12.30pm).
Bailieborough Community Bowls:
Bailieborough Community Bowls continues every Wednesday evening at 8.00pm, in the Community Centre, Chapel Road. New members most welcome with free tuition for beginners.
Bailieborough Library:
Everyday Irish – Tuesday evenings 3pm to 5pm
Beginner Conversational Irish Class for Adults who would like to learn the basics.
Bailieborough Library Parent, Baby and Toddler Group has proven to be a vital life line for all stay-at-home parents who may be new to the area and wish to get out of the house and make new friends. There is a huge range of toys for children to play with, while parents can enjoy a cup of tea and chat.
The group meets at the Library Arts space every Wednesday at 10.30am-12pm. Why not join their Facebook Group and keep up to date with news and events.
Citizens Information every Tuesday 1.30pm-2.30pm on a first come first served basis; Craft Group every Friday 10.30am-1pm; Book Club 6pm-7pm last Thursday of every month; Lit Lab writers group every second Tuesday. Contact 042 9665779 for details on any of the above.
East Cavan Gaels GAA Club – Hurling News 5th March 2018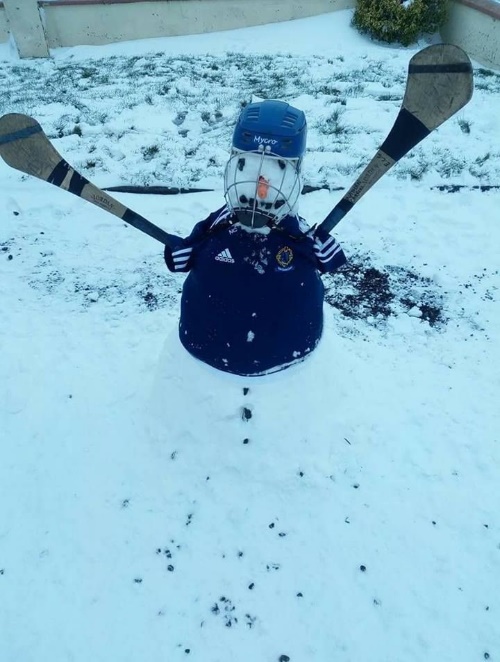 The Beast from the East didn't stop the McGuigans from Stradone building their own hurler! Full back?
 Child protection; Thanks to all club members who recently completed their child protection course given in the Bailie Hotel by Cavan GAA. Along with Garda vetting and GAA coaching award it ensures all our coaches/mentors/managers have all the requirements to be involved in hurling for the year ahead.
 Saint Patricks Day Parades; This year, for the very first time, we will partake in two parades, in Bailieborough, and for the first time, in Kingscourt. We hope as many of our young hurlers will participate. The float is under construction in a secret location.
 Monday hurling; Most hurling fixtures for 2018, be that Ulster GAA, Monaghan and Cavan GAA will be scheduled for Mondays. Nine counties are beginning to use Monday as their hurling fixtures day this year, which is a big step forward for hurling development. We expect all our players ages from U11 upwards to be available to us going forward. There will be no Gaelic football fixtures on Monday, as like last year, so we hope many more Gaels who have not had the opportunity to play hurling will now take this chance as there should be no reason not to as Monday will be free from other GAA activity. The dual GAA star is still out there, join us.
 Under 6/8/10; Training indoors away from the elements in Kingscourt on Thursday and Bailieborough on Friday. Registration forms will be given out this week with ​registration Thursday 15th March in Kingscourt and Friday 16th March in Bailieborough.
 Under 12/13; Indoor training Thursday 7.45-8.45 in Kingscourt Community Centre. The final round of DKIT blitz is Sunday next. Registration and outdoor training coming soon.
Under 15; Outdoor training coming soon.
 The week ahead;
Thursday;​ Kingscourt indoors in the Community Centre U6/8/10 6.45-7.45. €3 each.
U13 Kingscourt Community Centre 7.45-8.45.
Friday; ​Bailieborough indoors at the BCS sports hall U6/8 6-7. U10 7-8. €3 each.
Tanagh Outdoor Centre Easter Camps: Tanagh's Kayak Skills Camp 26th-28th March, 10am-2pm daily, suitable for those aged 9-16yrs. Tanagh's Forest School 4th-6th April, 10am-2pm daily, suitable for those aged 6-11yrs. Exciting new mountain bike programme starting at Tanagh 'Gearing up off road' . Limited spaces. Gearing up off road Taster session, 4th April, 9.30am-1.30pm, and Tanagh's Gearing up off road certified programme, 5th+6th April, 9.30am-2.30pm, suitable for those aged 12-16yrs
Book early to avoid disappointment on all these courses. Limited spaces available. Contact Philomena on 049 5552988.
Bailieborough Cancer Comfort Ltd:
The Bailieborough Cancer Comfort Ltd Committee is available to help cancer patients or their families. Free Taxi service available. For further information, contact: Michael Cullen 087 154 2447 or Edel Fox 086 1004030.
CITIZENS INFORMATION:
Co. Cavan Citizens Information Outreach Service in Bailieboro (The Library) on Tuesdays, from 1.30pm – 2.30pm. This is a weekly service.  Any enquiries 076 1075200.
Alcoholics Anonymous:
Local meetings of Alcoholics Anonymous are held in: The Health Centre, Kells Road on Wednesdays at 8.30pm.
http://bailieborough.com/wp-content/uploads/2015/09/bborocomlogo2015-300x130.png
0
0
Lee McDonnell
http://bailieborough.com/wp-content/uploads/2015/09/bborocomlogo2015-300x130.png
Lee McDonnell
2018-03-07 14:11:51
2018-03-07 14:11:51
Bailieborough News. March 5th 2018. Matthew J. Cullen.