Papal Mass in the Phoenix Park—August 26th, 3.00pm:
This is the final event of the World Meeting of Families 2018 and is the only event where some tickets are still available to see Pope Francis on his visit to Ireland. The Meeting in the RDS on the 22nd, 23rd and 24th is booked out as is the visit to Knock Shrine and the Festival of Families in Croke Park on the 25th.
During the past few days, the Parish has organised a bus to travel to the Phoenix Park for the Mass. There are still some places available on the bus. If you book a place on the bus, you will receive a ticket for the Mass. You don't need to go online to book. The tickets are free and will be available to collect closer to the event. A small donation towards transport may be taken up on the bus.
As the Parish Office is closed until Monday next, July 9th, please call 087 4407 990 during the week to book your place and ticket. If there is no immediate reply, please leave a message with your name and number.
St. Benan's Pastoral Area Pilgrimage to the World Meeting of Families: Booking has now stopped for the Pastoral Area Pilgrimage to the World Meeting of Families in the RDS, Ballsbridge, on Thursday August 23rd. The bus from the Pastoral Area to the RDS on that day, for those who have already booked, is free of charge. Details of the departure times and locations will be announced later.
Bailieborough Mid-Summer Festival:
Bailieborough Mid-Summer Festival will be taking place from Friday, 20th of July until Sunday, 22nd of July.
This year we will be holding a Vintage Car, Bike, Tractor and Lorry display.
Please note, there is a limited entry to this event. Anyone interested in bringing a vehicle, please contact 087-7964844. All entries are free.
We are Delighted to announce 'Little Gem' will be coming to the Bailie Hotel on Friday, 20th July at 9.00pm. Directed by our local star Padraic McIntyre.
Tickets will go on sale this week from the Bailie Hotel reception at only €12.
A night not to be missed.
Our Midsummer Festival Duathlon is back on Friday 20th of July. This year, there are new exciting routes to suit all levels. Also there will be a 5k Family Walk or Run, followed by a BBQ for all participants, sponsored by Fox's bar.
The event will start and finish on Main Street
Ger Butler will also be Joining us with Elite Country Radio.
Also after last year's success our Jiving Competition is back, great prizes up for grabs!!
Only 18 days until Johnny Brady takes the stage, from 4-6pm on Sunday 22nd of July.
A fun-filled weekend for all the family, the Festival will commence on Friday 20th until Sunday 22nd and for further details see next week's issue of the 'Celt.
Congratulations:
Congratulations to the East Cavan Swim Club swimmers who have qualified for the Irish National Division 2 Championships in Limerick this weekend – well done to Finn Longmore, Kelsey Buckland, Katie Mulvey, Sorsha Cooney and Kate Kierans. Fantastic achievement for all the swimmers and best of luck to those competing.
Bailieborough Walking Group:
Wednesday, July 4thth – Trim Castle                                                                           (A) Walk 2+ hours (approx). Leaving Bailieborough Library at 6.15pm. Meet at Trim Castle Carpark.  Walk commences at 7.15pm.
Wednesday, July 11th – Dun A Ri Forest, Kingscourt (M) Walk – 1.5 hours. 5km Forest Walk. Commencing at Cabra School entrance to Dun a Rí Forest Park, Shercock Road, Kingscourt at 7.15pm. Leaving Bailieborough Library at 6.50pm. All welcome.
Pilgrimage to Knock:
A Pilgrimage to Knock will take place on Sunday, July 15th, leaving Shercock at 8.30am and Bailieborough at 8.45am. The fare is €20. Contact Geraldine at 087 964 3884 for further details after 6.00pm.
Bailieborough Tidy Towns:
Bailieborough Tidy Towns request that all business, property and home owners would help out, by giving their property a face lift in preparation for the Tidy Towns Competition. The local 'Clean Up' continues on Tuesdays at 7pm.  All welcome.
Beginners Yoga:
Beginners Yoga takes place every Saturday morning between 9.30 and 10.30am, in Bailieborough Leisure Centre. €60 for six classes/€12 per 'drop-in' class. Contact Darren at 086 846 9581 or email darrenclarke@campus.ie for further information. Bring a yoga mat, an open mind and wear comfortable clothing.
Bailieborough School of Music:
Lotto results for 30-06-2018.  Numbers Drawn; 05, 08, 10, 16.  No Jackpot Winner, Lucky Dip (€25) Winners; Oliver Cooney; Pat Gaffney; Brian Murray; Derek R Smyth. Jackpot next week, €3,600.
Bailieborough Heritage Society:
New members always welcome to the Heritage Society, please contact 0872244159 for further information.
Bailieborough 'Lend A Hand':
'Lend a Hand' is for the elderly and vulnerable in the Bailieborough area. Just give us a call if you need a job done, or even just a chat. Phone Ann on 042 9694825.
Church of Ireland: Annual Barbeque:
The Bailieborough Church of Ireland Annual BBQ will take place on this Saturday, July 7th from 5.00pm onwards in the Church Hall. Please come along and bring your friends—everybody very welcome.
Bailieborough Irish Red Cross 'Tea Party':
The Bailieborough branch of the Irish Red Cross will be hosting their 'Tea Party' on Thursday, July 5th at 6.30pm, in the Bailie Hotel. All welcome.
Heritage Week 2018:
We are getting ready for Heritage Week 2018, August 18-26. If you are interested in or planning hosting a heritage event, contact Cavan Heritage to be included in our Local Heritage Week Guide.
Blessing of the Graves:
The Blessing of the Graves will take place in Killann on Saturday, August 18th at 7.00pm, in Shercock on Sunday, August 19th after 11.30am Mass and in Bailieborough on Sunday, September 2nd at 12 noon.
Drumkeery Group Water Scheme:
Scouring of the lines has commenced and will be carried out until Friday, July 13th. This may cause some disruption to member's water supply. Should any problems arise, please contact the Maintenance Officer, Seamus McCabe on 086 0466 188. We regret any inconvenience this may cause.
Church of Ireland Services for July:
Sunday 8 July
Bailieborough 10:45am – Morning Prayer, followed by tea and coffee.
Knockbride 12noon – Holy Communion.
Sunday 15 July
Bailieborough 10:45am – Morning Prayer, followed by tea and coffee.
Knockbride 12noon – Morning Prayer.
Sunday 22 July
Bailieborough 10:45am – Morning Prayer, followed by tea and coffee.
Knockbride 12noon – Morning Prayer.
Sunday 29 July
United Service in Knockbride 10:30am – All-Age Service followed by tea and coffee.
Bailieborough Business Centre:  
Food Safety Training HACCP at Bailieborough Business Centre. One-day Course – Cost €60. This course is a must for anybody in the food preparation and provision business, places are limited to 10 participants. Call 042-969-4716 to reserve a space.
Computers for Beginners – learn a new skill over the Summer. The course will introduce you to email, social media, on line transactions, and many more ways to make your life easier with the internet. Call 042-969-4716 – Classes are free of charge.
Classes for the Autumn Schedule at Bailieborough Business Centre. Call to let us know what you are interested in doing and we will register your interest with the ETB. Please call 042-969-4716 for further information.
Bailieborough Poetry Festival 2018 will take place from 4th – 7th  October 2018.
Full details soon but there will be poetry readings, open mics, poetry workshops, the Annual Poetry Competition and an associated Art Exhibition.
Poets definitely taking part are Annemarie Ní Churreáin, Enda Wyley and Brendan McCann. Watch out for full programme soon.
Baptism Dates in St. Annes for July, August, September and October 2018: The following are the available dates for Baptisms in St. Anne's Church–July 7th (Saturday, 1.30pm), July 15th (Sunday, 12.30pm), August 11th (Saturday, 1.30pm), August 19th (Sunday 12.30pm), September 15th (Saturday, 1.30pm), September 23rd (Sunday, 12.30pm) October 6th (Saturday, 1.30pm) and October 28th (Sunday, 12.30pm).
Bailieborough Library:
Everyday Irish – Tuesday evenings 3pm to 5pm
Beginner Conversational Irish Class for Adults who would like to learn the basics.
Bailieborough Library Parent, Baby and Toddler Group has proven to be a vital life line for all stay-at-home parents who may be new to the area and wish to get out of the house and make new friends. There is a huge range of toys for children to play with, while parents can enjoy a cup of tea and chat.
The group meets at the Library Arts space every Wednesday at 10.30am-12pm. Why not join their Facebook Group and keep up to date with news and events.
Citizens Information every Tuesday 1.30pm-2.30pm on a first come first served basis; Craft Group every Friday 10.30am-1pm; Book Club 6pm-7pm last Thursday of every month; Lit Lab writers group every second Tuesday. Contact 042 9665779 for details on any of the above.
East Cavan Gaels GAA Club – Hurling News 2nd July 2018
Under 7/9/11;
The lads had a great blitz in Inniskeen last week with U7 and U9 games v Inniskeen, Carrick, Blayney and Knockbridge where everyone performed very well in the sunshine.
No training this week. Cul camp in Kingscourt. Training Monday 9th in Killann.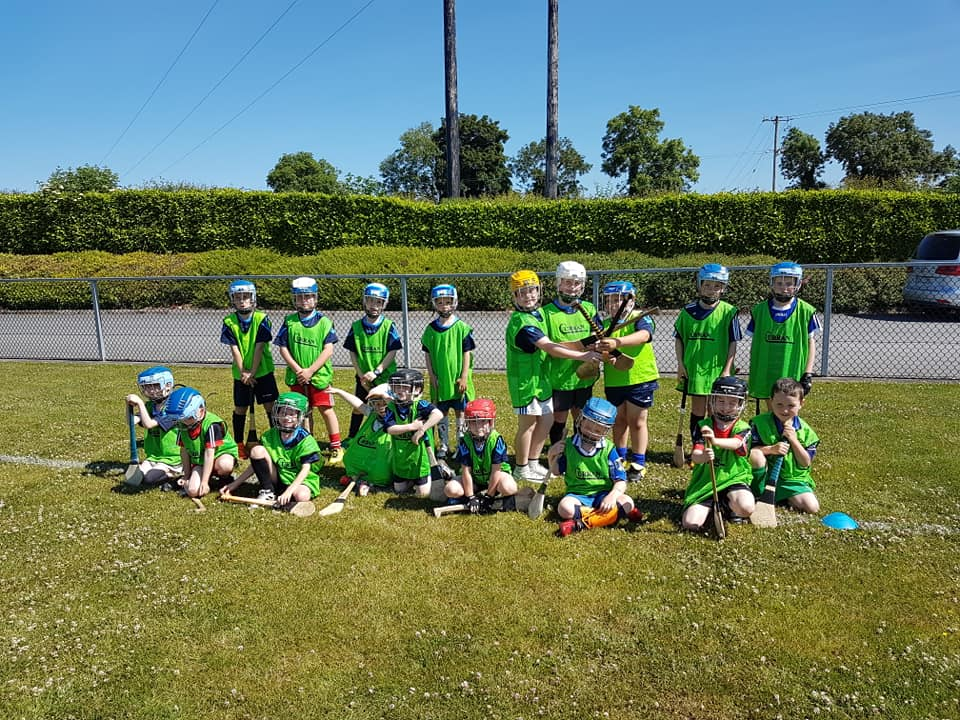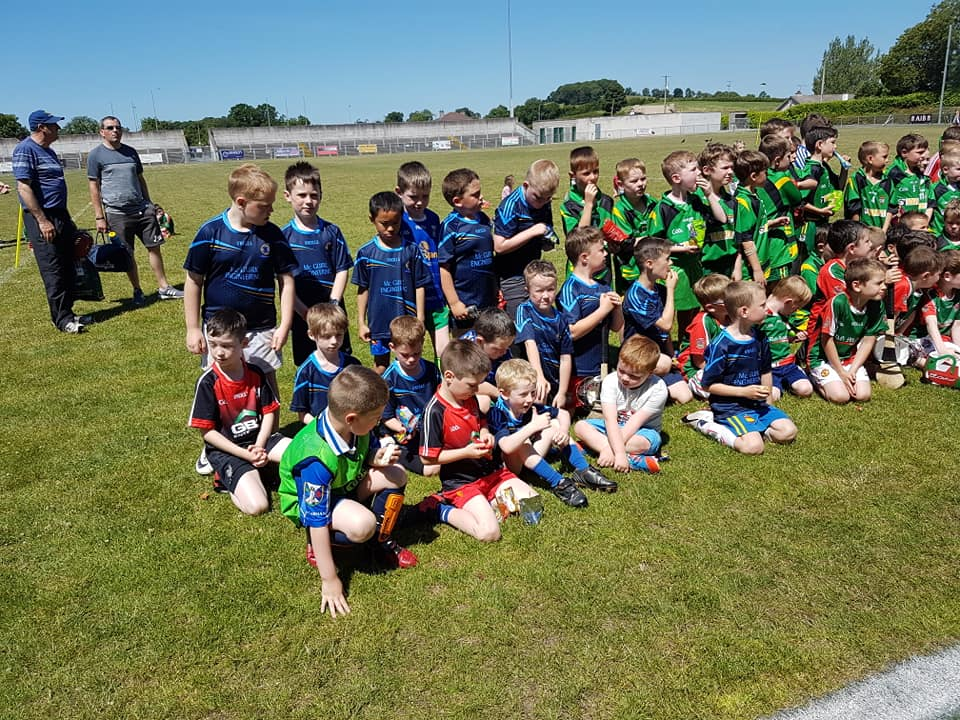 The U7 and U9 teams in Inniskeen last week.
Under 13;
The lads play Naoimh Moinne from Dundalk in Dundalk on Monday 2nd in the semi-final of the Tain league. Best of luck to all.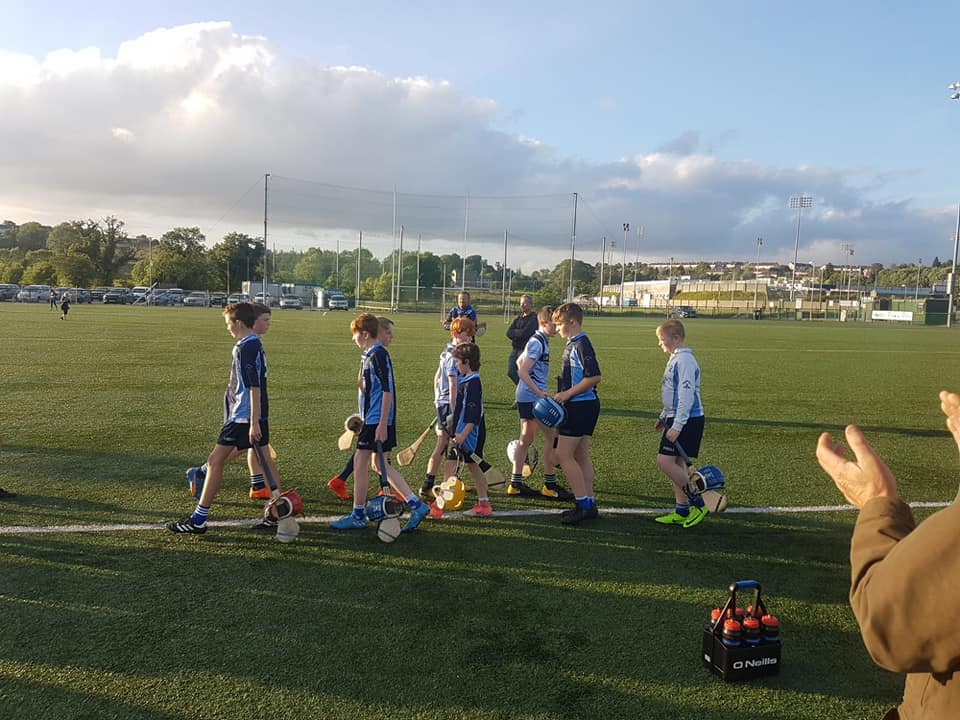 U13s after Longford Slashers game last week.
Under 15;
A good performance although not the right result in going down by four points to Carrick in the Monaghan league. Missing a few regulars due to the holidays. Home to Cootehill Monday 9th July.
Club contacts;
U7/9/11; Willie Gaughan 086 164 9280.
U13; Colin Higgins 087 276 9086.
U14/15; Pat O'Flaherty 087 450 1524.
U14/15/17; Kathryn O' Flynn 087 244 1371.
SUMMER CRAFT and GIFT FAIR, Sunday 15th July, 12.00pm – 5.00pm, Slieve Russell Hotel, Ballyconnell, Co. Cavan. Join us for our annual summer fair, a whole host of handmade crafts, quality giftware and craft supplies. Free admission. For details downlandcrafts.ie or 049 436 4877.
Bailieborough Cancer Comfort Ltd:
The Bailieborough Cancer Comfort Ltd Committee is available to help cancer patients or their families. Free Taxi service available. For further information, contact: Michael Cullen 087 154 2447 or Edel Fox 086 1004030.
CITIZENS INFORMATION:
Co. Cavan Citizens Information Outreach Service in Bailieboro (The Library) on Tuesdays, from 1.30pm – 2.30pm. This is a weekly service.  Any enquiries 076 1075200.
Alcoholics Anonymous:
Local meetings of Alcoholics Anonymous are held in: The Health Centre, Kells Road on Wednesdays at 8.30pm.
http://bailieborough.com/wp-content/uploads/2015/09/bborocomlogo2015-300x130.png
0
0
Lee McDonnell
http://bailieborough.com/wp-content/uploads/2015/09/bborocomlogo2015-300x130.png
Lee McDonnell
2018-07-04 10:36:57
2018-07-04 10:36:57
Bailieborough News. July 2nd 2018. Matthew J. Cullen.