Christmas Day Swim 2022: A massive 'Thank You' to everyone who supported this year's Christmas Day Swim. It was great to be back again and have such a fantastic supportive crowd. It was the largest Swim to date with over 60 people both young and old taking the dip. Congratulations everyone.
Could all sponsorship cards be returned to Brendan 087 275 8890 or Mary 086 068 8714 as soon as possible.
Wishing you all a very Happy and Healthy New Year.
Regretted Death: Deepest Sympathy is extended to son Martin (Fran), daughters Caroline, Susan (Kevin), daughter-in-law Lorraine, grandchildren, great-grandchildren, brother Eugene, sister Rosemary and Jimmy, sisters-in-law, nieces, nephews, relatives, friends and neighbours on the death of Thomas (Tommy) Gillick, 8 Drumbannon, Bailieborough, Co. Cavan, who passed away on Friday 23rd December 2022, peacefully at his daughter Susan and son-in-law Kevin Halton's residence in Urcher, Bailieborough, surrounded by his loving family.
Tommy was predeceased by his loving wife Elizabeth, son Thomas, brothers, Johnny, Phil, Kevin, Matt and Larry.
Tommy's Funeral Mass was held in St. Annes Chapel on St. Stephen's Day, Monday, December 26th and afterwards, Tommy's remains were laid to rest in St. Anne's Cemetery.
Bridge Club: Bailieborough Bridge Club will host the Graham Cup, Open Competition on Sunday, January 15th 2023, in the Bailie Hotel with play starting at 7 p.m. All are welcome-for further information please call or text:087/2135330.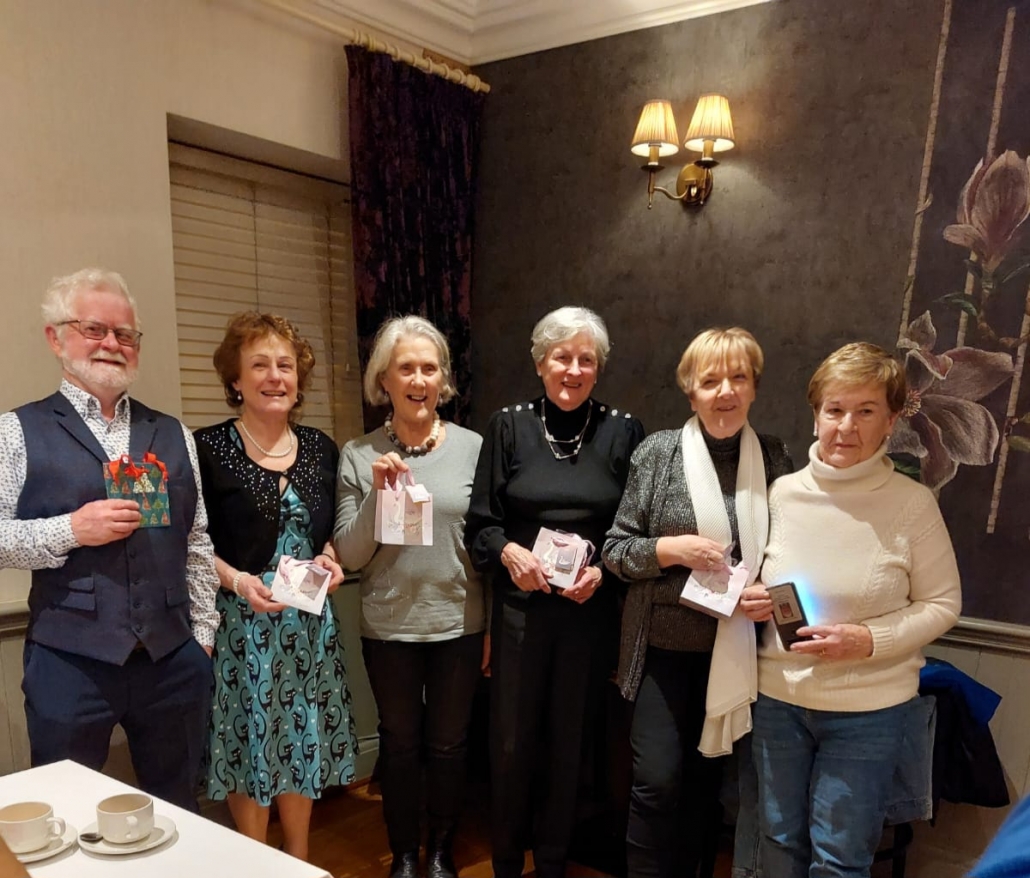 The Christmas Prize winners were: Brendan Gavin, Colette Gavin, Joy Jameson, Teresa O'Reilly, Olive Kellet and Rosaleen Keegan.
The Bridge club meets every Tuesday at 7.30 p.m. in the Bailie Hotel.
New members welcome. Contact: bridgeclubbailieborough@gmail.com or telephone 042-9667944.
Bailieborough Cancer Comfort Ltd: A massive 'Thank You' to each and everyone who supported our 'Singing Santas' on Christmas Eve. You raised, €7790.00.
The Bailieborough Cancer Comfort Ltd Committee is available to help cancer patients or their families. Free Taxi service available. For further information, contact: Edel Fox 086 1004030.
Deepest Sympathy: Deepest Sympathy is extended to daughters, sons, sons-in-law, daughter-in-law, grandchildren, great-grandchildren, brothers, nieces, nephews, relatives, neighbours and friends on the death of Eric Copperthwaite (Arthur Griffith Park, Lucan Co. Dublin and formerly of Bailieborough, Co. Cavan) who passed away peacefully, after a short illness, at Connolly Hospital, Blanchardstown on Wednesday, December 21st 2022.
Eric's Funeral Service took place in St. Andrew's Church, Lucan on Friday afternoon 23rd, December followed by burial in Old Esker Cemetery.
St. Stephen's Day: 'Fun Run': A very big 'Thank You' to everyone that came out and took part in the St. Stephen's Day, 'Fun Run'. Thank you to dj Gareth Mulhall for providing the tunes. The St Stephens Day 'Fun Run' raised €600 for Bailieborough Cancer care. Well done all! 5KM runners: 1st Luke O Sullivan, 2nd Simon Hutchinson, 3rd Mark O Sullivan, 4th Michel Meehan and 5th Barry Carolan.
Girls : 1st Emer, 2nd Aoife Nulty, 3rd Chloe Crosby, 4th Annamarie Crosby, 5th Ellen McGilie.
10km runners: 1st Mike Reilly, 2ndDarragh Nulty and 3rd Kieran Galligan.
Girls : 1st Lisa Clerkin, 2nd Elish O'Sullivan and 3rd Catherine Keenan.
1st dog Sadie.
Deepest Sympathy: Deepest Sympathy is extended to wife Catherine, daughters Yvonne and Kayla, son David, parents Paddy and Deirdre, brother Packie, grandparents, uncles, aunts, cousins, nieces, relatives, in laws and friends on the death of Francis (Frank) Reilly, Cormeen Lower, Relaghbeg, Bailieborough, Co Cavan who passed away on Wednesday, 28th December 2022, suddenly but peacefully at his residence.
Frank's Funeral Mass was held in St. Patrick's Church, Tierworker on Sunday, January 1st 2023, with burial afterwards in new Moybologue Cemetery.
Bailieborough Creative Hub: Congratulations to the members of the Bailieborough Creative Hub, who have been shortlisted for the Creative Lives Awards 2022. The group now need the public to vote for them. Voting is open until Friday, January 27th 2023. The group are in the 'People's Choice Award' and voting can be done by logging on to : www.creative-lives.org/2022shortlist
Cavan /Monaghan Education and Training Board: Adult Guidance and Information, drop-in centre will take place at Bailieborough Library on Thursday, January 12th, 2023 from 10.00am to 1.00pm. Free and confidential guidance from a Professional Guidance Councillor. FREE advice on return to education and careers! All welcome.
Book Launch: On Friday, January 20th, 2023, local woman, Gloria McBreen (nee McEntee) will launch her debut novel titled 'Secrets in the Babby House' in the Old Courthouse, Lower Main St., Bailieborough at 7.30pm. Everyone welcome.
As Gloria herself says: 'I'm thrilled to be launching my book in the old Courthouse in Bailieborough because it's where our Library used to be – back in the day!
The old Library is the place where I fell in love with books. It's the place where I go in my mind when I hold an old book to my nose to give it a good big sniff!
Many happy memories!'
Grab a friend and join Gloria at 7.30pm. (There'll be tea and biccies).
You might even be the lucky winner of a signed copy, or an ebook downloaded to your Kindle or other reading device!'
Regretted Death: Deepest Sympathy is extended to son David. daughter in law Susan, sister Gwenda Dunlop, grandchildren, Rachel, Jonathan, Sarah and Bobby, grandchildren in law, brother in law, sister in law , nieces , nephew and extended family and friends on the death of Christine White (nee Pape), Derrynure, Bailieborough, Co Cavan, who passed away on Thursday, 29th December 2022, peacefully at her daughter in law Susan's residence. Christine was predeceased by her husband Vernon and son Paul.
Christine's Funeral Service took place in Corglass Presbyterian Church on Sunday, January 1st 2023 and afterwards Christine's remains were laid to rest in the adjoining graveyard.
St. Felim's. N.S., (The Vale) is currently inviting applications for admission to Junior Infants for 2023/2024. A copy of the school's Admission Policy, Annual Admission Notice, including details on how to make an application, are available at : http://www.thevalens.com/index.php/admissions The school will cease accepting applications on Friday, February 3rd 2023.
East Cavan Swim Club: Great start to our 2023 season:
Session 1 in Lisburn on Sunday morning last, saw our three young swimmers Ruby Ward, Clare Doherty and Rebecca Gasparovic take to the water with each of them swimming every stroke and all achieving PBs. Well done girls.
In Sessions 2 and 3, we had Alana Carling, Aoibheann Taaffe, Roisin Pierce and Lian Moore competing, again with super performances. Alana swam every stroke, achieving some excellent PBs, Roisin saw several of her times tumble with great swims, Lian was very happy to achieve PBs after a period off training before Christmas and Aoibheann posted some fantastic times including her first sub 30 seconds in 50 free.
Well done to all the girls, thank you to our team managers and parents for all sessions and to assistant coach Aoife Moore for attending to assist our younger swimmers in Session 1.
Many thanks Lisburn City Swimming Club for a great day !!
St. Annes National School Enrolment: Parents seeking to enrol their child or children in St. Anne's N.S. For the 2023/2024 School Year are requested to return a completed Enrolment Application form before Saturday, February 4th 2023. Enrolment application forms are available from the school office, by telephoning 042 9665242, by emailing : office@stannesns.ie or on the school website: http://stannesns.ie/blog Closing date for receipt of Enrolment forms is Saturday, February, 4th , 2023.
Operation Keep Well, Bailieborough: Run, walk or jog in St Anne's GAA Park, on Mondays and Wednesdays for the next 5 weeks. Fun, fitness and social gathering. All welcome.
East Cavan Gaels GAA Club – Hurling News 9th January 2023:
New group; We are excited to announce that East Cavan Gaels will open a new indoor training venue in Mullagh in the Community Sports Hall starting from Thursday 19th January. Under 7 from 3-4pm, under 9 from 4-5pm and under 12 from 5-6pm. This is for boys and girls, all our regular hurlers are welcome, as well as those from the local Mullagh area. We initially run for six weeks to see how it goes. Spread the word, all are welcome! Equipment supplied. €3 each per session.
Seniors; We have a number of our lads working away with both the county and U20 squads. Those squads will be finalised over the next weeks in preparation for the new inter county season. Best wishes to those who make the squads.
Under 13/15/17; Again a number of our men will be preparing for inter county action in the Spring.
Under 11; These lads will return indoor initially in the next few weeks.
Under 7/9; These are always the first out of the blocks and this year is no different. They return this coming Saturday in Killinkere at 1 and 2pm respectively.
The week ahead; Saturday; Under 7 1-2pm, U9 2-3pm.
Club contacts;
U7/9/11; Willie Gaughan 086 164 9280.
U13/15/17/Senior; Kathryn O' Flynn 087 244 1371.
Wishing all readers, a peaceful and prosperous New Year.
http://bailieborough.com/wp-content/uploads/2015/09/bborocomlogo2015-300x130.png
0
0
Colette
http://bailieborough.com/wp-content/uploads/2015/09/bborocomlogo2015-300x130.png
Colette
2023-01-12 10:00:03
2023-02-01 09:42:23
Bailieborough News. January 9th 2023 . Matthew J. Cullen.