'Ireland Lights Up' – Operation Transformation #GAAHealth #RTÉOT
Do you want to get moving and active this New Year, but you have nowhere to go?
Do you find it hard to find a safe and well-lit area to go a walk during the dark winter months? Well, your local GAA Club BAILIEBOROUGH SHAMROCKS GAA has the answer!
We're coming on board with the Operation Transformation and the GAA for Ireland Lights Up. Every Monday from now until 26th February 2018 our club will be open and lit up for you, your family and friends to come and walk from 7pm to 9pm.
We want everyone to come and join for Ireland Lights Up 2018!
All are welcome to come to this event
Come Join Us at 7pm on Monday nights in St Annes Park, Bailieborough. Everyone is welcome from all across the Club, the wider Community and further afield. Let's make some new friends while also getting fit folks.
Bailieborough School of Music:
Lotto results for 20-01-2018.  Numbers Drawn; 12, 13, 15, 24.  No Jackpot Winner, Lucky Dip (€25) Winners; Valerie McCormick, Moynalty; Paddy Byrne, Virginia Rd; Linda Gargan, Lemon Tree; Padraic McIntyre, Galbolie. Jackpot next week, €1,300.
School of Music: 30th Anniversary Concert: Tickets for the Bailieborough School of Music's 30th Anniversary Concert in the Helix, DCU on Sunday, February 25th, 2018 are now on sale from the Helix Box Office or from Ann at 087 7858 509. Ticket prices are: Adult €15, Student €10 and Children 1—5 years €5.
Tickets for the Helix Concert on February 25th will be on sale in the Community School next Saturday morning from 9.30am – 12noon or contact Ann 0877858509.
We are also taking bookings for bus transport to the Concert.
The Model N.S.:
The Model School, Bailieborough is now open for enrolment for Junior Infants starting September 2018. For an information pack and enrolment form, please contact: themodelbailieborough@gmail.com or phone the office on 042-9665689.
Moybologue Historical Society:
There are a number of unmarked plots within the walls of Moybologue Old Church. Some of those plots have flowers and plants placed on them. If you know the identity of any of these plots, would you please contact Eamonn Donnelly at 086 173 6291.
SafePass:
Safepass at Bailieborough Business Centre – on Saturday, 3rd February from 8.00am till 4.00pm. Fee: €100 Lunch Included, please contact 042-969-4716 to reserve your place.
Spanish Lessons:
Spanish Lessons by Native Spanish Teacher.
Every Friday morning in Bailieborough town. (location to be confirmed).
2 Levels: Beginners 1 starting at 11.15am and Beginners 2 starting at 10 am.
Lessons will be 1-hour long. Starting on Friday, 2nd of February.
Price: 5 lessons €50. If interested, please contact Lydia on 0877414735
FELIM'S National School (THE VALE) is currently inviting applications for enrolment for 2018-2019. Forms are available directly from the school, by phoning 042 9665605 or by emailing: thevalesns@outlook.ie download from website: wwww.thevalesns.com under the Scoil Documents section.  Completed forms to be returned to the school by Friday, 2nd February, 2018.
Bailieborough Red Cross:
The Bailieborough Branch of the Irish Red Cross are holding their Annual General Meeting on Monday, February 5th at 8.00pm, in the Bailieborough Resource House. All members are requested to attend and new members are always most welcome. Tea and refreshments served.  Bailieborough Red Cross are holding a CPR/AED COURSE on Tuesday 13th February at the Irish Red Cross Office,
Bailieborough Resource House at 7 pm.
Please contact Julie -086-8968928 or Helen 087 7531658 for further details.
Places are Limited … so book a place early….
Bailieborough Tidy Towns:
Keep Bailieborough Tidy and reduce the amount of litter by investing in a Reusable Cup for sale in 'Daybreak' on Barrack St. This blue cup with the Cavan logo is an ideal present for Cavan fans and Coffee lovers. All proceeds go towards the Bailieborough Tidy Towns.
ANNE'S NS ENROLMENT:
Parents seeking to enrol their child or children in St. Anne's N.S. for the 2018/2019 school year are requested to return a completed Enrolment Application from during January 2018.  Application forms are available from the school office, by phoning 042 9665242 or by emailing: naomhainecc.ias@eircom.net.  Closing date for receipt of Enrolment forms is Friday, 2nd February, 2018.
Book Launch:
Since its first production in 2010 the play 'The Night Joe Dolan's Car Broke Down' by Padraic McIntyre has been a phenomenally popular fixture in Ireland's theatrical calendar.
The Gallery Press hopes you will join us to celebrate the publication of the book of the play, which will be launched by poet and publisher, Peter Fallon, with an address by Paddy McDonald, Cathaoirleach, Cavan County Council on Thursday, February 1st at 7.30pm in Bailieborough Library. All welcome.
Deepest Sympathy:
Deepest Sympathy is extended to wife, Margaret, nieces, nephews, sisters-in-law, relatives, neighbours and many friends of John (Johnnie) O'Brien late of Greagheittia, Tunnyduff, Bailieborough, Co. Cavan who passed away peacefully on Tuesday, 9th January 2018 surrounded by his loving family. John's Funeral Mass took place in St Brigid's Church, Knockbride West, on Thursday morning, January 11th followed by burial afterwards in the adjoining cemetery.
Bailieborough Mental Health Association: Annual Quiz:
The Bailieborough Mental Health Association's Annual Round Table Quiz Night will be taking place in the Bailie Hotel Ballroom at 8.30pm sharp on Friday, 9th February, 2018.  "A fun night for young and old".                                                                                                                                                                                    Teams of 4 for €40. Special 'Early Bird' round for Extra points if you arrive on time!! "A Healthy Mind in a Healthy Body'!! All welcome.
Bailieborough Women's Group:
The Bailieborough Women's Group will resume on Friday next, January 26th, with an interesting diary of activities and holidays. Meetings are in the Community Centre, Chapel Road from 2.00pm to 4.00pm, fortnightly. New members most welcome.
Classes at Bailieborough Business Centre for 2018 – Call 042-969-4716 / 086-794-9739.
Computers for Beginners—5 Weeks 10 Hours
You will learn the basics of using a computer, an introduction to the Internet. On line Transactions, Motor Tax On Line, Email, Shopping On Line and Internet Safety.
Internet and Email—14 Weeks, 42 Hours, Mondays from 7-10pm.
Expand your use of the Internet, with Apps, Social Media Skills, Digital Photography, Email Attachments and more.
Graphic Design—14 Weeks—42 Hours
Tuesdays from 10-1pm.
You will learn to design and print leaflets and promotional materials for your Business or Club using Web Images or Creating your own.
Microsoft Word –14 Weeks, 42 Hours.
Thursdays from 10-1pm.
You will learn how to professionally create correspondence for your Business, Club or Home Office.
Bailieborough Shamrocks Ladies:
Following the Ladies AGM which took place on Friday the 5th January 2018 the following were the elected officers
Chairman – Tommy Brady.
Vice Chairperson – Marion Carolan.
Secretary – Eileen Ryan.
Assistant Secretary – Marie Sheridan.
Registrar – Ann Farrell.
PRO – Karl Daly.
Child Protection Officer – Teresa Reilly.
Bailieborough Shamrocks GAA Club wishes all the elected officers and committee all the very best for 2018 and we look forward to working side by side with you. Here's hoping 2018 will be another successful year for the Ladies Section of Bailieborough Shamrocks GAA Club.
Big Build Fundraiser:
Tunnyduff Parents Association presents, 'The Big Build Fundraiser' in the Bailie Hotel on Friday, February 16th. Doors open at 11.00pm and music on the night will be provided by Johnny Brady and his Band. The supporting act will be Noel Briody, who will be in the lounge from 10.00pm. Admission to the event is €15 and all are most welcome to attend.
Bridge: Bridge takes place every Tuesday evening in the Hotel Bailie at 8.00pm. New members are always most welcome.
Deepest Sympathy:
Deepest Sympathy is extended to sister Julia and niece Gabriella, family and friends on the death of Igoris Babusis, 6 Drumlin Manor, Bailieborough, Co. Cavan, who passed away peacefully on Tuesday, 16th January 2018, at Cavan General Hospital surrounded by his loving family. Igoris's Funeral Mass took place in St. Anne's Church, Bailieborough on Thursday, January 18th with Funeral afterwards to Lakelands Crematorium, Cavan.
Baptism Dates in St. Annes for January,  February and March 2018:
The following are the available dates for Baptisms in St. Anne's Church–January 27th (Sunday, 12.30pm), February 11th (Sunday, 12.30pm), February 24th (Saturday, 1.30pm), March 10th (Saturday, 1.30pm) and March 18th, (Sunday, 12.30pm).
Library:
Through the countrywide library network, the Healthy Ireland at your Library programme will provide a range of resources, services and support to users and communities. This programme will see talks and workshops planned for 2018, boosted by new health books, e-books, e- audiobooks and e-magazines! Anything health related please ask a member of staff! Let's make 2018 a healthy one!
Bailieborough Community Bowls:
Bailieborough Community Bowls continues every Wednesday evening at 8.00pm, in the Community Centre, Chapel Road. New members most welcome with free tuition for beginners.
Skills for Work – Free Computer Training Locally:
Skills for Work are currently organising a number of Computer Courses locally in the Enterprise Centre in Bailieborough.
Courses include Spreadsheets, Word and IT for Farmers.  If you are employed, self –employed or farming, these courses are free.
All enquiries can be directed to Mary – Skills for Work,  Cavan on 087 9731103 or email marydalton@cmetb.ie or Regina Clark ALO on 049 8553528 or email reginaclarke@cmetb.ie
Deepest Sympathy:
Deepest Sympathy is extended to daughter Mary and all his nieces, nephews, relatives and many friends on the death of Bartle Alexander (Bart) Mallon (late of Donnybrook and formerly of Bailieborough, Enniscorthy and Athy) who passed away peacefully in his 94th year in the loving care of the staff of the Royal Hospital Donnybrook on Wednesday, 17th January 2018. Bart's Funeral Mass took place in the Church of the Sacred Heart, Donnybrook on Saturday, January 20th with burial afterwards in Deansgrange Cemetery.
Bailieborough Library:
Everyday Irish – Tuesday evenings 3pm to 5pm
Beginner Conversational Irish Class for Adults who would like to learn the basics.
Bailieborough Library Parent, Baby and Toddler Group has proven to be a vital life line for all stay-at-home parents who may be new to the area and wish to get out of the house and make new friends. There is a huge range of toys for children to play with, while parents can enjoy a cup of tea and chat.
The group meets at the Library Arts space every Wednesday at 10.30am-12pm. Why not join their Facebook Group and keep up to date with news and events.
Citizens Information every Tuesday 1.30pm-2.30pm on a first come first served basis; Craft Group every Friday 10.30am-1pm; Book Club 6pm-7pm last Thursday of every month; Lit Lab writers group every second Tuesday. Contact 042 9665779 for details on any of the above.
East Cavan Gaels GAA Club – Hurling News 22nd January 2018
Under 6/8/10; A great return indoors this past week in Kingscourt and Bailieborough. New players are always very welcome. We hope to have some blitzes in February.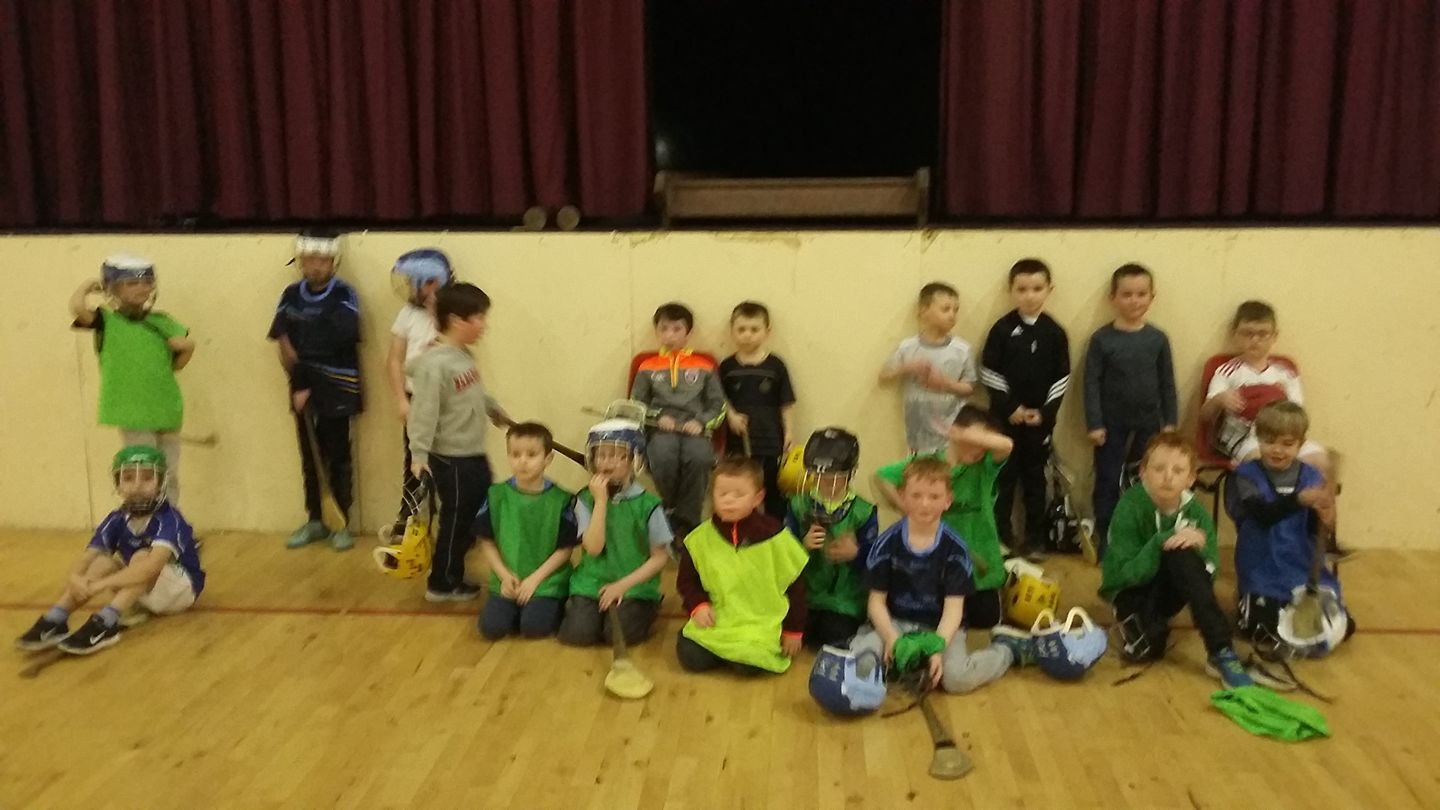 Kingscourt U6/8/10s at Thursdays return indoors.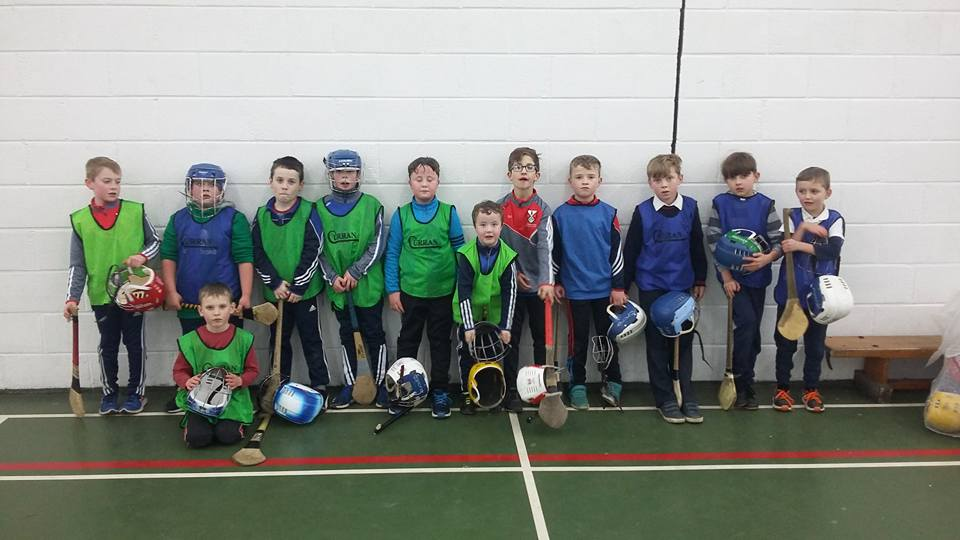 Bailieborough group U6/8s at their return indoors on Friday.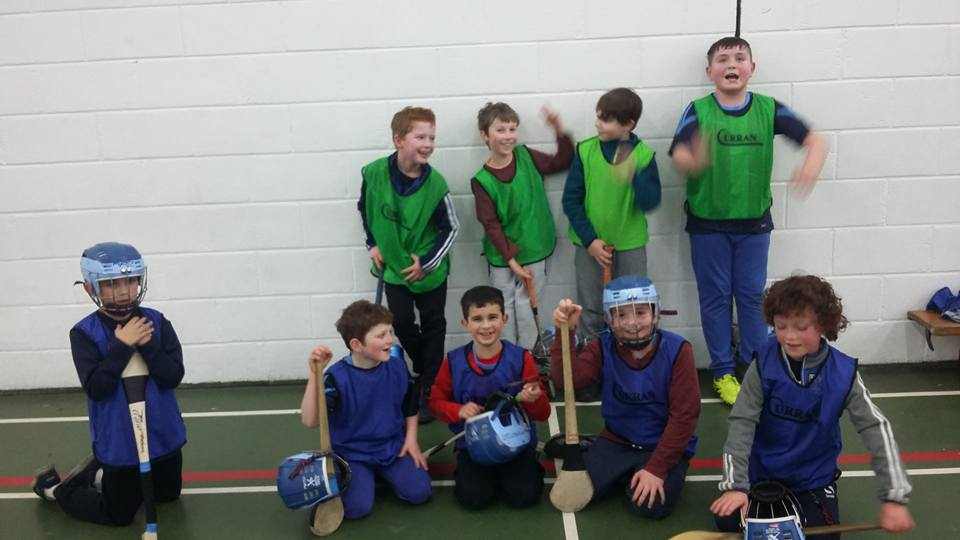 Bailieborough U10s at their return indoors on Friday.
Under 13; The new age grades for GAA mean that U12 is now U13, U14 is U15 etc. We will get together this Thursday in Kingscourt as we have the DKIT blitzes in Dundalk starting next Sunday. This is a great blitz with clubs from 6/7 counties in preparation for competition in the Spring.
Foundation level hurling award/ Child protection/ Garda vetting:
As a club we need to get as many people Garda vetted and through the Child Protection Course and foundation level hurling award as possible to keep the show on the road. It is vitally important that the club is well represented as it is a strict GAA requirement and must be adhered to. Those who wish to do a Foundation Level hurling course are most welcome to also. The next Child Protection Course is scheduled locally for the end of February. ANYONE/EVERYONE involved with any teams, in any capacity big or small MUST have the Child Protection course done. There are no longer any exemptions. This will be the most important job we do as a club this year, so we hope as many parents as possible take this opportunity to help the club.
The week ahead;
Thursday; Kingscourt indoors in the Community Centre U6/8/10 6.45-7.45. €3 each. U13 Kingscourt Community Centre 7.45-8.45.
Friday; Bailieborough indoors at the BCS sports hall U6/8 6-7. U10 7-8. €3 each.
Sunday; Under 13s in DKIT for blitz 10am.
Tanagh Forest School in Rossmore Park starting in February 2018. Suitable for those aged 6-12yrs. This Forest School is subsidised by Monaghan County Council's Environmental Services and the Local Agenda 21 Environmental Partnership Fund 2017. Limited spaces on the course so book early. Booking and Payment in advance is essential with Tanagh Outdoor Education and Training Centre. Contact Philomena on 049-5552988 for more information.
Bailieborough Cancer Comfort Ltd:
The Bailieborough Cancer Comfort Ltd Committee is available to help cancer patients or their families. Free Taxi service available. For further information, contact: Michael Cullen 087 154 2447 or Edel Fox 086 1004030.
CITIZENS INFORMATION: Co. Cavan Citizens Information Outreach Service in Bailieboro (The Library) on Tuesdays, from 1.30pm – 2.30pm. This is a weekly service.  Any enquiries 076 1075200.
Alcoholics Anonymous: Local meetings of Alcoholics Anonymous are held in: The Health Centre, Kells Road on Wednesdays at 8.30pm.
http://bailieborough.com/wp-content/uploads/2015/09/bborocomlogo2015-300x130.png
0
0
Lee McDonnell
http://bailieborough.com/wp-content/uploads/2015/09/bborocomlogo2015-300x130.png
Lee McDonnell
2018-01-26 10:22:53
2018-01-26 10:22:53
Bailieborough News. January 22nd  2018. Matthew J. Cullen.