Singers Needed:
The Folk Choir, who usually sing at the 7.00pm Vigil Mass on Saturday evenings, are looking for new members to boost their numbers. If you would like to join, you can either go up to the Gallery before Mass on Saturday evenings, to give your contact details to Choir Director, Sean O'Reilly or you can send a text message to 087 4407990.
Bailieborough School of Music:
Lotto results for 23-02-2019. Numbers Drawn; 1, 17, 25, 26. No Jackpot Winner, Lucky Dip (€25) Winners; Aaron Cooney; Sean Clarke; Seán Murray; Martin Clarke. Next week's Jackpot €3,100.
Bailieborough Men's Shed:
You will find them at the Beckscourt Centre, Bailieborough from Monday to Thursday (10 – 2), come and join them for a cup of tea and a chat and see what they are working on!
Lakelands Arch Club:
Lakelands Arch Club is on this Wednesday 27th February, from 7-9pm in the BDA Centre, Shercock Rd, Bailieborough. Hope to see you all there!
New Arrangements for booking Bailieborough Community Centre:
Contact or call into, the Parish Office during it's public opening hours to request a booking form. The usual opening hours are: Monday, Tuesday and Thursday: 12pm—1.30pm and Friday, 3.30pm to 5.00pm. The contact number for the office is 042 9665117 and the email is stannesbailieboro@gmail.com Outside of opening hours, you can email your request for a booking form or text 087 4407990. The booking form will need to include insurance and Child Safeguarding (if applicable) details for your group. The charge for the use of the Centre is €10 per hour including set-up and clean up time. For stand-alone events this charge is payable at the time of booking. For a long term booking, an arrangement can be made with the Parish Office to pay after an agreed period of time. If paying by cheque, please make it out to Bailieborough Church No 2 A/C. The user is liable for all damages to the hall incurred during the period of use. The Bailieborough Church Area Finance Committee has the right to refuse any booking.

St Patrick's Day Festival: Parade Draw:
There are currently tickets on sale in the local shops and business's to help defray the costs of running the annual St. Patrick's Day Parade. The tickets are €2 each or 3 for €5 available in local businesses.
St Patrick's Day Parade Festival Draw: Prizes: First Prize: Weekend break for 2 people in the 4 star Castlecourt Hotel, Westport.
Second Prize: 4 tickets to Westlife in July.
Third Prize: 2 Tickets to Rod Stewart 4th December in Dublin.
Fourth Prize: Smart TV.
Your support would be greatly appreciated and the draw will be held in the Hotel Bailie on Monday night, March 18th at 9.00pm.
Library:
Would you like to rekindle/learn some basic Irish? FREE 'Basic Irish for Beginners', will start at the Library on Tuesday, March 12th from 10.30am-12.30pm and will continue for 6 weeks. Booking essential as class is limited. Phone 042 9665779 for further information.
'Who Do You Think You Are'?? Are you interested in finding out about researching your family tree? A FREE genealogy course facilitated by CMETB will start at the Library on Wednesday, March 13TH from 2pm-4pm. Course will last six weeks and places are limited. Phone 042 9665779 to secure your place!
Bailieborough Social Day Group:
The Bailieborough Social Day Group will meet again on Wednesday, March 6th from 2.30pm to 4.30pm, in the Community Centre, Chapel Road. We need some more people to join the group for lots of activities—refreshments, chat, bingo, music, song and dance, day trips, etc…, every second Wednesday in the Community Centre.
Knockbride Bazaar:
Knockbride Bazaar will take place in Tunnyduff Hall on Friday 1st March at 9 p.m. Good selection of prizes and everyone welcome.
Well Done Andrea:
Great Win for Cavan Senior Ladies as Andrea O' Reilly scores a great personal tally.
Huge congratulations to local girl, Andrea O' Reilly who kicked 1-03 on Saturday last, to help the Cavan Senior Ladies beat Clare in Killinkere, on a final score of Cavan 2-11, Clare 2-08. Fantastic stuff!
Deepest Sympathy:
Deepest Sympathy is extended to the family, relatives and friends of Hamilton (Hammie) Pringle, Institute Road, Bailieborough, Co Cavan who passed away on Sunday, 17th February 2019 in his 92nd year, peacefully in Esker Lodge Nursing Home, Cavan. Hammie was predeceased by his brothers, Johnny and Freddie and he will be sadly missed by his wife of 66 years Bella, sons Albert, Ivor, Raymond and Kenneth, daughters, Isobel Anderson and Barbara Sullivan, daughters-in-law Sandra, Ada, Mary and Rachel, sons-in-law James and Enda, grandchildren, great grandchildren, nephew, niece and extended family and friends. Hammie' Funeral Service took place in Bailieborough Parish Church on Wednesday, February 20th, with burial afterwards in the adjoining graveyard.
Women's World Day of Prayer:
The Annual Women's World Day of Prayer will be held in Corglass Presbyterian Church on Friday next, March 1st. at 8.00pm. The Speaker will be the Reverend Tanya Woods. Everyone welcome.
.
Bridge:
Bridge lessons for beginners takes place in the Hotel Bailie, Bailieborough, at 7.30pm, each Monday night.
Senior's Bridge takes place every Tuesday evening at 7.30pm, in the Hotel Bailie. Everybody welcome.
Bailieboro Celtic A.F.C.:
The Club are starting a girls' team from Saturday next, 2nd of March. Training will take place at the Vale Grounds on Saturdays from 3-4pm for girls born between 2006 to 2011. All welcome.
Bailieborough Group of Parishes:
Wednesday 27th February: ALPHA Course – Bailie Hotel 8.00 -9:30pm.
Sunday 3rd March: Bailieborough 10:45am – Holy Communion and Sunday Club followed by tea and coffee.
Knockbride 12noon – Morning Prayer and Sunday Club.
Wednesday 6th March: ALPHA Course – Bailie Hotel 8.00 -9:30pm.
Friday 8th March: FOCUS Youth Group 8.00-10:30pm in Trinity Hall.
Mondays (during term time): Badminton, Bailieborough Hall; 7-8pm for primary students, 8-9pm for secondary students.
Bailieborough Tidy Towns:
Reduce waste…. Buy a reusable blue coffee cup in Bailie Stores. Ideal present for Cavan supporters and coffee lovers…Only €5…all proceeds go to the Tidy Towns.
Vintage Tractor and Honda Run:
A Vintage Tractor and Honda Run in aid of St. Brigid's N.S, Tunnyduff will take place on Sunday next, 3rd March commencing at Tunnyduff Hall, Bailieborough.
Registration will take place at the hall from 12-1, with the Run starting at 1.30pm. There will also be a raffle on the day. All welcome and all support greatly appreciated.
Spanish with Lydia:
'Spanish with Lydia' takes place at the Bailieborough Business Centre, Shercock Road (beside the playground). New lessons for adults and school children of all ages, starting soon. Places available on Tuesdays and Wednesdays. For more information, please contact Lydia at 087 741 4735.
Cavan Institute:
Cavan Institute are holding an 'Open Day' on Thursday, February 28th from 9.30am to 3.00pm, at the Cathedral Road Campus. This is an ideal opportunity for prospective applicants to sample the wide range of courses and facilities on offer, to chat to staff, find out about the Further Education Sector and discuss the many options available to school leavers and adult learners.
St. Brigid's N.S. Tunnyduff: Enrolment:
Enrolments are now being taken for St. Brigid's N.S. Tunnyduff for September 2019. Please telephone the school at 042 9660368 for an enrolment pack.
Closing date for enrolment is this Friday, 1st March 2019.
Bailieborough Community Bowls:
Bailieborough Community Bowls continues every Wednesday evening at 8.00pm, in the Community Centre, Chapel Road. New members most welcome with free tuition for beginners.
Walk, Jog, Run or Crawl!
Run, walk, crawl or jog every Monday and Wednesday evenings at the Community Centre, Chapel Road, Bailieborough at 8pm. It's free!!!! And there is no catch! All newcomers welcome. Also the Saturday morning Leisure Group Cycle is back for 2019 and takes place on Saturday mornings leaving from the Community Centre, Bailieborough AT 9.00AM. Please bring euros for coffee stop and all welcome.
Citizen's Information:
The service takes place every Tuesday from 1.30pm to 2.30pm in the Library— providing information, advice and advocacy supports to everyone on Social welfare, employment, Pensions, Health, Tax etc. No appointment necessary.
Bailieborough 'Lend A Hand':
'Lend a Hand' is for the elderly and vulnerable in the Bailieborough area. Just give us a call if you need a job done, or even just a chat. Phone Ann on 042 9694825.
Bailieborough Business Centre:
Excel Level 4, Tuesdays 10 – 1pm.
Computers for Beginners, Level 2 Wednesdays.
Word Level 4, Thursdays 10-1pm.
Safe pass. Call 042-96 94 716/ 087– 619 0040 for further information.
Baptism Dates in St. Annes for March, April and May 2019:
The following are the available dates for Baptisms in St. Anne's Church–March 3rd (Sunday, 12.30pm), March 24th (Sunday, 12.30pm), April 6th (Saturday, 1.30pm), April 20th (Saturday, 9.00pm), April 28th (Sunday, 12.30pm), My 12th (Sunday,12.30pm) and May 26th (Sunday, 12.30pm).
Bailieborough Library:
The next meeting of the Bailieborough Book Club takes place on Thursday, March 7th from 6.30 – 7.30 PM. All are welcome.
Craft Group takes place every Friday from 10.30am-1pm; Book Club 6pm-7pm on the last Thursday of every month; Lit Lab writers group every second Tuesday. Contact 042 9665779 for details on any of the above.
Bailieborough Cancer Comfort Ltd:
The Bailieborough Cancer Comfort Ltd Committee is available to help cancer patients or their families. Free Taxi service available. For further information, contact: Edel Fox 086 1004030.
Alcoholics Anonymous:
Local meetings of Alcoholics Anonymous are held in: The Health Centre, Kells Road on Wednesdays at 8.30pm.
East Cavan Gaels GAA Club – Hurling News 25th February 2019
Under 7/9/11;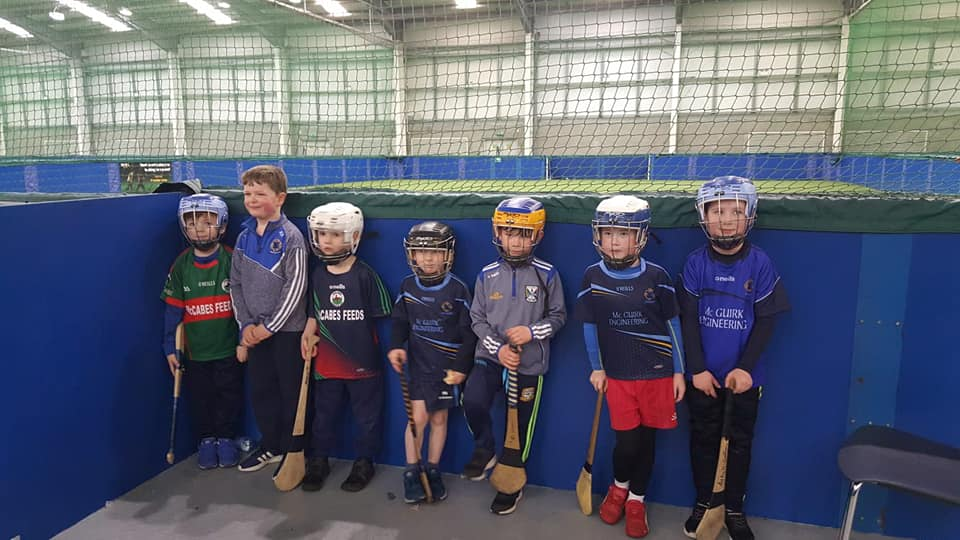 Sunday U7s in Dundalk. Great craic!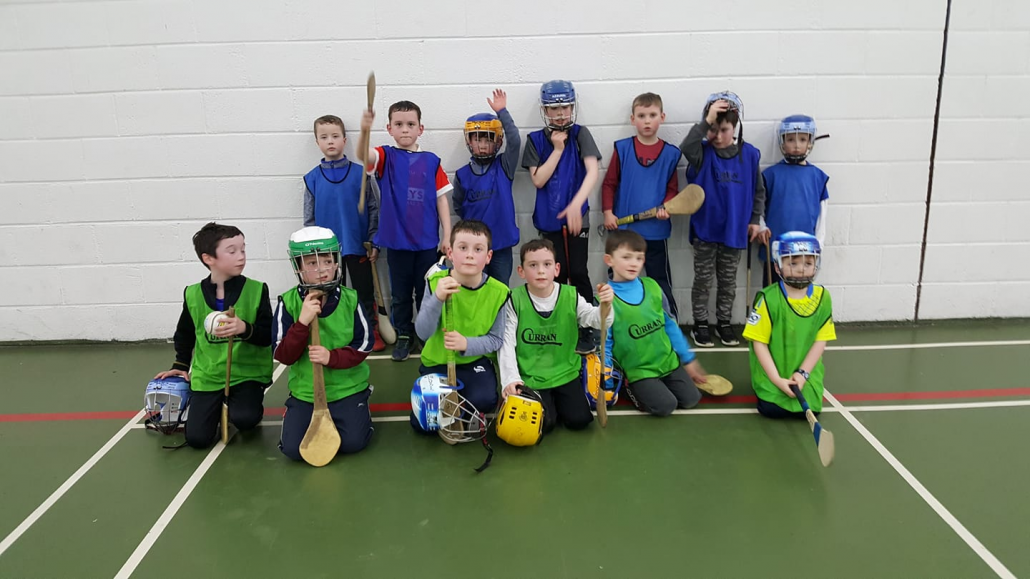 Fridays U7/9s after training.
Under 7/9/11;
Good training on Friday and the U7s had their final blitz in Dundalk on Sunday. Training again this Friday and the U9s have their final blitz in Dundalk on Sunday next. Registration continues until we get all registered.
U13/15/17;
Player registration MUST be done this week.
Club training will be on Tuesdays for the next month to facilitate local football clubs and our lads at county training on Mondays. Training will be at Kingscourt Harps astro pitch and we thank them for the use of their facilities. Training will return to hurling day of Monday at the end of March. U15/17 with the County squad are to be in Breffni 3G for 7pm start on Monday.
Club Senior;
Senior training on this Thursday at 8 on the astro at the Vale. New players always very welcome.
Cavan Senior;
Jack Barry made his starting debut for Cavan in midfield v Longford in the NHL on Sunday. Cian McEntee will make his debut soon! The next round is away to Fermanagh in Lisbellaw on Sunday at 1pm.
The week ahead;
Thursday; Senior training at 8 at the Vale astro.
Friday; Indoor training in the Community School Sports Hall, Bailieborough. U7/9 from 6-7pm and U11 from 7-8pm. €3 each and the water bottle please.
Sunday; U9s in DKIT blitz Dundalk 10-12pm. Cavan NHL away to Fermanagh, Lisbellaw 1pm.
Club contacts;
U7/9/11; Willie Gaughan 086 164 9280.
U13/15/17/Senior; Kathryn O' Flynn 087 244 1371.
http://bailieborough.com/wp-content/uploads/2015/09/bborocomlogo2015-300x130.png
0
0
Lee McDonnell
http://bailieborough.com/wp-content/uploads/2015/09/bborocomlogo2015-300x130.png
Lee McDonnell
2019-02-27 13:02:53
2019-02-27 13:02:57
Bailieborough News. February 25th 2019. Matthew J. Cullen.