Bailieborough Drama Group:
The All-Ireland One-Act Drama Finals were held last weekend in Kilmuckridge. Co. Wexford.
Bailieborough Drama Group won 3rd prize overall in the confined section. Liz O'Hanlon also won Best Performer in the confined section. The group was nominated for 'Best Moment of Theatre' for the 'killing of Kathleen by Top Dog' – this award being won by our neighbours Sillan Players of Shercock and the play itself 'Smile Handsome' was highly commended for Best New Writing by Liz.
The group would like to thank everyone involved in the show as well as everyone who supported the group in any way over the last few months. The dedicated of time and effort is huge but has certainly paid off for the group.
Christmas Mass and Confessions for St. Anne's:
Bailieborough: Christmas Eve Mass: Monday, 6.00pm (Children's Mass), and 12am (Midnight Mass). Christmas Day—Tuesday, 10.00am. The 6pm Mass on Christmas Eve is primarily for children and young families—please expect movement and noise during the Service.
Killann: Christmas Eve Mass on Monday at 8.00pm and Christmas Day Mass on Tuesday at 10.00am.
Shercock: Christmas Eve Mass on Monday at 10.00pm and Christmas Day Mass on Tuesday at 11.30am.
Confessions: Bailieborough: Sunday evening, December 16th at 7.00pm—Reconciliation Service and Monday, December 24th from 12 noon to 3.00pm. Shercock: Thursday, December 20th from 6.30pm.
Thank You:
Thank You to everyone who supported the Charity Sale in aid of the Saint Vincent De Paul in the Community Centre on Sunday week last.
Bailieborough Group of Parishes: Services:
Bailieborough Parish Carol Service: Our annual Carol Service takes place this Sunday 16th at 7pm in Bailieborough Church. This service is open to people from across the community so why not come along and join us as we journey through the Christmas story through song, scripture and prayer?  All welcome.
Sunday 16th December: Knockbride 10:30am – Carols for All.
Bailieborough 7pm – Traditional Carol Service.
Sunday 23rd December: Bailieborough 10:45am – All-Age Service followed by tea and coffee.
Knockbride 12noon – Morning Prayer and Sunday Club.
Tuesday 25th December – Christmas Day:
Bailieborough 10am – Christmas Communion.
Knockbride 10:30am – Christmas Communion.
Mondays (during term time):
 Badminton, Bailieborough Church of Ireland Hall; 7-8pm for primary students, 8-9pm for secondary students.
Deepest Sympathy:
Deepest Sympathy is extended to wife Therese, son Finbarr, daughters Jacinta and Treasa, grandchildren, daughter-in-law, sons-in-law, sisters, brothers-in-law, sister-in-law, family and wide circle of friends on the death of Basil Quigley, Lisnalee, Bailieborough, Co. Cavan, who passed away peacefully at St. Christopher's Hospice, Cavan on Wednesday, November 28th. Basil's Funeral Mass took place on Friday, November 30th in St. Anne's Church, Bailieborough with burial afterwards in St. Anne's Cemetery, Bailieborough.
Presbyterian Church Services in the locality this December: 
Bailieborough:
Sunday 16th December at 3pm in Trinity – Carol Service.
Christmas Day Service at 10.30 am in Corglass.
Cootehill Presbyterian Church:
Sunday 16th December 11.15am: All Age Christmas Family Service.
Thursday, 20th December at 7.30pm Carols by Candlelight followed by refreshments.
Tuesday, 25th December at 11am Christmas Day Service.
St. Anne's National School:
St. Anne's N.S., Senior Pupils present 'Carols by Candlelight' in St. Anne's Church, Bailieborough on this Thursday, December 13th at 7.00pm and also, the St. Anne's Junior pupils present, the Baa-rilliant Nativity Musical: 'Hey Ewe' in St. Anne's Church on Tuesday, December 18th at 7.00pm. Everyone is most welcome to attend. Voluntary contributions on the night in aid of Cancer Care Fund.
Bridge:
Bridge Results for Tuesday 20th  November.
The Bee O'Reilly cup won by Sean Kelleher and Patsy Corcoran.
Tuesday, 4th December: First: Anne Brady and Gemma McCabe,
Second: Rose Brennan and Stella McElherron. Best Gross: Teresa O' Reilly and Una Stafford. Third: Helen Clarke and Maresa Liggan.
Bridge lessons for beginners will take place in Hotel Bailie, Bailieborough, at 7.30pm, each Monday night. Everybody welcome.
Deepest Sympathy:
Deepest Sympathy is extended to wife Mary, daughters Niamh and Aideen, sons-in-law Stephen and Podge, sisters Helen and Lua, grandchildren Cora and Sarah, brothers-in-law, sisters-in-law, nephews, nieces and extended family and friends on the death of Donal Lynch, Glenbeg, Lisnalea, Bailieborough, Co. Cavan and formerly, Bray, Co. Wicklow, who passed away peacefully, in Cavan General Hospital on Saturday, December 1st, 2018. Donal's Funeral Mass took place in St Anne's Church, Bailieborough on Wednesday, December 5th with burial afterwards in St Anne's Cemetery.
Cake Sale:
A 'Cake Sale' in aid of Feilieacain will take place in Bailieborough Community Centre on Sunday morning next, December 16th from 10.00am to 12 noon. Feilieacain Christmas Cards, calendars and other merchandise, will be available on the day. All donations of baked goods, greatly appreciated. Contact Eileen at 086 8821 640 for further information or to get Christmas Card packs before then.
Dhuish Group Water Co-op:
Due to annual maintenance of our water mains there may be some disruption to the water supply. It is our intension to keep disruption to the minimum. Maintenance will take place until Thursday, 20th December.
Congratulations and Well Done:
Congratulations and well done to Bailieborough Shamrocks players, Mary Bishop (nee Gorman) and Andrea O' Reilly on been selected on the Cavan Club All Stars Team. Andrea O' Reilly also won the Intermediate Player of the Year Award at the All Star presentations in the Crover House Hotel on Saturday night last.
Also congratulations and well done to ex Bailieborough Shamrocks Girl, Grace Reilly on winning the All Ireland Intermediate Club Championship Final last night with her Clontarf GAA Club.
Bailieborough School of Music:
The Bailieborough School of Music Senior Band will have their Christmas Concert in the Community School on Saturday, December 15th at 2.30pm. All welcome and admission is free.
Lotto results for 08-12-2018.  Numbers Drawn; 5, 20, 26, 28.  No Jackpot Winner, Lucky Dip (€25) Winners; Rosemarie Cooney; Philip McEntee; John Reilly; Tom Gray. Jackpot next week, €2,200.
Bambinelli Sunday:
Next Saturday and Sunday (15th and 16th), at the 7.00pm and 10.00am Masses in St. Anne's, children and adults are asked to bring their baby Jesus figures (Bambinelli0 from the Crib at their homes to be blessed. One suggestion is to take your 'Bambinelli' home after the Blessing and place it in a gift box, wrap it and save it for Christmas. Let this be the first gift your family opens on Christmas morning, when together you place your Baby Jesus figure in the Crib.
Bailieborough Shamrocks: Annual General Meeting:
Bailieborough Shamrocks GAA AGM took place last Saturday night 8th of December 2018. Our new elected officers for 2019 are:
President – Pat Clarke
Vice Presidents – Fr. Router, Paddy Matthews, Paddy Kelly, Benny Clarke and Rita Clarke.
Chairman – Paddy McDonald,
Vice Chairman – Brian Keegan,
Secretary – Mark Gilsenan,
Assistant Secretary – Kevin McIntyre,
Treasurer – Gary Daly,
Assistant Treasurer – Eddie Cooney,
Registrar – Cathal Sheridan,
PRO – Gavin Mackey,
Coaching Officer – Shane Lynch,
Development Officer – David Coleman,
Insurance Officer – Gary Heaney,
Youth Officer – Finbarr Clarke,
Irish Officer – Paudge Farrelly,
Children's Officer – Orla O' Sullivan.
Health and Wellbeing Officer – Michael Kearney.
Players Representative – Gary Daly.
Eddie Cooney stepped down from his position as Club Treasurer after 3 years. Eddie done marvellous work keeping the Club Finances in check over the 3 years and in the last 12 months he oversaw huge development works, namely our State of the Art Astro Turf Facility and new Ball Stop Nets around the training field. Eddie ensured all these works were completed with just a €20,000 loan. Amazing effort by Eddie. The Club would like to thank Eddie all for all the work he has done in the club. Gary Daly has come on board as our new Club Treasurer. It's great to see a member of our Senior Team getting involved in the administration side of the GAA Club and we wish Gary well. We would like to thank all Manager's, Parents, Supporters, Committee and volunteers who helped out this past year and we look forward to seeing everyone again in 2019.
'Darkness into Light':
It was confirmed last week that Bailieborough will be a venue for the 'Darkness into Light' walk/run in 2019. Here's looking forward to May 11th. Notifications of route etc. will follow.
Citizen's Information:
The service continues on every Tuesday, at 1.30pm in the Library— providing information, advice and advocacy supports to everyone on Social welfare, employment, Pensions, Health, Tax etc.  No appointment necessary.
Bailieborough 'Lend A Hand':
'Lend a Hand' is for the elderly and vulnerable in the Bailieborough area. Just give us a call if you need a job done, or even just a chat. Phone Ann on 042 9694825.
Congratulations:
Congratulations to Stephen Gormley (Greagharue) and Edel Donnelly (Moylett), who were married in St. Anne's Church on Friday last and Keara Clarke (Drumanespic) and Tom Burke (Glenamaddy, Co. Galway), who were married in St. Anne's on Saturday last. Best wishes to all.
Bailieborough Business Centre:
Classes: Beginners Computer,
Improvers Computers, Mondays 7pm to 10pm.
Spreadsheets, Tuesdays, 10am to 1pm.
Word, Thursdays, 10am to 1pm.
Christmas Day Swim:
This year is the 25th Christmas Day Swim in Bailieborough Town Lake. Over the years, many groups have benefitted from the proceeds collected. This year's proceeds will go to the local Senior Citizens Day Centre Group. We are hoping that some of those who previously took part in the swim will return to celebrate the 25th along with many new swimmers. For further information, please contact Brendan at 0872758890.
St. Felim's N.S., The Vale:
The Parents Association are organising the Christmas Draw for the school. The Draw will take place on Tuesday, December 18th. Tickets are on sale now and are available from 'Bubbles' and Sandra's Shop (beside the Foundry).
Beginners Yoga in Bailieborough Leisure Centre:
Every Saturday from 9.30am to 10.30am. Bring a Yoga mat and an open mind. Wear comfortable clothing. Contact Darren Clarke 086 846 9581 or darrenclarke@campue.ie for further information.
Bailieborough Indoor Bowls:
Indoor Bowls continues on Wednesdays, at 8.00pm, in the Community Centre. New members are always most welcome.
Baptism Dates in St. Annes for December 2018 and January 2019:
The following are the available dates for Baptisms in St. Anne's Church–December 15th (Saturday 1.30pm), December 23rd (Sunday. 12.30pm), January 13th (Sunday, 12.30pm) and January 26th (Saturday, 1.30pm).
Bailieborough Library:
 Craft Group every Friday 10.30am-1pm; Book Club 6pm-7pm last Thursday of every month; Lit Lab writers group every second Tuesday. Contact 042 9665779 for details on any of the above.
East Cavan Gaels GAA Club – Hurling News 10th December 2018
Under 7/9/11; One more week and we are done for the holidays. Thursday in Kingscourt and Friday in Bailieborough. Lots of new hurlers this year which is very positive.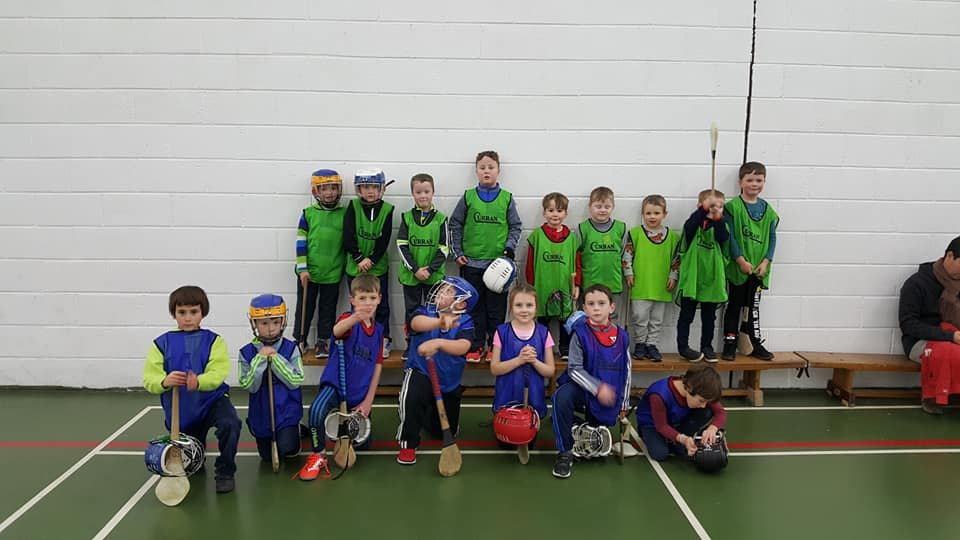 Above; Fridays U7/9 group in Bailieborough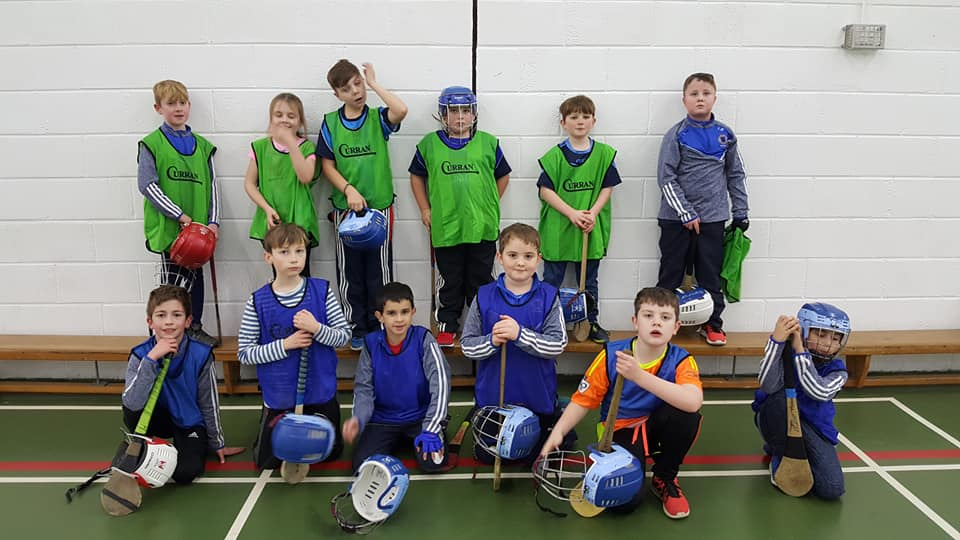 Above; Fridays U11 group in Bailieborough.
Under 13/14/15/17/Senior; All these lads now finished for 2018 and we look forward to 2019 with confidence of more silverware. Planning well underway.
The week ahead;
Thursday; Indoor hurling in Kingscourt Community centre U7/9/11 7-8pm.
Friday; Indoor hurling in Bailieborough Community School Sports Hall. U7/9 from 6-7 and U11 from 7-8. €3 each and water bottle also.
Club contacts;
U7/9/11; Willie Gaughan 086 164 9280.
U13/15/17/Senior; Kathryn O' Flynn 087 244 1371.
Quiz:
Knocktemple NS are holding a Quiz Night Fundraiser in aid of ICT Equipment for our school in the Ramor Inn, Munterconnaught this Friday 14th December 2018 at 9.30pm, please support!
Christmas Lights Vehicle Parade in aid of the Vincey McGee Benefit Fund, Kevin Bell Repatriation Trust and Aisling Brady:
Sunday 16th December at 4.30pm in Cavan Town. All types of vehicles Lorries, Cars, Tractors, Vans etc. welcome. Entry Fee €20 per vehicle. Registration from 1pm at the Equestrian Centre. Refreshments and entertainment. Lighting up of Remembrance Tree at 5.30pm at the Courthouse, Cavan (find us on Facebook). All welcome.
Bailieborough Cancer Comfort Ltd:
The Bailieborough Cancer Comfort Ltd Committee is available to help cancer patients or their families. Free Taxi service available. For further information, contact: Michael Cullen 087 154 2447 or Edel Fox 086 1004030.
Alcoholics Anonymous:
Local meetings of Alcoholics Anonymous are held in: The Health Centre, Kells Road on Wednesdays at 8.30pm.
http://bailieborough.com/wp-content/uploads/2015/09/bborocomlogo2015-300x130.png
0
0
Lee McDonnell
http://bailieborough.com/wp-content/uploads/2015/09/bborocomlogo2015-300x130.png
Lee McDonnell
2018-12-12 13:18:34
2018-12-12 13:18:34
Bailieborough News. December 10th 2018. Matthew J. Cullen.