New Pedestrian Crossings:
Works are well underway for the new pedestrian crossings on the Virginia Road and the Cavan Road in which will provide safe access to the local national schools and secondary school. These works are funded through Clár Funding. Works on the Cavan Road will be completed within two weeks and the lighting on the pedestrian crossing on the Virginia road will be installed as soon as possible.
Bailieborough Poetry Festival:
Bailieborough Poetry Festival details are online now.
A great line-up of poets from Ireland, the UK and the USA, including Noel Monahan, Patrick Chapman and Gerard Smyth, American poet Linda Opyr and Emily Wills from the UK.
The festival takes place from Thursday, 5th to Saturday 7th October 2017.
Full details here: http://www.bailieboroughpoetry.com/poetry-festival/
Details of the poetry competition are also online. Judge this year is Patrick Chapman and the closing date is Friday next, 1st September.
http://www.bailieboroughpoetry.com/2017-poetry-prize/
Blessing of the Graves:
The Annual Blessing of the Graves will take place in St. Anne's Cemetery on Sunday next, September 3rd at the earlier time of 12 noon (please note change of time). Each family is asked to bring along a small container of water, which will be blessed during the service. This water will be sprinkled by a family member on the grave before the recitation of the Rosary.
All Church stewards are asked to assist with parking and report to the carpark at the Cemetery by 10.45am. Those attending are kindly requested to follow the instructions of the stewards and to co-operate with them at all times.
Members of the Parish Pastoral Council will take up a collection for the upkeep of the Cemetery at various different locations before and after the ceremony.
Beckscourt Centre:
A Gardening Course will commence on Friday, the 8th of September at the Beckscourt Centre. Those interested should give the Centre a call on 0429694825.
New C.D. Release for Local Singer:
Local girl, Coralee Carolan has released her first CD entitled, "You're looking at Country ". Coralee is the daughter of Kevin and Gail Carolan, Pine Grove. We wish her success in this music career and the cds are available in local shops: Bailieborough –' Carry Out' and 'Wallers', Canningstown- Shop, Kingscourt- McCormack's Petrol Station and
Shercock- Sillan Fries.
New Bench:
All in the community would like to sincerely thank local business men Russell and Leslie Waller for donating a new bench at the Town Lake for the people of Bailieborough to enjoy. After vandals destroyed the old bench Michelle Monaghan-Weir contacted local County Councillor, Sarah O'Reilly to offer assistance from Russell and Leslie. Michelle and David painted the bench a fabulous duck egg green to match in with its beautiful surroundings at the Town Lake. We are very grateful to Leslie and Russell Waller Hardware, Cavan Road, Bailieborough for their very kind gesture and hope that the new bench will enjoy many years of longevity!
Moybologue Historical Society:
On Saturday morning next, September 2nd from 11am to 12.30pm, Research Archaeologist—Mary B. Timoney, MA, MIAI, will lead a walk through Mybologue Old Cemetery and will provide commentary on some of the interesting grave memorials along the way, followed by a talk in Bailieborough Library from 3.00pm to 4.00pm entitled 'Graveyards, Memorials and their Decoration: Moybologue and Elsewhere'. Refreshments served and all are most welcome.
Michael Benson Memorial Trophy- Annual 25 Card Game to be held in The Drop Inn, Killann on Saturday next, September 2nd at 9pm. This event is to raise money for much needed defibrillators for the East Knockbride area. Tickets are available at €10 – €500 cash prize on ticket raffle and plenty more spot prizes on the night. Come along for a great night.
FIRST COMMUNION AND CONFIRMATION PARENTS MEETING:
A meeting of all the parents of children in the parish receiving the sacraments of First Communion and Confirmation in the parish in 2018 will take place in St. Anne's Church, Bailieborough, on Thursday, September 14th, at 7.30pm.
VINCENT DEPAUL PILGRIMAGE TO KNOCK on Saturday, 9th September.  Bus leaving from the Community Centre at 8.30am.  Booking with €15 bus fare in Vincent's Shop, Main Street by Saturday, 2nd September.
Safepass:
Safepass at Bailieborough Business Centre on September 8th at 8.00am.  Cost €100.00, please call 042-969-4716 to reserve your place.
Adoration:
Adoration of the Blessed Sacrament will return to St. Anne's Church today, Wednesday from 10.00am to 6.50pm and on Friday from 6.00pm to 7.50pm. Adoration will take place in the Children's Room until further notice. Many thanks to the Board, Principal and staff for allowing us to use the Community School Oratory since the end of June.
Pilates:
Pilates resumes in Bailieborough Leisure Centre on Wednesday, 6th September at 10am and Cormeen Sports Complex on Tuesday, 12th September at 10am. Classes also available at Cross, Mullagh.
Contact Julie 086 3283943, julie@cavanphysicaltherapy.com or FB  /JulieCarolanCavanPhysicalTherapy
Parish Youth Officers:
A meeting of all Youth Officers and people involved in working with young people in the Parish of Killann takes place in the Bailie Hotel on Wednesday, September 13th at 7.30pm. It is very important that all Youth Officers attend this meeting.
Bailieborough Walking Group: Wednesday, August 30th – Seeorum, Bailieborough:
(M) Walk 1 Hour 30 min. Departing Bailieborough Library at 6.45pm. Walk commencing at the home of Jennifer and Nigel Williamson, Duneena at 7.00pm. Located on the Bailieborough/ Cootehill (R191), 5km from Bailieborough and 5km from Canningstown.
Wednesday, September 6th – Castle Lake Bailieborough
(M) Walk 1 Hour 30 min. (E) Walk 1 Hour. Walk commences at 7.00pm at Bailieborough Business Centre, Shercock Rd., Bailieborough. This is the final walk of the season. All welcome.
SOSAD Outreach, Bailieborough:
SOSAD Cavan are happy to announce due to so many requests over the years, they are opening up for 2 afternoons (Tuesdays and Thursdays) in the Beckscourt Centre, Bailieborough. Please contact 083 040 4833 for further information. Appointment only.
"Spanish Coffee Mornings in Bailieborough":
"Spanish Coffee Mornings" Only a few places left on Tuesdays and Fridays. Lessons will start on Tuesday 12th of September from 10 to 11am and Friday 15th, from 10 to 11, both beginners. Price: 5 lessons €50. To enrol please contact Lydia on 0877414735.
Great Start:
The Bailieboro Celtic Senior 'A' side had a very convincing 8—3 win over Oldcastle Utd, on Friday evening last, at the Vale Grounds. Tommy Rogers, Jamie Fitzgerald, Conor Noone (4), Aaron Cundelan and Leon Garagan got the all-important goals in a thrilling game. A great early start to the season for this talented group of players.
Bailieborough School of Music:
Bailieborough School of Music are still accepting registration for music lessons for the coming school year, for further information contact, Ann 0877858509.
Lotto results for 26/08/17.  Numbers Drawn; 7, 8, 10, 20.  No Jackpot Winner, Lucky Dip (€25) Winners; Sarah O'Reilly, Lisnalea; Aoife Mulligan, Galbolie; Enda Sheridan, Galbolie; Garry Cosgrove, Drumeva. Jackpot next week, €1,200.
Tierworker Active Age:
Tierworker Active Age are going for a three day break, starting on Monday, September 4th to the Holyrood Hotel, Bundoran. For full details of events and to book, please contact Sheila at 087 248 7579 or Sean at 086 405 4000 for further details.
Baptism Dates in St. Annes for September, October and November 2017: The following are the available dates for Baptisms in St. Anne's Church–September 2nd (Saturday, 1.30pm) and September 10th (Sunday, 12.30pm), October 14th (Saturday, 1.30pm), October 22nd (Sunday, 12.0pm), November 11th (Saturday 1.30pm) and November 26th (Sunday 12.30pm).
Bailieborough Library: Everyday Irish – Tuesday evenings 3pm to 5pm
Beginner Conversational Irish Class for Adults who would like to learn the basics.
Ipads with Social Media for Beginners –   Wednesday afternoons 2.15pm-4pm. This course will help those wanting to get to grips with Social Media using IPADs.  (IPADS are provided). Contact:042 9665779 or
email: fburke@cavancoco.ie
Bailieborough Library Parent, Baby and Toddler Group has proven to be a vital life line for all stay-at-home parents who may be new to the area and wish to get out of the house and make new friends. There is a huge range of toys for children to play with, while parents can enjoy a cup of tea and chat.
The group meets at the Library Arts space every Wednesday at 10.30am-12pm. Why not join their Facebook Group and keep up to date with news and events.
Citizens Information every Tuesday 1.30pm-2.30pm on a first come first served basis; Craft Group every Friday 10.30am-1pm; Book Club 6pm-7pm last Thursday of every month; Lit Lab writers group every second Tuesday. Contact 042 9665779 for details on any of the above.
Cavan and Monaghan Education and Training Board, Adult Education and Training Centre, Ballyjamesduff, Co. Cavan
Part time Adult Education Courses – FREE to Eligible Participants.
OPEN DAY – Wednesday 6th September – 10.00am to 8pm.
Come along and discover our wide range of courses.
This OPEN Day covers, Ballyjamesduff, Bailieborough, Kingscourt and Cootehill.
Contact Regina Clarke, reginiaclarke@cmetb.ie 049 8553528 for further information.
East Cavan Gaels GAA Club – Hurling News 28th August 2017.
Under 6/8/10; Training will resume on September 7th In Kingscourt and September 8th in Bailieborough. More info next week.
Under 12; The 12s take a deserved break as they now prepare for the Cavan U12 Championship.
Under 16; We are due another round of the Ulster league and the Cavan Championship.
Minor; No games this week.
Inter county; Well done to the ECG contingent in the South Ulster squad who won the All Ireland U14 Shield v Monaghan in Cloghan on Saturday last. Players from ECG, Cootehill, Annalee, Castlerahan and Ballymachugh did their club and county proud with some assured displays. Well done lads.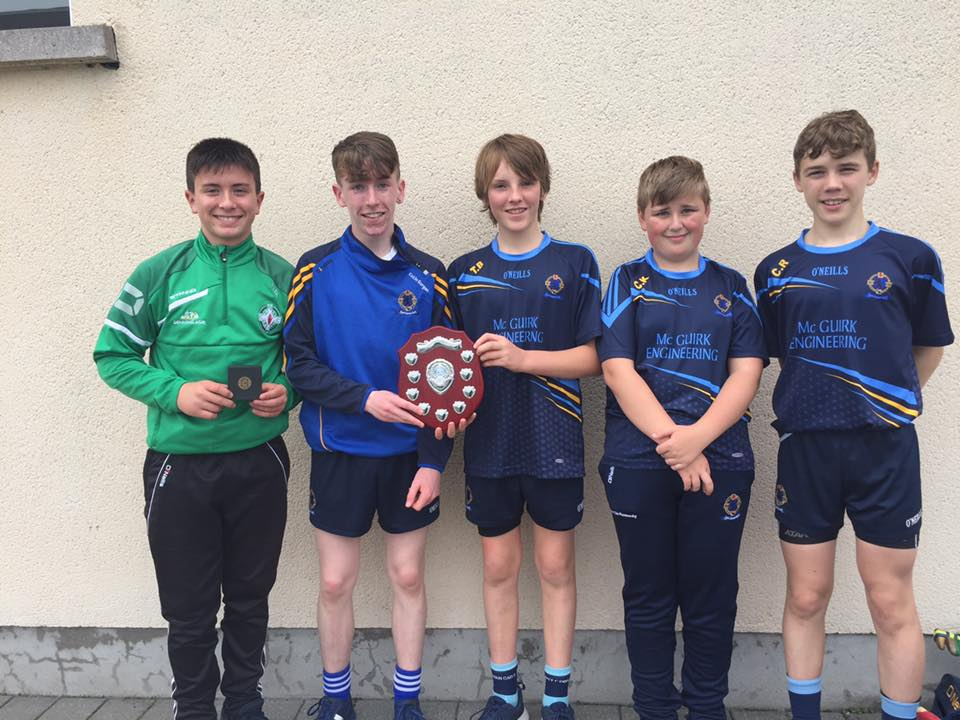 Above; Colin, Tadhg, Charlie and Conor after winning the Shield for South Ulster on Saturday last in Cloghan.
Training times; U12/14/16/18;
All training at BCS pitch Wednesday 7pm.
Players will receive a text.
The week ahead; Wednesday; U14/16/18 training at BCS pitch 7pm.
Midweek updates on our Facebook page- East Cavan Gaels Hurling.
Bailieborough Cancer Comfort Ltd: The Bailieborough Cancer Comfort Ltd Committee is available to help cancer patients or their families. Free Taxi service available. For further information contact: Michael Cullen 087 154 2447 or Edel Fox 086 1004030.
CITIZENS INFORMATION: Co. Cavan Citizens Information Outreach Service in Bailieboro (The Library) on Tuesdays, from 1.30pm – 2.30pm. This is a weekly service.  Any enquiries 076 1075200.
Alcoholics Anonymous: Local meetings of Alcoholics Anonymous are held in: The Health Centre, Kells Road on Wednesdays at 8.30pm.
http://bailieborough.com/wp-content/uploads/2015/09/bborocomlogo2015-300x130.png
0
0
Lee McDonnell
http://bailieborough.com/wp-content/uploads/2015/09/bborocomlogo2015-300x130.png
Lee McDonnell
2017-08-30 15:45:55
2017-08-30 15:45:55
Bailieborough News. August 28th 2017. Matthew J. Cullen.