Bailieborough News. August 11th 2016.  Matthew J. Cullen.
BAILIEBOROUGH CANCER COMFORT LTD
Forest Walk on Friday, 19th August, leaving Fox's, Main Street at 8pm.  Registration from 7.45pm €10.  Your support would be greatly appreciated.  Refreshments served. All welcome.
The Bailieborough Cancer Comfort Ltd Committee is available to help cancer patients or their families. Free Taxi service available. For further information contact: Michael Cullen 087 154 2447 or Edel Fox 086 1004030.
Knockbride Macra Na Feirme
Congratulations to Knockbride Macra Na Feírme for their presentation of 'Mr and Mrs 2016' held in the Bailie Hotel, last Saturday night. Well done to all the participants and to MC for the event, none other than Paddy Sheanon. It was a great event and all had a wonderful night. Most importantly, all proceeds are going to very worthy local charities. Well done to all the young people involved and here's looking forward to next year!
Social Dancing
Social Dancing takes place in the Community Centre on Saturday night next. Music is by Glen Flynn on keyboard and Moya Brennan on guitar. Both are talented singers. Another good night in store, with the usual refreshments. All welcome.
Muff Fair
Muff Fair takes place on Friday, 12th of August and copies of the booklets re Muff and Lough-an-Lae will again be available in Halls Shop, Main Street, Bailieborough and Theresa's Shop, Main Street, Kingscourt.
PARISH PILGRIMAGE – LOUGH DERG
This year's parish pilgrimage is to Lough Derg on Monday, 22nd August for a One Day Retreat (10am-4pm).  The cost of the day is €40.  This fee includes boat transfer, tea and scones on arrival and a light lunch.  If there is enough interest the parish will provide bus transport on the day.  To book a place please call or text Caroline 086 3817857 or Mella 083 8007054.
Baptism Preparation Meeting for Parents
Meeting next Thursday,11thAugust, in the Parish Centre (Parochial House beside Church) from 8pm to 9pm
All parents who are intending to have their child baptised are required to attend this meeting before finalising the
date. Parents are reminded to give at least one month's notice to 087‐ 4407990.
ST. VINCENT DEPAUL PILGRIMAGE TO KNOCK
On Saturday, 10th September.  Bus leaving from the Community Centre at 8.30am.  Booking with €15 bus fare in Vincent's Shop, Main Street by Friday, 2nd September.
Deepest Sympathy
Deepest Sympathy is extended to husband Tom, daughters Ailish and Kathleen, sisters Breda, Eileen, Ann and Marion, Brothers Mick, Jim and Jack, sisters-in-law, brothers-in-law, nieces, nephews, cousins, extended family and friends on the death of Mrs Olive McCabe (née Brislane)
Moylett, Bailieborough, Cavan on Monday, August 1st at the Mater Hospital, Dublin. Olive's Funeral Mass took place in St Mary's Church, Clanaphillip on Wednesday morning, August 3rd with burial afterwards in the adjoining cemetery.
Deepest Sympathy is extended to wife Bridget (nee Bradley), sons, Darren, Damian and Eugene and their partners John, Leona and Donna and grandchildren Luke, Ava and Zack on the death of Desmond (Dessie) McEneaney (formerly of Leiter, Bailieborough) at Cavan General Hospital on Tuesday, August 2nd, 2016. Dessie is also survived by his sisters and brother, Carmel Kealy, Beauparc, Navan, Kate Byrne, USA, Ann McGuinness, Glasnevin and Aidan McEneaney, Finglas, relatives, neighbours and many friends. Dessie's Funeral Mass took place in St. Killian's Church, Mullagh on Friday, August 5th with burial afterwards in Kentstown Cemetery, Navan.
Deepest Sympathy is extended to David Gorham and family, Monaghanoose, Bailieborough on the recent death of David's father, McDara (Mattie) Gorham, Aughnashannagh, Ballinalee, Longford on Friday, July 22nd. Mattie's Funeral Mass took place in The Holy Trinity Church, Ballinalee on Monday, July 25th with burial afterwards in St Colmcilles Cemetery, Aughnacliffe.
Cemetery Sunday
The Blessing of the Graves in St. Anne's Cemetery will take place on Sunday, September 4th at 2.00pm.
 Now would be the ideal time to look after the grave or a plot of a loved one in preparation for Cemetery Sunday.
Foroige Summer Camps
For young people aged 12-15 yrs taking place in Beckscourt Centre 15th – 17th August 10am – 4pm. Activities include team games, arts, sports and outdoor pursuits.
Cost 10euro pp. Family rates available. For more info contact Louise McPhillips 086 0481761.
Library
Education Guidance for all adults at the Library at 3pm on first Tuesday of each month. Free service run by ETB. Information on courses available, funding and grants.
Parent, Baby and Toddler group: Weekly meeting at Bailieborough Library.
Bailieborough Library Parent, Baby and Toddler Group has proven to be a vital life line for all stay-at-home parents who may be new to the area and wish to get out of the house and make new friends. There is a huge range of toys for children to play with, while parents can enjoy a cup of tea and chat.
The group meets at the Library Arts space every Wednesday at 10.30am-12pm. Why not join their Facebook Group and keep up to date with news and events.
Citizens Information every Tuesday 1.30pm-2.30pm on a first come first served basis; Craft Group every Friday 10.30am-1pm; Book Club 6pm-7pm last Thursday of every month; Lit Lab writers group every second Tuesday. Contact 042 9665779 for details on any of the above.
Co. Cavan Citizens Information Outreach Service in Bailieboro (The Library) on Tuesdays, from 1.30pm – 2.30pm. This is a weekly service.  Any enquiries 076 1075200.
'Well-Being' Workshop
A 'Well Being' Workshop will be held in Bailieborough Business Centre on Saturday, August 20th from 10.00am to 5.00pm. A day of positivity, fun and tips on caring for your Mental Health. Lunch will be served on the day. Suitable for everyone over the age of 13—special rate for teenagers. Contact Gloria at 086 607 6712 for further information
Bailieborough Walking Group
August 10th – Royal Canal Walk, Thomastown, Killucan
Walk 2 + hours (approx) Leaving Bailieborough Library at 6.30pm. Meet at Main Street, Delvin at 7.15pm. Walk commences at Thomastown at 7.30pm.
August 17th – Deerpark Virginia: (M) Walk 1 Hour 30 min. (E) Walk 1 Hour. Leaving Bailieborough Library at 6.50pm. Walk commences at 7.15pm at the lake shore beside Virginia College. All welcome.
Bailieborough 'Lend A Hand'
Bailieborough 'Lend A Hand' is still going strong for the elderly and vulnerable in the Bailieborough area. Just give us a call if you want any small jobs done or even just for a chat. Just give Ann a call at 042 9694825 from 9.00am to 2.00pm, Monday to Friday. We would love to hear from you!
COMPUTER TRAINING PROGRAMME
Places available on this course commencing late August/September – computer training programme designed to support people facing a long term barrier due to illness, disability or a personal setback to employment to re-train and re-enter the workforce.  Benefits to this programme include a work placement, training plan, personalized support and QQI Certification.  For more info ☎ Mary 049 4377038.
Classes and Services at Bailieborough Business Centre
Safe Pass: Safe Pass at Bailieborough Business Centre on Friday, August 19th. Cost €100 includes lunch. Call 042-969-4716 to book your place. Class sizes are limited.
Internet Safety for Parents. A 2 hour session for parents, guiding you through the various Apps and Social Media sites that children are accessing. Call 042-969-4716.
A4 Colour Copying and Printing available at Bailieborough Business Centre.
Bailieborough Shamrocks GAA
The Shamrocks Golf Society are running a 4 Person Team Event in Virginia Golf Club on the 16th and 17th September 2016 in aid of Bailieborough Cancer Comfort Ltd. Each and every one of us has had a family member, relation or friend who has had to battle cancer and we are just trying to raise money for this wonderful cause. If anyone would like to enter a team please contact 086 0532174. Cost of teams is €100. Or if you can't play and want to contribute we are offering tee box and green sponsorship at €50.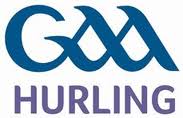 East Cavan Gaels GAA Club – Hurling News 8th August 2016
Hurling/Camogie Camp; Just over a week to go to our Hurling/Camogie Fun camp in Bailieborough Shamrocks GAA grounds. 9am-1.30 each day Tuesday, Wednesday and Thursday16/17/18th August. These camps get bigger and better with each passing year with this year's promising to be the biggest ever! First child €30, 2 children €50 and 3 children €60. Equipment supplied and all are very welcome from the entire East Cavan catchment area.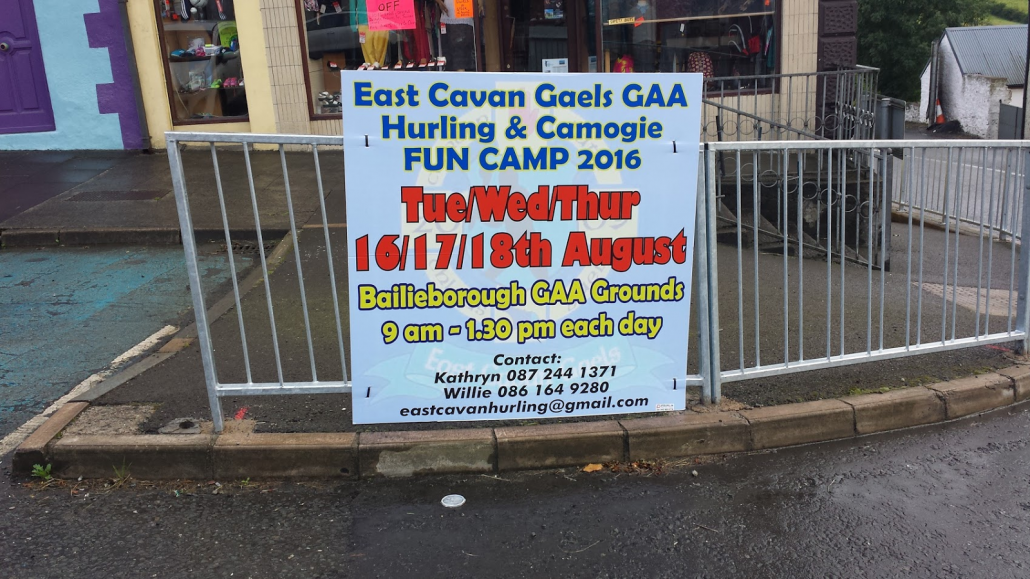 Under 6/8/10; Both the Kingscourt and Bailieborough training groups will return to training and games in the weeks following the camp. Watch this space.
Under 12/14; Training continues every Wednesday in St. Annes Park, Bailieborough GAA at 7.
The U14 Hurling Championship begins this week on Wednesday with a trip to defending champions Cootehill.
Under 16/18; The Under 16s went down to a very strong Naomh Moninne from Dundalk in the Ulster league on Wednesday last in what were monsoon like conditions in Bailieborough.
Our Minors travel to Cootehill this coming Wednesday in the Ulster league.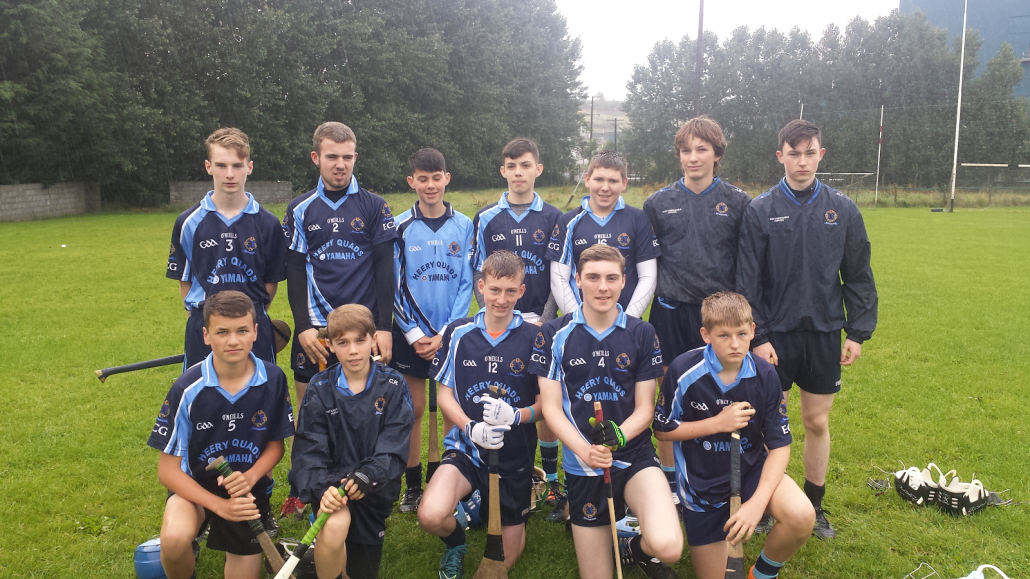 Hurling training times and venues;
Under 6/8/10; Kingscourt group; No training till end of August after the camp.
Bailieborough group U6/8/10; No training till the end of August after the camp.
For all U8/10 information contact Willie Gaughan 086 164 9280.
Under 12/14/16/18; Training for all ages from Under 12 to Under 18 on Wednesday 7pm at Bailieborough GAA grounds St.Annes Park.
For all U12-U18 information contact Kathryn O'Flynn 087 244 1371
Alcoholics Anonymous
Local meetings of Alcoholics Anonymous are held in: The Health Centre, Kells Road on Wednesdays at 8.30pm.
The Samaritans
The Samaritans have a new Freephone number: 116 123 for people who are struggling to cope.
The line is open and free 24 hours a day, 365 days of the year.
If any readers have items of interest to be included in the Bailieborough News, (Obituaries, News Items, Sports, etc…), please e-mail: mattie42@eircom.net or call 042 9666200.
.
http://bailieborough.com/wp-content/uploads/2015/09/bborocomlogo2015-300x130.png
0
0
Colette
http://bailieborough.com/wp-content/uploads/2015/09/bborocomlogo2015-300x130.png
Colette
2016-08-11 09:30:59
2016-08-11 15:35:22
Bailieborough News. August 11th 2016.