Bailieborough Heritage Society:
Bailieborough Heritage Society Presents 'Killann and the Parishes of East Cavan 1400-1800', a lecture by Fr Liam Kelly at Bailieborough Library, Market Square, Bailieborough on Thursday, April 19th, 2018 at 7.30pm. Everyone is welcome to this FREE event and refreshments will be served! Enquiries to 042 9665779.
Bailieborough Red Cross:
Congratulations to our Unit Officer Peter McCabe who has been short listed for Unit Officer of the Year.
The Over- all winner will be announced at the Irish Red Cross Volunteer of the Year Awards on Saturday 28th April in Croke Park.
Best wishes to Peter from all in the community.
Bailieborough Tidy Towns:
The Annual 'Spring Clean' will take place in the town on Saturday, April 28th 2018. Meet at Market Square at 11 am.
Bring a litter picker and wear a high viz jacket. Children under twelve must be accompanied by an adult. Join us and help keep out town tidy.
Reduce waste and keep Cavan tidy by investing in a reusable blue coffee cup with Cavan logo. Ideal for coffee lovers and Cavan fans. This cup is for sale in Daybreak on Barrack Street and is also available in Bailie Stores. All proceeds go towards the local Tidy Towns.
Photographic Exhibition:
'An Essence of Presence' a photographic exhibition by Suella Holland, depicting Forsaken Ireland, now open at the Library until the end of May. All welcome.
St. Felim's N.S. First Confession:
First Confession for the students in 2nd class in St. Felim's will take place in St. Anne's Church on Thursday, April 19th at 7.00pm. (Please note the change of time).
Birdwatch Ireland:
We will hold our AGM in the Hotel Kilmore on Thursday, 26th April at 8.30 p.m. We would love to see some new faces (as well as the old familiar ones!) this year. It is important to have a strong committee so that we can plan events and cater for the interests of our branch as best we can. Hope to see you there! All welcome.
BAILIEBORO CANCER COMFORT LTD:
We wish to thank everyone who supported our recent Quiz Night and are pleased to confirm that €864 was raised on the night. Sincere thanks for your continued support.
Bailieborough Heritage Society were amongst 4 groups that were short listed in the Communities Award at the Heritage Society Awards. Sadly, we did not win, however, congratulations to the winner and to the staff involved in Heritage Week. Our project was a lovely one and we got great feedback from the community and the staff from Heritage Week. We are now working on this year's events and if anyone would like to get involved, they are more than welcome. New members always welcome to the Heritage Society, please contact 0872244159 for further information.
Bailieborough School of Music: Lotto results for 14-04-2018.
No Jackpot Winner, Lucky Dip (€25) Winners; Paddy Matthews, Yvonne and Paul Rooney,
Tyler Cadden and Margaret Carolan. Jackpot next week, €2,500.
Lough Derg 'One Day Retreat':
A Lough Derg 'One Day Retreat' will take place on Sunday, May 6th –organised by the St. Vincent DePaul Society. A bus will be leaving the Community Centre at 7.30am. To book a seat, please contact John at 086 055 4578 or Pat at 086 063 5856.
The Open Door Sessions:
Bailieborough's Arts and Music Gathering, taking place at 9.00pm on Friday next, 20th April, Downstairs at Nixy's, The Square Bar, Bailieborough.
Guests: Elly D (Singer/Songwriter), Carol O'Connor (Visual Artist) and Dean Maywood(Singer/Songwriter). Free admission (donations welcome). All welcome.
Church of Ireland Services: Sunday 22 April:
Mullagh 9:30am – Morning Prayer followed by tea and coffee.
Shercock 9:30am – All-Age Service.
Bailieborough 10:45am – All-Age Service, followed by tea and coffee.
Knockbride 12noon – Morning Prayer.
Friday 27 April: FOCUS Youth Group 8:30-10pm – Trinity Hall.
Sunday 29 April – United Service: Bailieborough 10:45am – All-Age Service.
Bailieborough Hall 11:45am – Parish Lunch and Ignite Vision and Mission Forum.
Mondays (during term time): Badminton, Bailieborough Hall; 7-8pm for primary students, 8-9pm for secondary students.
Computers for Beginners:
Computers for beginners afternoons or evenings Bailieborough Business Centre 042- 96 94 716.
Bailieborough Historical Society:
The Bailieborough Historical Society is planning an exhibition of artefacts manufactured in and related to Bailieborough's industrial past. This will take place during Heritage Week in August. If you have anything that you would like to exhibit, please contact either, Pat Fitzpatrick at 086 0635 856 or Leslie McKeague at 086 2588 488.
Evening Spanish lessons for Adults:
6 weeks of Spanish for Adults starting on Tuesday, 24th of April in Bailieborough Business Centre.
Lessons will be given by a Native Spanish Teacher.
Times: 7 – 8pm Beginners, and 8 -9pm high beginner and low intermediate.
Price: € 60 for the 6 lessons or €12 per lesson. For more information or to register please ring or message Lydia on 087 7414735.
Cavan Walking Festival:
As part of the Cavan Walking Festival, the Bailieborough Walking group will be hosting three walks. The first of these will take place on Saturday, May 5th around Bailieborough Forest. Distance covered will be 5k and participants are asked to meet at the Bailieborough Business Centre, Shercock Road at 11.00am.
The second Walk will be at Dun A Ri, Forest Park, Kingscourt on Tuesday, May 8th at 7.00pm. Please meet at Cabra Central School at 6.45pm and the distance of the Walk is also 5k.
The final walk will take place on Thursday, May 10th at Lough An Leagh.  Please meet at the Picnic Area at 6.45 pm. The Walk distance will be 10k and all are most welcome to attend.
Adult Irish Ceilí Dance classes:
A new term of Ceilí dance classes has commenced on Wednesdays at 8:45pm in Tierworker Hall. All new-comers welcome. For more information please contact Aishling Fox on (087) 9699235.
Killann Parish Pilgrimage to the World Meeting of Families:
This year's Killann Parish Pilgrimage will be to the World Meeting of Families in the RDS, Ballsbridge, Dublin on Thursday, August 23rd. A bus will be travelling to the RDS from Bailieborough and further details will be announced later. If, however you would like to book a place on the bus, please contact the Parish Office on Mondays and Thursdays from 10am to 3.30pm, Tuesdays from 12pm to 1.30pm and Fridays from 2pm to 6pm. Everyone going that day will also have to register online at www.worldmeeting2018.ie and buy a ticket online for the event. Adults-€38: Senior Citizens/Unemployed/Students over 18-€33; Children-Free –but must be registered with a family group. If you have difficulty doing this, please tell the Parish secretary and they will provide you with assistance. At present, tickets for the Papal Mass in the Phoenix Park on August 26th are dependent on registering for the World Meeting of Families during the previous week. It is hoped to organise a bus from Bailieborough on that day too.
Baptism Dates in St. Annes for May, June, July and August 2018:
The following are the available dates for Baptisms in St. Anne's Church–May 5th (Saturday 1.30pm), May 20th (Sunday, 12.30pm), June 10th (Sunday, 12.30pm), June 23rd (Saturday 1.30pm), July 7th (Saturday, 1.30pm), July 15th (Sunday, 12.30pm), August 11th (Saturday, 1.30pm) and August 19th (Sunday 12.30pm).
Bailieborough Community Bowls:
Bailieborough Community Bowls continues every Wednesday evening at 8.00pm, in the Community Centre, Chapel Road. New members most welcome with free tuition for beginners.
Bailieborough Library:
Everyday Irish – Tuesday evenings 3pm to 5pm
Beginner Conversational Irish Class for Adults who would like to learn the basics.
Bailieborough Library Parent, Baby and Toddler Group has proven to be a vital life line for all stay-at-home parents who may be new to the area and wish to get out of the house and make new friends. There is a huge range of toys for children to play with, while parents can enjoy a cup of tea and chat.
The group meets at the Library Arts space every Wednesday at 10.30am-12pm. Why not join their Facebook Group and keep up to date with news and events.
Citizens Information every Tuesday 1.30pm-2.30pm on a first come first served basis; Craft Group every Friday 10.30am-1pm; Book Club 6pm-7pm last Thursday of every month; Lit Lab writers group every second Tuesday. Contact 042 9665779 for details on any of the above.
East Cavan Gaels GAA Club – Hurling News 16th April 2018
Under 7/9/11; Under 9 blitz in Carrick next Sunday 11-12.30pm. Really good numbers at our new age grade training for Under 9s and U11s.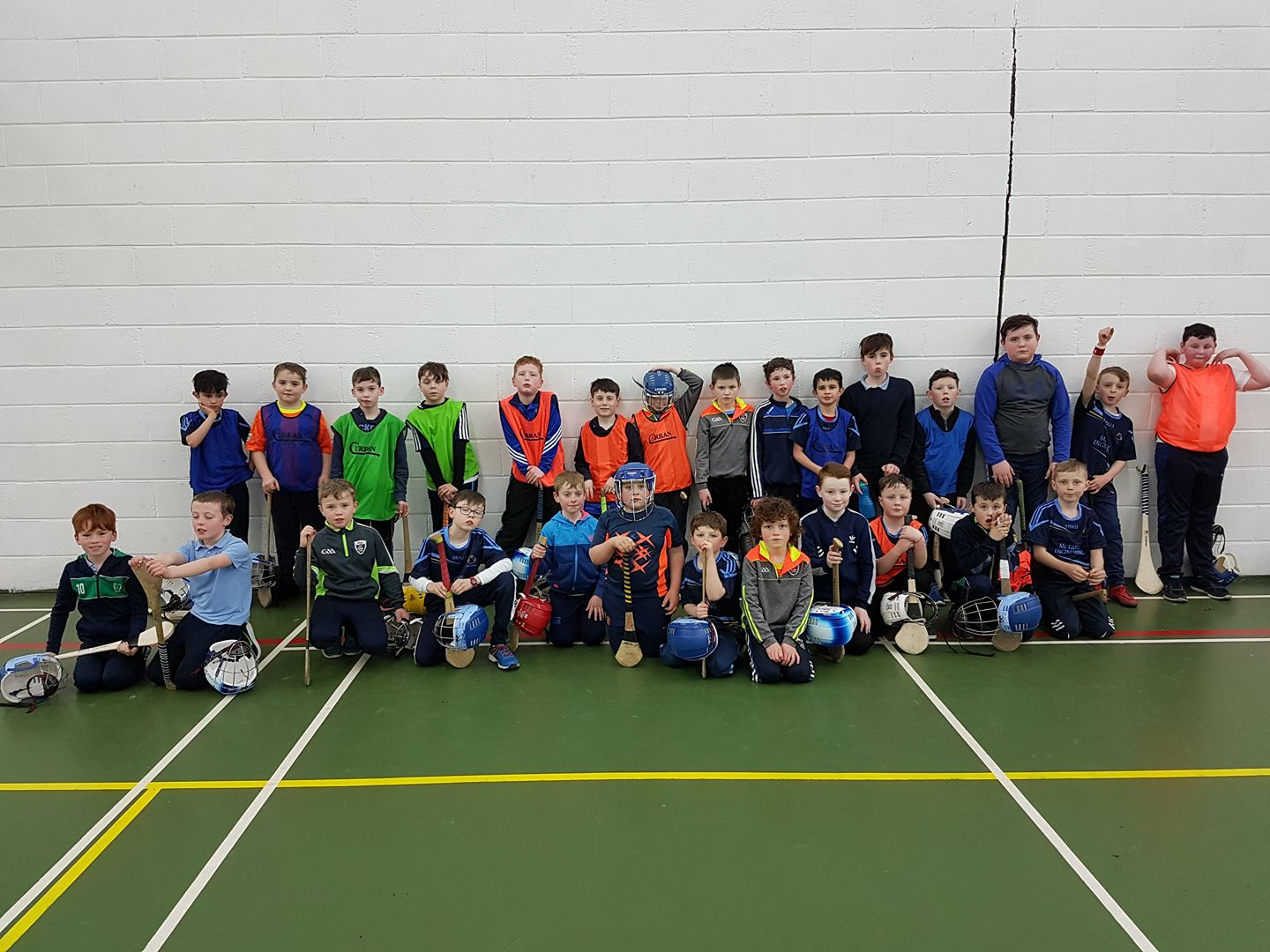 Fridays U9/11 training group in Bailieborough.
Under 13; A good win for the lads v Cootehill on Monday last in Kingscourt. Next up is the grading blitz for the new Tain Ulster GAA Under 13 competition in Cloghan next Saturday.
Feile U14; The lads will represent Cavan hurling at National Feile again this year. We will be based in the scenic area of Rosses Point in Sligo with host club Benbulben Gaels Hurling.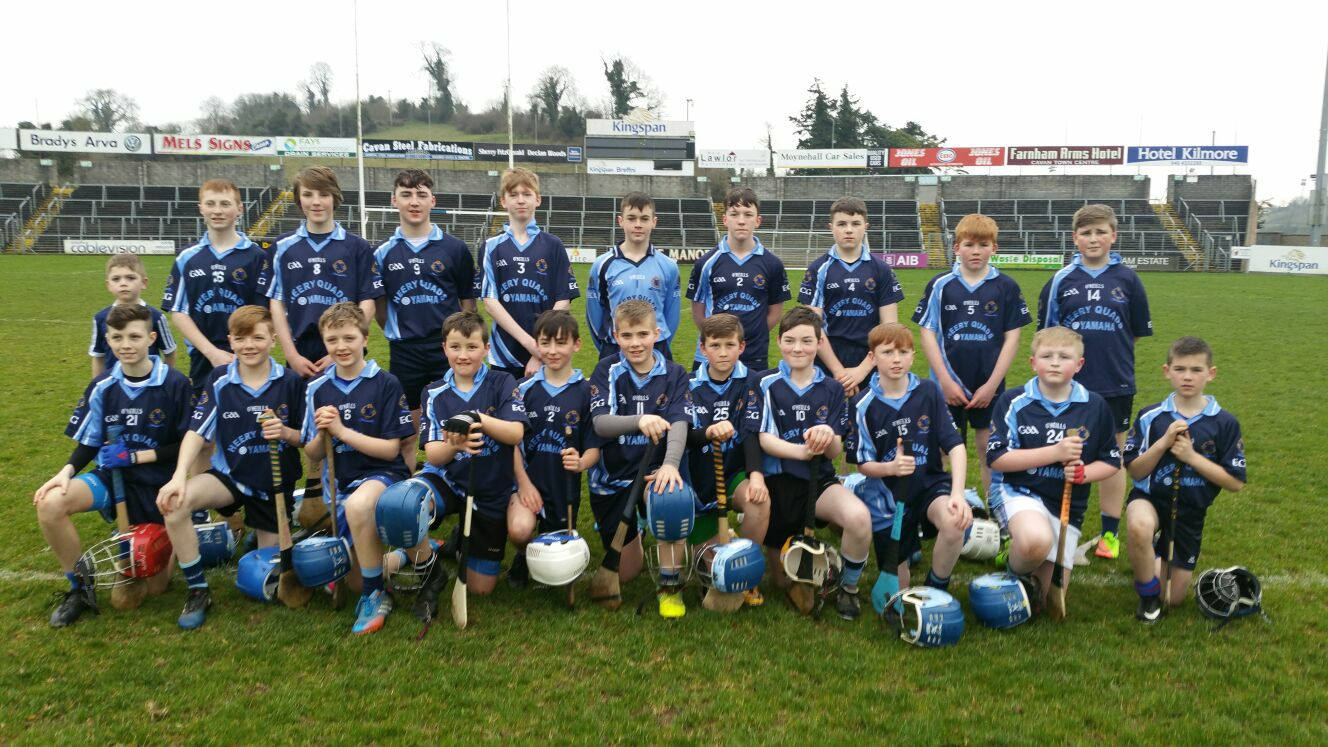 Our 2018 Feile squad (minus a couple of injured players) who will head to Sligo in June.
Under 17; Cavan Celtic begins in early May for lads on county squad. New Monaghan league for U17 begins in early May with a game away to Carrickmacross.
The week ahead;
Thursday; Kingscourt indoors U7/9/11 Community Centre 6.45-7.45.
Friday; Bailieborough indoors. U7 6-7 & U9/11 7-8pm.
Saturday; U13 Tain grading blitz, Cloghan.
Sunday; Under 9 blitz in Carrick 11-12.30pm.
Bailieborough Cancer Comfort Ltd:
The Bailieborough Cancer Comfort Ltd Committee is available to help cancer patients or their families. Free Taxi service available. For further information, contact: Michael Cullen 087 154 2447 or Edel Fox 086 1004030.
CITIZENS INFORMATION:
Co. Cavan Citizens Information Outreach Service in Bailieboro (The Library) on Tuesdays, from 1.30pm – 2.30pm. This is a weekly service.  Any enquiries 076 1075200.
Alcoholics Anonymous:
Local meetings of Alcoholics Anonymous are held in: The Health Centre, Kells Road on Wednesdays at 8.30pm.
http://bailieborough.com/wp-content/uploads/2015/09/bborocomlogo2015-300x130.png
0
0
Lee McDonnell
http://bailieborough.com/wp-content/uploads/2015/09/bborocomlogo2015-300x130.png
Lee McDonnell
2018-04-18 10:13:02
2018-04-18 10:13:02
Bailieborough News. April 16th 2018. Matthew J. Cullen.