Bailieborough News. April 13th  2017 Matthew J. Cullen.
Easter and Holy Week Ceremonies at St. Annes
Holy Thursday, April 13th —Chrism Mass in the Cathedral of St. Patrick and St. Felim, Cavan at 11.30am. Mass of the Lord's Supper at 8.00pm in St. Annes.
Good Friday, April 14th: Celebration of the Lord's Passion at 3.00pm. Prayer around the Cross at 8.00pm.
Easter Vigil: Holy Saturday at 9.00pm. Confessions will also take place in St. Anne's on Holy Saturday from 12 noon to 3.00pm.
Easter Sunday: Mass of the Lord's Resurrection at 10.00am.
Bailieborough Group of Parishes: Easter 2017.
This Easter we will celebrate at a variety of services.
Friday, April 14th: Our Good Friday Services will be in Shercock at 7pm and Knockbride at 8.30pm.
Easter Sunday, April 16th: There will be two services on Easter Sunday:
At 6.20am we will meet outside Mullagh Church for a Sunrise Service followed by a light breakfast.
At 10:45am we will have a traditional Service of Holy Communion in Bailieborough Church, followed by tea and coffee in the hall. All of these services and gatherings are open to everybody.
Monday, April 17th: Church Family Picnic and Games at 12pm in the grounds of the Rectory in Bailieborough. Food, fun and games for all ages, just remember to bring your lunch and a blanket to sit on!
PRESBYTERIAN EASTER SERVICES: GOOD FRIDAY 14TH April. United Communion service in Corraneary church at 8.30 pm.
EASTER SUNDAY, 16th April. United Service in Corglass church at 11 am.  All welcome to both Services.
Hardtimes Chorus—Easter Monday Fundraiser
Hardtimes Chorus is planning an exciting new show this October. Please support the charity work of our group and take part in this fundraiser on Easter Monday, April 17th. Run, Jog, Walk or Crawl!! Distances to suit everyone—1K, 3K, 5K or 10K. Registration from 5.30pm at the Community Centre with the event commencing at 6.00pm. Entry fees are Adults, €10, Children, €5 and Family, €15. Prize for the best Easter Novelty Outfit. Refreshments afterwards in the Community Centre.
LEND A HAND: 'Lend a Hand' is for the elderly and vulnerable in the Bailieborough area. Just give us a call if you need a job done, or even just a chat. Phone Ann on 042 9694825.
Bailieborough Shamrocks: Camogie Club: The Bailieborough Shamrock's Camogie Club's Annual Easter Cake Sale will take place on Easter Sunday in the Community Centre following 10.00am, Mass. Please support us by buying, cakes, books, dvds, or just come along for a chat and a cup of tea. If you would like to bake cakes for the Sale, please drop them into the Hall before Mass. The Camogie Club Mascot, 'The Bailie Bunny' for 2017 will be revealed!! All welcome.
Bailieborough Celtic A.F.C: Registration evening for Summer Soccer (boys and girls aged 7 to 10) is changed to Thursday evening, 13th April 2017, between 7 and 8pm. Depending on numbers interested in registering for Academy Soccer (Under 7 age group) we intend to train on Saturday afternoons. More information on this age group will follow registration evening.
Bailieborough Social Day Centre: Easter get-together will take place in the Community Centre on Wednesday, April 12th from 2.30pm to 4.30pm. All members and new members always very welcome.
Open Garden Day & Duck Race
Looking for a novel way to spend an afternoon?  You are invited to an open Garden Day and Duck Race hosted by Brendan and Jackie McKenna, Muff, Kingscourt, from 2pm-6pm on Easter Monday.  Stroll around the cottage garden full of colour and new life, guaranteed to lift the spirits!  Relax in Bella's Kitchen to enjoy delicious homemade teas and pastries or rummage through our cosy car boot sale for a fabulous bargain.  Then cheer on the hundreds of ducks as they jostle down the river to the winning post…you just might win a prize!
Admission by donation. Kids go free!
Car Boot Sale Pitch €10
All proceeds go to The Family Addiction Support Network.
Contact Jackie 086 1759419 for further information.
Pilates Resumes: Pilates resumes in Bailieborough Leisure Centre on Wednesday, 26th April at 10am and Cormeen Sports Complex on Tuesday, 25th April at 10am.
Monday and Wednesday evening classes also available at Cross, Mullagh.
Contact Julie 086 3283943, julie@cavanphysicaltherapy.com or FB message /JulieCarolanCavanPhysicalTherapy
Deepest Sympathy
Deepest Sympathy is extended to sons: Brendan, Aidan and Paul, daughters Bernadette and Ann, daughters-in-law, sons-in-law, grandchildren, great grandchildren, nephews, nieces and extended family and friends on the death of Nancy Lynch (nee Clarke), Urcher, Bailieborough, Co Cavan who passed away peacefully, after a short illness at Cavan General Hospital on Monday, April 3rd, 2017. Nancy was pre-deceased by her husband, Dessie some years ago. Nancy's Funeral Mass took place in St. Anne's Chapel on Thursday, April 6th with burial afterwards in St. Anne's Cemetery.
Deepest Sympathy is extended to son Chris, daughter Fiona, daughter-in-law Siobhan, son-in-law Michael, sister Sally Rawson (UK) and brother John Fiddler (UK), grandchildren and extended family and friends on the death of  Sue Corrie (nee Fiddler), Rowan Lodge, Knockbride East, Bailieborough, Co. Cavan, who died on Thursday, 6th April 2017, suddenly at her residence. Sue's Funeral Service took place in Knockbride Parish Church on Saturday, April 8th with burial afterwards in the adjoining graveyard.
Safe Pass: Safe Pass at Bailieborough Business Centre on Friday next, 14th April from 8am – 4pm. Lunch included €100.00 Call 042- 96 94 716.
Easter at the Library: Spring into Storytime at your local Library with stories for children aged 5-8 years on Thursday, April 13th from 3.15pm-4pm and Thursday April 20th from 3.15pm-4pm. No charge but children must be registered with the Library to partake. Remember it is FREE to join your local Library!
Easter Workshop for all children aged 6-10 years on Thursday, April 20th from 2.30pm-4.30pm. Bookings to 042 9665779 or at the library desk. Places are limited at €2 per child. Note: all children participating must be registered with the Library and REMEMBER it is FREE to join.
Easter Cake Sale: Ballinamoney Parents Association are holding an Easter Cake Sale on Easter Sunday, after 10am Mass, in St. Mary's Hall, Tierworker.
Come along for some delicious treats. Your support would be appreciated.
Bridge Results: Bridge Results, Easter Prizes: First: Helen Clarke and Kathleen McArdle, Second: Tom Moran and John McGahan. Best Gross: Anne Brady and Patsy Corcoran. Third: Kathy O'Sullivan and Teresa O'Reilly. Fourth: Pauline McEvoy and Rosaleen Keegan. Fifth: Olive Kellett and Gemma McCabe.
Bridge takes place every Tuesday evening in the Hotel Bailie at 8.00pm. New members are always most welcome.
Bailieborough School of Music: Lotto results for 8/04/17.  Numbers Drawn; 3, 8, 16, 18.  No Jackpot Winner. Luck Dip (€25) Winners, Sarah O'Reilly, Lisnalea; Florrie McCabe, Lakeview; Helen Vaughan, Dundalk; Margaret Reilly, Kells Rd. Jackpot next week, €2,500.
Entries to 'Summer Draw', Paul Wakely, Kingscourt; Tom & Max, c/o Maguire's Monaghanoose; Margo Gormley, Beckscourt; Teresa Cooney, Tierworker.
Bailieborough School of Music Lotto Launch Summer Give-away Draw.
In addition to our usual Jackpot and Lucky Dip Draws, 4 names will be entered into our Summer Give-away Draw which will take place in the Bailie Hotel on Saturday, August 19th 2017. 1st prize a Select Hotel Weekend Break for 2, 2nd prize €50 Bailie Hotel voucher, 3rd prize €50 Fox's Bar and Restaurant voucher. Remember envelopes are on sale in usual outlets around the town and through our sellers every Saturday night. Yearly subscription forms are also available and can be downloaded from our website. Your continued support is very much appreciated.
Bailieborough Walking Group: Bailieborough Walking Group host three walks during this year's Cavan Walking Festival. Saturday 29th April, 5k Forest Walk commencing at Bailieborough Business Centre at 11am.
Tuesday 2nd May, 5k Dun a Ri forest walk commencing at Cabra School, Shercock Rd., Kingscourt at 7pm.
Thursday 4th May 10k Lough an Leagh walk commencing at the picnic area Lough an Leagh at 7pm. All welcome.
Festival Meeting: There will be a meeting in the Bailieborough Development Association building on Monday, 24 April at 8.00pm, with a view to having a small festival in the town. Anyone who wishes to attend or has any helpful ideas are more than welcome.  All welcome.
Holistic and Psychic Health Fair: A 'Holistic and Psychic Health Fair' will take place in the Bailie Hotel on Monday next—Easter Monday—from 11.00am to 5.00pm. Psychic Readings-Crystals-Angel Shops-Health Products-Holistic Healers and much more. Admission is free and this is a Charity Event to help build houses for the local community in Zambia. For more information, please contact Geraldine on 087-6730717.
Baptism Dates in St. Annes for April, May and June 2017: The following are the available dates for Baptisms in St. Anne's Church–Saturday, April 15th (Easter Vigil, 9.00pm), April 30th (Sunday, 12.30pm), May 6th (Saturday, 1.30pm), May 21st (Sunday, 12.30pm), June 10th (Saturday, 1.30pm) and June 25th (Sunday, 1.00pm).
Bailieborough Library
Everyday Irish – Tuesday evenings 3pm to 5pm
Beginner Conversational Irish Class for Adults who would like to learn the basics.
Ipads with Social Media for Beginners –   Wednesday afternoons 2.15pm-4pm. This course will help those wanting to get to grips with Social Media using IPADs.  (IPADS are provided). Contact:042 9665779 or
email: fburke@cavancoco.ie
Bailieborough Library Parent, Baby and Toddler Group has proven to be a vital life line for all stay-at-home parents who may be new to the area and wish to get out of the house and make new friends. There is a huge range of toys for children to play with, while parents can enjoy a cup of tea and chat.
The group meets at the Library Arts space every Wednesday at 10.30am-12pm. Why not join their Facebook Group and keep up to date with news and events.
Citizens Information every Tuesday 1.30pm-2.30pm on a first come first served basis;
Craft Group every Friday 10.30am-1pm;
Book Club 6pm-7pm last Thursday of every month;
Lit Lab writers group every second Tuesday.
Contact 042 9665779 for details on any of the above.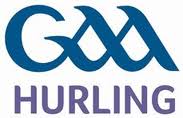 East Cavan Gaels GAA Club – Hurling News 10th April 2017
Under 6/8/10;
The lads take a well-earned break and will return after the Easter break. Some of the U10s will train outdoors with the U12s as they prepare for our tournament through May and June.
Under 12;
Just training this week on Monday in Kingscourt 6.45-7.45.
Under 14;
The lads had an impressive win v Cootehill away in the Monaghan league on Monday last but Cootehill got a measure of revenge with victory in the Cavan Feile final on Saturday. We now qualify for national Feile in June where we head for Carlow. More info in the weeks ahead.
The next round of the Monaghan league sees us play Carrickmacross in Kingscourt on Monday at 6.45. Good luck to all.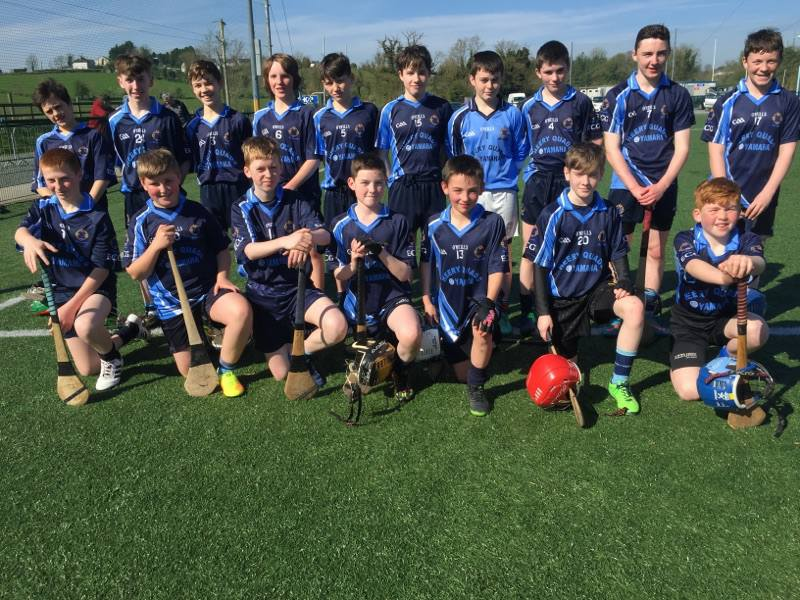 Above; Saturdays U14 squad.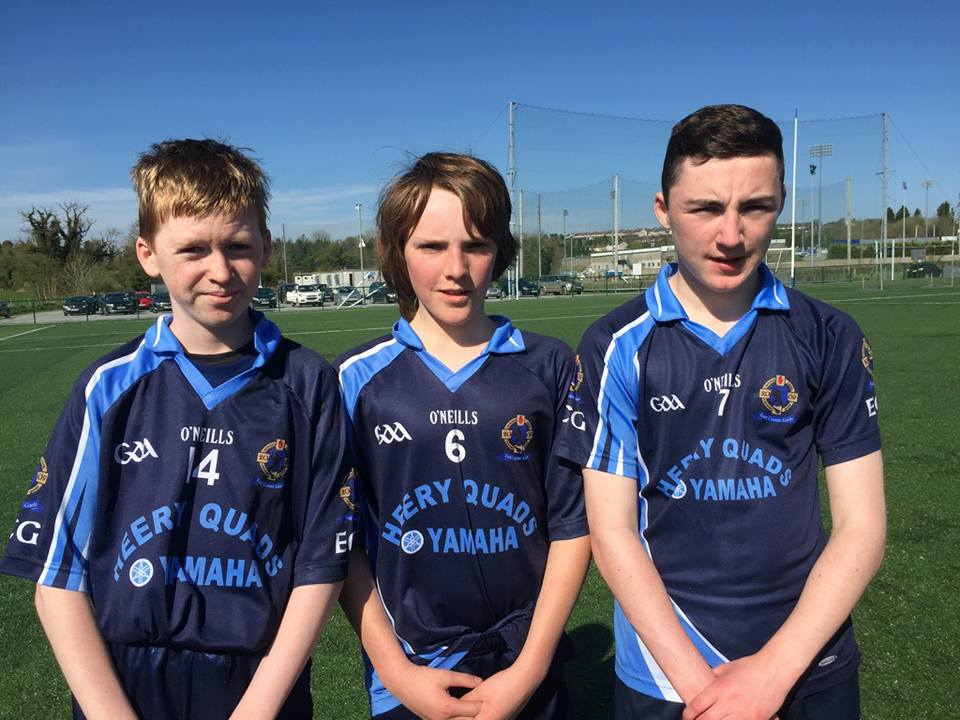 Above; James, Tadhg and Diarmuid who have been selected on the Cavan cumbann na mbunscoil squad to play in Croke Park. Well done lads.
Celtic Challenge, intercounty U17 competition this year in May. A competitive group with Meath/Cavan/Louth/Monaghan/Longford and Leitrim. We aim to have even more of our boys on this panel this year. Training this Wednesday at 6.30 on the 3G with challenge games coming up in preparation for the main competition.
Athletics success;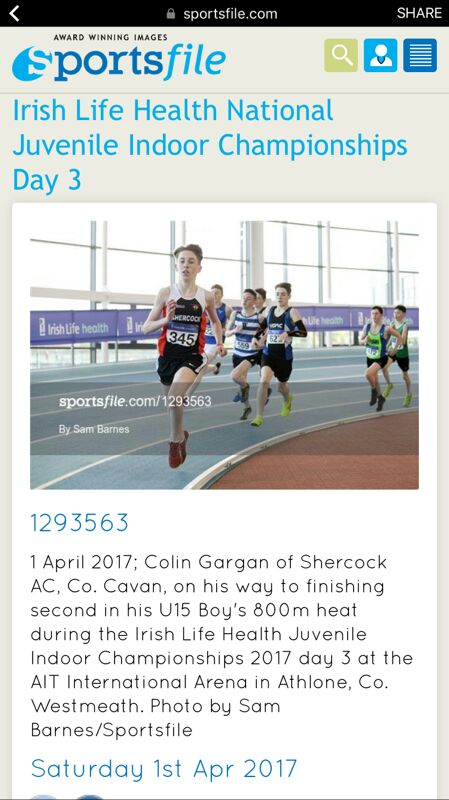 Huge congratulations to our own Colin Gargan who won silver at the All Ireland U15 indoor athletics championships in Athlone at the weekend. All at ECG are very proud of his continuing successful development. Well done Colin.
If any of our club players have success at other disciplines then please send the info on to us here and we will be glad to share it.
Hurling training times and venues;
Kingscourt group; Under 6/8/10; EASTER BREAK NO HURLING
Thursday 6.45-7.45pm for all U6/8/10 in the Community Centre. €3 each and bring water bottle.
Bailieborough group U6/8/10; EASTER BREAK NO HURLING
Friday at the Bailieborough Community School Sports Hall. U6/8 from 6-7. Under 10 from 7-8pm. €3 each and bring the water bottle.
Under 12/14/16/18;
All training mostly on Mondays from now on with both the long evenings and the rule which says hurling to be played on Mondays. 6.30 in Kingscourt Stars pitch.
Under 16/18s will begin training when the minor football league is over.
For all info on these age groups then please contact Kathryn 087 244 1371.
The week ahead;
Monday- U12s training in Kingscourt 6.30.
U14s play Carrick at 6.45 also in Kingscourt
Wednesday – U17 Celtic Challenge Squad training Breffni Park.
Bailieborough Cancer Comfort Ltd: The Bailieborough Cancer Comfort Ltd Committee is available to help cancer patients or their families. Free Taxi service available. For further information contact: Michael Cullen 087 154 2447 or Edel Fox 086 1004030.
CITIZENS INFORMATION: Co. Cavan Citizens Information Outreach Service in Bailieboro (The Library) on Tuesdays, from 1.30pm – 2.30pm. This is a weekly service.  Any enquiries 076 1075200.
Alcoholics Anonymous: Local meetings of Alcoholics Anonymous are held in: The Health Centre, Kells Road on Wednesdays at 8.30pm.
If any readers have items of interest to be included in the Bailieborough News, (Obituaries, News Items, Sports, etc…), please e-mail: mattie42@eircom.net or call 042 9666200.
http://bailieborough.com/wp-content/uploads/2015/09/bborocomlogo2015-300x130.png
0
0
Colette
http://bailieborough.com/wp-content/uploads/2015/09/bborocomlogo2015-300x130.png
Colette
2017-04-13 09:08:58
2017-04-13 09:08:58
Bailieborough News. April 13th 2017