Bailieborough News. May 28th 2015. Matthew J. Cullen.
Bailieborough Tidy Towns calls it a day with a Final Lake Project:
Due to a serious lack of interest shown by Local Businesses/ Community of Bailieborough, the Tidy Towns Committee regrets that it must call it a Final Day. Please understand the reason why our small voluntary committee cannot continue and the impact this may have on the image of our Town with a risk of excessive litter and weeds appearing on our streets and no display of Flowers or Hanging Baskets to welcome visitors or tourists to our town.
It is very disappointing that our town may no longer remain the 'Pride of Place'—that it deserves. Only time will tell the real impact this will have on our town and unfortunately the evidence already exists!
The committee together with Rose McCabe, Sadie/Bobby Gray and Sean O'Reilly sincerely thank its loyal volunteers and sponsors for supporting their work over the last 12 years. This is a sad time for all and the committee wishes the town all the best in the future.
As a farewell to you all, the committee hope to undertake one final project that will help enhance the recreational space at the front of the Town Lake. The completion date is set for July 2015. And the committee would greatly appreciate your support when fundraising for the project.
Please remember, we all have a responsibility to care for our Town.
Bailieborough Walking Group:
Wednesday, May 27th: Tunnyduff, West Knockbride. Easy walk—1 hour, Medium Walk—1 hour 30mins. Depart from Bailieborough Library at 6.55pm. Walks commence at Tunnyduff Hall at 7.15pm. Wednesday, June 3rd, Tierworker, Bailieborough. Advanced walk of over 2 hours plus. Departing from Bailieborough Library at 6.55pm. Walk commencing at Tierworker at 7.15pm. All welcome.
First Communion:
Congratulations to all the children from St. Felim's, The Vale who made their First Holy Communion in St. Anne's Chapel on Saturday morning last. All the children in the Bailieborough Church Area who made their First Communion over the past two weeks are invited to participate in the Mass and Eucharistic Procession due to take place on the Feast of Corpus Christi on Sunday, June 7th at 10.00am.
Good Luck:
Good luck and best wishes are extended to all the students who are sitting their exams over the next few weeks.
Library:
Citizens Information every Tuesday from 1.30pm-2.30pm.
'Abair Leat' Irish Conversational Group, Tuesdays from 1pm-2pm. Learning Irish for fun. Tea and coffee served. All welcome, free admission.
Parent, baby and toddler group every Wednesday from 11am-12.30pm. Lots of suitable toys, refreshments, all welcome, free admission.
Craft Group every Friday 10.30am-12.30pm. Sharing of crafts and ideas. Tea and coffee, all welcome.  Free admission.
Adult Book Club last Thursday of every month from 6pm-7pm. All new members welcome. Tea and coffee served. Free admission. Phone Library at 042 9665779 for details on all of the above.
Practical First Aid Course:
The Bailieborough Red Cross are running a two day certified Practical First Aid Course which will be held upstairs in Bailieborough Library and staged over two Saturdays; June 6th and 13th. Registration at 10am on the 6th. Places will be limited so please register your interest by phone: 087 2346526.
Charity Beard Shave:
Calling all the hairy (and not so hairy)!!  Ladies, have you been looking for an excuse to get your other half to shave that beard?? Well, here's one…. A Charity Beard Shave in aid of Down Syndrome Support, Cavan will take place in the Bailie Hotel on Friday next, May 29th, 2015.  So far, there are 13 men that will have their beards shaved on FRIDAY 29th MAY. The night is shaping up to be a great nights craic in the lounge of the Hotel with a lively band playing and a raffle on the night with fantastic spot prizes to be won . . . thanks to the very generous local businesses. If any more volunteers would like to join us, please contact Orla Monaghan for a sponsorship card.
Classes:
Classes at Bailieborough Business Centre: QQI Level 4 Information and Technology, taking applications for new class, QQI Level 4 Computer Applications, QQI Level 4 Health and Safety in the Workplace, Skills for Work, and Computers for Beginners.  Call for more details 042-969-4716, or call in to the Bailieborough Business Centre, Shercock Road, Bailieborough. Beside the playground.
Mass for Healing:
To coincide with the beginning of the Kilmore Diocesan Pilgrimage to Lourdes, a special Mass for Healing will take place in St. Anne's Church on Wednesday, May 27th at 7.30pm. The Sacrament of Healing will be administered during this Mass. A cup of tea/coffee will be provided in the Prayer Room immediately after the Mass.
Bailieborough Shamrocks: Underage Training Times:
Underage training continues for the Under 6 (at 11 am on Saturday mornings) and Under 8 and 10 (at 10am on Saturdays and 7pm on Tuesdays). Contact Brian Keegan 087 9661069 for further details.
Pilgrimage to Knock:
A Pilgrimage to Knock takes place on Sunday, May 31st. A bus will be leaving Bailieborough at 9.00am. Fare €20. Bookings can be made with Geraldine at 042 9378504 or 087 964 3884—after 6.00pm.
Bailieboro Celtic A.F.C.:
Bailieboro Celtic AFC are delighted to be hosting an FAI Summer Soccer Schools Camp again this year from July 13th to July 17th at the Vale Grounds. Log on to www.summersoccerschools.ie  or call 1890 653 653 to book early. Discounts apply for family bookings.
Computers for beginners:
Classes at Bailieborough Business Centre. Do you want to learn the basics of using a computer? These classes will help you with the basics of starting to use a computer, from turning it on, typing a letter, using the internet and more. All you ever wanted to know, but were afraid to ask. Call 0429694716 for more details.
Bailieborough Agricultural Show Annual Quiz:
Bailieborough Agricultural Show will host their annual Table Quiz on Friday, June 5th at 9pm in The Hotel Bailie, Main Street, Bailieborough. All welcome to attend, €40 per table of 4, plaques will be awarded to the winning teams, 1st Prize €100, 2nd Prize €50 and 3rd Prize €25! Raffle on the night! All welcome to attend! For more information email bailieboroshow@gmail.com
Baptism Dates in St. Annes for June 2015:
The following are the dates for Baptisms in Saint Anne's Church: Saturday, June 6th (Deacon Damien), Sunday, June 7th at 12.30pm (Fr. Michael), Sunday, June 14th at 12.30 (Fr. Michael), Saturday, June 20th at 4.30pm (Deacon Damien) and Sunday, June 21st at 12.30 (Fr. Michael).
Leisure Centre:
New Studio Classes, check out our facebook page for details of different classes.
Monday:  BLT 10.00-10.45am and Ladies Fitness 8.30pm.
Tuesday:  Mugendo Kickboxing 6.30-8.30.
Wednesday:  Pilates 10-11am, BLT at 6.30, Step Aerobics from 7.30 to 8.30.
Thursday: Yoga at 10 and Turbo training at 7pm.
Friday:  Men's Fitness at 8.45.
Studio and Treatment rooms available to rent, Call 042 9666644. Suitable for many uses.
€30 for 30 days membership pool or gym membership still available.
Check us out on www.bailieboroughleisurecentre.com  or find us on facebook for regular updates.
Weightwatchers:
WeightWatchers continues each Monday night in The BDA Centre, Shercock Road, Bailieborough at 8pm. Why not come along, lose weight and feel great! Details contact Jenny 086 2418361.
Walk, Jog Or Run….
Exercising Is FUN! Every Monday and Wednesday evenings at 8pm join us at Bailieborough Community Centre! All welcome—no matter what your fitness levels are!. Ok folks, join us to run, jog or walk and most importantly tea, biscuits, fruit and chat afterwards.
East Cavan Gaels GAA Hurling: Club News 25th May 2015: U6/8/10;
The next blitz is this coming Wednesday in Carrickmacross with Carrick, Blayney and Clontibret, 6.45-8.15. Pitch is on the Culloville/Crossmaglen road. Meeting there from 6.30. No training in Bailieborough Friday due to the holiday weekend so as many as possible to Wednesday blitz please.
U12/14/16/18; No games this week so training for all on Wednesday in Bailieborough.
Training times and venues; If blitz on then no training.
Under 8/10; next blitz is Wednesday 27th May in Carrick.
Kingscourt group; Wednesdays 6-7.30 at Kingscourt Stars GAA grounds.
Bailieborough group; Friday 6-7.30 at the Community School pitch. No training this Friday. For all U8/10 information contact Willie Gaughan 087 164 9280.
Under 12/14/16/18;  All training is collective in Bailieborough and subject to change. Wednesday in St. Anne's Park 7pm. Players will receive a text.
For all U12-U18 information contact Kathryn O'Flynn 087 244 1371.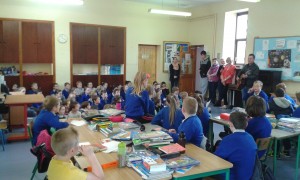 The Model School in Bailieborough:
The children had a special guest drop by the school last week, none other than Marty Mone. He sang his new chart song 'Hit the Diff' to all the children and signed  autographs for all the students.
Bailieborough Cancer Comfort Ltd:
The Bailieborough Cancer Comfort Ltd Committee is available to help cancer patients or their families. Free Taxi service available. For further information contact: Michael Cullen 087 154 2447, Edel Fox 086 1004030 or Geraldine Gormley 087 7949448.
Tanagh Outdoor Summer Adventure Camps:
Tanagh Outdoor Adventure Summer Camps are now open. Contact Philomena on 049-5552988 for more information. Application forms can be downloaded from www.tanaghoutdooreducation.com Participation is open to anyone between the ages of 9-16 years. Book early to avoid disappointment.
Cavan County Fleadh in Swanlinbar:
Cavan County Fleadh 2015 will take place in Swanlinbar from Friday 29th May to Monday 1st June. Official opening on Friday 29 May, with open air concert featuring Knockmore Ceili Band. Other events include Cissies Kitchen, gig rig and street
Seisiuns. Saturday 30th May: Fleadh Sets Ceili at 10pm. Culilcagh walk on Sunday 31st May and 4pm Fleadh parade featuring street entertainers, dancers, musicians, floats. A weekend not to be missed!!
Citizens Information Service:
Co. Cavan Citizens Information Service is in the Library, Bailieborough every Tuesday from 1.30 – 2.30pm. Information on Social Welfare, Employment, Tax, Health etc… A Free and Confidential Service. Tel. 0761 07 5200.
Alcoholics Anonymous:
Local meetings of Alcoholics Anonymous are held in: The Health Centre, Kells Road on Wednesdays at 8.30pm.
The Samaritans:
The Samaritans have a new Freephone number: 116 123 for people who are struggling to cope. The line is open and free 24 hours a day, 365 days of the year.
 If any readers have items of interest to be included in the Bailieborough News, (Obituaries, News Items, Sports, etc…), please e-mail: mattie42@eircom.net or call 042 9666200.
http://bailieborough.com/wp-content/uploads/2015/09/bborocomlogo2015-300x130.png
0
0
Liz Fleming
http://bailieborough.com/wp-content/uploads/2015/09/bborocomlogo2015-300x130.png
Liz Fleming
2015-05-28 10:48:44
2015-05-28 15:50:01
Bailieborough News Thursday 28th May 2015