Bailieborough News. May 14th 2015. Matthew J. Cullen.
Mrs. Mary Burmiston (nee Fisher): The death of Mrs Mary Burmiston (nee Fisher), Tandragee, Bailieborough occurred recently following a short illness in Cavan General Hospital.
Mary was one of thirteen children born to Adam and Annie Fisher, Killinkere, Co. Cavan. She attended school in Lisnagirl, Killinkere and this was followed by working positions both North and South of the border. From this, Mary developed into the lovely lady everyone knew and admired.
Mary married Jim Burmiston at the young age of 18 and became the devoted mother of Jimmy, David (died shortly after birth), Ann, Carol, Richie and Elizabeth. Jim died suddenly in July, 1983, leaving Mary with a young family and she took on the role of a single parent with love, enthusiasm and dedication. Mary was a very fun loving and outdoor person—anywhere there was a group of people forming, she wanted to be there for a bit of craic—as she would put it. She was a very keen dancer and loved nothing better than getting all dressed up in her finery and heading off to the 'Ballroom of Romance Halls' and dancing the night away with Michael, Ella and all of her many friends. She loved being involved with the local Red Cross and in particular, helping out at the Old Folks Party—although she never thought herself as one. She also became involved and performed in the plays that were produced locally.  The Charity shop was also one of her favourite places, having a laugh with Sister Mary and the Ladies.
It was also known, that if Mary had something to say—it was said—tact was not always high on her list but that was part of what made her the lovely person that she was. Most of all, Mary will be remembered for her love of children.
Mary is survived by her children: Jimmy, Ann, Carol, Richie and Elizabeth. She is also survived by her grandchildren: Robert, Trevor, Melissa, Jeff, Simon, Alma, Calvin, Matthew, Asha and Ross her eight great grandchildren, the McBrierty family, all the children in Tandragee, as well as the countless others who were lucky enough to know, love and be loved by Mary right up until the end.
The loss of Mary is especially felt by her four surviving siblings, Essie in Canningstown, Adam in Kells, Isabel in Bangor and Jimmy in Canada.
Mary's Funeral Service took place in Bailieborough Parish Church and she was laid to rest in the adjoining new cemetery.
Relaghbeg Fundraising Committee:
We just wanted to say a Huge Big 'Thank You' to everybody that helped out over the last few days with getting the Marquee ready, making sandwiches and goodies for the walkers. All our stewards, the Red Cross who were on hand if needed, Bridie Rahill Cabs for providing the return shuttle bus for the walk, all the gang at Smyth's Bar, Relaghbeg for providing the venue and for looking after us so well as always, 'Say La V' for helping us rock into the wee hours and last but by no means least, you guys for coming out and supporting us!! There is still one last event for Enable Ireland Children Services North East so plenty of time to donate to the charity if you missed out… We really appreciate all your help and support THANK YOU!!!!
Bailieborough Walking Group:
Wednesday, May 13th – Deerpark Forest, Virginia. Easy Walk – 1 hour. Moderate Walk – 1 hour 30 min. Leaving Bailieborough Library at 6-45pm. Walk's commencing at Virginia Rugby Club entrance to Deerpark Forest at 7-15pm. All welcome.
First Communion:
The children from St. Anne's and the Model Schools will make their First Communion on Saturday next, May 16th and the children from St. Felim's on Saturday, May 23rd. Both Masses will be at 11.30am.
Free Study Space:
Study space available for all exam students at Bailieborough Library during Library opening hours EXCEPT Wednesdays 10.30am-2.15pm; and Fridays 10.30am-2.15pm. Free WIFI. Only requirement is to be a member of the Library and membership is free.
Library:
Citizens Information every Tuesday from 1.30pm-2.30pm.
'Abair Leat' Irish Conversational Group, Tuesdays from 1pm-2pm. Learning Irish for fun. Tea and coffee served. All welcome, free admission.
Parent, baby and toddler group every Wednesday from 11am-12.30pm. Lots of suitable toys, refreshments, all welcome, free admission.
Craft Group every Friday 10.30am-12.30pm. Sharing of crafts and ideas. Tea and coffee, all welcome.  Free admission.
Adult Book Club last Thursday of every month from 6pm-7pm. All new members welcome. Tea and coffee served. Free admission. Phone Library at 042 9665779 for details on all of the above.
May is Mary's Month:
The Rosary will be recited at the Grotto on the Virginia Road every evening during the month of May at 8.00pm. No Rosary on Saturdays. Everyone welcome to offer prayer for the sick of our Parish as well as any private intention.
Classes:
Classes at Bailieborough Business Centre:
QQI Level 4 Information and Technology taking applications for new class,
QQI Level 4 Computer Applications,
QQI Level 4 Health and Safety in the Workplace,
Skills for Work, Computers for Beginners.
Call for more details 042-969-4716, or call in to the Bailieborough Business Centre, Shercock Road, Bailieborough. Beside the playground.
Photography Classes:
Photography classes with Bob Lynch at Bailieborough Business Centre. Beginners and Intermediate. May 18th for 8 weeks, cost €95. Call 0429694716 or 086-728–3888 to book your place.
Bailieborough Community Choir:
Bailieborough Community Choir under the baton of Thomas Hanley, Musical Director presents 'Midsummer Melodies' on Saturday, 23rd May in Trinity Hall Bailieborough at 8 pm.
Local guest artists will appear on the night. Voluntary donation at door and light refreshments at end of concert.
Community Resource House:
Summer Camp at the Bailieborough Resource House: June 29th – July 3rd for 5 – 7 year olds and July 6th – July 10th for 8 – 11 year olds. €30 per child per week. Limited numbers so get bookings in early.
All children must be at school. Tel : 0429666068 or Email :bailieborough@eircom.net
Irish Wildlife Trust: Nature Day:
As part of Biodiversity Week, 2015, the Irish Wildlife Trust are holding a 'Nature Day' on Sunday next, May 17th at Janet McGuigan's Nature Garden at the Stonewall, Bailieborough. Activities will commence at 1.00pm and there will be something to keep everyone occupied. A Scavenger Hunt, I—Spy, a Wildlife Treasure Hunt, are some of the planned events. Go for a walk along the old Celtic lane at the back entrance to the house and tick off the list what you can see or collect along the way! Make a 'Bird Box' or Insect House'—use wood or bring your own container! Go on an 'Insect Safari' around the garden! Draw and/ or Paint a plant or animal! How many birds, animals and flowers, can you find? Quiz—what's up that tree? Match up as many as you can! Look for tree and plant seedlings in the garden. Ask if you can dig them up and plant them in a pot and take them home with you! A present of Sunflower seeds to everyone! Contact Eilish at 086 827 3470 for further details.
'Bealtaine' at the Library:
Bailieborough Library celebrating Bealtaine 'The Art of Sewing, Knitting and Fabric Manipulation'—a workshop by Karen McArdle, textile designer and member of Design and Crafts Council of Ireland on Thursday, May 14th from 11am-1pm. Free workshop and places strictly limited.
Ring 042 9665779 for further details.
Bailieborough Shamrocks: Underage Training Times:
Underage training continues for the Under 6 (at 11 am on Saturday mornings) and Under 8 and 10 (at 10am on Saturdays and 7pm on Tuesdays). Contact Brian Keegan 087 9661069 for further details.
Cavan Birdwatch:
Dawn Chorus events are scheduled for Sunday next, 17th May at 4.30 a.m. This will be a great opportunity to learn more about birdsong and enjoy an early morning walk at dawn.
Walks will take place at the following locations; Bailieborough: Castle Lake Forest. Meet at the Lakeshore car park (Lear Entrance).
Killeshandra: meet at Town Lake.
Warm clothing and sturdy footwear are recommended. All welcome.
Bailieborough Celtic A.F.C.:
Bailieboro Celtic AFC are delighted to be hosting an FAI Summer Soccer Schools Camp again this year from July 13th to July 17th at the Vale Grounds. Log on to www.summersoccerschools.ie  or call 1890 653 653 to book early. Discounts apply for family bookings.
Bailieborough Shamrocks G.A.A: Football
Underage training continues
Under 6 (@11 am  Saturday mornings )
Under 8 and 10 (@10 am Saturdays and 7pm Tuesdays)
Contact Brian Keegan 087- 9661069 for further details.
Pilgrimage to Knock:
A Pilgrimage to Knock takes place on Sunday, May 31st. A bus will be leaving Bailieborough at 9.00am. Fare €20. Bookings can be made with Geraldine at 042 9378504 or 087 964 3884—after 6.00pm.
Cavan v Monaghan Match:
Anyone going to the Cavan v Monaghan match should order their match tickets from the Bailieborough Shamrock's club as this is an all ticket match. People should give their name to Aishling phone number 0863749757 or any committee member before Monday the 18th May.
Bailieborough Community Text Alert:
Annual fee of €5 is now due on receiving text alerts. Contact, Seamus Sheridan, Kells Road, Vincent Cooney, Galbolie or Kevin Carolan, Pine Grove. The next monthly meeting takes place on Monday, May 25th at 9.00pm, sharp, in the Hotel Bailie. New members are very welcome.
'A Song for Charlie':
A Song for Charlie invites all to a Cheque Presentation on Saturday, 16th May in the Carraig Springs, Crosskeys, Co. Cavan.
Proceeds going to Cavan Branch Cystic Fibrosis and East Cavan Special Abilities, Swim Club, Bailieborough. Music on the night. No cover charge. All welcome.
Computers for beginners:
Classes at Bailieborough Business Centre. Do you want to learn the basics of using a computer? These classes will help you with the basics of starting to use a computer, from turning it on, typing a letter, using the internet and more. All you ever wanted to know, but were afraid to ask. Call 0429694716 for more details.
'Woofs and Wellies':
A Charity Dog Walk hosted by Knockbride Macra Na Feirme in aid of Cavan S.P.C.A. will take place on Sunday, May 17th at 3.00pm at the Castle Lake, (Shercock Road, entrance). Entry fee €10. Family fun day out!
Bailieborough Agricultural Show:
Bailieborough Agricultural Show will be held on July 4th 2015, in Gray's Field, Virginia Road, Bailieborough. The show, now in its 40th year, will host classes such as horses, sheep, cattle, home industries and a dog show! This year's event will be a family fun filled day! For more information please contact bailieboroshow@gmail.com or check out Bailieborough Agricultural Show on Facebook.
Leisure Centre:  New Studio Classes, check out our facebook page for details of different classes.
Monday:  BLT 10.00-10.45am and Ladies Fitness 8.30pm.
Tuesday:  Mugendo Kickboxing 6.30-8.30.
Wednesday:  Pilates 10-11am, BLT at 6.30, Step Aerobics from 7.30 to 8.30.
Thursday: Yoga at 10 and Turbo training at 7pm.
Friday:  Men's Fitness at 8.45.
Studio and Treatment rooms available to rent, Call 042 9666644. Suitable for many uses.
€30 for 30 days membership pool or gym membership still available.
Check us out on www.bailieboroughleisurecentre.com  or find us on facebook for regular updates.
Baptism Dates in St. Annes for May and June 2015:
The following are the dates for Baptisms in Saint Anne's Church: Sunday, May 17th at 12.30pm (Fr. Michael), Saturday, May 23rd at 4.30pm (Deacon Damien), Saturday, June 6th (Deacon Damien), Sunday, June 7th at 12.30pm (Fr. Michael), Sunday, June 14th at 12.30 (Fr. Michael), Saturday, June 20th at 4.30pm (Deacon Damien) and Sunday, June 21st at 12.30 (Fr. Michael).
Walk, Jog Or Run…. Exercising Is FUN! Every Monday and Wednesday evenings at 8pm join us at Bailieborough Community Centre! All welcome—no matter what your fitness levels are!. Ok folks, join us to run, jog or walk and most importantly tea, biscuits, fruit and chat afterwards.
East Cavan Gaels GAA Hurling: Club News 11th May 2015
U6/8/10; The next blitz is this coming Wednesday in Cloghan at a Monaghan GAA Monster blitz. 7-9pm.
U12; The final round of the Spring league sees the boys away to play Annalee Gaels on Wednesday next.
U14/16/18; This week's game is postponed to a later date so just training on Wednesday.
School Skills; Congratulations to Jack Guinness and Michael O'Reilly who finished first and third respectively in the Cavan Cumbann na mBunscoil skills competition. Jack will represent Cavan schools playing in Croke Park before one of the summer's big championship games. Well done Jack.
Training times and venues; If blitz on then no training.
Under 8/10; next blitz is Wednesday 13th May in Cloghan.
Kingscourt group; Wednesdays 6-7.30 at Kingscourt Stars GAA grounds.
Bailieborough group; Friday  6-7.30 at the Community School pitch.
For all U8/10 information contact Willie Gaughan 087 164 9280.
Under 12/14/16/18; All training is collective in Bailieborough and subject to change. Wednesday in St. Anne's Park 7pm. Players will receive a text.
For all U12-U18 information contact Kathryn O'Flynn 087 244 1371.
The Friends of Virginia Health Centre:
The Friends of Virginia Community Health Centre, Residential and Day Care Services—are a voluntary group who visit resident's, provide comforts, organise entertainment and stimulating activities in the Centre.
Currently the Group are Fund-Raising to enhance the Grounds of the Centre, through Tree and Shrub planting and the inclusion of a Wild Flower Meadow. The Group are holding a 'Coffee Morning' in the Centre on Wednesday, May  13th, 2015 between 10am and 3pm. Your support would be very much appreciated. Anyone who would like to sponsor a Tree or some Shrubs can contact the Centre on 049 854 6212.
Tanagh Outdoor Adventure Camps:
Tanagh Outdoor Adventure Camps are now open. Contact Philomena on 049-5552988 for more information. Application forms can be downloaded from www.tanaghoutdooreducation.com
Participation is open to anyone between the ages of 9-16 years. We provide FREE bus service from local pick up points.
Kilmore Diocesan Pilgrimage to Lourdes
will take place from 27th May to 1st June led by the Bishop of Kilmore Rev Leo O' Reilly D.D.
Places are filling up fast but there may be a few seats left by contacting the Diocesan Pastoral Centre, Cullies, Cavan 049 4375 004 Ext 100
for the Pilgrim Section. Bookings for anyone wishing to travel with the Assisted Pilgrims should contact Fr Kevin Fay, Lavey, Ballyjamesduff,
Co Cavan on 087 857 9968 / 049 433 0018 – and again there may still be a few seats available.
Mindfullness Meditation Course: Mind Full or Mindful? :
Mindfullness is the practise of being attentively present. It is called a practice in the same way that we say that people practice the piano. Being attentive is a skill that grows with practice. The practice is simply to relax and bring forth an awareness of what is happening in the present. During the four week introductory course, the basic instructions of Mindfullness Meditation are given sequentially, each week building on the previous one.
The venue is the Virginia Show Centre on May 20th, 27th, June 3rd and 10th from 7.30pm to 9.00pm. Fee: €15 per session. Essential items: Wear loose, comfortable clothing and bring a rug/mat, cushion and warm blanket. For further information and booking, please contact Sheena at 083 105 6111. Places will be limited, so booking is essential.
Cavan County Fleadh in Swanlinbar:
Cavan County Fleadh 2015 will take place in Swanlinbar from Friday 29th May to Monday 1st June. Official opening on Friday 29 May, with open air concert featuring Knockmore Ceili Band. Other events include Cissies Kitchen, gig rig and street
Seisiuns. Saturday 30th May: Fleadh Sets Ceili at 10pm. Culilcagh walk on Sunday 31st May and 4pm Fleadh parade featuring street entertainers, dancers, musicians, floats. A weekend not to be missed!!
Citizens Information Service:
Co. Cavan Citizens Information Service is in the Library, Bailieborough every Tuesday from 1.30 – 2.30pm. Information on Social Welfare, Employment, Tax, Health etc… A Free and Confidential Service. Tel. 0761 07 5200.
Alcoholics Anonymous:
Local meetings of Alcoholics Anonymous are held in: The Health Centre, Kells Road on Wednesdays at 8.30pm.
Bailieborough Cancer Comfort Ltd:
The Bailieborough Cancer Comfort Ltd Committee is available to help cancer patients or their families. Free Taxi service available. For further information contact: Michael Cullen 087 154 2447, Edel Fox 086 1004030 or Geraldine Gormley 087 7949448.
The Samaritans:
The Samaritans have a new Freephone number: 116 123 for people who are struggling to cope. The line is open and free 24 hours a day, 365 days of the year.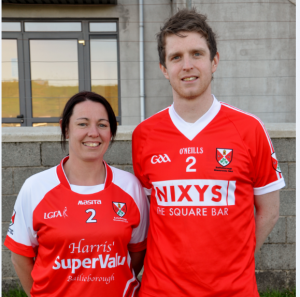 Pictured is Bailieborough Shamrocks 2015 ladie's team captain  Mary Gorman  and senior men's team captain Sean Cooney
wearing the new 2015 club jerseys kindly supplied by main club sponsors Lorraine Harris of Super Valu and Philip "Nixy"Clarke
of the Square Bar, "Nixys" .The club are most grateful to receive such support from Lorraine and Philip in addition to their very generous ongoing financial contribution to the club.
 If any readers have items of interest to be included in the Bailieborough News, (Obituaries, News Items, Sports, etc…), please e-mail: mattie42@eircom.net or call 042 9666200.
http://bailieborough.com/wp-content/uploads/2015/09/bborocomlogo2015-300x130.png
0
0
Liz Fleming
http://bailieborough.com/wp-content/uploads/2015/09/bborocomlogo2015-300x130.png
Liz Fleming
2015-05-14 11:46:31
2015-05-18 11:46:11
Bailieborough News Thursday May 14th 2015