Bailieborough News. June 4th  2015. Matthew J. Cullen.
Bailieborough Walking Group:
Wednesday, June 3rd, Tierworker, Bailieborough. Advanced walk of over 2 hours plus. Departing from Bailieborough Library at 6.55pm. Walk commencing at Tierworker at 7.15pm.
Wednesday, June 10th, Castle Lake, Bailieborough. Easy walk, 1 hour, Medium walk 1 hour 30 minutes. Walks commence at the Castle Lake, Car Park at 7.15pm. All welcome.
Corpus Christi:
Next Sunday, June 7th a Eucharistic Procession will take place immediately after the 10am Mass. The Procession will follow its usual route—Chapel Road, Henry Street, Virginia Road and then back to the Church where it will conclude with Benediction. All the Church stewards are asked to help organise and marshal the Procession. All the children in the Bailieborough Church Area who made their First Communion over the past few weeks are invited to participate in the Mass and Eucharistic Procession.
Library:
Citizens Information every Tuesday from 1.30pm-2.30pm.
'Abair Leat' Irish Conversational Group, Tuesdays from 1pm-2pm. Learning Irish for fun. Tea and coffee served. All welcome, free admission.
Parent, baby and toddler group every Wednesday from 11am-12.30pm. Lots of suitable toys, refreshments, all welcome, free admission.
Craft Group every Friday 10.30am-12.30pm. Sharing of crafts and ideas. Tea and coffee, all welcome.  Free admission.
Adult Book Club last Thursday of every month from 6pm-7pm. All new members welcome. Tea and coffee served. Free admission. Phone Library at 042 9665779 for details on all of the above.
Practical First Aid Course:
The Bailieborough Red Cross are running a two day certified Practical First Aid Course which will be held upstairs in Bailieborough Library and staged over two Saturdays; June 6th and 13th. Registration at 10am on the 6th. Places will be limited and for further information, please contact William at 087 2346526 or Julie at 086 230 8570.
Bailieboro Celtic A.F.C.:
The Annual General Meeting of Bailieboro Celtic Soccer Club will take place in the club's Clubrooms on Thursday, 25th June 2015 at 8.30pm. All member's nominations and motions should be made in writing, proposed and seconded, and posted to Secretary. Eric McCullagh, Kilnacross, before 11th June 2015.
Bailieboro Celtic AFC are delighted to be hosting an FAI Summer Soccer Schools Camp again this year from July 13th to July 17th at the Vale Grounds. Log on to www.summersoccerschools.ie  or call 1890 653 653 to book early. Discounts apply for family bookings.
Holy Hour:
The monthly 'Holy Hour'—hosted by Direction for Our Times will take place on Thursday evening, June 4th in St Anne's Church, beginning at 8 p.m. This will be followed by the Sacrament of Reconciliation. All are welcome.
Bailieborough Garden commended at  Bloom Bailieborough Garden Group were delighted to have received a commendation for their garden entitled 'That Perfect Moment' at Bloom this year. The garden, designed by local garden designer Barry Kavanagh, was to represent that perfect moment that all gardeners experience when everything in the garden seems just so. The garden has been received favourably  amongst the people attending Bloom with many commenting that it was their favourite garden at the show! Many thanks to the extremely talented Kingscourt Ironcraft  who made the beautiful custom hand-crafted garden screen and fence, to Etched Mirror designs for the sun-catcher, The Stonemasons Yard for the natural flag stones, Gartland Antiques and to Carmel O'Callaghan for artistic finishing touches and especially to all the team that helped construct and man the garden during the show.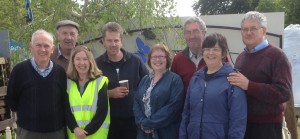 Photo 1; The team who helped construct the garden Left to Right:
PAT FITZPATRICK, ALAN MC ELWAINE, EILISH MC GOWAN, BARRY KAVANAGH, CARMEL O'CALLAGHAN, ANDREW CARLTON, ELAINE GOUGH, IAN GOUGH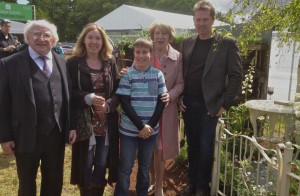 Photo 2: President Higgins visits the garden.
Left to Right:
PRESIDENT MICHAEL D HIGGINS, EILISH MC GOWAN (SECRETARY BAILIEBOROUGH GARDEN GROUP), BRIAN KAVANAGH, SABINA HIGGINS, BARRY KAVANAGH (GARDEN DESIGNER)
Training at Bailieborough Business Centre:
1 Day Safe Pass Course – Friday June 26th – 10 Spaces €100 – Lunch Included.
Computers and the Internet for Beginners €10 for 4 Classes.
Skills for Farmers, Skills for Work. Call 042-969-4716 / 086-794-9739 for further details.
Bailieborough Agricultural Show Annual Quiz: Bailieborough Agricultural Show will host their annual Table Quiz on Friday next, June 5th at 9pm in The Hotel Bailie, Main Street, Bailieborough. All welcome to attend, €40 per table of 4, plaques will be awarded to the winning teams, 1st Prize €100, 2nd Prize €50 and 3rd Prize €25! Raffle on the night! All welcome to attend! For more information email bailieboroshow@gmail.com
Free Pre School places available to eligible children for September 2015.
Pick up and drop off can be arranged in the Bailieborough and Knockbride areas. Free snacks and fruit and drinks supplied in our pre-school. Also we have limited places available in our Crèche for September, we also do after school, and breakfast club and drop off to a number of schools and pick-ups.
For information please contact Maggie on 0879807891.
Killann Pilgrimage to Croagh Patrick:
The Killann Pilgrimage to Croagh Patrick will take place on Sunday, July 12th. A bus will be leaving from Bailieborough at 7.00am. If interested please contact Caroline (086 3817 857) or Mella (086 379 0602) for further details.
Social Day Centre:
The last get-together for this season will take place in the Community Centre on Wednesday, June 3rd from 2.30pm to 4.30pm. All members are invited to attend for the afternoon's entertainment.
Baptism Dates in St. Annes for June, July and August 2015:
The following are the dates for Baptisms in Saint Anne's Church: Saturday, June 6th (Deacon Damien), Sunday, June 7th at 12.30pm (Fr. Michael), Sunday, June 14th at 12.30 (Fr. Michael), Saturday, June 20th at 4.30pm (Deacon Damien) and Sunday, June 21st at 12.30 (Fr. Michael), Saturday, June 27th (Deacon Damien), Saturday, July 11th (Deacon Damien), Sunday, July 12th (Fr. Michael), Saturday, July 25th (Deacon Damien), Sunday, July 26th (Fr. Michael), Saturday, August 8th (Deacon Damien), Sunday, August 9th (Fr. Michael), Saturday, August 23rd (Deacon Damien) and Sunday, August 24th (Fr. Michael).
1916 – 2016 Ireland Centenary Programme:
The Bailieborough Sheehy Skeffington Centenary Committee is planning a series of events in 2016.
Francis Skeffington was born in 1878 in Bailieborough.
If you are interested in the history of Francis and his wife Hanna and the role played by them in the 1916 era, you might like to join our committee.. Contact Patrick McCabe at Phone No. 042 9694706, mobile 086 8490642 or email pgjmccabe@eircom.net
East Cavan Gaels GAA Hurling – Club News 2nd June 2015:
U6/8/10; We had a great evening in Carrick with Carrick, Blayney and Clontibret last Wednesday. Thanks to all who attended. We have a monster training blitz with all our U6/8/10 players this Wednesday in Shercock. This gives our Shercock players a "home" training session and gives those from the Shercock area, who haven't had the chance, an opportunity to try hurling with us. Training is from 6.45-8.15 and all are welcome.
U12/14/16/18; No games this week so training for all on Wednesday in Bailieborough.
Primary schools hurling;We had our first ever 5th/6th class local schools blitz last Friday in Kingscourt. St. Joseph's NS, Kingscourt, St. Felim's NS, The Vale and St. Anne's NS, Bailieborough were in attendance with over 70 players getting a very entertaining mornings hurling. This continues the work being done by the club and Cavan GAA in developing hurling over the last five years at local level. Thanks to our schools for supporting hurling development and to Pauric and Keith from Ulster GAA and Cavan GAA for their assistance.
Féile; Féile is just a few weeks away 19th-21st June. Another great weekend of hurling in store. Watch this space……
Training times and venues; If blitz on then no training.
Under 6/8/10; training blitz Wednesday 3rd June in Shercock.
Kingscourt group; this week all in Shercock
Wednesdays 6-7.30 at Kingscourt Stars GAA grounds.
Bailieborough group; Friday  6-7.30 at the Community School pitch.
For all U8/10 information contact Willie Gaughan 087 164 9280.
Under 12/14/16/18; All training is collective in Bailieborough and subject to change. Wednesday in St. Anne's Park 7pm. Players will receive a text.
For all U12-U18 information contact Kathryn O'Flynn 087 244 1371.
Leisure Centre:
New Studio Classes, check out our facebook page for details of different classes.
Monday:  BLT 10.00-10.45am and Ladies Fitness 8.30pm.
Tuesday:  Mugendo Kickboxing 6.30-8.30.
Wednesday:  Pilates 10-11am, BLT at 6.30, Step Aerobics from 7.30 to 8.30.
Thursday: Yoga at 10 and Turbo training at 7pm.
Friday:  Men's Fitness at 8.45.
Studio and Treatment rooms available to rent, Call 042 9666644. Suitable for many uses.
€30 for 30 days membership pool or gym membership still available.
Check us out on www.bailieboroughleisurecentre.com  or find us on facebook for regular updates.
Weightwatchers:
WeightWatchers continues each Monday night in The BDA Centre, Shercock Road, Bailieborough at 8pm. Why not come along, lose weight and feel great! Details contact Jenny 086 2418361.
Walk, Jog Or Run…
Exercising Is FUN! Every Monday and Wednesday evenings at 8pm join us at Bailieborough Community Centre! All welcome—no matter what your fitness levels are!. Ok folks, join us to run, jog or walk and most importantly tea, biscuits, fruit and chat afterwards.
Bailieborough Cancer Comfort Ltd:
The Bailieborough Cancer Comfort Ltd Committee is available to help cancer patients or their families. Free Taxi service available. For further information contact: Michael Cullen 087 154 2447, Edel Fox 086 1004030 or Geraldine Gormley 087 7949448.
Citizens Information Service:
Co. Cavan Citizens Information Service is in the Library, Bailieborough every Tuesday from 1.30 – 2.30pm. Information on Social Welfare, Employment, Tax, Health etc… A Free and Confidential Service. Tel. 0761 07 5200.
Alcoholics Anonymous:
Local meetings of Alcoholics Anonymous are held in: The Health Centre, Kells Road on Wednesdays at 8.30pm.
The Samaritans:
The Samaritans have a new Freephone number: 116 123 for people who are struggling to cope. The line is open and free 24 hours a day, 365 days of the year.
If any readers have items of interest to be included in the Bailieborough News, (Obituaries, News Items, Sports, etc…), please e-mail: mattie42@eircom.net or call 042 9666200.
http://bailieborough.com/wp-content/uploads/2015/09/bborocomlogo2015-300x130.png
0
0
Liz Fleming
http://bailieborough.com/wp-content/uploads/2015/09/bborocomlogo2015-300x130.png
Liz Fleming
2015-06-04 11:36:27
2015-06-04 14:31:47
Bailieborough News Thursday 4th June 2015