Bailieborough News. May 21st  2015. Matthew J. Cullen.
Town Lake Clean-Up:
The Irish Wildlife Trust Cavan branch would like to sincerely thank all the nature lovers who turned out on Saturday morning last for the Bailieborough Town Lake Big Clean-Up. The clean-up was in response to the multiple incidences of bird injuries and deaths occurring over the past couple of months, with the latest injury, which affected the crooked neck swan, attributed to the unfortunate ignorance of some individuals who carelessly leave behind fishing lines and hooks which animals ensnare themselves in and can suffer a prolonged and painful death.
As a result of the clean-up we have recovered hundreds of metres of fishing line and numerous barbed hooks from the lake. And we also sadly recovered 20 black refuse sacks full of rubbish from the perimeter of the lake which is also a testament to people's ignorance to their own natural environment. Hundreds of discarded bottles and cans were collected. If only people knew that one bottle has the potential to kill hundreds of small mammals over many years, as the mammals, once they climb into a bottle, cannot get back out because of the slippery surface, and they die of starvation.
We would like to thank everyone who came out on the day, especially Vincent McCormack who volunteered his time and boat so that we could retrieve the waste from the lake. Also Ian and Elaine Gough who came from Mullagh, Liz McKenna from BirdWatch Ireland and Peter McConnell and Bertha Waller for taking the photos. If there is anything we have learned from this incident it is that we, as humans, need to apportion more effort within our lives to the welfare and respect of the natural environment. After all, without it, where would we be?
Bailieborough Walking Group:
 Wednesday May 20th. Mullaghmeen Forest, Oldcastle. Advanced Walk – 2.5 hours. Depart from Bailieborough Library at 6.30pm. Meet at Millbrook, Oldcastle at 7pm. Walk commences at Mullaghmeen Forest at 7.15pm. All welcome.
Wednesday, May 27th: Tunnyduff, West Knockbride. Easy walk—1 hour, Medium Walk—1 hour 30mins. Depart from Bailieborough Library at 6.55pm. Walks commence at Tunnyduff Hall at 7.15pm.
First Communion:
Congratulations to all the children from St. Anne's N.S. and the Model N.S., who made their First Holy Communion in St. Anne's Chapel on Saturday morning last. Next Saturday, the children from St. Felim's, The Vale will make their First Holy Communion in St. Anne's at 11.30am.
Free Study Space:
Study space available for all exam students at Bailieborough Library during Library opening hours EXCEPT Wednesdays 10.30am-2.15pm; and Fridays 10.30am-2.15pm. Free WIFI. Only requirement is to be a member of the Library and membership is free.
Mass for the Sick:
To coincide with the beginning of the Kilmore Diocesan Pilgrimage to Lourdes, a special Mass for the Sick will take place in St. Anne's Church on Wednesday, May 27th at 7.30pm. The Sacrament of the Sick will be administered during this Mass.
Library:
Citizens Information every Tuesday from 1.30pm-2.30pm.
'Abair Leat' Irish Conversational Group, Tuesdays from 1pm-2pm. Learning Irish for fun. Tea and coffee served. All welcome, free admission.
Parent, baby and toddler group every Wednesday from 11am-12.30pm. Lots of suitable toys, refreshments, all welcome, free admission.
Craft Group every Friday 10.30am-12.30pm. Sharing of crafts and ideas. Tea and coffee, all welcome.  Free admission.
Adult Book Club
last Thursday of every month from 6pm-7pm. All new members welcome. Tea and coffee served. Free admission. Phone Library at 042 9665779 for details on all of the above.
Congratulations:
Congratulations to all the pupils who graduated from the Bailieborough Community School on Thursday evening last. We wish them well for the future!
May is Mary's Month:
The Rosary will be recited at the Grotto on the Virginia Road every evening during the month of May at 8.00pm. No Rosary on Saturdays. Everyone welcome to offer prayer for the sick of our Parish as well as any private intention.
Practical First Aid Course:
The Bailieborough Red Cross are running a two day certified Practical First Aid Course which will be held upstairs in Bailieborough Library and staged over two Saturdays; June 6th and 13th. Registration at 10am on the 6th. Places will be limited so please register your interest by phone: 087 2346526.
Classes:
Classes at Bailieborough Business Centre: QQI Level 4 Information and Technology, taking applications for new class, QQI Level 4 Computer Applications, QQI Level 4 Health and Safety in the Workplace, Skills for Work, and Computers for Beginners.  Call for more details 042-969-4716, or call in to the Bailieborough Business Centre, Shercock Road, Bailieborough. Beside the playground.
BAILIEBOROUGH SOCIAL DAY CENTRE:
Get Together for the usual activities in the Community Centre on Wednesday, May 20th from 2.30-4.30pm. Names and deposits for holiday to Wicklow on June 22nd for three nights will be taken for members and non-members. For further information, please contact 042 96 65232 or any committee member.  New members welcome.
Bailieborough Community Choir:
Bailieborough Community Choir under the baton of Thomas Hanley, Musical Director presents 'Midsummer Melodies' on Saturday next, 23rd May in Trinity Hall Bailieborough at 8 pm.
Local guest artists will appear on the night. Voluntary donation at door and light refreshments at end of concert. All welcome.
Ulster Schools Success:
Congratulations to Jade Williams (a pupil of Bailieborough Community School) and an athlete from Shercock AC who won the U15 Girls Hammer event beating the record (her own set last year) by 5m, at the Ulster Schools Athletic Championships that was held in the Antrim Forum over last weekend. She had a best throw of 51.32m and will now go on to compete in the All-Ireland Schools Championships in Tullamore on 30th May.
Community Resource House:
Summer Camp at the Bailieborough Resource House: June 29th – July 3rd for 5 – 7 year olds and July 6th – July 10th for 8 – 11 year olds. €30 per child per week. Limited numbers so get bookings in early.
All children must be at school. Tel : 0429666068 or Email :bailieborough@eircom.net
Bailieborough Shamrocks: Underage Training Times:
Underage training continues for the Under 6 (at 11 am on Saturday mornings) and Under 8 and 10 (at 10am on Saturdays and 7pm on Tuesdays). Contact Brian Keegan 087 9661069 for further details.
Book Reading:
Timothy O'Grady is the author of 'I Could Read the Sky', a chilling and beautiful book, which reflects on one man's story of emigration to England. Timothy will read from his book and reflect on the story of emigration at the Library on Tuesday, August 26th at 7pm. All are very welcome and admission is free.
Charity Beard Shave:
Calling all the hairy (and not so hairy)!!  Ladies, have you been looking for an excuse to get your other half to shave that beard?? Well, here's one…. A Charity Beard Shave in aid of Down Syndrome Support, Cavan will take place in the Bailie Hotel on Friday, May 29th, 2015.  So far, there are 13 men that will have their beards shaved on FRIDAY 29th MAY. The night is shaping up to be a great nights craic in the lounge of the Hotel with a lively band playing and a raffle on the night with fantastic spot prizes to be won . . . thanks to the very generous local businesses. If any more volunteers would like to join us, please contact Orla Monaghan for a sponsorship card.
Bailieborough Celtic A.F.C.: Under 15's complete the Double in Style:
Bailieboro Celtic 4 – 0 Kingscourt. A dry but blustery day for the Cup Final held in the M.D.L. Bailieboro got off to a strong start against the wind and took the game to Kingscourt. The first goal came after 10 mins with a cross sung in from the right wing by Ryan Lennon.
Callum Clarke got the ball under control in the box, beat his man and
finished coolly. That helped to settle the nerves. Kingscourt applied more
pressure and used the wind to their advantage, however the defence stood
strong with solid performances from Seosamh Sheerin and Jack Barry.
In the 2nd half, Bailieboro pushed on and scored two quick goals with an
excellent 20 meter strike by Scott Prendergast followed by a well worked
goal down the left wing with a low driving cross across the goals which was
turned in by Sean Obuseng. The fourth goal came with about 20 mins
remaining which was a brilliant individual goal by Cillian Traynor. He
picked up the ball on the right wing inside the opposition half beating
three players before cutting back in on his left foot to slot it past the
keeper.
Bailieboro carried on working to the end, with a Man of the Match
performance from Seanie Keoghan and a captain's role played by Matthew
Traynor. The game was played with great sportsmanship and a good spirit by both teams. It was a great win and a well-deserved League and Cup double. The first for this team.
Congratulations to all the players, coaches and parents—it was a great way to
end the season.
Bailieboro Celtic AFC are delighted to be hosting an FAI Summer Soccer Schools Camp again this year from July 13th to July 17th at the Vale Grounds. Log on to www.summersoccerschools.ie  or call 1890 653 653 to book early. Discounts apply for family bookings.
Pilgrimage to Knock:
A Pilgrimage to Knock takes place on Sunday, May 31st. A bus will be leaving Bailieborough at 9.00am. Fare €20. Bookings can be made with Geraldine at 042 9378504 or 087 964 3884—after 6.00pm.
Bailieborough Community Text Alert:
Annual fee of €5 is now due on receiving text alerts. Contact, Seamus Sheridan, Kells Road, Vincent Cooney, Galbolie or Kevin Carolan, Pine Grove. The next monthly meeting takes place on Monday next, May 25th at 9.00pm, sharp, in the Hotel Bailie. New members are very welcome.
Computers for beginners:
Classes at Bailieborough Business Centre. Do you want to learn the basics of using a computer? These classes will help you with the basics of starting to use a computer, from turning it on, typing a letter, using the internet and more. All you ever wanted to know, but were afraid to ask. Call 0429694716 for more details.
Public Meeting:
The Cavan Branch of the National Land League of Ireland will be meeting in St. Kilian's Heritage Centre, Mullagh, on Tuesday night the 26th May at 8pm.  This is a Public meeting ahead of the opening of a free and confidential advisory service for anyone facing Mortgage difficulty. All welcome.
Bailieborough Agricultural Show Annual Quiz:
Bailieborough Agricultural Show will host their annual Table Quiz on Friday, June 5th at 9pm in The Hotel Bailie, Main Street, Bailieborough. All welcome to attend, €40 per table of 4, plaques will be awarded to the winning teams, 1st Prize €100, 2nd Prize €50 and 3rd Prize €25! Raffle on the night! All welcome to attend! For more information email bailieboroshow@gmail.com
Leisure Centre:
New Studio Classes, check out our facebook page for details of different classes.
Monday:  BLT 10.00-10.45am and Ladies Fitness 8.30pm.
Tuesday:  Mugendo Kickboxing 6.30-8.30.
Wednesday:  Pilates 10-11am, BLT at 6.30, Step Aerobics from 7.30 to 8.30.
Thursday: Yoga at 10 and Turbo training at 7pm.
Friday:  Men's Fitness at 8.45.
Studio and Treatment rooms available to rent, Call 042 9666644. Suitable for many uses.
€30 for 30 days membership pool or gym membership still available.
Check us out on www.bailieboroughleisurecentre.com  or find us on facebook for regular updates.
Baptism Dates in St. Annes for May and June 2015:
The following are the dates for Baptisms in Saint Anne's Church: Saturday, May 23rd at 4.30pm (Deacon Damien), Saturday, June 6th (Deacon Damien), Sunday, June 7th at 12.30pm (Fr. Michael), Sunday, June 14th at 12.30 (Fr. Michael), Saturday, June 20th at 4.30pm (Deacon Damien) and Sunday, June 21st at 12.30 (Fr. Michael).
Walk, Jog Or Run….
Exercising Is FUN! Every Monday and Wednesday evenings at 8pm join us at Bailieborough Community Centre! All welcome—no matter what your fitness levels are!. Ok folks, join us to run, jog or walk and most importantly tea, biscuits, fruit and chat afterwards.
East Cavan Gaels GAA Hurling: Club News 18th May 2015
U6/8/10; Thanks to Aiden Kelly and all at Monaghan GAA for the Under 8/10 blitz on Wednesday last in Cloghan. Our lads performed very well winning all four of their games.
U12; The boys rounded out the Spring (non-competitive) league with a win away to Annalee on Thursday last. This sets them up well for the U13 Summer league and the U12 league/championship in the Autumn. Well done to all!
U14/16/18; The next round of the under 16 league see's our lads head to Cootehill for a match v the hosts at 7pm. This promises to be a competitive encounter.
Training times and venues; If blitz on then no training.
Under 8/10; Kingscourt group;
Wednesdays 6-7.30 at Kingscourt Stars GAA grounds.
Bailieborough group; Friday 6-7.30 at the Community School pitch.
For all U8/10 information contact Willie Gaughan 087 164 9280.
Under 12/14/16/18; All training is collective in Bailieborough and subject to change.
Wednesday in St. Anne's Park 7pm. Players will receive a text.
For all U12-U18 information contact Kathryn O'Flynn 087 244 1371.
Tanagh Outdoor Summer Adventure Camps:
Tanagh Outdoor Adventure Summer Camps are now open. Contact Philomena on 049-5552988 for more information. Application forms can be downloaded from www.tanaghoutdooreducation.com Participation is open to anyone between the ages of 9-16 years. Book early to avoid disappointment.
Kilmore Diocesan Pilgrimage to Lourdes:
will take place from 27th May to 1st June led by the Bishop of Kilmore Rev Leo O' Reilly D.D.
Places are filling up fast but there may be a few seats left by contacting the Diocesan Pastoral Centre, Cullies, Cavan 049 4375 004 Ext 100
for the Pilgrim Section. Bookings for anyone wishing to travel with the Assisted Pilgrims should contact Fr Kevin Fay, Lavey, Ballyjamesduff,
Co Cavan on 087 857 9968 / 049 433 0018 – and again there may still be a few seats available.
Mindfullness Meditation Course: Mind Full or Mindful? :
Mindfullness is the practise of being attentively present. It is called a practice in the same way that we say that people practice the piano. Being attentive is a skill that grows with practice. The practice is simply to relax and bring forth an awareness of what is happening in the present. During the four week introductory course, the basic instructions of Mindfullness Meditation are given sequentially, each week building on the previous one.
The venue is the Virginia Show Centre on May 20th, 27th, June 3rd and 10th from 7.30pm to 9.00pm. Fee: €15 per session. Essential items: Wear loose, comfortable clothing and bring a rug/mat, cushion and warm blanket. For further information and booking, please contact Sheena at 083 105 6111. Places will be limited, so booking is essential.
Cavan County Fleadh in Swanlinbar:
Cavan County Fleadh 2015 will take place in Swanlinbar from Friday 29th May to Monday 1st June. Official opening on Friday 29 May, with open air concert featuring Knockmore Ceili Band. Other events include Cissies Kitchen, gig rig and street
Seisiuns. Saturday 30th May: Fleadh Sets Ceili at 10pm. Culilcagh walk on Sunday 31st May and 4pm Fleadh parade featuring street entertainers, dancers, musicians, floats. A weekend not to be missed!!
Citizens Information Service:
Co. Cavan Citizens Information Service is in the Library, Bailieborough every Tuesday from 1.30 – 2.30pm. Information on Social Welfare, Employment, Tax, Health etc… A Free and Confidential Service. Tel. 0761 07 5200.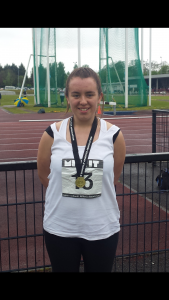 Jade Williams
Hi just to update you on some recent athletics success of a Cavan athlete at the Ulster Schools athletic champs that was on over the weekend in Antrim Forum. Jade Williams (a pupil of Bailieborough CS) and an athlete from Shercock AC won the U15 girls hammer event beating the record (her own set last year) by 5m.
She had a best of 51.32m and will now go on to compete in the All-Ireland schools in Tullamore on 30th May.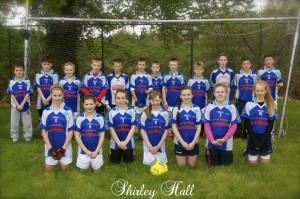 Model School children
Took part in the recent G.A.A. 7-a-side football blitz held in St. Aidans Comprehensive School on Friday.
Alcoholics Anonymous:
Local meetings of Alcoholics Anonymous are held in: The Health Centre, Kells Road on Wednesdays at 8.30pm.
Bailieborough Cancer Comfort Ltd:
The Bailieborough Cancer Comfort Ltd Committee is available to help cancer patients or their families. Free Taxi service available. For further information contact: Michael Cullen 087 154 2447, Edel Fox 086 1004030 or Geraldine Gormley 087 7949448.
The Samaritans:
The Samaritans have a new Freephone number: 116 123 for people who are struggling to cope. The line is open and free 24 hours a day, 365 days of the year.
If any readers have items of interest to be included in the Bailieborough News, (Obituaries, News Items, Sports, etc…), please e-mail: mattie42@eircom.net or call 042 9666200.
http://bailieborough.com/wp-content/uploads/2015/09/bborocomlogo2015-300x130.png
0
0
Liz Fleming
http://bailieborough.com/wp-content/uploads/2015/09/bborocomlogo2015-300x130.png
Liz Fleming
2015-05-21 16:22:33
2015-05-21 16:23:41
Bailieborough News Thursday 21st May 2015