32 County Honda Challenge:
Tomorrow morning, Thursday, October 26th, 32 Honda 50/ 70/ 90's and their support crews and vehicles will leave from Kangley's, Main St., at 9.00am to take part in what will be a massive undertaking to try and complete the '32 County Honda Challenge' and in doing so, they hope to raise funds for Bumbleance—The Children's National Ambulance Service. The event will take 5 days to complete and they hope to have travelled through the 32 counties when they arrive back in Bailieborough on Monday evening. So, come out early on Thursday morning to wish these hardy souls well on their journey and if you cannot make it on Thursday, then please welcome them back on Monday evening.
The list of towns that the bikes will be passing through each day, is as follows:
Thursday 26th October:
Kingscourt (Cavan), Drogheda (Louth), Skerries (Dublin), Ashbourne (Meath), Maynooth (Kildare), Blessington (Wicklow),
Carlow Town (Carlow), Leighlin Road (Laois), Kilkenny Town (Kilkenny).
Friday 27th October: New Ross (Wexford), Carrick-On-Suir (Waterford)
Clonmel (Tipperary), Mitchelstown and Mallow (Cork), Kilbeheny (Limerick)
Killarney, Tralee and Listowel (Kerry).
Saturday 28th October:
Ennis (Clare), Loughrea and Ballinasloe (Galway),
Shannonbridge (Offaly), Frenchpark (Roscommon), Athlone (Westmeath),
Longford Town (Longford), Carrick-On-Shannon (Leitrim), Charlestown (Mayo), Sligo Town (Sligo).
Sunday 29th October:
Bundoran (Donegal), Enniskillen (Fermanagh), Omagh (Tyrone), Derry City (Derry), Ballymena (Antrim).
Monday 30th October:
Lurgan and Keady (Armagh), Gilford (Down), Castleblayney (Monaghan), Shercock and Bailieborough (Cavan).
If you have friends, relatives or workmates along any of the routes, please ask them to come out and encourage the riders on this epic fundraiser.
All support and donations are much appreciated.
'Scary Walk'!!:
The Midsummer Festival and Christmas Lights committee are hosting a 'Scary Walk 'for all the family on Friday next, 27th October at 7pm from St Anne's car park (beside the lake). Please come and support. Entry fee: €10 per family, €5 per child. Fun, hot drinks and nibbles, face painting and plenty of scary stuff!!!! Join your 'Community frights for Christmas Lights'!!
Bailieboro Cancer Comfort presents "A Community Variety Concert" on Friday 3rd and Saturday 4th November 2017, in Bailieborough Community Centre at 8.30pm. €10 entrance fee at the door. Please come and enjoy a good night's entertainment.
Bailieborough Tidy Towns:
Bailieborough Tidy Towns request that no posters or advertisements be put up in the Town area that is Main Street, all approach roads from the 50k signs in to the town, the roundabouts and the fence opposite Tesco. We thank you for your cooperation.
Bailieborough School of Music:
Lotto results for 21/10/17.  Numbers Drawn; 6, 7, 20, 24.  No Jackpot Winner, Lucky Dip (€25) Winners; Donna Mullen, Maio; Aoife and Lian Moore, Bracklin; Sean Clarke, c/o Fox's; John Ed Sheanon, Market Sq. Jackpot next week, €2,000.
St. Annes N.S. celebrates its 60th Anniversary this year:
The school intends to mark this occasion and wishes to compile a collection of Photographs associated with the school. If you have any photographs to add to this important collection, please call to the school office where photographs will be scanned. All original photographs will be returned.
Bailieborough Celtic AFC:
Winter Academy for under 7's and under 8's year born 2010/2011. Price €20 per child to cover registration and weekly subs over 8 week period. Beginning Saturday 28th October depending on numbers. Contact Keith Burke on (086) 163 1538 for further information.
Deepest Sympathy:
Deepest Sympathy is extended to family Sinead, Fiona, Sam and Joan, mother Nora, sister Mary, brother in law Declan, grandchildren Conor, Cian, Daniel, Ryan, Sophie and Alex, sons-in-law Peter and Tom, Sam's partner Lisa, nieces, nephews, extended family, friends and beloved pets Mara and Trixie on the death of Brian (Timothy) Duggan, Twin Oaks, Bailieborough, Co. Cavan, who passed away suddenly on Monday, 16th  October, 2017, at his residence. Brian's Funeral Mass took place in St. Anne's Church, on Thursday, October 19th followed by cremation in Lakelands Crematorium, Cavan.
East Cavan Gaels: Hurling Club:
East Cavan Gaels are currently recruiting minor and adult players to join their Club, to enter into competitions for the first time, starting with a new 9-a-side league. All adults/minors from the entire region i.e. Bailieborough, Shercock, Killann, Knockbride, Killinkere, Mullagh areas, who wish to join us are invited to come along. Training takes place every Sunday morning in Kingscourt at 11.00am.
'Vincent's Shop', Main St:
Our Vincent's Shop on Main Street has now decided to open during lunchtimes, so our opening hours have now changed to Monday ,Tuesday, Wednesday, Thursday and Friday, 10am to 4pm. Saturday, 10am to 1pm and 8pm to 9pm on Thursday's for late night shopping. Please donate any unwanted Halloween costumes and any paper or plastic bags as well as clothes, household and bric a brac as normal. Thank you for all the donations received since our last appeal—it's greatly appreciated.
Cavan Masters:
Good luck to the Bailieborough players who will be part of the Cavan Masters Team that will be playing Sligo in the Masters All Semi-finals in Drumlish on Saturday next, October 28th, at 5pm.
Classes at the B.D.A. Centre:
Beginners Class: We have Computers for beginners taking place in Bailieborough Business Centre, course is free. Phone: 042-96 94 716 or 086-794-9739 to reserve your place.
Hardtimes Chorus 3 Weeks to go to our brand new show 'Thank You For The Music' in St Anne's Church, Bailieborough at 8pm. Tickets are now on sale costing €15 each from Bailie Stores, Bailie Hotel, Supervalu and after all weekend Mass's in St Anne's Church. FRIDAY 10th NOVEMBER is the date you need put in your diary, it's a show you won't want to miss. Our best yet! Spread the word and get your ticket soon.
Christmas Lights:
New lights have been ordered for the Town which will include Churches, Christmas Tree and Library and some light weight lights for across the street, to add to existing the ones. The Committee are preparing a Christmas booklet and would appreciate any donations or advertisements from business in the local area. They are also looking for content from any club or any organisation in the town—from the year 2017. Please contact any committee member. Santa will be on the Market Square on Saturday, December 2nd. Looking for all your support and also volunteers to help put up the lights next month!
Skills for Work – Free Computer Training Locally
Skills for Work are currently organising a number of Computer Courses locally in the Enterprise Centre in Bailieboro.  Courses include Spreadsheets, Word and Computers for Farmers.  If you are employed, self –employed or farming, these courses are free.
All enquiries can be directed to Mary – Skills for Work, Cavan on 087 9731103 or email marydalton@cmetb.ie or Regina Clark ALO on 049 8553528 or emailreginaclarke@cmetb.ie
Knockbride Fun Run:
Tunnyduff N.S. Parents Association are organising a 5k fun-run as well as a 10k run on Sunday next, 29th October at 1.30pm. Registration takes place from 12pm onwards at Tunnyduff Community Hall. Refreshments will be available after the run. All support will be greatly appreciated.
Learn to Jive:
'Learn to Jive' with Mairéad Gaffney and Craig Lovett. Five week course commencing at 8.30pm on Tuesday, 7th November in The Hideout, Bailieborough.  No partner needed.  Contact 086 1763044/ 086 1928568 for further details.
Baby and Toddler Group: 
Bailieborough Library Baby and Toddler Group starts back every Wednesday at the earlier time of 10am. All babies, toddlers, parents and minders are welcome. No charge.
Irish Dance Classes:
Irish Dance Classes with World Champion Dancers, Aishling and Emma Fox takes place in Tierworker Hall on Wednesday and Friday evenings. All levels welcome. For more information, please contact: 087 205 9128 or 087 969 9235.
Baptism Dates in St. Annes for October and November 2017:
The following are the available dates for Baptisms in St. Anne's Church–November 12th (Sunday, 12.30pm,) November 26th (Sunday 12.30pm), December 9th (Saturday, 1.30pm) and December 17th (Sunday, 12.30pm).
Bailieborough Library: Everyday Irish – Tuesday evenings 3pm to 5pm
Beginner Conversational Irish Class for Adults who would like to learn the basics.
Bailieborough Library Parent, Baby and Toddler Group has proven to be a vital life line for all stay-at-home parents who may be new to the area and wish to get out of the house and make new friends. There is a huge range of toys for children to play with, while parents can enjoy a cup of tea and chat.
The group meets at the Library Arts space every Wednesday at 10.30am-12pm. Why not join their Facebook Group and keep up to date with news and events.
Citizens Information every Tuesday 1.30pm-2.30pm on a first come first served basis; Craft Group every Friday 10.30am-1pm; Book Club 6pm-7pm last Thursday of every month; Lit Lab writers group every second Tuesday. Contact 042 9665779 for details on any of the above.
East Cavan Gaels GAA Club – Hurling News 23rd October 2017
Things beginning to quieten down……
Under 6/8/10; Great work going on with both groups. We lost this week's sessions due to the stormy conditions but we are ready again for this week. Some games v local opposition coming up soon. Well done to all especially our new recruits. Training indoors every Thursday and Friday in Kingscourt and Bailieborough respectively.
Under 12/13; Our 2 sides performed very well on Wednesday last in Breffni. Round 2 this Wednesday.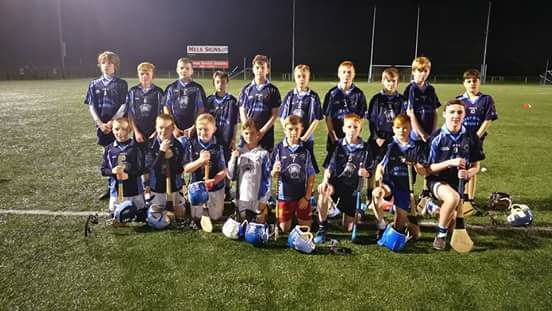 Wednesdays U13 squad in Breffni.
Adult and Minor; We have entered into the Cavan 9 a side adult league beginning in November on the 3G. This will be our first ever taste of adult hurling in the club and will act as preparation for a full 15 a side team in 2018. Training for all adult and minor players will be on Sunday mornings in Kingscourt Stars GAA grounds at 11am sharp.
The week ahead;
Wednesday; U13 Breffni 3G 7pm.
Thursday;. Kingscourt indoors in the Community Centre U6/8/10 at 6.45.
Friday; Bailieborough indoors at the BCS sports hall U6/8 6-7. U10 7-8.
Sunday; Adult and minor training 11am in Kingscourt Stars GAA grounds.
THE GALLANT 5KM/10KM CHALLENGE:
In aid of St Christopher's Hospice Cavan takes place on Saturday 28th October 2017.  This event will start and finish at McSeains Bar, Cornafean and will be marked out and stewarded along the route to guide you along the way to whichever distance you decide to participate in. Main sponsors are MacManus Pharmacies Cavan, O'Neill's Pub and Shop in Redhills and Garry Smith from Smith's Catering in Ballyconnell. Over the previous 13 years the Challenge has been an outstanding success raising €367,000 for this wonderful cause. There will be loads of surprises and craic on the day and it will be a fantastic day for the family.  Entry fee on the day to participate in the Challenge is voluntary.  Anyone wishing to donate to this very worthy cause can do so by leaving donations in the Village Foodstore, Crossdoney.  All donations are greatly accepted.
Sponsorship cards are available from St Christopher's Hospice 049-4332999, Ciaran Weir 086-0753309, William Hughes on 086-3584700 and Village Foodstore in Crossdoney.  Please COME ALONG and support this worthy cause!!
Halloween Camps:
Tanagh Forest School (6-11yrs) and Tanagh Bush Camp Craft (12-15yrs) camps are running over the Halloween, 31st Oct, 1st Nov and 2nd Nov. Forest School is in the morning from 10am-1pm and Bush Camp Craft is in the afternoon from 2pm-5pm. Contact Philomena for more information 049-5552988 or email: info@tanaghoutdooreducation.com
Book early to avoid disappointment.
Get Ready, Get Steady, Go :
Have you taken time out to look after family or raise children?  Would you like to meet new people and boost your confidence?  Are you thinking about returning to work? If so then a new programme from Cavan /Monaghan Education and Training Board could be for you.
Get Ready, Get Steady, Go is open to women who are out of the workforce but are not on jobseekers' payments. You can take part if you are on no payment, or on a payment such as Carer's Allowance, Disability Allowance or One-Parent Family Payment. Classes will run two mornings a week in your local community. The programme will cover Personal Development and Health and Wellbeing. You will be able to develop a Personal Plan for your future. For more information contact Ceinwen on 087 1967888 or email ceinwenfergus@cmetb.ie
This project is supported by the Irish Government and the European Social Fund (ESF) as part of the programme for Employability, Inclusion and Learning (PEIL) 2014-2020.
Bailieborough Cancer Comfort Ltd:
The Bailieborough Cancer Comfort Ltd Committee is available to help cancer patients or their families. Free Taxi service available. For further information contact: Michael Cullen 087 154 2447 or Edel Fox 086 1004030.
CITIZENS INFORMATION:
Co. Cavan Citizens Information Outreach Service in Bailieboro (The Library) on Tuesdays, from 1.30pm – 2.30pm. This is a weekly service.  Any enquiries 076 1075200.
Alcoholics Anonymous:
Local meetings of Alcoholics Anonymous are held in: The Health Centre, Kells Road on Wednesdays at 8.30pm.
http://bailieborough.com/wp-content/uploads/2015/09/bborocomlogo2015-300x130.png
0
0
Lee McDonnell
http://bailieborough.com/wp-content/uploads/2015/09/bborocomlogo2015-300x130.png
Lee McDonnell
2017-10-25 11:39:11
2017-10-25 11:39:11
Bailieborough News. October 23rd 2017. Matthew J. Cullen.