Bailieborough News. October 20th 2016.  Matthew J. Cullen.
Bailieborough Poetry Festival
Litlab would like to sincerely thank the people of Bailieborough for their warm and generous support of the 4th Bailieborough Poetry Festival 2016.  The festival was a great success, with big turnouts each night: at Elena's Duff's Art Exhibition on Thursday, at Guest Poet, Monica Corish on Friday and at 'Gallery Goes' on Saturday, 8th October. A special thank you to the Bailie Hotel for their generous sponsorship of our Poetry Competition, to Peter Murtagh for allowing us open access to his auction rooms for our events, to all the local businesses who lent their shop windows for works of art, to staff in Bailieborough library for their continued support and to wonderful musicians Luna and Sam Geraghty. It was a great weekend of poetry, music and fun: thank you all.
OCTOBER – MONTH OF THE ROSARY
The Rosary will be said for the month of October at the Grotto on the Virginia road at 7.30pm every evening except Saturdays. Everyone welcome to come and pray for all intentions.
Baptism Dates in St. Annes for November 2016 and December 2016
The following are the available dates for Baptisms in St. Anne's Church for November and December –November 26th (Saturday 1.30pm), December 11th (Sunday 12.30pm), December 17th (Saturday 1.30pm).
LAKELANDS ARCH CLUB – SOCIAL CLUB FOR PEOPLE WITH SPECIAL NEEDS
All ages welcome.  Dates for your diary: Wednesday next, 26th October, Wednesday 30th   November, from 7-8pm (Juniors U16), 7-9pm (Seniors) in Bailieborough Business Development Building, Shercock Road.  Find us on Facebook.  Lakelands Arch Club. Email:  lakelandsarchclub@eircom.net
Hardtimes Chorus
Hardtimes Chorus, would like to thank all that came to our show in St Bridget's Church in Laragh on Friday night last, helping us raise funds for Cavan and Monaghan Palliative Care. We hope you all enjoyed it as much as we enjoyed performing for you all. Thank you again for helping us raise funds for such a worthy cause. Thank You.
Killann Parish Pastoral Council 2016—2020
The membership of the Killann Parish Pastoral Council is: Chairperson—Peter Foster, Vice-Chairperson– Marie Guckian, Secretary— Brigid Donohoe, Asst. Secretary— Kevin Mortimer, Youth Officer— Pearl Dickson, Asst. Youth Officer—Ciaran Purcell,  Peter Clarke, Brigid Coyle, Francis McDermott, Tony Carolan, Audrey Ruxton, Geraldine O'Reilly, Fr. Michael Router and Fr. Addison Okpeh. The two new safeguarding representatives will also be members of the Council once their appointments are finalised.
Classes and Services at Bailieborough Business Centre
Spaces available for Information and Technology QQI Level 4. A 40-week full time course covering Communications, Computer Applications, Digital Media, IT Skills, Maths, Work Experience, Personal Effectiveness and Workplace Safety. Call: 042-969-4716 / 049-433-1494 for details.
Internet Safety for Parents. A 2 hour session for parents, guiding you through the various Apps and Social Media sites that children are accessing. Call 042-969-4716.
A4 Colour Copying and Printing available at Bailieborough Business Centre.
Bailieboro Parish Church Funds—Fundraiser—presents CONAL GALLEN
One of Ireland's funniest comedians returns to the Hotel Bailie for a night of Fun and Laughter on Friday, 18TH November  –   DOORS OPEN 7.30pm for show at 8.30pm. Tickets available at reception of Hotel Bailie – Admission €25.
ST. ANNE'S N.S. HALLOWEEN FAMILY FUN/RUN, WALK
On Sunday next, 23rd October at 11.30am, starting at the Community Centre.  Dust down your costumes because the invitation is open to all young (and not so young) scary Draculas, ghosts, witches and creatures unimaginable!!  We look forward to seeing you for what should be a great fun for all the family.  All proceeds will go towards buying playground activity and sports equipment for the children in St. Anne's N.S. All welcome.
Bridge Results: Tuesday, 11th October
First: Eilish Reynolds and Rosaleen Keegan, Second: Philomena Finnegan and Rosaleen Mackey, Best Gross: Teresa O'Reilly and Patsy Corcoran. Weekly Bridge Club takes place at 7.30 pm on Tuesday evenings in the Hotel Bailie. New members always most welcome.
 BAILIEBOROUGH COMMUNITY DEVELOPMENT
The Celtic Tenors and Guests including Deirdre Shannon of Celtic Woman, Bailieborough Community School Choir, Hard Times Chorus and Bailieborough Community Choir will be performing for 1 night only at Killinkere Leisure Centre, Virginia on Saturday 12th November. This promises to be a musical spectacular for all the family to enjoy. Tickets cost €20 each and all profits are being donated to Community School ASD Unit, Castle Lake Development
Project, Christmas Lights Fund. For more information on your local stockist please call: 042-969-4716 by text: 086-794-9739, visit www.bailieborough.com/events or on Facebook at Bailieborough Development Association. Come and join us for this wonderful and worthwhile event.
Knockbride Heritage Group
The Annual General Meeting of the Knockbride Heritage Group will be held tonight, Wednesday, the 19th October at 7.30 in Church of Ireland Hall. All welcome.
Dance Classes
Dance classes in Cross Hall. Friday nights from 9–11pm. Tuition in, Jive, Quick Step, Waltz, Foxtrot and many more. Contact 086 2003739 for further information. New beginners welcome.
 IRISH DANCING CLASSES
 In Tierworker Hall on Wednesday/Friday evenings.  Available to all levels.  Contact 087 9699235 for further information.
Walk, Jog Or Run
Exercising Is FUN! Every Monday and Wednesday evenings at 8pm join us at Bailieborough Community Centre! All welcome—no matter what your fitness levels are!. Ok folks, join us to run, jog or walk and most importantly tea, biscuits, fruit and chat afterwards.
Library
 Parent, Baby and Toddler group: Weekly meeting at Bailieborough Library.
Bailieborough Library Parent, Baby and Toddler Group has proven to be a vital life line for all stay-at-home parents who may be new to the area and wish to get out of the house and make new friends. There is a huge range of toys for children to play with, while parents can enjoy a cup of tea and chat.
The group meets at the Library Arts space every Wednesday at 10.30am-12pm. Why not join their Facebook Group and keep up to date with news and events.
Citizens Information every Tuesday 1.30pm-2.30pm on a first come first served basis; Craft Group every Friday 10.30am-1pm; Book Club 6pm-7pm last Thursday of every month; Lit Lab writers group every second Tuesday. Contact 042 9665779 for details on any of the above.
CITIZENS INFORMATION: Co. Cavan Citizens Information Outreach Service in Bailieboro (The Library) on Tuesdays, from 1.30pm – 2.30pm. This is a weekly service.  Any enquiries 076 1075200.
School of Music
School of Music cheque presentation to OLCH, Crumlin (GI Unit) proceeds from our Concert held a few months ago.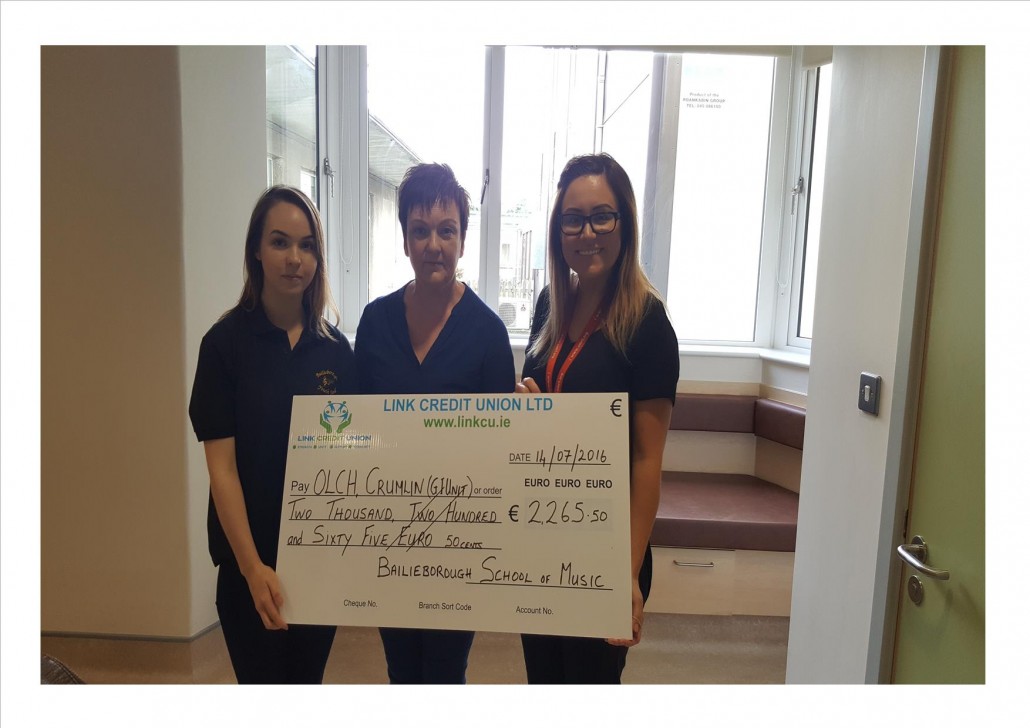 Picture Includes, Rebecca Farrell, Ann Farrell, (School of Music) and Rachel Daly Community Fundraising Manager,CMRU
Local Data Needed
Bailieborough Development Association is in the process of compiling a database with all community groups contact details in the area. If you are involved with any group as a member or a volunteer, be it sports, keep fit, community employment, youth work, anything at all, please call 042-969-4716  with the contact details for the group or email bda@bailieborough.com, don't think that somebody else will call with the details. This database will be a valuable resource for the whole community, and will help us all communicate with each other on matters involving our community.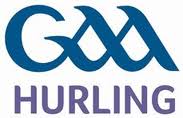 East Cavan Gaels GAA Club – Hurling News 17th October 2016
Under 6/8/10; Indoor hurling is now up and running in both Kingscourt on Thursdays and Bailieborough on Fridays with the new Under 11 session on the astro at the Vale on Sunday mornings. Training times below. New players always very welcome. This is the perfect time to try hurling with us. We have indoor hurling all the way to May 2017!
Under 12/14; The Under 14 Championship Shield Final was postponed due to a bereavement in the St. Felim's club.It will now be played this coming Wednesday v St. Felim's on the 3G at Breffni at 7pm. Another chance for a piece of silverware.
The U13 competition will begin the following Wednesday.
Under 16/18; Just the Cavan Championships remain for these two sides. Dates should be known this week.
Hurling training times and venues;
Under 6/8; Kingscourt group; Thursday 6.45-8pm for U6/8 only in the Community Centre. €3 each and bring water bottle.
Bailieborough group U6/8; Friday at the Bailieborough Community School Sports Hall. U6/8 from 6-7. €3 each and bring the water bottle.
For all U8/10 information contact Willie Gaughan 086 164 9280.
Under 11; Sunday morning 10-11am on the astro at the Vale for all players 9,10 and 11. Moulded studs only please. €3 each and please bring water. All players to be there for 9.55.
Under 12/14/16/18; Training for all ages from Under 12 to Under 18 will be on weekends from now on. Players will receive a text. For all U12-U18 information contact Kathryn O'Flynn 087 244 1371.
Bailieborough Cancer Comfort Ltd
The Bailieborough Cancer Comfort Ltd Committee is available to help cancer patients or their families. Free Taxi service available. For further information contact: Michael Cullen 087 154 2447 or Edel Fox 086 1004030.
Alcoholics Anonymous
Local meetings of Alcoholics Anonymous are held in: The Health Centre, Kells Road on Wednesdays at 8.30pm.
The Samaritans
The Samaritans have a new Freephone number: 116 123 for people who are struggling to cope. The line is open and free 24 hours a day, 365 days of the year.
If any readers have items of interest to be included in the Bailieborough News, (Obituaries, News Items, Sports, etc…), please e-mail: mattie42@eircom.net or call 042 9666200.
http://bailieborough.com/wp-content/uploads/2015/09/bborocomlogo2015-300x130.png
0
0
Colette
http://bailieborough.com/wp-content/uploads/2015/09/bborocomlogo2015-300x130.png
Colette
2016-10-21 09:10:59
2016-10-21 09:10:59
Bailieborough News. October 20th 2016