Congratulations: Congratulations to Knockbride girl, Tara Rogers who was selected as the Cavan Rose 2022 for the annual Rose of Tralee Festival in the Hotel Kilmore on Sunday evening last.
Bailieborough Midsummer Festival and Town Events: Bailieborough MidSummer Festival is back. We're so excited to announce we are back for the first time since 2019 on Sunday, July 24th.
We'd like to announce that The BIG GENERATOR Band is coming to the festival this year. Paul Leavy will be warming up things before hand. There is so much more on the day.
Duathlon in Bailieborough at St.Anne's GAA pitch. Run 2.5k, Cycle 20k and run 2.5 k. No big hills involved. Fit for all 5 k fun run and a fun filled day afterwards in Bailieborough. Live music, dog shows, amusements and family entertainment.
CALLING ALL CREATIVES : Calling all crafters, food vendors, clubs and local groups for the Bailieborough Midsummer Festival 2022.
We are now accepting applications for stalls on Main St. on Sunday, July 24th from 12-6pm. For more details/application forms please email,
bailieboroughmidsummerfestival@gmail.com
We need your help. We are planning to have a Festival on Sunday the 24th of July. In order for this to go ahead we need more volunteers to join our committee.
If this is something you're interested in don't hesitate send a message or get in contact with a committee member.
Cavan Older People Council's Information Roadshow: The Cavan Older People's Council are hosting Information Roadshows during the month of June. The aim of the roadshows is to provide older adults with an opportunity to come together again after the lockdowns at a physical event. Up to date information on services available to older adults will be available along with the opportunity to participate in some social activities on the morning. Free goody bags will also be available on the day. The Information Roadshows will take place on:
Wednesday 22nd June at 10:30am – 2pm / Bailie Hotel / Bailieborough and
Wednesday 29th June at 10:30am – 2pm / Kilmore Hotel / Cavan.
There will be a host of Information Stands at the events along with the following talks and demonstrations:
11am: An Garda Síochána Crime Prevention Officer –Property Marking Machine demonstration and Crime Prevention Talk.
11:30am: Chair Based Exercise demonstration.
12pm: Nutritional eating for older adults.
12:30pm: Health & Wellbeing Talk.
1pm: Genealogy – How to trace your family tree.
1:30pm: Social Prescribing – how older adults can benefit.
All older adults are welcome to attend. Refreshments will be provided.
Summer Songs of Praise: On Sunday next, 26th June there will a 'Songs of Praise' Service in Bailieborough Church at 3pm. We will be singing some favourite hymns, as chosen by the people. The whole community is invited and would be welcome at this Special Service. There will be no other services in the Group of Parishes on 26th.
Bailieborough Hen's Shed: Bailieborough Hen's Shed is hosting a talk on Women's Health by Maria Jordan O'Reilly. Focus on Menopause and periMenopause. Upstairs in Bailieborough Library, from 10am to 12pm on Thursday 23rd June. All welcome. Bailieborough Hen's Shed, a Womens' group, meets upstairs in Bailieborough Library every Thursday from 10am to 12pm.
Public Consultation Meeting: Funding has been secured to facilitate improvement works to the existing Bailieborough Courthouse and Bridewell building and to upgrade the public area adjoining the Bailieborough Courthouse at the junction of Main St. And the Shercock Road.
Cavan County Council are holding a Public Consultation evening in the hall of Bailieborough Courthouse on this Thursday evening, June 23rd at 7.00pm, regarding the proposed upgrade work. Everyone is welcome to attend.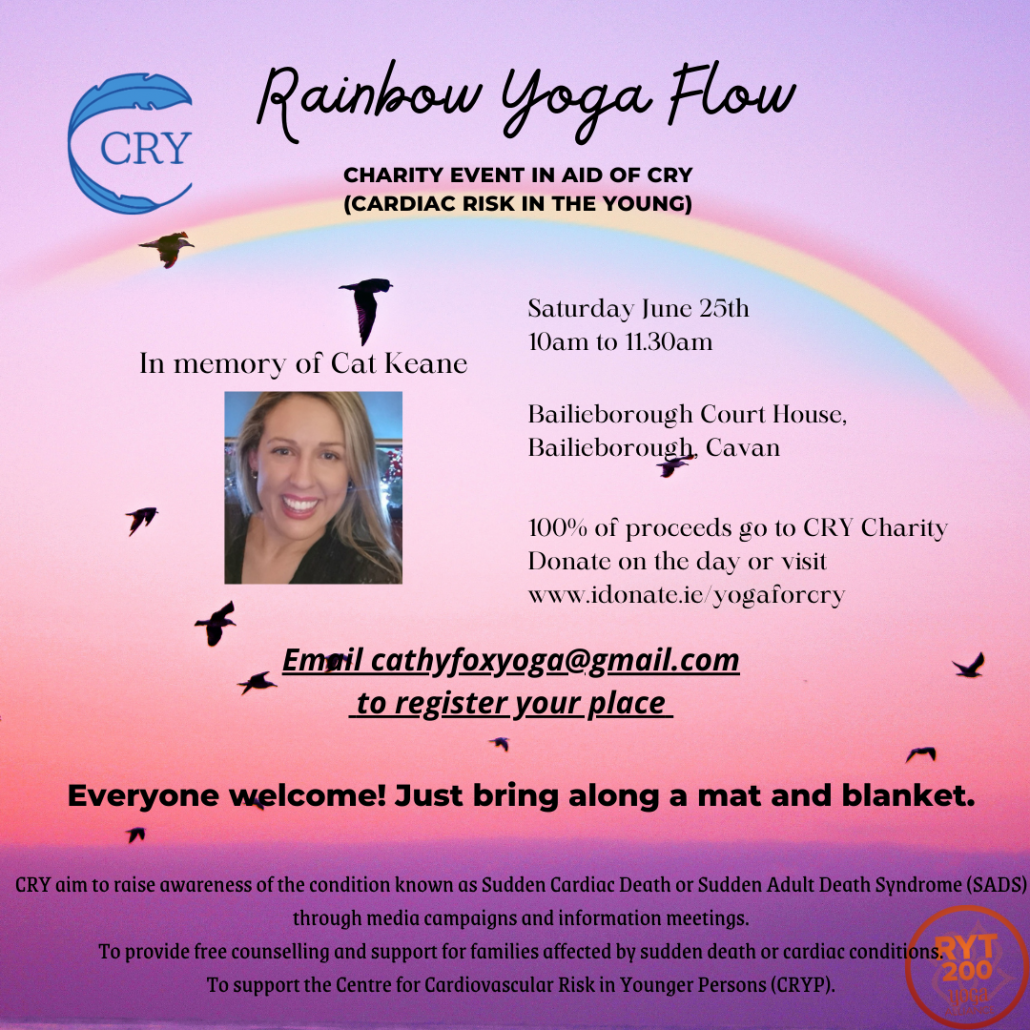 Deepest Sympathy: Deepest Sympathy is extended to brothers, Tommy and Benny, nephews, nieces, sister in law, relatives, friends and very good neighbours on the death of Bridgie Lynch, Corravilla, Bailieborough, Co. Cavan, who passed away peacefully on Saturday, 18th June 2022, at Cavan General Hospital. Bridgie's Funeral Mass took place in St. Brigid's Church, Knockbride East on Tuesday,June 21st with burial afterwards in the adjoining cemetery.
Bailieborough Walking Group:
Wednesday, June 22nd – Castle Lake, Bailieborough.
(E) Walk 1 hr (M) 1.5hrs Walk commences at the Castle Lake car park at 7.15pm.
Wednesday, June 29th– Tower of Lloyd, Kells, Co. Meath
(M) Walk 1.5hrs. Leaving Bailieborough Library at 6.30pm. Meet at Spire R163 Oldcastle Road out of Kells. Walk commences at 7.15pm.
All welcome.
Bailieborough Cancer Comfort Ltd: A 'Tractor Run' will take place on Sunday, June 26th. Registration will take place from 11.00am to 12 noon at Fox's Bar, Main St., Bailieborough. There will be parking in the car park behind the pub. All proceeds will be in aid of Bailieborough Cancer Care. For further information, please cont Freddie at 087 702 7873.
The Bailieborough Cancer Comfort Ltd Committee is available to help cancer patients or their families. Free Taxi service available. For further information, contact: Edel Fox 086 1004030.
Bailieborough Tidy Towns: Bailieborough Tidy Towns have put up 42 Hanging baskets on Main St. Help would be appreciated with watering them. Anyone with a towbar on any vehicle would be of great assistance. Volunteer for once or twice a month during the Summer would be of tremendous help. Please contact Bernie Flynn.
St. Anne's, Killann: Over the last while St Anne's Killann has undergone a lot of repairs. Insulation has been improved, dampness addressed, external doors replaced and it has been painted inside and out. Thanks to parishioners whose weekly financial contribution makes this work possible and makes St Anne's a beautiful house of prayer.
Library: Keep your child reading over the holidays with our Summer Star Reading programme designed to encourage a love of books and reading. Also FREE children's workshops including clay modelling, lego, drumming, story time and puppet show available at the library over the summer. Places are limited and booking is essential Phone 042 9665779 for details or Bailieborough Library FB page.
Bailieboro Celtic A.F.C.: Summer Soccer Academy: Bailieboro Celtic AFC are holding a Summer Soccer Academy for boys and girls born between, 2012 and 2015. The event will commence on Wednesday, July 6th from 6.30pm to 7.30pm at the Vale Soccer Grounds, Cavan Road, Bailieborough. To register your interest, please text your child's name and Date of Birth to 086 815 6532—as places will be limited.
Players born 2011-2014 interested in joining the club please get in contact. Like every other club we need a helping hand with coaches and volunteers.
Also, the FAI Summer Camp is back from August 15th -19th . Online portal is open for bookings. https://bookings.summersoccerschools.ie/s/
Bailieborough Craft Club: Meetings take place every Friday, upstairs in the Library from 10.30am to 12.30pm. Looking forward to seeing everyone and new members most welcome.
Walk, Jog or Run: Bailieborough Chapel Carpark, Chapel Road (Lakeside), every Monday and Wednesday from 8.00pm to 9.00pm, for all levels of fitness. Other activities available—weather permitting. For further information, please contact Tony at 086 399 3430. Have fun while keeping fit. Everybody welcome.
Rhythmic Dance Twirlers: Beginner classes take place every Wednesday evening from 5.00pm to 6.00pm, in the Courthouse, Lower Main St, Bailieborough. Boys and girls aged 4 and up, are welcome to join us. Contact, Kelly Clarke for further information.
Maudabawn Macra 70th Anniversary weekend– Friday 24th -Sunday 26th June. Weekend of events and entertainment in Gallonray House to celebrate 70 years since the foundation of the club. Friday, 24th at 8.30pm, Seamus O'Rourke- 'The Handyman'. Admission €10. Live music by Shane McCluskey. Saturday, 25th at 10am, Drumgoon Heritage walk. Refreshments served. At 8.30pm Photo and Memorabilia display and commerative book launch. Live music by Audio Pilot. Sunday, 26th at 2pm, Family Fun Day, Street feast, bbq, tug of war and much more. All welcome.
East Cavan Gaels GAA Club – Hurling News 20th June 2022
Seniors; The Seniors host St. Malachys from Armagh in round three of the Cuchulainn league on Wednesday in Mullagh. Training continues on Monday at 8 in Bailieborough. Under 13/15/17; The Under 13s had a good outing in Carrick on Shannon on Saturday last, where they had two good competitive games v Longford Slashers and the hosts Carrick. These were good games which will bring them on no end. Next up is a trip to Kingspan Breffni for a Cavan blitz on Monday. The Under 17s have joined with North Meath for the Tain League which will begin next Monday. Under 11; The lads have another round of the Monaghan league on Sunday next with a game in Meath league the following week. Under 7/9; A great trip to Cloghan on Wednesday last as both U7s and U9s had four good games v Monaghan opposition. The next round will be in two weeks in Carrick tbc. The week ahead; Wednesday; Seniors at home to St. Malachys 7,30pm in Mullagh. Sunday; U11s Monaghan league 11am venue tbc. Club contacts; U7/9/11; Willie Gaughan 086 164 9280.U13/15/17/Senior; Kathryn O' Flynn 087 244 1371.
http://bailieborough.com/wp-content/uploads/2015/09/bborocomlogo2015-300x130.png
0
0
Colette
http://bailieborough.com/wp-content/uploads/2015/09/bborocomlogo2015-300x130.png
Colette
2022-06-23 09:45:37
2022-06-23 09:36:31
Bailieborough News. June 20th 2022 . Matthew J. Cullen.