Big Build Fundraiser:
Tunnyduff Parents Association presents, 'The Big Build Fundraiser' in the Bailie Hotel on this Friday evening, February 16th. Doors open at 11.00pm and music on the night will be provided by Johnny Brady and his Band. The supporting act will be Noel Briody, who will be in the lounge from 10.00pm. Admission to the event is €15 and all are most welcome to attend. Tickets are available from: 'The Bailie Hotel', 'SUPERVALU', Bailieborough, 'The Bridge Tavern', Canningstown, 'SNS. Hardware', Mountain Lodge, 'McCabe's', Mountain Lodge, 'Cutting Edge Hairdresser's', Cootehill and also from Sophie Smith at 087-6561724. Patrons also can pay at the door on the night.  A Raffle will take place on the night with some lovely prizes.
All money raised is going towards building a new extension on to St. Brigid's, National School, Tunnyduff, Bailieborough. Looking forward to a great night and seeing you all there.
The Open Door Sessions will take place at 9.00pm on Friday 16th February 2018, downstairs @ Nixy's, The Square Bar, Market Square, Bailieborough.
Performers: 'Native Talk', Andy Jones and Grainne Hunt. All welcome.
Native Talk are a fresh new Irish band ready to take the scene by storm. Hailing from Carrickmacross Co. Monaghan, this four piece band have some great music to showcase!
The band started as a side project and has since further progressed into something of its own, 'Native Talk' is an alternative indie project and is something in which they try to let people relate to..
Their debut single "Hangover" was well received and, along with their latest single "Makes Me Stay" and with plans to release and EP in 2018, they could be ones to watch this year.
Singer – Keith Coleman; Guitarist – Mel Jones; Drummer – Luke Cassidy; Bassist – Sean Morris
​Andy Jones is a Dubliner happily living in Mullagh. He loves flash fiction and was awarded the writer of the year 2017 in Co Roscommon. He has read on RTE's 'Sunday Miscellany'.
Grainne Hunt: Originally from Carrickmacross, Grainne's Irish roots are subtly and beautifully etched in the melodies she writes.
2017 was an extremely busy year for Grainne, which included solo gigs on the West Coast of the US, Berlin, Cologne, Dusseldorf, London, a headline slot at Schottenfest, Vienna, a special guest slot with choir Cantus Domus at Kaltern Fest, Italy, a sold out show at Rathfarnham Castle and the awarding of an Arts Council Travel and Training Grant.
Alongside this she toured extensively with Mark Geary in Ireland, Germany, Switzerland, Italy and the US in support of his new album.
Back to Ireland now, she is continuing to work on new material for her second release, due in mid/late 2018.
Bailieborough School of Music:
Lotto results for 10-02-2018.  Numbers Drawn; 1, 9, 13, 21.  No Jackpot Winner, Lucky Dip (€25) Winners; Marie Logan, Ardlow; Pat Gaffney, Galbolie; Liz Callaghan, Tullynaskeagh; Catherina McGuirk, Magheracloone. Jackpot next week, €1,600.
Bailieborough Red Cross:
Thanks to all who attended our recent AGM. The new committee for 2018 is made up of the following people: Chairman -Peter McCabe, Secretary -Kathy Lynch, Joint treasurers : Julie O Brian and Helen Eagleton.
Social Services Officer -Mary Kelly.
Youth Officer /Helen Eagleton.
Area Reps Peter McCabe and Julie O Brien.
Julie was selected as GA representative at the Area Meeting.
The Model N.S.:
The Model School, Bailieborough is now open for enrolment for Junior Infants starting September 2018. For an information pack and enrolment form, please contact: themodelbailieborough@gmail.com or phone the office on 042-9665689.
Christmas Lights Committee:
Bailieborough Christmas Lights Committee wish to thank most sincerely, all those who provided financial support for the 2017 town lights. We also thank the many volunteers who gave freely of their time to assemble, erect and take down the lights.
Bailieboro School of Music 30th Anniversary Concert, Helix, DCU:
Tickets for Sunday, February 25th are still available from the Helix website (www.thehelix.ie) or Box office 01 700 7000.  A few places left on the bus for audience members, contact Ann 087 7858509.
It's not too late for past students who want to take part in our 30th Anniversary Concert. Music is available via Facebook page (facebook.com/bailieboro.schoolofmusic) or contact us by email bboro.som@gmail for a copy. There will be a rehearsal for all past students on Saturday, February 17th in the Community School, (The Groove at 4pm and Senior Band at 5.30pm) and again on the day of the Concert in the Helix at 1pm.
Irish Blood Transfusion Service:
The Mobile Unit of the Irish Blood Transfusion Service will be in attendance at Bailieborough Community School on Wednesday, February 14th from 5.00pm to 8.30pm. All previous donors are invited to attend and new donors are especially welcome.
Saint Vincent de Paul Shop Conference:
We wish to sincerely thank the students, staff and parents of the Community School and all the local primary schools for the very generous donations of hampers, money and goods to the Conference over the Christmas period.  We can assure you that many people in our community are benefiting greatly from your generosity.
First Communion Preparation Mass:
The children in second class in St. Annes, St. Felims and the Model School, who will be receiving First Holy Communion this year, along with their parents and guardians will take part in the 10.00am Mass on Sunday next, February 18th in St. Annes Church.
Bailieborough Tidy Towns:
Bailieborough Tidy Towns request that no posters or advertisements be put up on Main Street and on all approach roads from the 50k signs in, and particularly on the fence opposite Tesco.  We would appreciate your cooperation.
Bailieborough Social Day Group:
The meeting of the Social Day Group was cancelled last week due to the cold weather but will now take place on Wednesday, February 14th from 2.30pm to 4.30pm, in the Community Centre. All members old and new are most welcome to attend.
Public Information Meeting:
A Public Information Meeting on the 'Irish Constitution and the 8th Amendment' will take place on Thursday, February 22nd at 8.30pm, in St. Anne's Community Centre, Chapel Road. A panel of speakers and video presentation will be followed by refreshments. This is an ideal opportunity to understand what is proposed by the Government in the forthcoming referendum.
Deepest Sympathy:Deepest Sympathy is extended to Mrs. Sue Sheanon and family, Virginia Road, on the recent death of her brother, John Sheridan, Beagh, Killinkere. John's Funeral Mass took place in St. Ultan's Church, Killinkere, on Wednesday, February 7th, with burial afterwards in St. Ultan's Cemetery, Killinkere.
Deepest Sympathy: Deepest Sympathy is extended to sons Gary and Declan, daughters Sharon and Alison, son-in-law, brothers, sisters, grandchildren, nephews, nieces, relatives and friends of Eileen Codd (nee McKenna) 33 Lisgrey Gardens, Bailieborough and formerly of Augushland, Cootehill, Co. Cavan. Eileen passed away peacefully on Saturday, February 3rd, at home surrounded by her loving family. Eileen's Funeral Mass took place in St. Michael's Church, Cootehill on Tuesday, February 6th with burial afterwards in St. Michael's Cemetery, Cootehill.

Computers for Beginners—5 Weeks 10 Hours.Classes at Bailieborough Business Centre for 2018 – Call 042-969-4716 / 086-794-9739.
Internet and Email—14 Weeks, 42 Hours, Mondays from 7-10pm.
Graphic Design—14 Weeks—42 Hours
Tuesdays from 10-1pm.
Microsoft Word –14 Weeks, 42 Hours.
Thursdays from 10-1pm.
St. Brigid's N.S., Tunnyduff:
Enrolments are now being taken for St. Brigid's N.S. Tunnyduff for September 2018. Please telephone the school at 042 9660368 for an enrolment pack.
Closing date for enrolment is 2nd March 2018.
Cavan Birdwatch:
Cavan Birdwatch branch are meeting on Sunday 25th February at 9.30 a.m. at Crover House Hotel, Mountnugent to visit sites along the shores of Lough Sheelin.
All are welcome to attend. Dress warmly and bring a packed lunch. (3-4 hours approx.).
Contact cavanbirdwatching@gmail.com for more information or phone 087 7735487.
St. Patrick's Day Parade:
The Annual St. Patrick's Day Parade in the town will take place on Saturday, 17th March. This year there will be €1,500 in prizes, prizes for best club, comedy, business, and window display. Please contact 0868222155 or 0862836157 or any committee member for more information. Floats will have free entry. The next meeting of the committee will take place on Monday 19th February in the Hotel Bailie at 8pm. All help and ideas welcome.
Weekday Masses during Lent:
The season of Lent begins today, Wednesday, February 14th. The Parish Pastoral Council decided to have two early Masses each week during the season at 8.00am on Tuesdays and Thursdays. Masses on Mondays, Wednesdays and Fridays will be at the normal times.
Stations of the Cross: The Stations of the Cross will take place during Lent immediately after the 7.00pm Mass on Friday, 16th February, 23rd February, 2nd March, 9th March, 16th March and 23rd March.
Bridge:
Bridge takes place every Tuesday evening in the Hotel Bailie at 8.00pm. New members are always most welcome.
Tierworker Active Age Group:
Anyone wishing to join this group must do so before Thursday, February 15th. For details, please contact 086 405 4000. All welcome.
Birdwatch Ireland is hosting a training session for surveying in Cavan. If you feel that it is something you might like to get involved in, please read the information and follow the link below to register.
The session is a joint CBS/I-WeBS training day. Its aim is to try and recruit some new survey participants and also to give existing surveyors a chance to come along and share experiences.
24th March (Sat): Farnham Arms Hotel, Cavan.
Both these surveys are long-term projects and very important tools for monitoring how our breeding birds and wetland sites are faring. As a certain level of identification skill is required to carry out the two surveys (and for CBS you would need to be pretty familiar with songs and calls of a good range of our common and widespread species) we suggest you have a look at these two lists below:
CBS list: (by sight & sound): Mistle Thrush, Blackcap, Redpoll, Willow Warbler, Sedge Warbler, Reed Bunting, Dunnock, Treecreeper. And by sight only: Merlin and Whinchat.
I-WeBS list: (by sight only): Wigeon, Teal, Tufted Duck, Goldeneye, Pochard, Knot, Dunlin, Bar-tailed Godwit, Black-tailed Godwit, Greenland White-fronted Goose.
If you could readily identify a minimum of 7 of these CBS or I-WeBS species in the field, then you should be OK. If you have trouble with them, then perhaps these sessions (and these surveys) will be a bit too advanced for you.
The Countryside Bird Survey (CBS) is carried out between 1st April and 30th June. It involves two early morning walks to count birds in a 1km square – the work is done by 9 AM!
The Irish Wetland Bird Survey (I-WeBS) is carried out from September to March. Estuaries, lakes, marshes and other wetlands across the country are counted once a month during the autumn, winter and early spring.
Each session will have the same format, starting at 10.00hrs with an entertaining slide show explaining how and why we do these surveys and there will be lots of tips on identification. After lunch (provided), we will have a short outdoor field trip to give you a chance to put theory into practice. We will be finished around 15.30hrs. The sessions are very relaxed and easy going, but also, we hope, informative. All instruction, tea, coffee, biscuits and lunch are free.
If you would like to take part in one of these training days, please register your interest as soon as possible at: https://www.surveymonkey.com/r/Y995Z3P.    We will confirm your place on the session and supply you with directions for the venue and details of what to bring etc when you sign up.
Baptism Dates in St. Annes for February, March, April and May 2018:
The following are the available dates for Baptisms in St. Anne's Church–February 24th (Saturday, 1.30pm), March 10th (Saturday, 1.30pm), March 18th, (Sunday, 12.30pm), April 7th (Saturday, 1.30pm), April 22nd (Sunday, 1.00pm), May 5th (Saturday 1.30pm) and May 20th (Sunday, 12.30pm).
Bailieborough Community Bowls:
Bailieborough Community Bowls continues every Wednesday evening at 8.00pm, in the Community Centre, Chapel Road. New members most welcome with free tuition for beginners.
Bailieborough Library:
Everyday Irish – Tuesday evenings 3pm to 5pm
Beginner Conversational Irish Class for Adults who would like to learn the basics.
Bailieborough Library Parent, Baby and Toddler Group has proven to be a vital life line for all stay-at-home parents who may be new to the area and wish to get out of the house and make new friends. There is a huge range of toys for children to play with, while parents can enjoy a cup of tea and chat.
The group meets at the Library Arts space every Wednesday at 10.30am-12pm. Why not join their Facebook Group and keep up to date with news and events.
Citizens Information every Tuesday 1.30pm-2.30pm on a first come first served basis; Craft Group every Friday 10.30am-1pm; Book Club 6pm-7pm last Thursday of every month; Lit Lab writers group every second Tuesday. Contact 042 9665779 for details on any of the above.
"Crisis of Democracy in Ireland Tour":
Thursday 15th February, "Crisis of Democracy in Ireland Tour" at 7 pm in the Lakeside Manor, Dublin Rd. Virginia. Co. Cavan. John Waters and Fr. Marcel Guarnizo will address the nature of democracy, the illegality of voting away fundamental human rights and how to uphold constitutional protections of innocent human life. All welcome.
 East Cavan Gaels GAA Club – Hurling News 12th February 2018
Under 6/8/10;
The great work continues. Registration for 2018 will be before the end of February. More info at training.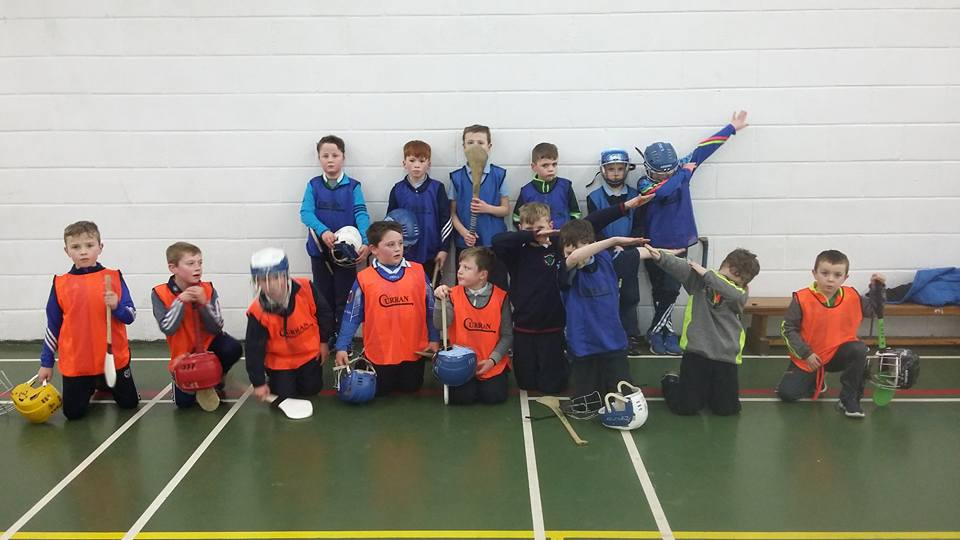 Bailieborough group U6/8s at indoor hurling on Friday.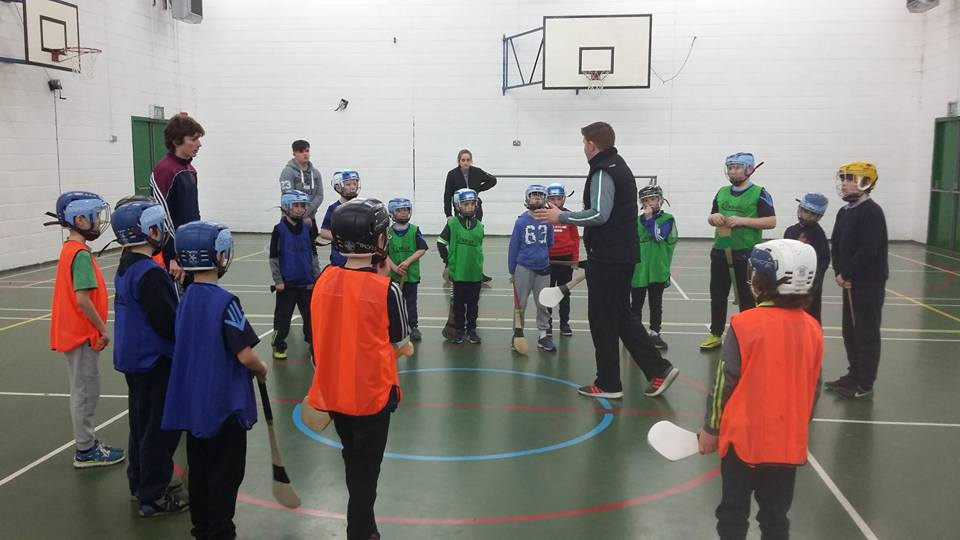 Bailieborough U10s along with ECG coaches with Pauric Dowdall on Friday.
Thanks to Pauric Dowdall from Ulster GAA who gave a great session on hooking with our U10s and coaches on Friday last.
Under 13;
Training again this week indoors on Thursday in Kingscourt Community Centre. The final round of DKIT blitz is on Sunday next and the first round of Cavan U13 is scheduled for next Monday 19th.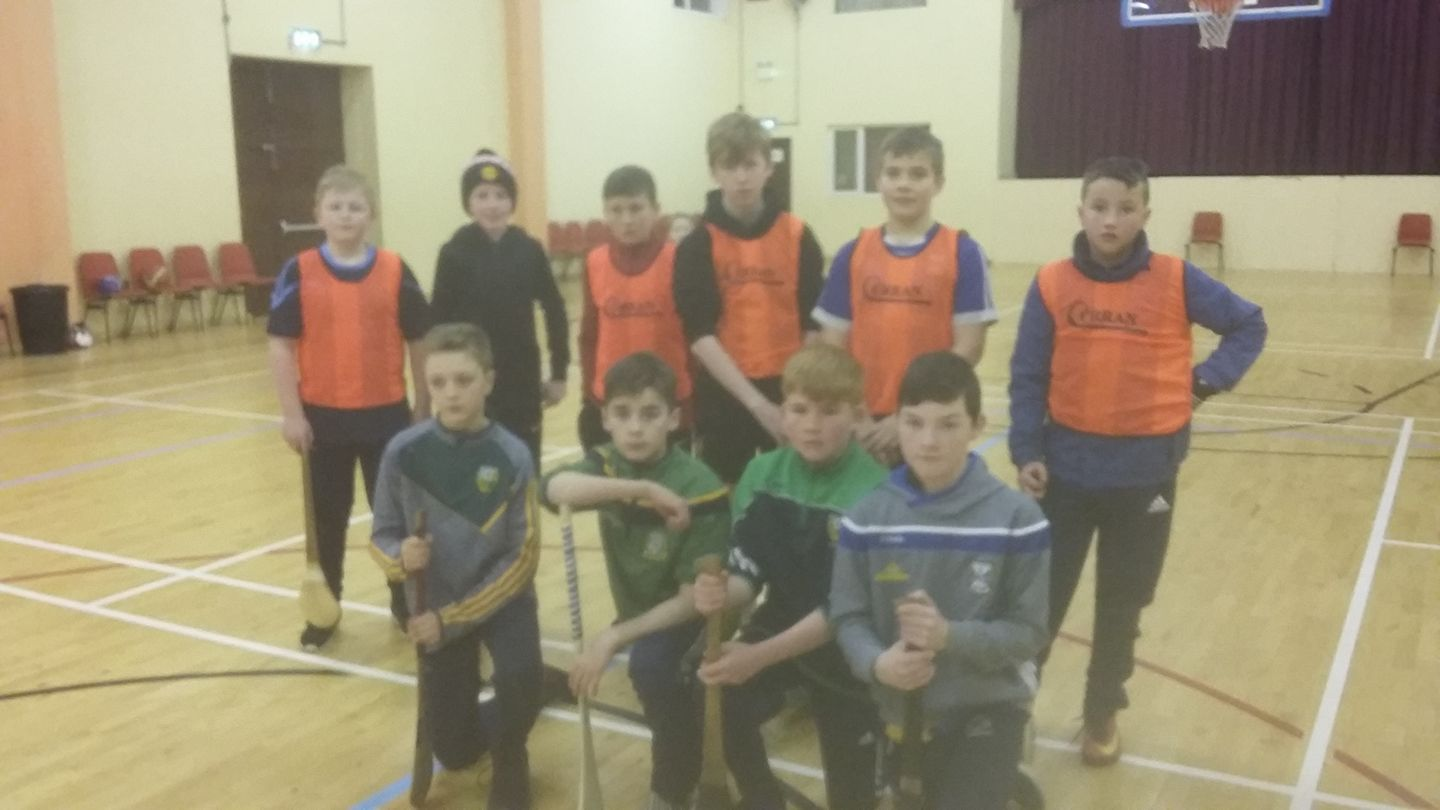 Above; Our U12/13s continuing their preseason.
The week ahead;
Thursday; Kingscourt indoors in the Community Centre U6/8/10 6.45-7.45. €3 each. U13 Kingscourt Community Centre 7.45-8.45.
Friday; Bailieborough indoors at the BCS sports hall U6/8 6-7. U10 7-8. €3 each.
Sunday; Last round of DKIT U12/13 blitz. 10-12pm.
BOOKING ONLY for "Drinking Habits 2" (087) 6486804.
Aughawillan Drama Troupe are excited to present a comedy "Drinking Habits 2" by Tom Smith.  This intoxicating comedy is directed by Brian Dolan in Aughawillan Hall on the 15th, 16th, 17th and 18th of February at 8.30pm sharp, tickets €10.00.  Please book early to avoid disappointment.  Guaranteed to deliver a brilliant night's entertainment, looking forward to seeing you there.
Tanagh Learn to Paddle course starting on Tuesday 6th of March. This course will run for 4 weeks, every Tuesday from 10am-1pm. Suitable for Adults. Learn to paddle is subsidised by Age and Opportunity Go for Life Programme. Limited spaces so book early. Booking and Payment in advance is essential with Tanagh Outdoor Education and Training Centre. Contact Philomena on 049-5552988 for more information
Bailieborough Cancer Comfort Ltd:
The Bailieborough Cancer Comfort Ltd Committee is available to help cancer patients or their families. Free Taxi service available. For further information, contact: Michael Cullen 087 154 2447 or Edel Fox 086 1004030.
CITIZENS INFORMATION: Co. Cavan Citizens Information Outreach Service in Bailieboro (The Library) on Tuesdays, from 1.30pm – 2.30pm. This is a weekly service.  Any enquiries 076 1075200.
Alcoholics Anonymous:
Local meetings of Alcoholics Anonymous are held in: The Health Centre, Kells Road on Wednesdays at 8.30pm.
http://bailieborough.com/wp-content/uploads/2015/09/bborocomlogo2015-300x130.png
0
0
Lee McDonnell
http://bailieborough.com/wp-content/uploads/2015/09/bborocomlogo2015-300x130.png
Lee McDonnell
2018-02-14 10:19:16
2018-02-14 10:19:16
Bailieborough News. February 12th 2018. Matthew J. Cullen.