Bailieborough Christmas Lights:
There was great excitement amongst the many people gathered at the Market Square on Saturday evening last with the traditional 'Switching –On' of the Bailieborough Christmas Lights. Christmas Carols and music was provided by the Bailieborough School of Music and children from the local schools. Santa and his Elves arrived on his sleigh to the great amazement of all the young children present. One of the town's most noted, sprightly and respected senior citizens, Mrs Rose Fulton, Cavan Road assisted Santa in turning on the lights and everything went to plan when all the dazzling lights lit up to give the town a very Christmassy feel. The children and their parents, then had the opportunity to visit Santa and his Elves in his Grotto.
This year's lights are magnificent, with everyone commenting on how great they look! It would be well worth one's while to come along to the town, just to see this terrific display.
The Christmas lights this year is a collective effort of people in our town and highlights the desire to revive it! The number of people who helped out is huge and they gave vast amounts of their time from assembling, erecting and electricians to wire them, and we can't thank them enough! The Christmas tree was made by local men, Freddie Trotter and Nigel Williamson and the Crib was made by Pat Argue.
Christmas spirit and community spirit is alive and well in Bailieborough and we wish you all, a happy and peaceful Christmas!
Bailieborough School of Music:
Lotto results for 02/12/17.  Numbers Drawn; 2, 4, 8, 23.  No Jackpot Winner, Lucky Dip (€25) Winners; Mary Rogers, Rebane, Shercock; Bernadette Mulvihill Lynch, Corglass; Mark Doughty, Drumeva; Conor, Jack and Ava Sheridan, Drumacarrow. Jackpot next week, €2,600.
Christmas Mass times at St. Annes, Bailieborough, St. Annes, Killann and St. Patricks, Shercock:
St. Annes, Bailieborough:  Christmas Eve—Sunday, December 24th: 6.00pm—Children's Mass—The 6pm Mass is primarily for children and young families—please expect movement and noise during the service.
Midnight Mass: 12 am.
Christmas Day: Monday, December 25th at 10.00am.
St. Annes, Killann: Christmas Eve at 8.00pm and Christmas Day at 10.00am.
St. Patricks, Shercock: Christmas Eve at 10.00pm and Christmas Day at 11.30am.
Social Dancing:
Social dancing takes place in our Community Centre on this Saturday night 11th of December. This will be a special occasion. Music is by Brendan Magee and Eugene Cunningham. Brendan is well known to country music followers on Sky T.V. Eugene played with showbands but got tired of all the travelling. He is more relaxed now and better than ever on his guitar.
This night is special, it is the Christmas Party Dance. There will be prizes galore and extras with the Supper. A great night with the stars and the extras. All welcome.
Bailieborough Tidy Towns:
Keep Bailieborough Tidy and reduce the amount of litter by investing in a Reusable Cup for sale in 'Daybreak' on Barrack St. This blue cup with the Cavan logo is an ideal present for Cavan fans and Coffee lovers. All proceeds go towards the Bailieborough Tidy Towns.
Bailieborough Tidy Towns annual Christmas raffle, tickets available in all the shops around the town lots of prizes.
Bridge Results:
Tuesday, November 21st: First: Pattie Clarke and Rose Brennan, Second: Marie McNicholas and Maresa Liggan. Best Gross: Tom Moran and John McGahan.
Tuesday, November 28th: First: Eilish Reynolds and Kathy O'Sullivan, Second: Teresa O'Reilly and Joy Jameson. Best Gross: Patsy Corcoran and Sean Kelleher. Player of the Month: Helen Clarke.
Safe Pass: Safe Pass Course at Bailieborough Business Centre – on Wednesday, December 20th from 8am – 4pm. Cost €100.00. Carvery Lunch and Refreshments included. Call 042-969-4716 to reserve your place.
Bailieborough Group of Parishes: Christmas Services:
Saturday, December 16th—'a Quiet Christmas'—in Bailieborough Church at 11.30am. (This will be a quiet Service, in preparation for the Christmas Celebrations that gives space for reflection, prayer and healing for those grieving or otherwise saddened at Christmas time).
Sunday, December 17th: 'Carols for the Family' at 10.30am in Shercock Church.
'Carols for the Family' at 2.00pm in Mullagh Church.
Traditional Carol Service at 7.00pm in Bailieborough Church.
Saturday, December 23rd: 'Through the Roof'—at 2.00pm in Knockbride Church. A Christmas Service for adults and children with learning challenges and their carers.
Sunday, December 24th: Christmas Eve Services: 7.00pm in Shercock Church and 8.30pm in Mullagh Church.
Monday, December 25th: Christmas Day Services: 10.00am in Bailieborough Church and 11.30am in Knockbride Church. All welcome to all these services.
Moybologue Historical Society:
Moybologue old graveyard is featured in the current Winter 2017 edition of Irish Roots Magazine. Copies on sale in Easons and various newsagents, or can be ordered online from the Irish Roots Magazine website.
Deepest Sympathy:
Deepest Sympathy is extended to daughters, Mai, Margaret, Teresa, Angela and Ann Marie, sons Brian and John, brothers John, Tom and Barney, sons-in-law, daughter-in-law, grandchildren and extended family and friends on the death of Kathleen Nulty (nee Kennedy), St Joseph's Nursing Home, Virginia and Dundragon, Bailieborough, Co Cavan who passed away peacefully at St Joseph's Nursing Home on Sunday, November 19th. Kathleen's Funeral Mass was held in St Anne's Church, Bailieborough on Tuesday, November 21st with burial afterwards in St. Annes Cemetery.
 Beginners Computers:
Computers for Beginners at Bailieborough Business Centre – One class per week for 5 weeks. Cost – Free of Charge. Get started with computers, many other classes offered as follow on classes on completion all FOC. Call 042-969-4716 to register or make further enquiries.
St. Vincent DePaul:
St. Annes, St. Vincent De Paul, Bailieborough works in the Parish of Killann, incorporating Bailieborough, Shercock, Killann, Knockbride and Tierworker. Our conference visit families and people in need in this community. Even in our improving economy, the number of people requiring our support is remaining stubbornly high. This year we will spend approximately 50,000 and we expect to spend this again in 2018. The type of support we provide is wide ranging but most often, we help families with basics such as food, heating and education costs. We rely entirely on your support. Please give what you can to the St. Vincent De Paul collection which takes place on Saturday and Sunday next, 9th and 10th of December. Thank you and best wishes for Christmas and 2018.
Bailieborough Group of Presbyterian Churches: Christmas Services: Sunday, December 17th: United Carol Service in Ervey Church at 3.00pm.
Sunday, December 24th: Service in Trinity Church at 10.30am and Corraneary at 12 noon.
Christmas Day, Monday, December 25th: United Service in Trinity Church, Bailieborough at 10.30am.
New Year's Eve, Sunday, December 31st: United Service in Corglass at 11.00am. All welcome.
Inner City Helping Homeless:
Christmas Shoebox Appeal: Due to demand on supplies, we are starting our 'Shoe Box' Appeal early. Pick a shoe box and mark it, male or female. Fill the shoebox with essentials, such as socks, underwear, hats, scarves, gloves, sweets, chocolate and toiletries (NO aerosols, perfumes, aftershave, mouthwash or hand sanitizer). Drop your Shoe Box into the Palliative Care Charity Shop on Main Street. For further information, please contact 089 215 8673.
East Cavan Swim Club:
East Cavan Swim Club are very proud of all of these swimmers who excelled at the Ards Junior Christmas Gala on Saturday, December 2nd. Well done to Maia Finnane, Kelsey Buckland Morris, Kerry Buckland Morris, Kate Kierans, Molly Keegan, Sorsha Cooney, Orlaith Redmond, Oscar Longmore, Johann Behme, Wilhelm Behme and Aaron Redmond.
Fantastic swimming from everyone with lots of Personal Bests and medals (Johann – 3 bronze and 1 gold, Wilhelm-bronze, Kerry – 1 gold, 2 silver and 1 bronze, Kate -2 gold, 1 silver and 1 bronze and the age 10 girls trophy, Oscar – 4 gold and Aaron- bronze).
Congratulations to all the swimmers for representing their club so well.
Many, many thanks to all those who supported our Cake Sale on Saturday morning by baking, selling, buying and making donations. Thanks to our own members and to those parents rebooking lessons – East Cavan Swim Club will be there for your children too in the future. Thank you to Bailieborough Leisure Centre for hosting us on Saturday.
We raised a total of €450 which will benefit all the children in the club.
Thank you all for your generosity.
Baby and Toddler Group:
Bailieborough Library Baby and Toddler Group starts back every Wednesday at the earlier time of 10am. All babies, toddlers, parents and minders are welcome. No charge.
Irish Red Cross:
The Annual Senior Citizen Christmas Party will take place in the Hotel Bailie on Wednesday 6th of December at 6.30pm. Please contact Julie (086 8968928), Peter (085 1614408) or Helen (087 7431658). Tickets are €10.00 per person. Looking forward to seeing you all!
Drumkeery Group Water Scheme:
Scouring of the lines will be carried out between now and Friday, December 15th. This may cause some disruption to member's water supply. Should any problems arise, please contact the Maintenance Officer—Seamus McCabe on 086 0466 188. We regret any inconvenience this may cause.
Baptism Dates in St. Annes for December 2017 and January 2018:
The following are the available dates for Baptisms in St. Anne's Church– December 9th (Saturday, 1.30pm) and December 17th (Sunday, 12.30pm), January 13th (Saturday, 1.30pm) and January 27th (Sunday, 12.30pm).
Bailieborough Shamrocks G.F.C.:
Our Annual General Meeting took place last Friday 1st, December 2017 in the Clubrooms of St Annes Park, Bailieborough. The following officers were elected for the coming year, 2018.
President – Pat Clarke,
Vice Presidents – Fr. Router, Paddy Kelly, Paddy Matthews, Benny Clarke, Rita Clarke and John Rooney.
CHAIRPERSON – Paddy McDonald.
Vice -Chairman – Donal Clarke.
Secretary – Mark Gilsenan.
Vice-Secretary – Kevin McIntyre.
Treasurer – Eddie Cooney.
Vice-Treasurer – Teresa Reilly.
Club PRO – Gavin Mackey.
Registrar – Cathal Sheridan.
Coaching Officer – Shane Lynch.
Development Officer – Donal Clarke.
Insurance Officer – Gary Heaney.
Youth Officer – Finbarr Clarke.
Irish Officer – Paudge Farrelly.
Children's Officer – Orla O'Sullivan.
Health & Wellbeing Officer – Finbarr Clarke.
Players Rep – TBC
Lotto committee: Brain Keegan, Mark Gilsenan, Gavin Mackey, David Coleman, Paddy McDonald, Rep from ladies and rep from Camogie.
Pitch Rota -Rita Clarke.
East Cavan Gaels GAA Club – Hurling News 4th December 2017
Under 6/8/10;
Really great work from both groups each week. We trawl far and wide for hurlers and they come from all over to hurl with us at East Cavan Gaels. The Kingscourt group on Thursdays cater for most from the Kingscourt area. We have loads of room in the massive hall so more players are always very welcome to join with us.
The Friday Bailieborough groups continue to go from strength to strength. Players from all over the region hurl with us under the East Cavan Gaels flag. Bailieborough, Shercock, Killinkere, Knockbride, Mullagh and even further afield create a great atmosphere every Friday. Lads making lots of new friends while learning the skills with us. Keep up the good work.
One more week then we call it a day for 2017. Thursday in Kingscourt and Friday in Bailieborough.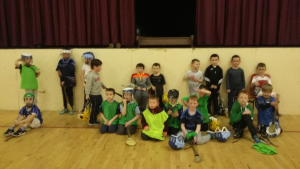 Above; The Kingscourt indoor hurling group on Thursday.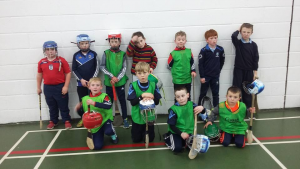 Above; The Bailieborough training group U6/8s on Friday.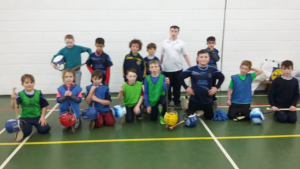 Above; The Bailieborough U10 training group on Friday.
Under 12/14/16/18; All our sides have now finished their hurling activity for 2017 and take a well-earned break. We will resume for most around the end of January.
Adult hurling; The 7 a side adult league never got going due to fixture congestion and will be rescheduled. We will start again in early 2018 with adult hurling.
Foundation level hurling award/ Child protection/ Garda vetting:
Saturday 9th December in Breffni Park. All interested in getting this important part done contact Willie 086 164 9280.
The week ahead;
Thursday;.Kingscourt indoors in the Community Centre 6.45-7.45.
Friday; Bailieborough indoors at the BCS sports hall U6/8 6-7. U10 7-8.
Bailieborough Library:
Everyday Irish – Tuesday evenings 3pm to 5pm
Beginner Conversational Irish Class for Adults who would like to learn the basics.
Bailieborough Library Parent, Baby and Toddler Group has proven to be a vital life line for all stay-at-home parents who may be new to the area and wish to get out of the house and make new friends. There is a huge range of toys for children to play with, while parents can enjoy a cup of tea and chat.
The group meets at the Library Arts space every Wednesday at 10.30am-12pm. Why not join their Facebook Group and keep up to date with news and events.
Citizens Information every Tuesday 1.30pm-2.30pm on a first come first served basis; Craft Group every Friday 10.30am-1pm; Book Club 6pm-7pm last Thursday of every month; Lit Lab writers group every second Tuesday. Contact 042 9665779 for details on any of the above.
Bailieborough Cancer Comfort Ltd:
The Bailieborough Cancer Comfort Ltd Committee is available to help cancer patients or their families. Free Taxi service available. For further information contact: Michael Cullen 087 154 2447 or Edel Fox 086 1004030.
CITIZENS INFORMATION:
Co. Cavan Citizens Information Outreach Service in Bailieboro (The Library) on Tuesdays, from 1.30pm – 2.30pm. This is a weekly service.  Any enquiries 076 1075200.
Alcoholics Anonymous:
Local meetings of Alcoholics Anonymous are held in: The Health Centre, Kells Road on Wednesdays at 8.30pm.
http://bailieborough.com/wp-content/uploads/2015/09/bborocomlogo2015-300x130.png
0
0
Lee McDonnell
http://bailieborough.com/wp-content/uploads/2015/09/bborocomlogo2015-300x130.png
Lee McDonnell
2017-12-06 11:20:27
2017-12-06 11:20:27
Bailieborough News. December 4th 2017. Matthew J. Cullen.