Holy Week Ceremonies:
Thank you to all those who assisted in preparing and celebrating the Holy Week and Easter liturgies in St. Annes, Bailieborough especially, the Parish Pastoral Council and Liturgy Group, the sacristan May Cassidy and caretaker Sadie Clarke, the Choirs and their directors: Thomas Hanley, Sean O'Reilly and Derek Eakins, the musicians, the Ministers of the Word, the Ministers of the Eucharist, the gift bearers, the Altar servers, the First Communion Parent's Committee and the parents and children of the First Communion Classes who participated on Holy Thursday and the students from 5th year in Bailieborough Community School, who took part in the Good Friday Services.
A special word of thanks to Marie Guckian, Geraldine Reilly, Brigid Donohoe, Ciaran Purcell, Julie Smith and Sean O'Reilly who gave their time to prepare the Church, to Rose Fitzpatrick and Sheila Clarke who organised the various Ministers, to Thomas Small, who is on Pastoral Placement in the Parish at present, to Andrea Connolly, Pastoral Assistant, to those who attended the Services in such large numbers and to all who helped out in any way over Easter Week.
Moybologue Historical Society Talk:
'From the Bronze Age to the Middle-Age – what can we say about 3 sites in the Moybologue area so far?'; a talk by well-known Archaeological Geophysicist Kevin Barton of Landscape and Geophysical Services (www.lgs.ie) and members of Moybologue Historical Society, on the results of the geophysical and grave-marker surveys during 2017, ongoing research, future plans and an update on the Conservation and Management Plan for Moybologue old graveyard.
The talk will take place at 8pm on Friday 6th April in St. Mary's Hall, Tierworker.
All welcome. Admission Free. Parking Available. Wheelchair accessible. Voluntary donations accepted.
Bailieborough Tidy Towns:
The Annual 'Spring Clean' will take place in the town on Saturday, April 28th 2018. Further details closer to the event.
Reduce waste and keep Cavan tidy by investing in a reusable blue coffee cup with Cavan logo. Ideal for coffee lovers and Cavan fans. This cup is for sale in Daybreak on Barrack Street and is also available in Bailie Stores. All proceeds go towards the local Tidy Towns.
VINCENTS:
There will be scaffolding in front of 'Vincent's Shop', Main St., for the next 6 to 8 weeks, for work to the apartments upstairs. Our shop remains open throughout this period at the normal times. Monday-Friday 10.00am to 5.00pm, Thursday evening from 7pm to 9pm and Saturday from 10.00am to 1.00pm.
Photographic Exhibition:
'An Essence of Presence' a photographic exhibition by Suella Holland, depicting Forsaken Ireland, now open at the Library until the end of May. All welcome.
Birdwatch Ireland:
April: Sunday 8th. Walk in Ballyconnell Woods: meet in Realta carpark at 10 am. Wear sturdy footwear. (approx. 2 hours)
We will hold our AGM in the Hotel Kilmore on Thursday 26th April at 8.30 p.m. We would love to see some new faces (as well as the old familiar ones!) this year. It is important to have a strong committee so that we can plan events and cater for the interests of our branch as best we can. Hope to see you there! All welcome.
Lough Derg 'One Day Retreat':
A Lough Derg 'One Day Retreat' will take place on Sunday, May 6th –organised by the St. Vincent DePaul Society. A bus will be leaving the Community Centre at 7.30am. To book a seat, please contact John at 086 055 4578 or Pat at 086 063 5856.
Reading from New Book:
Bailieborough author, Norma MacMaster, will read from her new book 'Silence Under a Stone' at the Library on Thursday April 12th at 7.30pm. All are welcome and refreshments will be served!
Computers for Beginners:
Computers for beginners afternoons or evenings Bailieborough Business Centre 042- 96 94 716.
Bailieborough Celtic A.F.C.:
Summer Academy Soccer is starting back on Wednesday, 11th April 2018.
Under 7's (children born 2011) and Under 8's (children born 2010) will start back on Wednesday 11th April from 6-7pm at the Vale Grounds.
Under 9's (children born 2009) and Under 10's (children born 2008) will start back on Thursday 12th April from 6-7pm.
Bailieborough Historical Society:
The Bailieborough Historical Society is planning an exhibition of artefacts manufactured in and related to Bailieborough's industrial past. This will take place during Heritage Week in August. If you have anything that you would like to exhibit, please contact either, Pat Fitzpatrick at 086 0635 856 or Leslie McKeague at 086 2588 488.
Bailieborough Shamrocks Ladies Football and Camogie:
The clubs wish to thank each and every one of you who helped to make the Cake Sale such a huge success on Sunday last. To those of you who baked and brought cakes and those of you who came and bought one, a big, big thank you. To the sales team, ticket sellers, tea makers, thank you. A special word of thanks to Lorraine Harris SuperValu for sponsoring the beautiful hamper for the raffle which was won by Sandra McDonnell also to Yvonne Tully who donated a van full of cakes of all shapes and sizes, much appreciated. Thanks also to the Bailie Bunny for making an appearance and still the burning question is, who is the Bunny?  Please God we will have you all guessing before Easter Sunday 2019. Once again THANK YOU all, see you same time, same place, next year.
Adult Irish Ceilí Dance classes:
A new term of Ceilí dance classes has commenced on Wednesdays at 8:45pm in Tierworker Hall. All new-comers welcome. For more information please contact Aishling Fox on (087) 9699235.
East Cavan Gaels GAA Club – Presentation night;
Sunday April 8th in the Bailie Hotel, Bailieborough from 5.30-7pm.
Presentation event for our U12 Monaghan League division 2 winners and U14 squad who were runners up in Monaghan League in 2017 and reached the All Ireland Feile semi-final and Certs of achievement for all our U6/8/10s. Finger food and soft drinks. Please join with us as we celebrate our achievements in 2017 and look forward to the 2018 season. All welcome.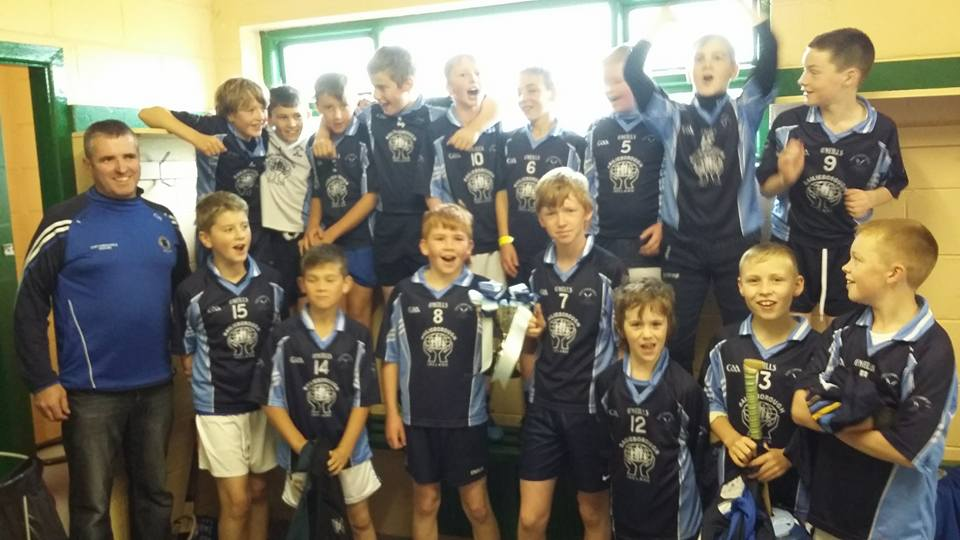 U12 Monaghan U12 Div 2 champions!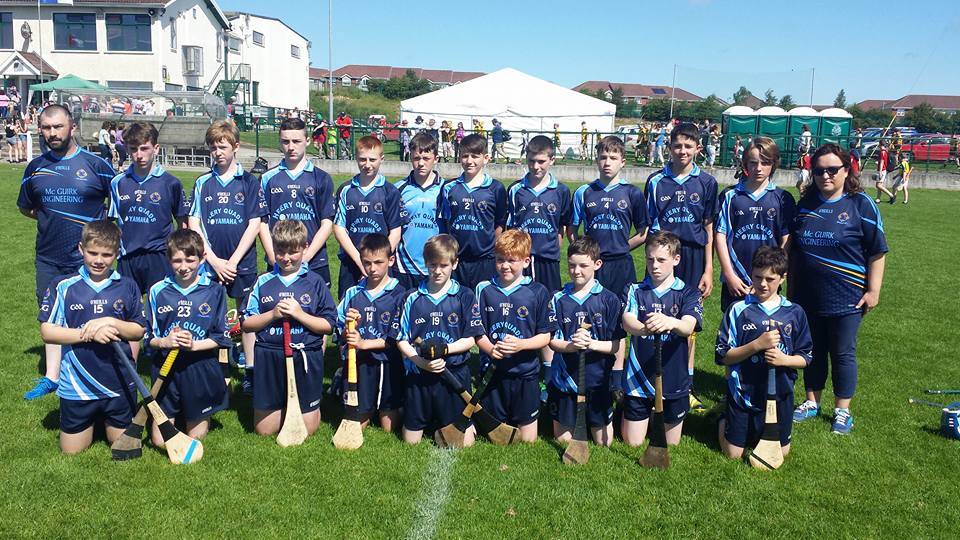 Monaghan U14 league runners up and All Ireland Feile semi-finalists.
Monday hurling; U11/13/15/17. It's here! First round of ten in the Monaghan U15 league begins Monday 6.30 away to Cootehill. Under 13 Ulster and Monaghan leagues will begin over the next few weeks. Plenty of hurling for all who want it.
Under 6/8/10; Our lads now enjoying the Easter break. We will now start to organise some games locally. Thanks to all who registered so far. It will continue until all are registered. You must be registered to be insured to play hurling.
Under 13; Outdoor training will return on Monday 9th April in Kingscourt 7-8pm with u13 leagues to start soon.
Under 15; New Monaghan league begins on bank Holiday Monday with a trip to our local Cavan rivals Cootehill Celtic.
Under 17; Cavan Celtic begins in early May.
Killann Parish Pilgrimage to the World Meeting of Families:
This year's Killann Parish Pilgrimage will be to the World Meeting of Families in the RDS, Ballsbridge, Dublin on Thursday, August 23rd. Other parishes from the Diocese will be travelling to the event along with Bishop Leo O'Reilly on that day. A bus will be travelling to the RDS from Bailieborough and further details will be announced later. If, however you would like to book a place on the bus, please contact the Parish Office on Mondays and Thursdays from 10am to 3.30pm, Tuesdays from 12pm to 1.30pm and Fridays from 2pm to 6pm. Everyone going that day will also have to register online at www.worldmeeting2018.ie. If you have difficulty doing this, please tell the Parish secretary and they will provide you with assistance. At present, tickets for the Papal Mass in the Phoenix Park on August 26th are dependent on registering for the World Meeting of Families during the previous week. It is hoped to organise a bus from Bailieborough on that day too.
Bridge:
Bridge takes place every Tuesday evening in the Hotel Bailie at 8.00pm. New members are always most welcome.
Baptism Dates in St. Annes for April, May, June, July and August 2018:
The following are the available dates for Baptisms in St. Anne's Church–April 7th (Saturday, 1.30pm), April 22nd (Sunday, 1.00pm), May 5th (Saturday 1.30pm), May 20th (Sunday, 12.30pm), June 10th (Sunday, 12.30pm), June 23rd (Saturday 1.30pm), July 7th (Saturday, 1.30pm), July 15th (Sunday, 12.30pm), August 11th (Saturday, 1.30pm) and August 19th (Sunday 12.30pm).
Bailieborough Community Bowls:
Bailieborough Community Bowls continues every Wednesday evening at 8.00pm, in the Community Centre, Chapel Road. New members most welcome with free tuition for beginners.
Bailieborough Library:
Everyday Irish – Tuesday evenings 3pm to 5pm
Beginner Conversational Irish Class for Adults who would like to learn the basics.
Bailieborough Library Parent, Baby and Toddler Group has proven to be a vital life line for all stay-at-home parents who may be new to the area and wish to get out of the house and make new friends. There is a huge range of toys for children to play with, while parents can enjoy a cup of tea and chat.
The group meets at the Library Arts space every Wednesday at 10.30am-12pm. Why not join their Facebook Group and keep up to date with news and events.
Citizens Information every Tuesday 1.30pm-2.30pm on a first come first served basis; Craft Group every Friday 10.30am-1pm; Book Club 6pm-7pm last Thursday of every month; Lit Lab writers group every second Tuesday. Contact 042 9665779 for details on any of the above.
'Nobody's Talking To Me':
The Latin School Players wish to present their play "Nobody's Talking To Me" by Tommy Marren in the Latin School, Moyne Community Centre on  Friday 6th April, Saturday 7th April and Sunday 8th April. Tickets can be purchased in Moyne Cross Stores, Corrigans, Lynches of Arva and McSeains of Cornafean.
Tickets cost €10.
For those living outside the area who wish to purchase a ticket you can ring on 086-6038190 or 086-6059069 between 6pm-9pm only.
This is a hilarious comedy suitable for both young and old. As per other productions the play starts at 8.30pm sharp.
Bailieborough Cancer Comfort Ltd:
The Bailieborough Cancer Comfort Ltd Committee is available to help cancer patients or their families. Free Taxi service available. For further information, contact: Michael Cullen 087 154 2447 or Edel Fox 086 1004030.
CITIZENS INFORMATION:
Co. Cavan Citizens Information Outreach Service in Bailieboro (The Library) on Tuesdays, from 1.30pm – 2.30pm. This is a weekly service.  Any enquiries 076 1075200.
Alcoholics Anonymous:
Local meetings of Alcoholics Anonymous are held in: The Health Centre, Kells Road on Wednesdays at 8.30pm.
http://bailieborough.com/wp-content/uploads/2015/09/bborocomlogo2015-300x130.png
0
0
Lee McDonnell
http://bailieborough.com/wp-content/uploads/2015/09/bborocomlogo2015-300x130.png
Lee McDonnell
2018-04-04 10:12:10
2018-04-04 10:12:10
Bailieborough News. April 2nd 2018. Matthew J. Cullen.