Bailieborough News. July 10th 2014. Matthew J. Cullen.
---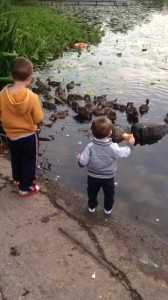 Corey and Cailan O'Brien, Tunnyduff, enjoying feeding the ducks at the Town Lake.
(photo: Natasha O'Brien)
---
Annual Sheridan Cycle
The Annual 'Sheridan Charity Cycle' will take place on Saturday next, 12th July at 11am for the Irish Motor Neurone Disease Association and Kevin Bell Repatriation Fund.
Cyclists from North and South of the border take to the roads of Cavan to fundraise for two great charities, The Irish Motor Neurone Disease Association (IMNDA) and the Kevin Bell Repatriation Fund (KBRF). Two route options 30K and 100k. €20 for 30K and €30 for 100k.  30 km cycle: Bailieborough, Moynalty, Mullagh and back to Bailieborough. 100 km cycle is Bailieborough, Kingscourt, Shercock, Cootehill, Cavan and back to Bailieborough!!
This year funds raised will be split between two charities. The Irish Motor Neurone Disease Association (IMNDA) and The Kevin Bell Repatriation Fund (KBRF).
Registration from 9.30am on the day in St Anne's Park, Shercock Road, Bailieborough. Contact 087 715 2512 or 086 339 3327 for more information and also if you would like to volunteer to help out on the day.
Children's Club
A Children's Club will be held in Trinity Hall, Virginia Road, Bailieborough from 10.30am to 12.30pm Monday 14th – Friday 18th July.  Games, stories, songs and crafts.  Everyone welcome.
Senior Swim Club Sessions
Senior Swim Club sessions are taking place every Saturday evening at Bailieborough Leisure Centre from 6.00-7.30pm. These sessions are coached by Janis, with a mixture of swim technique and fitness. Suitable for past swim club members and Triathlete improvers. Different lanes for different ability levels. Male or female over 15yrs of age are welcome. 10 euro per session. For further information contact Anne on 087 9674302.
East Cavan Gaels GAA – Club News 7th July 2014
Under 12/14/16;
Our U13s started the Summer blitz in fine form winning two of their three opening games.
South Ulster Development Squad;
Our club is well represented on both the U14 and U16 squads which is made up of the brightest hurling talent from Cavan, Monaghan and Fermanagh. Playing against top quality opposition will significantly aid their development.
Under 6/8/10;
The lads had a good evening in Carrick at the first of our summer blitzes on Wednesday last.
If you haven't tried the best game in the world yet then this is the ideal opportunity to get some games in a fun environment. Equipment will be supplied to those without. These blitzes are open to all boys aged 6-10 whether you have played hurling or not.
Fixtures; all 7-8.30pm
Wednesday 16th July, in Bailieborough GAA grounds St. Anne's Park
Wednesday 23rd July, in Kingscourt Stars GAA grounds.
Hurleys; New hurleys have arrived. Contact Willie at any of the summer blitzes.
Hurling/Camogie Camp 2014;
Following on from last years hugely successful camp, the biggest in the county, ECG in conjunction Cavan Hurling Development will have another camp this year. It is from Tue/Wed/Thur 19/20/21 August. We hope to have even more entering this year so keep those dates free.
Training times and venues;
Under 12/14/16;
U13s are in Breffni for summer league Wednesday. U14/16 training 7pm in Bailieborough.
Contact Kathryn for further details 087 244 1371.
U6/8/10; .
Blitzes only on Wednesdays through July and August. New players always welcome.
For U8/10 contact Willie 086 164 9280.
Annual Barbeque
Bailieborough Parish Church are holding their annual BBQ on Saturday, 19th July from 4pm onwards, in the Rectory grounds.Everyone very welcome.
Sports Capital Grants
Deputy Joe O'Reilly expressed happiness on being informed by Minister Michael Ring, that €25,000 was being allocated to Bailieborough Leisure Centre and €23,000 was going to Bailieborough Shamrocks G.F.C. under the Sports Capital Grants. Welcoming the news, he said "This will be good for the quality of life for the people of Bailieborough and the surrounding areas".
Bailieboro Celtic A.F.C.
There are still some places available in the Bailieboro Celtic F.A.I. Summer Soccer Camp which takes place from the 14th -18th July. Contact Sec: Eric McCullagh at 086 3606694  for further details.
Social Dancing
Our next night out is on this Saturday, 12th of July, in the Community Centre. Dancing is from 10–12.30 with a nice supper and lovely music by 'Unity'. Great value, you will be welcome to enjoy the night.
New Garda Station for Bailieborough
Deputy Joe O'Reilly stated this week, that he has already had two meetings with the new Minister for Justice, Ms Frances Fitzgerald T.D. regarding a new Garda Station for Bailieborough. He had previously raised the issue a number of times with Minister Shatter. Deputy O'Reilly feels that, the economic climate is more satisfactory now to pursue a new station and indicated that he had a personal preference for a town centre location.
Baptism Dates in St. Anne's
Sunday, July 20th, August 3rd and 17th and September 21st.
Baby and Toddler Group
Bailieborough Baby and Toddler Group meets at the Library, Market Square every Wednesday morning from 10.30am-12pm (except school holidays). Loads of toys for all ages. Enjoy a nice cuppa while making new friends. No charge. Ph 042 9665779 for further details.
'Storytime'
There will be 'story time' for kids aged 4-7 years at the Library every Wednesday from 11am to 11.45am for the months of July and August.
Bailieborough Business Centre has 300 sq ft available to rent at the moment. Facilities include, free parking, reception cover, meeting rooms, kitchen facilities and capacity to connect to the proposed E-fibre broadband, if you are interested call : 042-969-4716 or email: bda@bailieborough.com.
Bailieborough Walking Group
Wednesday, July 9th – Dartry Forest, Rockcorry. (E) Walk 1 hour. (M) Walk 1 hour 30 min (approx.) Depart from Bailieborough Library at 6.30pm. Meeting at Coillte car park on the Cootehill/Rockcorry Rd., (R188) at 7.15pm. Car park is 7Km from Cootehill and 1Km from Rockcorry. Mr Noel Carney of Dartry Heritage will explain the history and allow us view the newly renovated Lady Anne Dawson Temple in Dartry Forest. Next week's walk, July 16th, Skeagh, Bailieborough.
Bailieborough Enterprise Centre
Light industrial space to rent at Stonewall Enterprise Centre. 1,000 sq ft unit in one or more lots call 042-969-4716 for more details. 500 sq ft to rent at Stonewall Enterprise Centre. Call 042-969-4716 for more details. 300 sq ft to rent at Bailieborough Business Centre. Call 042-969-4716 for more details.
SMOKE ALARM SCHEME 2014
Cavan County Council is making a number of smoke alarms available to vulnerable older residents of the county. This initiative is funded by the Department of Environment, Community and Local Government. Alarms are available for 250 households in Co. Cavan (a set of 2 alarms per household). Each set of two fire alarms cost approximately €30 but will be provided FREE OF CHARGE. Both alarms are fitted with a 10 year long-life battery. If you are interested in applying please contact your local Co. Councillor or email ecoveney@cavancoco.ie
Thank you to everyone who came along to the Bailieborough Mid-Summer Festival and made it one to remember. Family Fun Day, Sunday was a great success and all the charities on site benefited from the tremendous generosity of those attending on the day.
A big thank you to all our sponsors without whom the Festival would not exist, to all those give their time freely to get the show on the road.
All the months of planning culminated in a great weekend had by all. Of course we couldn't have done it without the help we received from various people and groups. Our sincere thanks to everybody who helped out in any way at all. Roll on next year!!!
Bailieborough Red Cross
Joanne O'Leary, Lisgrey Gardens was the winner of the 'Load of Ballz' event held during the Bailieborough Mid-Summer Festival's Family Fun day. The winning ball number was 927 and netted Joanne the €1,000 prize.
Weight Watchers
Weight Watchers every Monday evening at 8.00pm in Bailieborough Business Centre. Tel: 086-241-8361 Jenny, for further information.
Bailieborough Tidy Towns
Congratulations to Hughie Duffy (1st Prize), Coralee Carolan (2nd Prize) and Shaunna Dillon (3rd Prize) who were the winners in the Tidy Town's 'Guess the number of Balloons' competition at the Mid-Summer Festival.
Leisure Centre
Do you want to learn how to swim ? or can swim and want to work on your fitness and technique ? We have classes to suit all levels from complete beginner to those competing in triathlons.  Call us on 042 9666644 for dates etc starting soon.
Summer Intensive lessons for children.. Mon- Fri. I hour class every day. All levels catered for. Various dates available
Check us out on www.bailieboroughleisurecentre.com  or find us on facebook for regular updates.
Knockbride Positive Age
Knockbride Positive Age are holding their Annual Day Tour to Roscommon on Wednesday, July 16th. Contact Eileen—042 9660867/0868545882 or Breda, 086 3084120 for further information.
CRAFT and GIFT FAIR
A 'Craft and Gift' Fair will take place on Sunday 13th July 2014 in the Slieve Russell Hotel, Ballyconnell, Co. Cavan,
from 12.00pm – 5.00pm.
This regular event is now in its 3rd year and will feature approximately 30 stands showcasing handmade crafts, food items, craft supplies and giftware from some of our regular exhibitors and some new faces. There will be an array of beautiful pieces on show including greeting cards, jewellery, wood & metal crafts, toys, leathercrafts, knitting & crochet, fabric crafts, skincare, glassware & ceramics, artwork, candles & soaps, clothing & accessories, face painting, paper craft supplies, jewellery making supplies and more. Plus many exhibitors will happily take commissions.
Admittance is FREE
For further information visit our website at www.downland-crafts.com
Or telephone 049 436 4877 or 087 189 6229.
CAVAN WOMEN'S NETWORK SUMMER SCHOOL
'Fair Deal for Women' on Wednesday, July 16th from 9 30 – 5 30PM and Thursday 17th from 9 30 – 2pm. Something for the Mind, Body and Spirit. Inspiring Speakers, Workshops, and Discussion groups. Join us in Castle Saunderson International Scout Centre. Register at breffnibells@gmail.com or call Veronica @ 0834351742 or Marion @ 046 9245580 for further details.
Outdoor Summer Camps: Tanagh Outdoor Summer Camps now open. Book early to avoid disappointment. Bailieborough Outdoor Adventure Camp 14th July – 18th July. Contact Tanagh for full information on 049-5552988.
Library
Abair Leat fun Irish conversational class at the Library every Tuesday 1pm-2pm. Fluent Irish not necessary. Refreshments will be provided. All welcome and there is no charge.
Craft Group at Library every Friday 10.30am-1pm. Sharing of skills for all lovers of things hand-made. Refreshments will be provided and there is no charge.
Mother and Toddler Group at Library every Wednesday 10.30am-12pm. A wide variety of toys for toddlers while Mums and Dads enjoy a chat. All welcome and there is no charge.
Citizens Information Service:Co. Cavan Citizens Information Service is in the Library, Bailieborough every Tuesday from 1.30 – 2.30pm. Information on Social Welfare, Employment, Tax, Health etc… A Free and Confidential Service. Tel. 0761 07 5200.
Alcoholics Anonymous: Local meetings of Alcoholics Anonymous are held in: The Health Centre, Kells Road on Wednesdays at 8.30pm.
Bailieborough Cancer Comfort Ltd: The Bailieborough Cancer Comfort Ltd Committee is available to help cancer patients or their families. Free Taxi service available. For further information contact: Michael Cullen 087 154 2447, Edel Fox 086 1004030 or Geraldine Gormley 087 7949448.
Samaritans:  Are you feeling isolated, alone, stressed out or depressed? If so, there is always help available by contacting the Samaritans at 1850 60 9090.
If any readers have items of interest to be included in the Bailieborough News, (Obituaries, News Items, Sports, etc…), please e-mail: mattie42@eircom.net or call 042 9666200.
http://bailieborough.com/wp-content/uploads/2015/09/bborocomlogo2015-300x130.png
0
0
admin
http://bailieborough.com/wp-content/uploads/2015/09/bborocomlogo2015-300x130.png
admin
2014-07-10 10:12:22
2014-07-10 10:12:22
Bailieborough News 10th July 2014